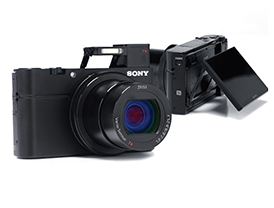 The Sony RX-series consists of compact cameras with professional specifications. The RX100 and the RX100 II impressed us with their fast lenses and larger-than-normal sensors. The 20.1-megapixel RX100 III is an improvement on these, mainly characterised by a built-in EVF and fast f/2.8 aperture at the telephoto end. Here is our opinion after taking the RX100 for a spin. Design and Build Quality Sony's RX-series is known for its robust build quality, and the RX100 III is no exception. It carries the same design as that of its predecessors, except for the built-in pop-up electronic viewfinder. Having said that, the LCD of theRX100 III carries the same weakness too—a connecting cable that is exposed at the hinges of the LCD. The camera has a mix of metal and engineering plastic. It features a metal tripod receptacle. The lens has a two-segment construction.
Key Features
Th e 20.1 megapixel Sony RX100 III uses a 1-inch Type (13.2 x 8.8mm) Exmor R Back-side Illuminated (BSI) CMOS sensor. Combined with a BIONZ X image processor, the camera is expected to deliver superior results in terms of speed and low-light shooting. The camera features a ZEISS Vario-Sonnar T* 24- 70mm f/1.8-2.8 lens incorporating Optical Image Stabilisation. The lens is constructed with 10 elements in 9 groups, including one double aspherical element (combination of two aspherical elements). This lens carries the most important improvement over the RX100 II, which featured a 28-100mm f/1.8-4.9 lens. With a fast aperture of f/2.8 at the telephoto end, you will have a better control on lighting with the RX 100 III. The total aperture at the wide-angle end is f/1.8 to 11, while that at the telephoto end is f/2.8 to 11. Another important improvement on the RX100 III is the built-in retractable 0.39-inch OLED electronic viewfinder with 1,440,000 dots. The main screen is a 3.0-inch, 1,228,800-dot Xtra Fine TFT LCD, which can be tilted up to 180 degree upward and 45 degree downward.
The RX100 features four focus modes — Direct Manual, Manual, Single-shot AF (AF-S), and Continuous AF (AF-C). If you are wondering what Direct Manual mode is, it allows you to manually fine-tune focus after autofocussing. The camera features the usual three metering modes — Multi-pattern, Centreweighted, and Spot. Exposure can be compensated up to +/-3 EV in 1/3-EV steps. ISO sensitivity ranges from ISO 125 to 12,800 (expandable to ISO 80 and 100). The RX100 III allows you to set upper and lower limits for the sensitivity. Shutter speeds range from 30 to 1/2000 sec along with Bulb option. White Balance options are Auto, Daylight, Shade, Cloudy, Incandescent, Fluorescent (Warm White, Cool White, Day White, Daylight), Flash, Custom Temperature/Filter, and Custom. Self-timer can be set to 10 or 2 sec and when it is set at 10 sec, the camera allows you to shoot either 3 or 5 consecutive shots. Still images are recorded in JPEG format with a maximum size of 5472 x 3648 pixels, whereas videos are recorded in AVCHD format with the best quality option of 1920 x 1080 at 50p, 50i, or 25p  frame rate.
The built-in flash has a range of approximately 0.4 to 10.2m at the wide-angle end and approximately 0.4m to 6.5m at the telephoto end when the ISO is set to Auto. Flash modes available are Auto, Flash On, Slow Synchro, Rear Sync, and Flash Off. The camera sports Face Detection and can detect up to eight faces. You can select each face in a photograph and set the camera to memorise the faces. Shooting modes available are Superior Auto, Intelligent Auto, Program (P), Program shift (P*), Shutter Priority (S), Aperture Priority (A), Movie, Panorama, Scene Selection, and Manual (M). Scene Selection mode provides options of High Sensitivity, Night Scene, Night Portrait, Portrait, Landscape, Fireworks, Gourmet, Pet, Handheld Twilight, Anti Motion Blur, Sports Action, Macro, and Sunset. The camera offers Picture Effects such as HDR Painting, Rich-tone Monochrome, Miniature, Toy Camera, Pop Colour, Partial Colour, Soft Highkey, Water Colour, Posterization, Retro Photo, Soft Focus, High Contrast Monochrome, and Illustration.
The RX100 III can shoot continuously at up to 10 frames per second. The camera is powered by a 1240 mAh Li-ion battery (supplied). The RX100 III weighs approximately 290g with battery and Memory Stick Duo, and has dimensions of 101.6 x 58.1x41mm.
Ergonomics
The RX100 III has a small body, but it is does not fit in your pocket. The camera is easy to use and has an intuitive interface. The controls are small, but we cannot complain since it is a small compromise for a few better things. We are advocates of the viewfinder and hence the pop-up EVF is a welcome step, though we do not expect many people to use it. There is no doubt that the tiny EVF is a little cumbersome to use, but it would certainly help in low-light situations to eliminate camera shake. Again, to make things simpler, propping up the viewfinder will switch on the camera. Images on the LCD appeared crisp and the information display was legible. The tiny built-in flash springs up violently like a striking viper, but the metal hinges are strong enough to hold it in place.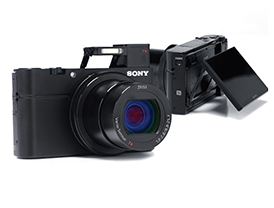 Performance
Sony cameras are known to be high performers amongst compacts, and the RX100 III surely has a reputation to keep. Autofocus was fast and precise even under low light conditions. Images were sharp throughout the zoom range. Probably, this was the reason why Sony has reduced the zoom range slightly from the RX100 II, since very high zoom ranges have the tendency to provide soft images at the telephoto end. If it is so, then Sony has removed a major blot any high-zoom compact would have in an honest reviewer's diary. Metering was perfect (by visual inspection) with all modes performing as expected. White Balance (both preset as well as Auto) performed well, especially under natural lighting (Daylight and Shade). Artificial light sources left their distinct casts, but these were easily removable in post-processing.
Native image size was 18.24 x 12.16 inches at 300 ppi. At 25 percent of the screen size, images were noise-free up to ISO 3200. Slight noise was observed at ISO 6400 and 12,800. Images were perfectly usable throughout the ISO range. Viewed at 50 percent, slight noise was observed from ISO 1600 onwards. The images were perfectly usable up to ISO 3200. Enlarged to 100 percent, we observed slight noise from ISO 400, but the images could be used up to ISO 1600. We consider this very good control of noise for a compact camera.
The camera produced slight (almost imperceptible) barrel distortion throughout the zoom range. Prominent flare was observed at the wide-angle end at wide-open aperture, but we did not observe any Chromatic Aberration. We observed strange darkening of the centre and light corners at the wide-angle end at wide-open aperture, probably because of an overacting in-built vignette control system.
Value for Money
The RX100 III retails at an MRP of Rs.54,990. For a compact camera with a 24-70mm lens, this is certainly high.
PLUS
• Fast Lens
• Excellent build quality
• Built-in EVF
• Good noise control
• Sharp images
MINUS
• Slippery body
• EVF too small
FINAL SCORE                                                                      82%
Design and Build Quality                                                17/20
Key Features                                                                      18/20
Ergonomics                                                                       16/20
Performance
Autofocus                                                                             5/5
Metering                                                                                5/5
Noise Control                                                                      4/5
Sharpness                                                                           4/5
LCD/EVF                                                                               3/5
Auto W/B                                                                                4/5
Sub-Total                                                                          25/30
Value for Money                                                                  6/10
VERDICT
The Sony RX100 III is certainly a highperforming compact with a fast 24-70mm lens. You can consider this camera if you are looking for an unobtrusive camera that can provide good images even at low-light situations. However, the price could be a deterrent unless you get a good discount from the dealer.
Sujith Gopinath