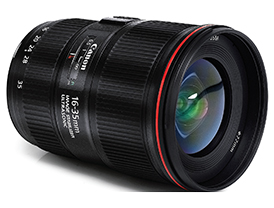 While amateur photographers aim for the longest reach in terms of zoom, professionals aim to extend the shorter end of the zoom range and accommodate a wide-angle lens. This is especially true for landscape or interior photographers who need that extra 'width' for maximum effect. But wide-angle lenses are very expensive, if you consider fast lenses, and you needn a bit of extra skills to handle a wideangle. Th e Canon EF 16-35mm f/4L IS USM is an aff ordable version of the EF 16-35mm f/2.8L II USM lens for fullframe cameras.
Design and Build Quality
Being an L-series, this lens carries the mark of excellence and fi ne workmanship. Th e outer barrel is made of rugged quality engineering plastic. Th ough normal plastics, in general, are considered inferior to metals, these toughened plastics have better strength-to-weight ratios, making the material lighter yet as strong as metals. The fact that these composite materials are used in the construction of modern fi ghter aircraft s, is proof of its tensile strength. Composites are also better at cushioning impact in case it is accidentally dropped.
Key Features
Th e Canon 16-35mm features, as expected from an L-series lens, is packed with professional features. It can be used with both full-frame and APS-C bodies. Th e lens has a maximum aperture of f/4 and a minimum aperture of f/22. It is constructed with 16 elements in 12 groups including three aspherical and two UD (Ultra-low Dispersion) lens elements to reduce aberrations. It also uses special coatings to reduce fl are and ghosting. Th e lens features a 9-blade circular aperture that produces pleasing bokeh. Focussing is through a ring-type Ultrasonic Motor (USM), which assists with internal focussing. With this feature, the lens dimensions do not change while focussing. The lens focusses as close as 28cm and provides a diagonal angle of view from 108º10' to 63º. Canon claim that the Image Stabilisation system provides up to four stops advantage in handheld shots.
Th e lens has a fi lter size of 77mm. It has a rubber ring to prevent water and dust from seeping into the camera through the lens mount. Th is lens weighs approximately 615g and has dimensions of 82.6 (dia) x 112.8mm.
Ergonomics
Th e Canon 16-35mm lens is very comfortable to hold and operate. The rubber grips on the zoom and focus rings make operaion eff ortless. The lens is made for Full-Frame bodies and it balanced well with the Canon 6D body that we used for the tests. Since this lens features internal focussing, the lens barrel does not extend while focussing or zooming, and neither does the front element rotate.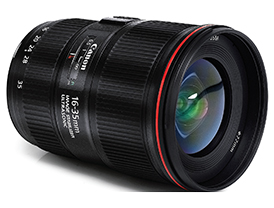 Performance
Th e Canon 16-35mm lens autofocussed very fast on the Canon 6D we used for the tests. Focussing was precise and the AF operation was near-silent (only the photographer could hear it). We did not observe any flre or chromatic aberration at the wide-angle end in strong against-thelight shots. However, we could see lateral chromatic aberration while photographing dark text on white paper in the studio. This is common for most wide-angle lenses. Sweet spot of the lens was found to be f/5.6, and the lens produced the best sharpness from f/4 to f/8. Sharpness deteriorated from the centre to the peripheries.
The lens produced barrel distortion till 24mm, along with some irregular (moustache) distortion. It also produced prominent darkening of corners at the wide-angle end throughout the aperture range. The 6D did not have the lens correction data for the lens, and hence the peripheral illumination correction and chromatic aberration correction could not be enabled for this lens. Optical Image Stabilisation performed well as claimed by Canon, and the lens coatings did not introduce any unwanted cast.
Value for Money
The Canon 16-35mm f/4L IS USM lens retails at an MRPof Rs.77,995. This looks competitive for a lens with this range and specifications.
PLUS
• Superior build quality
• Fast Autofocus
• Comfortable to use
• Good flare control
MINUS
• Heavy darkening of corners
• Prominent distortion
FINAL SCORE                                              81%
Design and Build Quality                              18/20
Key Features                                                18/20
Ergonomics                                                   17/20
Performance
Autofocus                                                         5/5
Sharpness                                                         3/5
Distortion Control                                              3/5
Aberrations                                                      4/5
Darkening  of Corners                                      3/5
Extra Features                                                4/5
Sub-Total                                                      22/30
Value for Money                                              6/10
VERDICT
The Canon 16-35mm f/4L IS USM lens offers a very useful range for landscape photographers and those in search for a wide-angle lens with a good zoom range, that does not burn a hole through their pockets. This is ideal for landscapes because the darkening of corners and distortion are less likely to be seen in landscapes.
Sujith Gopinath