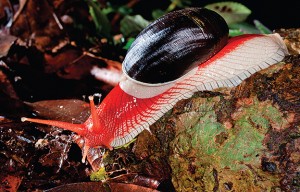 Snail (Indrella ampulla)
Tell us a little about yourself—your life, your profession…
Though I work with Raymond Limited which is a renowned textile manufacturing company, my love towards nature has always attracted me to go to forests and wild places with a huge biodiversity in India. I traveled across the country for my nature observations and photography. I have visited many of the national parks in the country like Kanha, Bandhavgarh, Pench, Gir, Ranthambhore, Kaziranga, Jim Corbett, to name a few. I stay in Thane, which is on the outskirts of Mumbai's Sanjay Gandhi National Park, spread across 104 sq. km and home to many small creatures and even leopards. I have been visiting this park almost every weekend for the last 26 years and I still find something new in every visit.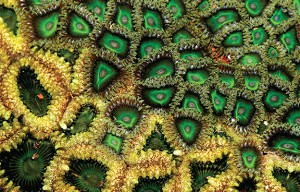 Underwater Coral
What inspired you to pursue photography?
I was very interested in birds, but I slowly started admiring the other unusual and fascinating fauna. I started observing and photographing butterflies, ants, bugs, beetles, dragonflies, other small insects and wild flowers. Big mammals and birds get all the attention but these tiny critters are always neglected and very little information is available on Indian species. So I concentrated on photographing them and started writing about them.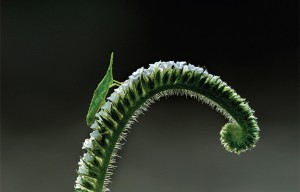 Tiny grasshopper on flower
My photos won many national and international awards and were exhibited across the world. Some photos were included in field guides, educational websites and magazines. Only observing and photographing nature is not my goal. I love to spread awareness and knowledge about nature and wildlife. I have written and published more than 1000 photo features in various newspapers, magazines and blogs. I have made audio and video CDs for school children on nature education and awareness. I have conducted talks and workshops on nature, wildlife and photography. I accompany students, groups, families to help them see the hidden natural world and the rich biodiversity across the country.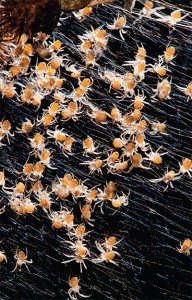 Spider Babies at Yeoor
You specialise in close-up and macro shots. Some of the subjects that you photograph are dangerous. Have you had any life-threatening experiences when photographing such subjects?
I study the objects I shoot. It is wise to have a fair knowledge of your subjects and to take care of your bags and equipment. If the snakes that I shoot are venomous, I keep a distance. Once I was shooting in Goa with some Italian photographers. We were looking for a hump-nosed pit viper in the southern forests. We found one and when we had finished the shoot and were wrapping up, we saw a snake of the same species, right next to where we were positioned. So it is essential that you scan your surroundings and are aware all the time.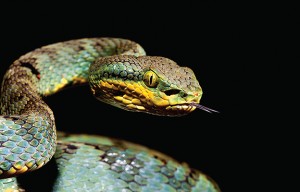 Bamboo Pit Viper
How do you prepare for your shoots?
All my shoots are thoroughly preplanned. For example, if I am travelling to Goan forests I know I will have the opportunity to practice macro photography, so I carry those lenses accordingly. If I am going to Kanha or Bandhavgadh, I am likely to carry out all my shoots from a jeep. In such cases I prepare myself by carrying telephoto lenses. Other than that, I equip myself with knowledge about which birds are about to be present at that time of the year, whether it is the mating season for any species and so on.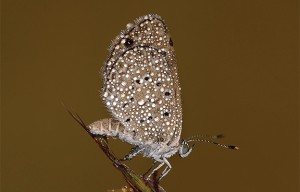 In your opinion, how important is equipment? How do you find the right balance between equipment and technique?
Technique is always more valuable than equipment, especially in nature photography. When I shoot butt erflies, insects or reptiles, there is a chance that they may fly away or move. This will not happen while photographing inanimate objects. Plus you have to calculate the sett ings and decide the extent of magnifi cation that the macro images require. Th ere are many who have high-end lenses, but very few can produce good images. Even though good gear is necessary, proper technique and skills are a priority. I use Nikon camera bodies (D70s, D90 and D7100) and Tamron lenses (90mm VC Macro, 180 macro, 200-500 zoom and 18-270 VC).
This is the digital age. How much and how often do you edit your images?
I make very litt le use of post-processing techniques. I mainly use cropping and colour correction tools. I myself am not very skilled with editing programs, but I know that it is very useful in altering images and correcting flaws.
Do you have any advice for beginners in nature photography?
Many a times, people do not know much about the subject that they are clicking. Be aware of the location where you are shooting. Inform yourself about the climate, the animals found there, whether there will be any migrating birds, whether it is the mating season for any of the species and so on. Th is always helps in being a bett er photographer.
As told to Tanika Godbole