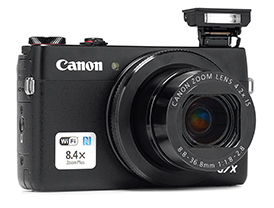 Consumers today are upgrading their level of technical knowledge to distinguish between gimmicks and real stuff , thanks to the increasingly accessible well of information online. And this is forcing the companies to innovate and come up with real improvements. This has led to fierce competition in the premium compact segment, which is hotting up every day. All major camera companies are aggressively following this segment. Canon has recently released the PowerShot G7X, a probable rival to the Sony RX100 III.
Design and Build Quality
The Canon G7X carries the signature build quality of a professional compact camera. The exterior is largely made of metal and provides a sturdy feel. To distinguish this premium camera from the normal compacts, Canon has incorporated a sophisticated-looking 'double dial' on top. The upper one is the Mode dial, while the lower one lets you set exposure compensation. The camera has a control dial around the lens, as in the case of its predecessors. You can assign various functions to this dial, the default being Aperture control. The lens has two segments. The G7X has a small built-in flash to aid in filling shadows. It does not have an accessory shoe (hot-shoe), nor EVF. (By comparison, the Sony RX100 III features an EVF, while the Panasonic LX100 kit includes a compact external flash that can be mounted on its accessory shoe.) The LCD can be tilted up vertically up to 180 degree, enabling you to capture a selfie. The camera has a metal tripod receptacle
Key Features
The 20.2-megapixel Canon G7X features a 1.0-inch (12.8 x 9.6mm) CMOS sensor. The camera uses a DIGIC 6 image processor for faster image processing and better noise control over earlier models. The G7X uses a 24-100mm equivalent lens with optical (lens-shift type) image stabilisation. (Here, Canon is the leader with both Sony and Panasonic limiting the zoom range to approximately 24 to 70mm). Aperture ranges from f/1.8 to 11 at the wide-angle end and f/2.8 to 11 at the telephoto end. The lens focusses from 5cm to infi nity at the wide-angle end and 40cm to infi nity at the telephoto end. Focus modes available are Continuous AF, Servo AF, and Manual Focus, while AF Frame options are Face AiAf and 1-point. The G7X features the usua three metering modes—Evaluative, Centre-weighted average, and Spot. ISO sensitivity ranges from ISO 125 to 12,800, and shutter speed can be varied between 250 sec and 1/2000 sec. Exposure can be compensated up to +/-3 EV in 1/3-EV steps. The camera has a 3.0-inch, approximately 1.04 million-dot tilting TFT colour touch screen LCD. Th e built-in flash has a range of 50cm to 7.0m at the wide-angle end and 40cm to 4.0m at the telephoto end. Flash modes available are Auto, On, Slow Sync, and Off . The G7X features shooting modes such as C, M, Av, Tv, P, Hybrid Auto, Auto, Creative Shot, SCN, Creative Filters, and Movie. Scene modes include Portrait, Smart Shutter , Star,Handheld Night Scene, Underwater, Snow, and Fireworks. Creative filters available are High Dynamic Range, Nostalgic, Fish-eye Effect, Miniature Effect, Toy Camera Effect, Background Defocus, Soft Focus, Monochrome, Super Vivid, and Poster Effect. The Movie mode provides further options of Standard, Manual (Movie), and iFrame Movie. In Smart Shutter mode, you can set Smile, Wink, and Face self-timers. Star mode provides various options you can use under a starry sky, such as Star Portrait, Star Nightscape, Star Trails, and Star Time-Lapse Movie.
The G7X records still images at a maximum resolution of 5472 x 3648 pixels in Raw or JPEG format (with an option to record both simultaneously). In continuous shooting mode, the camera can capture up to 6.5 frames per second. The best movie quality that the G7X captures is 1920 x 1080 at frame rates of 60p or 30p. The camera features Wi-Fi and NFC functions for connecting with other compatible devices.
The G7X is powered by a rechargeable Li-ion batter (NB-13L supplied). The camera weighs approximately 304g and has dimensions of 103.0 x 60.4 x 40.4mm.
Ergonomics
The Canon G7X is compact and can fit into a handbag, but not sleek enough to slip into your pocket. The interface is intuitive and the controls easy to locate and operate. Images on the LCD appeared crisp and clear. The camera does not have a viewfinder, which, if provided, would have been very useful.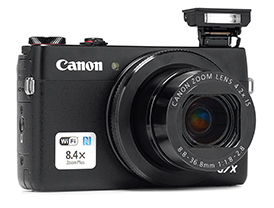 Performance
The Canon G7X features on the list of professional cameras and it needs to prove itself to be considered worthy of sharing space with the high-performers of this segment. Though this is not a head-to-head comparison, this test will help you get a fair idea.
The G7X was fast to focus and could lock on to the subject even in reasonably low-lit situations. Metering modes performed as expected, and images appeared sharp throughout the focal length. Distortion was limited to a slight barrelling till 14mm (equivalent to 35mm). We observed slight darkening of corners while photographing a white wall at the wide-angle end with the lens wide open. But we are quite sure that you will not notice this in normal every-day images. The lens produced prominent flare along with purple fringing.
Auto White Balance performed well under natural light sources (Daylight and Shade), but produced traces of distinct cast left by artificial light sources. These could be removed easily in postprocessing, and we wouldn't lose sleep over this issue (neither should you). Native print size was 12.16 x 18.24 inches at 300 ppi. At 25 percent view, images were noisefree up to ISO 6400. ISO 6400 and 12800 were quite noisy. Viewed at 50 percent, we observed slight noise at ISO 3200, but the images were perfectly usable. Enlarged to 100 percent, we observed noise from ISO 200 onwards, but the images were perfectly usable up to ISO 1600.
This performance looks comparable to the Sony RX100, though we couldn't get both the cameras together for a comparison. Another competitor, the Panasonic LX100 is still awaited in India.
Value for Money
The Canon G7X retails at an MRP of Rs.44,995. This is lower than that of the competitors in this segment, which would work in G7X's favour. The final price will depend on your bargaining skills at the dealer's place.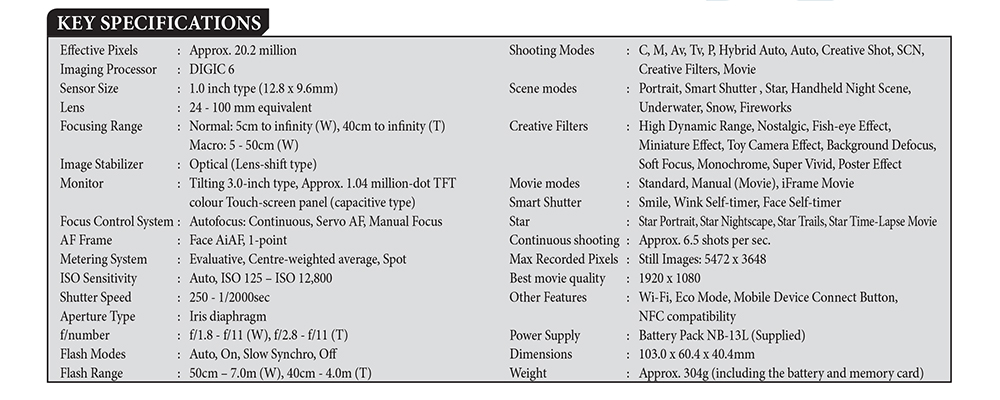 PLUS
• Fast Lens
• Excellent build quality
• Good noise control
• Decent zoom range

MINUS
• No EVF
• Flash too small
• No Accessory shoe
FINAL SCORE                                             81%
Design and Build Quality                             17/20
Key Features                                             17/20
Ergonomics                                               16/20
Performance
Autofocus                                                      4/5
Metering                                                        5/5
Noise Control                                                 4/5
Sharpness                                                      4/5
LCD/EVF                                                     2.5/5
Auto W/B                                                     3.5/5
Sub-Total                                                      23/30
Value for Money                                             8/10
VERDICT
The G7X is a capable camera aiming to heat up the competition within the professional compact segment. The main advantage of this camera is a better zoom range compared to competition. But we miss an EVF and an accessory shoe (hotshoe). Sujith Gopinath