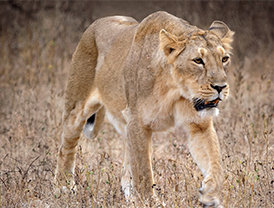 The state is a perfect tourist haven in terms of wild life, intricately carved step wells, stunning palaces, vibrant culture, mouth-watering cuisine and a plethora of tourist activities.
R Srinivasan
Gujarat, birthplace of Mahatma Gandhi and 'textile king of India' has a lot more going for it. Recently, Gujarat Chief Minister Anandiben Patel, as per recent news reports announced the results of the 14th lion census said that there are 523 Asiatic lions in Gir forest as compared to 411 in 2010. Gir is one of the most important wild life sanctuaries in India and attracts thousands of tourists every year. Established in 1965, it is 43 km from Somnath, 65 km from Junagadh and 60 km from Amreli. Listed as endangered, the Asiatic lion (Panthera leo persica) differs from the African lion which has a better developed mane, and a larger body frame, but is no less majestic. Also found here are leopards, jungle cats, jackals, civets, chital, nilgai (bluebull) and blackbucks. The best time to spot wild life here is in summer.
Royale treat
Apart from the wild life, tourists can visit some of the palaces such as: Laxmi Vilas Palace: Considered to be four times larger than England's Buckingham Palace, it is located in Baroda.
Ranjit Vilas Palace: A fusion of Italian and European architecture, it Vijay Vilas Palace
Pic courtesy: Himanshuu Sheth Photosafaaris
Pic courtesy: Himanshuu Sheth Photosafaaris
is situated in Wankaner.
Vijay Vilas Palace is located at Mandvi beach in Kutch.
Naulakha Palace at Gondal has a vintage cars collection.
Nilambagh Palace in Bhavnagar is also a heritage hotel for tourism.
To visit some of these palaces which are preferred as movie locations, tourists need to take prior permission and pay a certain nominal visiting charge.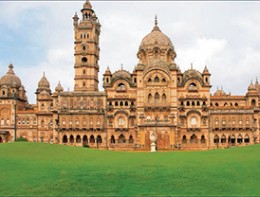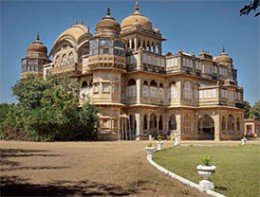 Some other tourist attractions are Kirti Mandir – Mahatma Gandhi's birthplace at Porbandar, Sardar Sarovar Dam, Somnath temple near Veraval, Lord Krishna's Dwarakadheesh temple at Dwarka, Haji Pir dargah in Kutch, Lothal near Ahmedabad (which is one of the most ancient towns/cities in the world) and the Saputara hill station in Dang district, among others.
Architectural marvels
These ancient step wells or 'Vav', (in Gujarati and Marwari language) in the semi-arid regions were once integral to the region as they provided basic water needs and served as natural reservoirs even as they collected rain water during the monsoons. In the past they were frequented by thirsty travellers as stopovers along trade routes. They were also venues for colourful festivals and sacred rituals. They were constructed in such a manner that they have survived the ravages of time and earthquakes. Due to the well-planned ventilation on the various floors, it is much cooler within these structures as compared to the soaring temperatures outside. There are over 120 such wells in Gujarat, of which the one at Adalaj is most popular.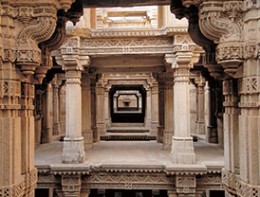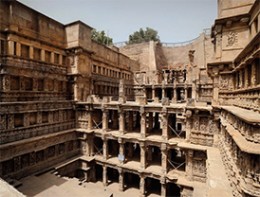 Adalaj step well: Its construction was started by Rana Veer Singh and after his death king Mahmud Begada built it in Indo-Islamic architectural style in 1499. The five-storeyed sandstone structure has Islamic motifs that blend with intricately carved Hindu and Jain gods, elephants and women at various levels of the well. This step well is 5 km from Gandhinagar and one can get there from Ahmedabad airport or Kalupur, which is the nearest railhead. |SP
Other activities
See for yourself some spectacular kite flying during Makar Sankranti in January, fervour of garba during Navratri, Kalamkari blockprinted cloth paintings done in honour of Goddess Durga (Mata ni pachhedi) during Navratri, textile hub Ahmedabad which is called 'Manchester of the East', shop till you drop for needlework tie-dyed fabrics, bead work, Patola and Zari work, try the Gujarati thali, visit India's first skydiving zones at Dessa in Banas Kantha district, ride a hot air balloon over Kankaria lake (apart from paddle boating) or enjoy some artificial snowfall (at the snow park) in Ahmedabad where one can also ride on sleighs or go rock climbing. So as one can see, Gujarat has something for everyone.