A peek at some activities in this state for tourists, apart from sightings of one-horned rhinos…
R Srinivasan

The word 'Assam' is derived from the Sanskrit word 'Asom' meaning 'peerless'. The state is home to over 180 species of mammals, but for most wildlife lovers it would throw up images of 'rhino country' since it is home to the rare Indian one-horned rhinoceros. The state has five national parks, two of which are designated world natural heritage sites by UNESCO. The two most famous parks here are Kaziranga and Manas.
Kaziranga National Park is located on both sides of the Brahmaputra river. Kaziranga was declared a sanctuary in 1916 to counter the poaching of rhinoceros and in 1974 it was demarcated as a national park. This park has the world's largest population of one-horned rhinoceros. Sightings of rhinos on elephant back even as the pachyderms wade through 10-feetplus tall grass is a safe, and memorable option. Another option is to take the jeep safari. The best time to visit is between November and April. The nearest airports are Rowraiah (Jorhat) which is about 97 km and LGBI airport, Guwahati, which is 239 km away.
Manas National Park was originally a game reserve since 1928. It became a tiger reserve in 1974 and was declared a national park in 1990. The park, which forms a natural corridor for elephant migration between India and Bhutan, is located 176 km from Guwahati and 20 km from Barpeta railway station. The best season to visit is between November and April. Other national parks are Nameri, Dibru-Saikhowa and the Rajiv Gandhi National Park. Other species of wildlife found in Assam are the royal Bengal tigers, Atlas Moths (considered to be the largest moths in the world), rare golden langurs, leopards, civets, barking deer, swamp deer, gaur, otters, Himalayan black bears, water buffaloes, wild pigs, etc. Also found here are many rare species of birds such as pelicans, parakeets, eagles, bar geese, storks, grebes, cormorants, osprey and over 60 species of fish.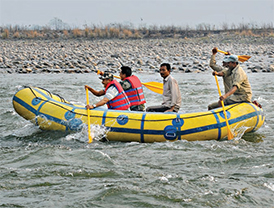 Activities
Mountaineering and Trekking: The terrain is ideal for trekkers and rock climbers, especially in the North Cachar Hills and Karbi Hills. 'Elephant Rocks' in Morigaon district and Simhasana Hill of Karbi Anglong are the most preferred by rock climbers.
Mountain Biking: In view of the undulating contours in some places, the tourism department in association with adventure organisations conducts annual bicycle and motorbike rallies which see participation from local as well as foreign tourists. The best time for this activity is from October to April.
Hang Gliding: Ideally in the Kamakhya hills.
Para Sailing: Was introduced to attract tourists and the best place for it is near Guwahati.
River Cruise: The majestic turbulent waters of the Brahmaputra, one of the world's greatest rivers, – 1,800 miles from its source in the Himalayas to the Bay of Bengal – flows through the state offering a wide network of rivers for various water sports, apart from cruising along from Ninging to Dhubri.
Boat Racing: Organised during festive occasions at Hajo, Saulkuchi, Barpeta and Guwahati, this sport is akin to the snake-boat race that is held in Kerala.
White Water Rafting: At Manas, Jia Bhoroli and Kapili, the rapids provide an adrenalin rush for adventure lovers.
Kaziranga Elephant Festival: Jointly organised by the forest and tourism departments, the elephant festival is annually held at the Kaziranga National Park in February. Hundreds of Asiatic elephants are decorated from head to toe like Kerala's Guruvayoor temple elephants and they participate in races and football matches.
Apart from all the above activities, the state is a confluence of religions such as Hinduism, Buddhism, Sikhism, and Islam. To see structures representing these various religions, one could visit the local towns by hiring cycle rickshaws. So when you plan your next trip, also consider the state for its lush green tea estates, valleys, serene countryside and dense deciduous  forests. |SP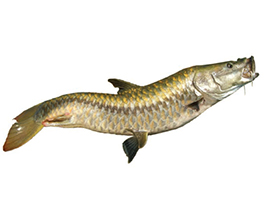 Angling
Anglers fish for golden Mahseer at Jia Bhoroli, Kapili and Manas and an annual angling competition is held at Jia Bhoroli which sees participation of anglers from the state as well as abroad. The Assam Bhoroli Angler's Association, in collaboration with the forest department, organises this sport in November. The word 'Mahseer' is said to be derived from a combination of 'mahi' meaning 'fish' and 'sher' meaning 'tiger' which cumulatively means 'tiger among fish'. True to its name, the largest member of the carp family in the world, which is claimed to grow over five feet, moves to warm waters during winter and can swim upstream against strong swirling currents and high speed rapids. Fishing is usually prohibited during the monsoon, which is the breeding season for the fish. It would be better for the ecosystem too if anglers participated on a catch-andrelease principle.