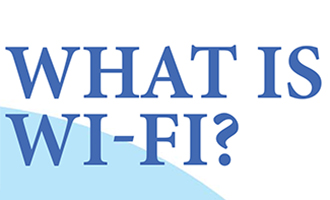 Our regular readers are aware of our increased stress on including Wi-Fi as a feature in all cameras. But reader R. Janmal wants to know what exactly Wi-Fi is and how it works. So here goes…
Wi-Fi is a term used for communication technology that transmits data using radio waves from one device to another. The word 'Wi-Fi' is now patented and the patent is owned by a number of companies that have formed a 'Wi-Fi' Alliance'. The Alliance ensures that all official Wi-Fi certified products communicate without problems. Wi-Fi is offered today by all major telecom operators and can be accessed using Smartphones, Tablets, computers and nowadays, cameras.
In today's digital cameras, Wi-Fi enabled cameras offer a step-up on non-enabled ones. A camera having Wi-Fi allows you to instantly send your images to your home computer. For this purpose, you need a Smartphone or Tablet. This Smartphone or Tablet needs to be fed an app that will allow it to communicate with your camera. This app can be downloaded and installed for free from the Google Store or Apple App Store.
Once connected, you can send your images from your camera to your Smartphone or Tablet. From the phone or the Tablet, you can of course send your images to specific sites like Facebook or Flickr. In the latest cameras featuring Wi-Fi, you can connect directly to the internet without the intervention of your mobile.
The first D-SLR to feature Wi-Fi was Canon's EOS 6D. Mirrorless camera manufacturers have been quicker and Olympus (E-M1), Panasonic (GH3) and Sony (A7R) have Wi-Fi models. Bridge cameras like Panasonic's FZ 200 also feature Wi-Fi.
If you own a camera without Wi-Fi, you need not despair. An Eye-Fi card can give you Wi-Fi benefits without your having to replace your existing camera. One technology that is likely to become more popular is NFC or Near Field Communication. This wireless technology uses radio waves to allow two devices (say a camera and a Tab) to communicate over very short distances. Thus, NFC enables two devices to share data simply by tapping them together. This technology is already popular with mobile phones and should soon catch up with digital cameras as well. Like the Wi-Fi Alliance, a NFC Forum has already been formed and this Forum will ensure NFC compatibility between various devices. The Panasonic Lumix GX-7 is a good example of a camera featuring both Wi-Fi and NFC.
H. S. Billimoria