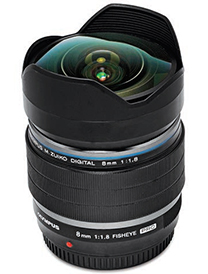 Announced in the first half of May 2015, the Olympus 8mm f/1.8 fisheye lens is designed for the Micro Four Thirds System. It is dust-proof, splash-proof and freezeproof and offers a diagonal angle of view of 180 degrees.
Design & Build Quality
The M.Zuiko DIGITAL ED 8mm f/1.8 Fisheye PRO lens is very well built. The outer body is made from metal and polycarbonate. The front element is bulbous; filters cannot be attached. Its petal-type lens hood is ixed. A rubber gasket at the rear end prevents dust etc. getting between the body and the lens. A large, pinch-type cap covers the front element when not in use. The lens weighs 305g without both end caps.
Key Features
The lens is constructed with 17 elements in 15 groups that include 2 HR (High Refractive Index) elements, 1 Super HR element, 2 ED (Extra-low Dispersion) elements, 3 Super ED  elements and 1 Aspherical element ZERO (Zuiko Extra-low Reflection Optical) coat is applied to the lens surface (Olympus does not indicate which elements are thus coated) which, claim Olympus, completely eliminates ghosting and flare. The lens is dust-proof, freeze-proof and splashproof, making it suitable for use under most demanding weather conditions.
The 8mm fisheye lens (equivalent to 16mm in the 35mm format) can be focussed as close as 0.12m (4.72") from the sensor plane (about 2.5cm from the front element). When used this way, along with its wide aperture of f/1.8, can provide extreme closeup with soft out of focus background. Under-water photography (with suitable housing) gets a shot in the arm with its bright f/1.8 aperture; photographing stars, even at f/1.8, provides sharp edge-to-edge images. Illuminated buildings offer a new perspective with the fisheye lens. If you have the inclination, the 8mm fisheye lens could be used to take unusual portraits too!
The lens offers amazing depth of field. When subject distance is just 2 metres (6.56 ft) for example, at f/4, f/5.6 and f/8, you can get DOF from 0.711 (27.99") – infinity, 0.574 (22.59") – infinity and 0.458 (18.03" – infinity respectively! Focussing is internal, via a stepper motor. There is no distance scale and the manual focus ring can be turned continuously without a stop!
Ergonomics
We tested the lens on an Olympus OM-D EM-1 body. The balance was perfect and the lens was easy to use.