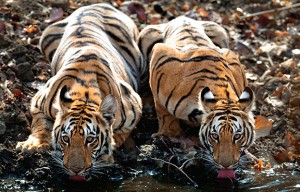 What inspired you to pursue photography? And what drew you towards wildlife?
Like every Mumbaikar who aims for a stress-free life, I started exploring places during my weekend breaks. My pocket camera remained my companion. The trigger which pushed me towards professional photography was when one of my images getting selected for publishing with a leading nature conservation magazine. Thus started my journey of professional photography and I began upgrading my equipment and enhancing my skill.
                                 Tiger Cubs                                                Leopard
Moreover, my childhood's ardent pastime was to observe birds and find their names. I extended this hobby to photography, and thus started my wildlife photography voyage. Bird photography is very challenging, but equally rewarding.
You specialise in photographing birds and wild animals. What points should one bear in mind while photographing wildlife?
To become a better photographer, one needs to be a better naturalist first so know your subject well. Depth Of Field plays a major role in capturing stunning wildlife images. Always shoot at eye level and sometimes even lower than eye level. Understand the lighting well, and try to shoot during the 'golden light hours' (early morning and late noon) on sunny days. You can shoot the whole day long on an overcast day. Back-lit images create a different mood in wildlife pictures. Always look for action when shooting packs and herds. Patience is a key skill one should require in the field. It is also very important for a photographer to enjoy himself.
  Paradise Flycatcher                         Orange Flanked Bush Robin
How do you prepare for your shoots and what is your workflow during post-processing?
I always prepare a checklist before any expedition. Th is includes a list of birds and mammals that are found in that area, information on bird calls and reference images, maps, binoculars, extra batt ery packs, spare camera body, extra memory cards and a medical kit. I also make it a point to carry warm clothes and rain protection.
I always shoot in RAW. It gives better freedom and flexibility to recover your images shot in adverse conditions, especially in case of snaps taken in the evergreen forest of Himalayas and the Western Ghats where it is relatively dark and one has to use a very high ISO.
For post processing, I use Photoshop. I always work on multiple layers. Layers are a non-destructive way of working on a photo. I use Photoshop plug-ins like Topaz DeNoise for noise reduction .
Rufous-bellied Niltava                        Lesser Yellownape
In your opinion, how important is equipment? And how important is it to have the knowledge of the subject that you are shooting?
As a wildlife photographer one needs to give lot of emphasis on the equipment. The camera should ideally be friendly and give high ISO noise performance, because many a times we end up shooting the subject in dark areas and around sunrise/sunset. Frames per second is another important factor which is very helpful in capturing action shots. Always go for full-frame cameras which also help you get better dynamic range.
Prime lenses with the widest possible aperture (f/2.8 or f/4) are my personal choice for bird and mammal photography. Alternately, some wide aperture zoom lenses like 70-200 mm f/2.8 and 200-400 mm f/ 4.0 offer a good versatility and near perfect results.
As mentioned before, I spend lots of time in getting to know my subjects. It helps me locate them in the wild.
I believe in being a good listener in the forest because your ears will give you a better viewing horizon than your eyes. Information about the behaviour of animals helps in capturing better behavioural shots like male display during breeding season, dancing poses, territorial fights, vibrant colours. Smaller details like migration pattern of the birds, their feeding behavior, fruiting / flowering plants/trees in the region, breeding time, bird calls / songs, alarm calls should be observed. One should spend lot of time understanding the biodiversity of the place. Weather and light conditions play a major role too.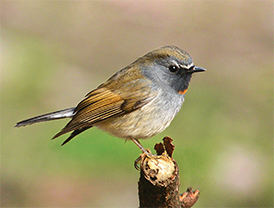 Rufous-Gorgeted Flycather
Could you give us some dos and don'ts, especially for beginners?
Do your homework well on the subject. Spend more time in the wild, and be patient. Taking a local guide in unknown terrains will always help. Keep a safe distance from the subject. It is sensible to carry binoculars. Always carry rain protection for yourself and your gear, regardless of the weather.
In the wild, you must not corner or harass your subject. Don't get down from your vehicle when you aren't supposed to. Respect the environment and don't create too much noise. Wear earthen shades in the wild.
To summarize, know your gear and its limitations. Know your subject well and its behaviour (typically look for head angles, perching for birds, and eye contact for mammals). Anything can happen in the wild, so don't spend too much time reviewing your work in the field. Always be ready to take the next shot.
As told to Tanika Godbole