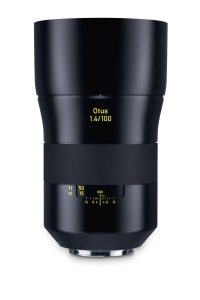 Zeiss is expanding its lens family for full-frame Canon and Nikon D-SLRs with the introduction of the Zeiss Otus 100 mm f/1.4 telephoto lens. Zeiss states that the lens design, with aspheric lenses and special glass materials, keeps chromatic aberrations and distortions to a minimum. Even when shooting against the light, the T anti-reflective coating developed by Zeiss allows for extremely high contrast and minimises stray light.
According to Zeiss, the Otus 100 mm f/1.4 lens features an extended rotation angle and smooth operation of mechanical components that enable precise manual focussing. The lens's stable full metal housing with internal focussing ensures a consistent centre of gravity and optimum balance when taking photographs.
The Zeiss Otus 100 mm f/1.4 lens will be available for Euro 4,500 or USD 4,500. A lens shade and protective caps for the front and back lenses are included.