Zeiss has announced the development of Zeiss ZX1, its mirrorless full-frame camera in Cologne, Germany. The ZX1 features a newly designed, integrated Zeiss Distagon 35 mm f/2 T* lens with autofocus that the company claims, has been perfectly matched to the 37.4 megapixel full-frame sensor developed in-house at Zeiss.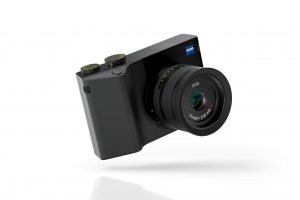 The ZX1 enables photographers to professionally process Raw images directly on the camera with the fully integrated Adobe Photoshop Lightroom CC. The camera also allows the user to upload selected images directly to the internet. The camera includes 512 GB of internal memory. Versatile connectivity options such as Wi-Fi, Bluetooth and USB-C ensure that various peripherals can be connected. Over-the-air software updates keep the camera up to date without requiring a computer connection.
The design of the Zeiss ZX1 is characterised by its unconventional shape. The newly defined user interface utilises a 4.3-inch multi-touch display. The slightly bent screen separates the live view from the control elements, making camera operation comfortable and straightforward.
Zeiss ZX1 will be available from early 2019.