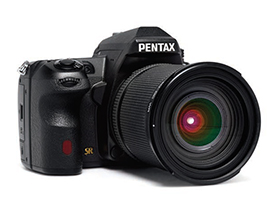 In the seventies and the eighties,  Pentax (then Asahi Pentax) was a name to reckon with. Their 'mostsold' film SLR was the Pentax K1000, which was very reliable and easy to use and was hence seen in almost every photographers' kit-bag. Somehow, with the advent of the digital era, Pentax lost its way. Though in the recent times, they have been trying for a revival of their lost glory. The K-3 II, introduced in early 2015, appears to be their flagship APS-C D-SLR.
Design & Build Quality
The Pentax K-3 II is a D-SLR using an APS-C size imaging sensor. The build quality of the camera is impressive. The body uses magnesium alloy on a metal chassis and appears to be quite tough. The camera is weather-resistant. It is made in Philippines.
Key Features
The Pentax K-3 II is a 24.35 megapixel D-SLR incorporating an APS-C size (23.5 x 15.6mm) CMOS imaging sensor, aided by a Prime III image processor. The K-3 II does not use an Anti-Aliasing (Low-Pass) filter. It employs a high-performance 27-point SAFOX 11 autofocus module (see sketch showing placements of the AF points) which includes 25 cross-type sensors, out of which 3 are active at f/2.8. The K-3 II provides 8.3 frames per second in continuous shooting and an ISO sensitivity of up to 51,200.  The company claims that when using the new Pentax lenses (HD Pentax-DA 18-55mm WR/RE, HD Pentax-D FA 150-450mm, HP Pentax D- FA 70- 200mm) on AF.S, "autofocussing speed is faster since the lens activation method is optimized to eliminate redundant movement at the  last moment's 'fine adjustment' step".
A feature that you may find interesting is the Pixel Shift Resolution (somewhat similar to the High Resolution mode in the Olympus E-M5 II). When enabled, the camera fires 4 frames but shifts each frame by 1 pixel using its built-in Shake Reduction System and then combines them to offer a high definition image. Please note that using a steady tripod is important and that neither the camera nor the subject should move during the time the camera completes the 4 shots, which takes approximately 1-1.5 seconds. With cameras using the usual RGB filter array, each photo diode is covered by either a red, green or blue filter. This means that the on-board computer has to guess (interpolate) the values of two out of the three channels for each pixel. In the K-3 II, every pixel directly records the colour information.
Images can be recorded in 14-bit Raw (PEF, DNG), JPEG (3 qualities), and Raw + JPEG, using either sRGB or Adobe RGB Colour Space. Exposure control is via TTL open aperture metering using 86000-pixel RGB sensor, while Metering Modes are Multi-segment, Centre-weighted and Spot. Shutter speeds available are 30 seconds to 1/8000sec. Images can be recorded using either the Viewfinder or the Live View and viewed on the 3.2 inch TFT colour LCD having a resolution of 1037K dots.
The K-3 II does not have an in-built flash (which can be very useful under certain situations) but instead offers GPS which records data about the location where the pictures are taken. The GPS also includes a feature called Astrotracer, which is used to photograph astronomical objects in the night sky. During the long exposures needed for this genre of photography, the imaging sensor is moved to compensate for the earth's rotation.
The Exposure Mode Dial on the K-3 II has a safety lock to prevent accidental changes. It allows you to select: Program (P), Sensitivity Priority (Sv), Shutter Priority (Tv), Aperture Priority (Av), Shutter & Aperture Priority (TAv), Manual (M), Bulb (B) and Flash  -sync Speed (X). Further, the Exposure Mode Dial also has three User Settings and a Green Mode (for absolute beginners). Drive Modes available are: Single, Continuous, Self-timer, Remote Control, Exposure Bracketing, Mirror Lock-up, Multiexposure and Interval Shooting.
White Balance settings available on the K-3 II are Auto White Balance (AWB), Daylight, Shade, Cloudy, Fluorescent (4 types), Tungsten, Flash, Colour Temperature Enhancement (CTE), Manual WB 1-3, and Colour Temperature setting 1-3. Picture Styles (Pentax calls them Image Finishing Tones) are available for those who like to tweak their images for a different result. You have a choice between Bright (default setting), Natural Portrait, Landscape, Vibrant, Radiant, Muted, Bleach Bypass, Reversal Film, Monochrome and Cross Processing. Dynamic Range can be extended using Highlight Correction/Shadow Correction feature. A three-shot sequence can be fired to create an HDR (High Dynamic Range) image when the lighting/subject is too contrasty. A useful feature, also seen in some other models, is the Electronic Level which lets you check if the camera is tilted. Almost all lenses have some form of defect and the K-3 II allows the user to correct some of them. Corrections on offer are: Distortion Correction, Peripheral Illumination Correction, Lateral Chromatic Aberration Adjustment, and Diffraction Correction which mitigates the softening effect, when using very narrow apertures like f/16, f/22 etc.
Though the K-3 II does not incorporate a built-in flash, compatible external flashguns can be used in TTL flash mode.
The camera has two memory card slots and uses SD/SDHC/ SDXC memory card. Eye-Fi and Flucard (UHS1) are compatible. The camera uses a Li-ion battery (DLI90) for power. The body weighs approximately 785g including the battery and memory card.
Ergonomics
The 'On/Off' switch is placed on top of the body-grip (a la Nikon style), which makes it easy to switch 'on' or 'off' with the index finger of the right hand. The grip is very well designed and the camera feels very comfortable to hold, though I would have preferred the shutter release button to be a little to the left so that the index finger rests exactly over it. The viewfinder eyepiece has a soft rubber covering to prevent scratches on the user's eyeglasses. The lens extends quite a bit when zooming but the front element does not rotate, making it easy to use CPL or Graduated ND filters.