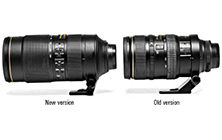 The long-awaited replacement for the ageing AF VR Zoom Nikkor 80-400mm f/4.5-5.6D ED was finally announced on 5th March 2013, almost 12 years after the launch of the earlier version.
The new lens is called AF-S Nikkor 80-400 F/4.5-5.6G ED VR. This focal length is probably the most sought- after by nature and wildlife photographers not born with a silver spoon. The earlier version had some chinks in its armour; image quality tapered off after it reached the 300mm end and the lens collar left a lot to be desired. The older version, without the Silent Wave Motor, was very slow in autofocussing. Let's see how the new avatar performs on our test bench…
Older version
New version
Length (at 80mm)
Approx. 175mm
Approx. 205mm
Focussing ring
Towards the filter end
Towards the body end
AF-Manual focus ring
Yes
No ring, but A/M M/A
M switch
Aperture ring
Yes
No (It is a G-type lens)
Nano coat
No
Yes
Lens collar
Yes ——– Design changed
———Yes
VR/Focus limiter switches
Yes ———Positions changed
—–Yes
Zoom lock switch
No
Yes
Lens hood
Rounded
Flower type
Lens mount gasket
No
Yes
Lens aligning index
White line
Raised white dot
Rubberised ring at filter end
No
Yes (for lens protection?)
Design and Build Quality
The lens is designed for full-frame (FX ) format. On DX bodies it offers an equivalent focal length of 120-600mm in the 35mm format. The lens' outer body is made from metal and polycarbonate and feels quite strong. The new lens sports a different design as you will note in the 'side-by-side visual comparison' below.
Key Features
The AF-S Nikkor 80-400 F/4.5-5.6G ED VR lens is constructed with 20 elements in 12 groups that include 4 ED, 1 Super ED element and Nano coating on certain elements to avoid flare and ghosting. It is a G-type lens having no aperture ring (the aperture is controlled through the camera body). A Silent Wave Motor provides quiet and speedy autofocussing. Second generation VR ( Vibration Reduction) technology is employed which offers a 4-stop advantage in shutter speeds. According to Nikon, the lens detects when you are using a tripod and delivers specialised VR correction. The rubberised manual focus ring is almost 28mm wide and its action is smooth. Focussing is internal (IF), which maintains the overall length of the lens. The extra- wide, textured zoom ring provides a very comfortable grip and is legibly marked in white at 80, 105, 135, 200, 300 and 400mm settings. A plastic window covers the distance scale in meters and feet. At its side are 5 switches: From top
to bottom – Focus mode switch (A/M M/A M), Focus limit switch (FULL, Infinity to 6m), VR on/off switch, VR mode switch and Zoom lock switch. The lens has a collar that allows the camera body to be rotated for horizontal as well as vertical framing when mounted on a tripod. A rubber lens mount gasket prevents water splashes and dust from getting into the lens/camera body. A raised white plastic dot helps to align the lens to the camera body and is very useful in low light conditions. A deep flower- type lens hood is provided. Filter size is 77mm and the lens is made in Japan.
Ergonomics
It is possible to hand-hold this lens for a while and the 4-stop VR definitely helps in achieving higher number of acceptably sharp images. Do note however, that the 8 times increase in image size at the longest end (12 times if you consider DX format) as compared to a normal 50mm, will certainly cause many hand-held images to be of less than ideal sharpness. Hence whenever possible, use of a sturdy tripod is recommended.
Coupled with a Nikon D800 body, the lens was very easy and convenient to use (but I do use a tripod most of the time). The fact that the zoom ring is towards the filter end, made zooming much easier (the earlier version has the zoom ring towards the camera body, which is quite inconvenient).
Since the lens has an IF (internal focussing) design, its actual focal length is less than quoted. If you compare the view at 400mm, using the new and the older lens, you will notice that the angle of view covered by the new lens is wider than that covered by the older version of the lens. This could be of concern to some users. Since the lens has IF, use of graduated ND filters and Circular Polarisers is easier (the front element does not rotate while focussing).

Performance
Overall, we were impressed by the AF-S Nikkor 80-400mm f/4.5-5.6G ED VR lens. It is a much better performer compared to the earlier version. The lens' speed has not changed (it is still a 'slow ' lens at f/4.5-5.6). Compared to the earlier version, we could definitely see much better contrast and sharpness, even with the lens wide open. This is very important from a wildlife photographer's point of view, whose basic exposure for a front-lit average toned subject is often 1/1000 sec at f/5.6. But the earlier version had progressive softness after it crossed 300mm. So what about the new lens? Well, the new lens is acceptably sharp at 400mm even wide open! Stopped down half to one stop, it is very sharp.
But how sharp is sharp? You cannot compare the sharpness of this lens to, say, a Nikon 300mm f/2.8 or a Nikon 200-400mm f/4 lens. Both these lenses are much more expensive than the 80-400mm in question. Also, don't forget that a zoom lens (the 200-400mm is also a zoom lens but it is in a different league) is complex in design as compared to a prime (non zoom) lens and hence much more difficult to manufacture.
What about the lens collar? Does the re-designed collar offer better stability when tripod mounted? Yes, it does, but we feel Nikon could have designed it even better. It is still not perfect. Anyway, I am sure that some independent accessory manufacturer (like Kirk Enterprise or Really Right Stuff ) will do the needful. That of course will add to the already high cost of this lens.
Thanks to the Silent Wave Motor, autofocus speed has definitely improved, though the lens struggled to achieve AF when contrast was low. Slight pin-cushion distortion was observed at 80 and 105mm settings. Flare was observed in against-the-light shots but thankfully, we did not observe any chromatic aberration. Darkening of corners was noticed with the lens wide open at 80mm.
In conclusion I must say that the AF-S Nikkor 80-400mm f/4.5-5.6G ED VR lens offers a big improvement in image quality over the earlier version. Its focal range covers everything from portraits to landscape to wildlife and is a 'must- have' for nature/wildlife photographers who do not have the money or the inclination to lug the heavy 500s and 600s!
Value for Money
The AF-S Nikkor 80-400mm f/4.5-5.6G ED VR is available at an MRP of Rs.1,79,950. Just as a comparison, the earlier model sold (still sells) at an MRP of Rs. 96,950. So why this enormous difference? The new lens incorporates a Silent Wave Motor, Internal Focussing, Nano coating, special lens elements (4x ED, 1x Super ED, against only 3xED elements in the earlier version), 4-stop advantage in VR, improved minimum focus distance and newer technology!
+ Very good image sharpness
+ 4-stop advantage VR
+ Nano coat
+ Better build quality as compared to the earlier model
– Expensive
– Heavy
| | |
| --- | --- |
| FINAL SCORE | |
| Design and Build Quality | 17/20 |
| Key Features | 17/20 |
| Ergonomics | 17/20 |
| Performance | |
| Autofocus | 3.5/5 |
| Sharpness | 4/5 |
| Distortion Control | 4/5 |
| Aberrations | 4/5 |
| Darkening of Corners | 4/5 |
| Extra Features | 3/5 |
| Sub-Total | 22.5/30 |
| Value for Money | 6/10 |
| Grand Total | 79.5/100 |
Verdict
Overall, this is a good lens to be in every nature photographer's kit and would have achieved a Best Buy status, but for the high price, due to which it only gets our recommendation. Recommended!
Rohinton Mehta