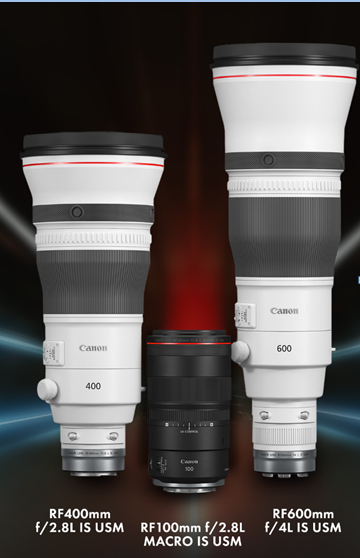 Canon has announced the launch of three new RF lenses, i.e. the RF 100 mm f/2.8L IS USM, RF 400 mm f/2.8L IS USM and the RF 600 mm f/4L IS USM.
The RF 100 mm is a medium telephoto macro lens with a maximum shooting magnification of 1.4x, while the RF 400 mm and RF 600 mm are super telephoto lenses. All three lenses are constructed from 17 elements in 13 groups.
The RF 100 mm is equipped with a spherical aberration (SA) control ring, which works by employing electronic cams and two Nano USMs. It has a minimum focussing distance of 0.26 m, measures 81.5 x 148 mm and weighs 730 g. When attached to an EOS R system camera that does not have in-body IS, the 100 mm provides up to 5 stops of IS. It can achieve up to 8 stops of IS through the coordinated IS feature when attached to an EOS R system camera that has in-body IS. The Hybrid IS on the lens also helps to suppress angular camera shake (rotational) and shift camera shake (linear) during handheld shooting. It is both dust and water resistant and is also compatible with the Macro Ring Lite MR-14EXII and Macro Twin Lite MT-26EXII accessories (both sold separately).

The 400 mm and the 600 mm provide native super telephoto capabilities to the RF system. The 400 mm has a minimum focussing distance of 2.5 m, measures 163 x 367 mm and weighs 2890 g while the 600 mm lens has a minimum focussing distance of 4.2 m, measures 168 x 472 mm and weighs 3090 g. The IS for both these lenses have been enhanced to 5.5 stops (5 stops on the EF equivalent models). Both lenses come with three Image Stabilisation (IS) modes, optimised to match the varied movements such as stationary subjects, panning shots and subjects with irregular movements. Both lenses provide control over aperture settings during movie shooting and can be set in 1/8 step increments for both lenses (EF lens is 1/3 step).
The lenses have the same reflective heat shield coating as the EF models, providing heat shielding, scratch resistance and weather resistance quality for most kinds of shooting environment and the front and back element of both lenses have a fluorine coating. The mount, switches, focus ring and other parts of the lenses are dust and drip-resistant. Both these super telephoto lenses are compatible with the existing RF extenders RF 1.4x and RF 2x. A, staggering 1200 mm focal length can be achieved when the 600 mm is paired with the Extender RF 2x.