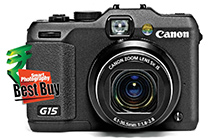 Designing a professional compact camera is a complex process, as professionals demand the ultimate in quality. What makes a pro compact more complex is the fact that the manufacturer has to cater to this uncompromising demand with a fixed lens camera. So the lens has to satisfy a wider range of properties than a single- purpose lens.
Design and Build Quality
The PowerShot G15 is built tough with a metal body providing a secure feel. It has a textured rubber grip which is one of the best available in such compacts. The professional feel is evident from the two dials — Mode dial and Exposure Compensation dial — along with the accessory shoe (hot-shoe). The lens has a two-segment construction. The camera features a metal tripod receptacle.
Key Features
The 12.1 megapixel G15 uses a 1/1.7-inch (7.60x 5.70mm) Type CMOS sensor for imaging. This is complemented by the latest DIGIC 5 processor to ensure better processing speed and image quality. The camera features a 28-140mm equivalent lens with an f-number range of f/1.8–8 at the wide-angle end and f/2.8–8 at the telephoto end. The lens features Optical Image Stabilisation. In the normal mode, the lens focusses from 5cm to infinity at the wide-angle end, and from 40cm to infinity at the telephoto end. In Macro mode, it focusses from 1 to 50cm at the wide-angle end. Focus modes are Continuous AF, Servo AF, and Manual. AF frame options include Face AiAF, Centre, Tracking AF, and FlexiZone. The camera features the usual Evaluative, Centre-weighted average, and Spot metering modes. Sensitivity ranges from ISO 100 to 12800. Shutter speed can be set from 15 to 1/4000sec. White Balance modes are Auto, Daylight, Cloudy, Tungsten, Fluorescent, Fluorescent H, Flash, Underwater, Custom 1, and Custom 2. The built-in flash has a range of 50cm to 7.0m at the wide-angle end and 50cm to 4.5m at the telephoto end. Available flash modes are Auto, On, Slow Synchro, and Off. In addition to the built-in flash, the camera sports a standard accessory shoe (hot-shoe) for attaching an external flashgun. The G15 has 11 shooting modes — Custom (2 modes), Manual, Aperture Priority (Av), Shutter Priority (Tv), Program (P), Auto, Movie Digest, SCN, Creative Filters, and Movie. Scene modes include Portrait, Smooth Skin, Smart Shutter, High-speed Burst HQ (High Quality), Handheld Night Scene, Underwater, Snow, Fireworks, and Stitch Assist. Creative Filters provide access to pre-set effects such as High Dynamic Range, Nostalgic, Fish-eye Effect, Miniature effect, Toy Camera Effect, Soft Focus, Monochrome, Super Vivid, Poster Effect, Colour Accent, and Colour Swap. The camera provides Standard, iFrame Movie, and Super Slow Motion movie modes. Still images are recorded in JPEG or Raw format with a maximum size of 4000 x 3000 pixels, while movies are recorded in MOV format at the best quality of 1920 x 1080 at 24 fps. In the burst, High Quality mode, it can churn out 10 images per second.
The PowerShot G15 uses a 3.0-inch Type, approximately 922,000-dot LCD and also a real-image zoom optical viewfinder. The camera is powered by an NB-10L Li-ion battery pack. The camera has dimensions of 106.6 x 75.9 x 40.1mm and weighs approximately 310g.
---
Ergonomics
The G15 is easy to use and comfortable to grip. The protruding rubber-lined hand grip provides a secure feel and the modes and dials are all at easily accessible positions. The menu is unambiguous. If there is anything to wish for, it would be a tilt-and-swivel LCD and a better viewfinder.
Performance
The PowerShot G15 performed well on our tests bench. Autofocus was fast and precise even under low light, with the system latching on to the subject without any trouble. Images were tack sharp out of the box. Minimum Macro focussing distance of 1cm is a valuable addition, though this makes it extremely difficult to light up a subject. The LCD displayed crisp images and we did not notice any jitter in the pixels or display lag. The optical viewfinder barely exists.
It is too small for anyone to compose a frame through it. But it is useful if you are looking to reduce camera shake under low-light situations since the camera is in contact with the face while looking through the viewfinder. The three metering modes performed as expected; we did not observe any flaw in metering. The lens produced slight darkening at the corners at the wide- angle end with the lens wide open. Flare was observed along with prominent purple fringing at f/1.8 at the wide-angle end in strong against-the-light shots. The lens produced slight barrel distortion till around 85mm equivalent.
The camera reproduced colours very well. Auto White Balance produced excellent results and any cast produced under artificial light sources could be easily corrected in post-processing. The images have a native size of 10 x 13.33 inches at 300ppi. At 25 percent of the screen size, images appeared noise-free up to ISO 3200. At ISO 6400, the images showed slight noise and were soft owing to the lavish noise-reduction applied by the camera. Viewed at 50 percent, images were free of noise up to ISO 800. ISO 1600 showed slight noise, while ISO 3200 turned out noisy. At 100 percent view, slight noise crept in from ISO 200 onwards, getting worse at ISO 800. If you do not intend to crop and enlarge the image, you could use up to ISO 1600 without considerable deterioration in quality.
Value for Money
The G15 retails at an MRP of Rs.34,995. This price seems fair, considering the 28-140mm f/1.8-2.8 lens, though at this price, you could also buy an entry-level D-SLR.
+ Fast lens
+ Excellent build quality
+ Good performance
+ Raw format
– No articulated LCD
– Tiny viewfinder
| | |
| --- | --- |
| FINAL SCORE | |
| Design and Build Quality | 18/20 |
| Key Features | 18/20 |
| Ergonomics | 16/20 |
| Performance | |
| Autofocus | 4/5 |
| Metering | 5/5 |
| Noise Control | 4/5 |
| Sharpness | 3/5 |
| LCD/EVF | 3/5 |
| Auto White Balance | 5/5 |
| Sub-Total | 24/30 |
| Value for Money | 7/10 |
| Grand Total | 83/100 |
Verdict
The Canon PowerShot G15 is a powerful and feature-packed professional compact camera. The camera performs like a charm. Though it can never be compared to a D-SLR, we cannot blame you if you are lured by the fast 5x zoom. Best Buy indeed.
Sujith Gopinath