Smart Photography is pleased to bring to you, a detailed listing of EISA Awards 2020-2021.
EISA Photography Awards 2020-2021
EISA CAMERA OF THE YEAR 2020-2021
Fujifilm X-T4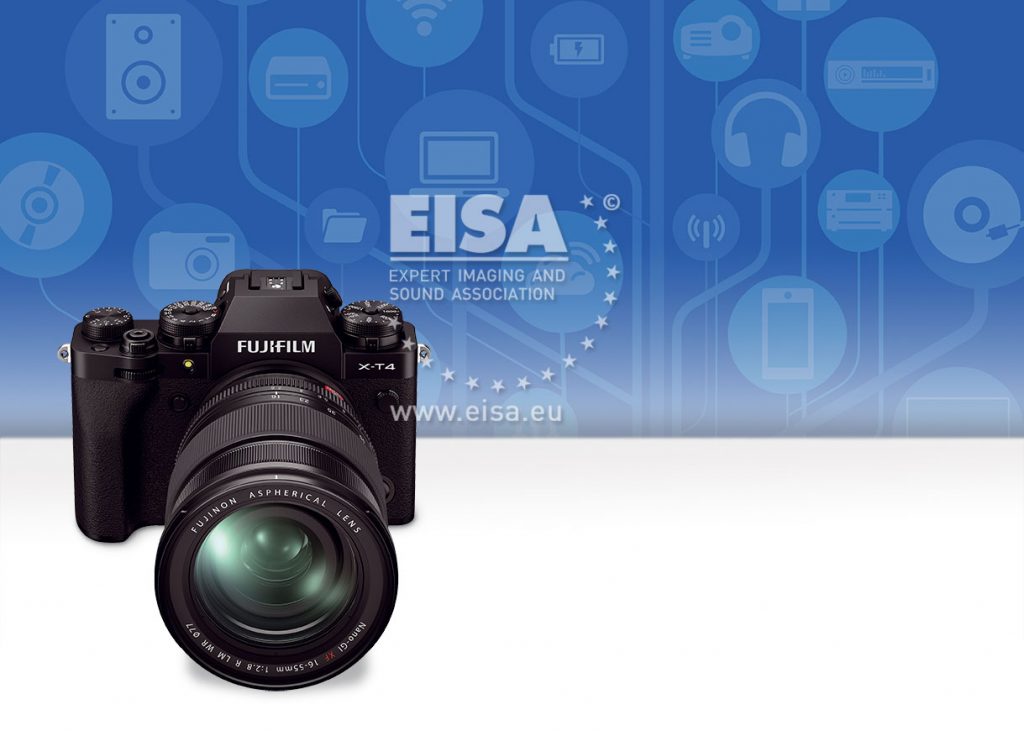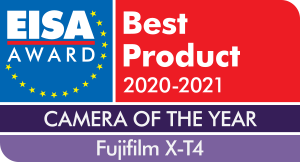 Fujifilm's X-T4 is an outstanding mirrorless camera with a 26-million-pixel X-Trans CMOS sensor. It combines a compact size with very high image quality, impressive speed (up to 20fps at full resolution) and professional video capabilities such as 4K 60fps recording. One of its most important new features is its 5-axis in-body image stabilisation, which compensates for between 5 and 6.5 stops depending on the lens, ensuring pin-sharp shots even with long exposure times. The monitor can now be swung out to the side, allowing easy self-recording. Fujifilm has surely created the best APS-C mirrorless camera yet.
EISA BEST BUY CAMERA 2020-2021
Nikon Z 50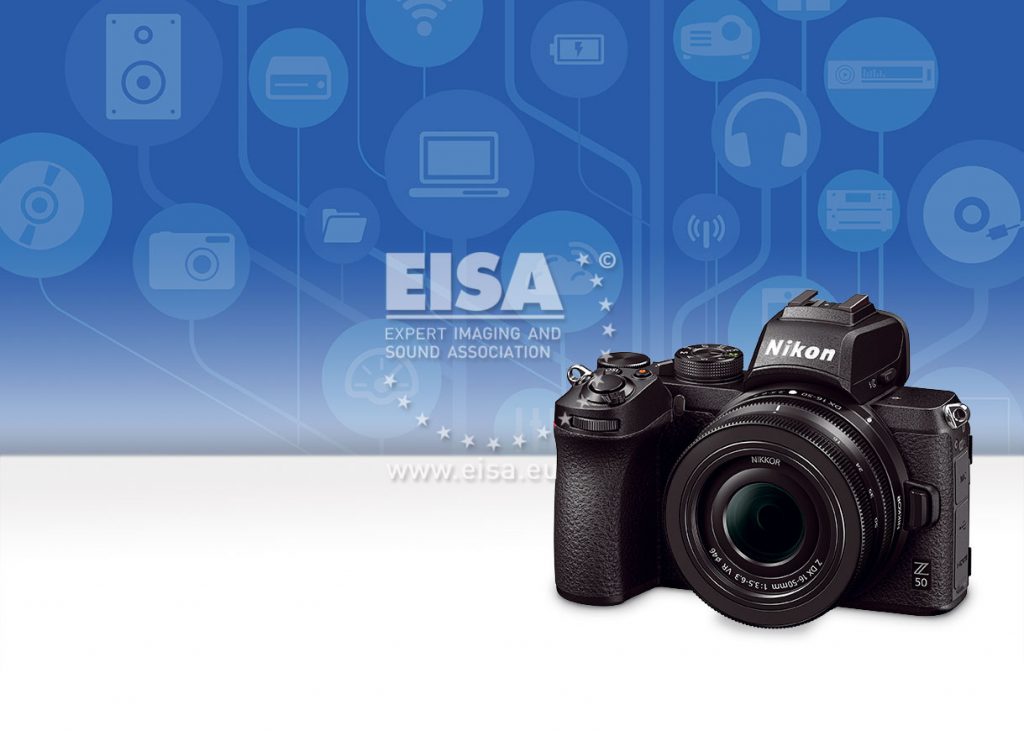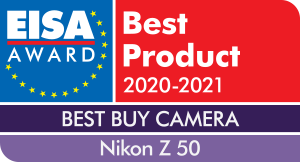 With its competitive price and excellent quality, the Nikon Z 50 is the EISA Best Buy Camera 2020-2021. This compact mirrorless camera with APS-C (DX) sensor is easy to use and perfect for travel, with a well-built and weatherproof body. It delivers fine image quality with good dynamic range that allows detail recovery both in the highlights and the deep shadows. The Z 50 employs the same EXPEED 6 processor as Nikon's full-frame models, which allows for 4K video recording at 30fps, or up to 120fps in Full HD. The autofocus is quick and accurate, with a very useful Eye-Detection AF function and (thanks to a firmware update) animal detection as well.
EISA APS-C CAMERA 2020-2021
Canon EOS 90D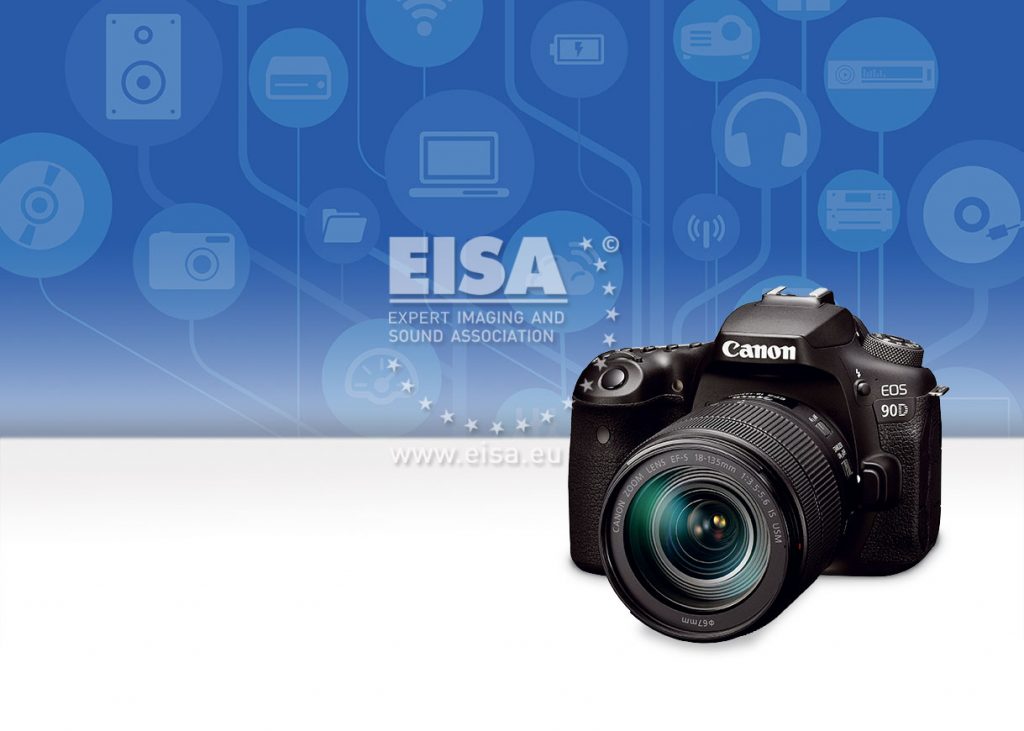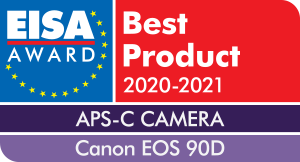 With the EOS 90D, Canon has shown that the DSLR is not finished yet. Its 32.5-million-pixel sensor sets a new resolution record for APS-C, while the Dual Pixel CMOS AF ensures fast and precise focusing in live view and video. Other advanced features include the silent electronic shutter, which allows extremely short exposure times of up to 1/16,000sec. The EOS 90D records 4K video without a crop, and in Full HD it allows slow motion at up to 120fps. The touchscreen monitor, which can be swivelled and folded out to the side, rounds off this outstanding DSLR camera.
EISA FULL-FRAME CAMERA 2020-2021
Nikon D780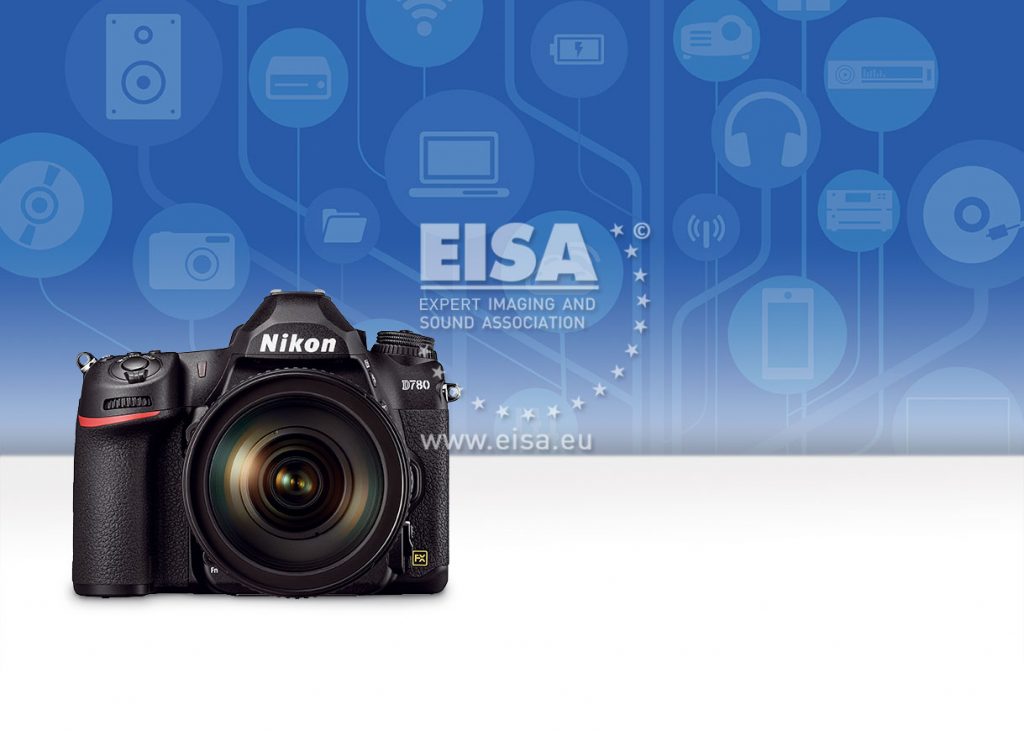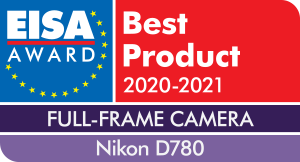 Nikon's D780 is a full frame D-SLR with a 24-million-pixel CMOS sensor. Combined with the fast EXPEED 6 image processor, this delivers native sensitivities up to ISO 51,200, opening up more possibilities for creative photography. Its tilting LCD touchscreen helps photographers and video operators get the shot they want, even from high or low angles. This successor to the Nikon D750 brings a slew of upgrades such as superior image processing, better video capabilities (up to 4K UHD 30fps with N-Log), slow motion and time-lapse. Furthermore, the vastly improved hybrid AF system ensures fast autofocus when shooting and filming using the LCD screen.
EISA ADVANCED FULL-FRAME CAMERA 2020-2021
Sony Alpha 7R IV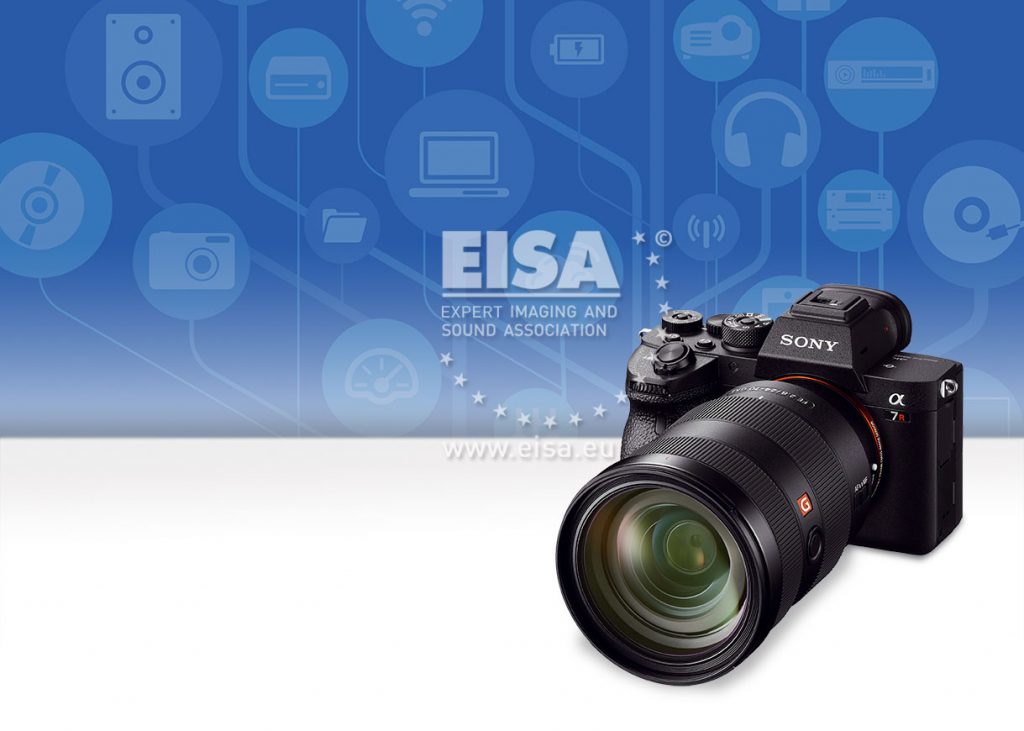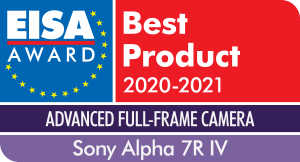 The Sony Alpha 7R IV is the first full-frame mirrorless camera to boast an incredible resolution of 61 million pixels. It's also equipped with one of the industry's best autofocus systems, including AI-driven Real-time Tracking and Eye AF. Thanks to its 5-axis in-body image stabilisation, blurred pictures due to camera shake are almost non-existent. With its sharp electronic viewfinder and extremely fast BIONZ X processor, this camera is a highly reliable and capable tool that provides the versatility to handle virtually any photographic situation to the highest standard.
EISA PROFESSIONAL CAMERA 2020-2021
Canon EOS-1D X Mark III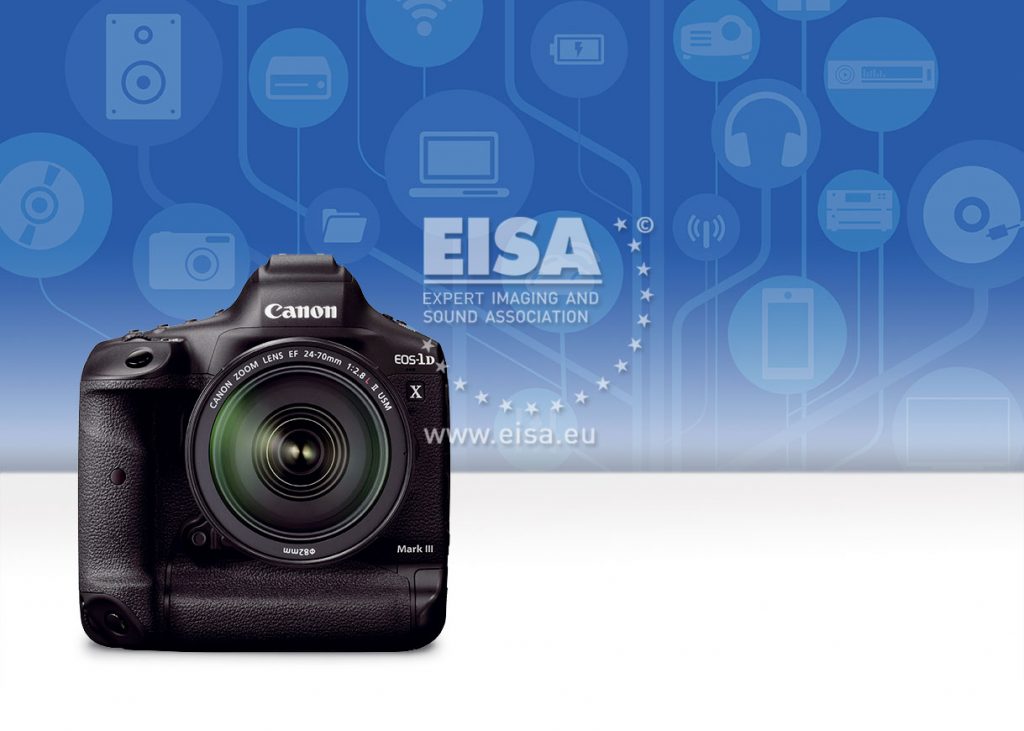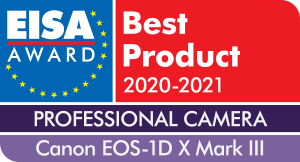 Canon has made a big effort to renew its top-of-the-line professional D-SLR, which is designed for news agencies, sports photographers and capturing wildlife. The Canon EOS-1D X Mark III offers cutting-edge technology, including a newly developed 191-point autofocus system that meets professional sports photographers' demand for razor-sharp action images. The video functions are also very advanced, with 5.5K capture stored internally in 12-bit Raw format. With advanced connectivity options built in, the EOS-1D X Mark III is also tailor-made for instant delivery of images to media through news agencies.
EISA PHOTO/VIDEO CAMERA 2020-2021
Panasonic Lumix DC-S1H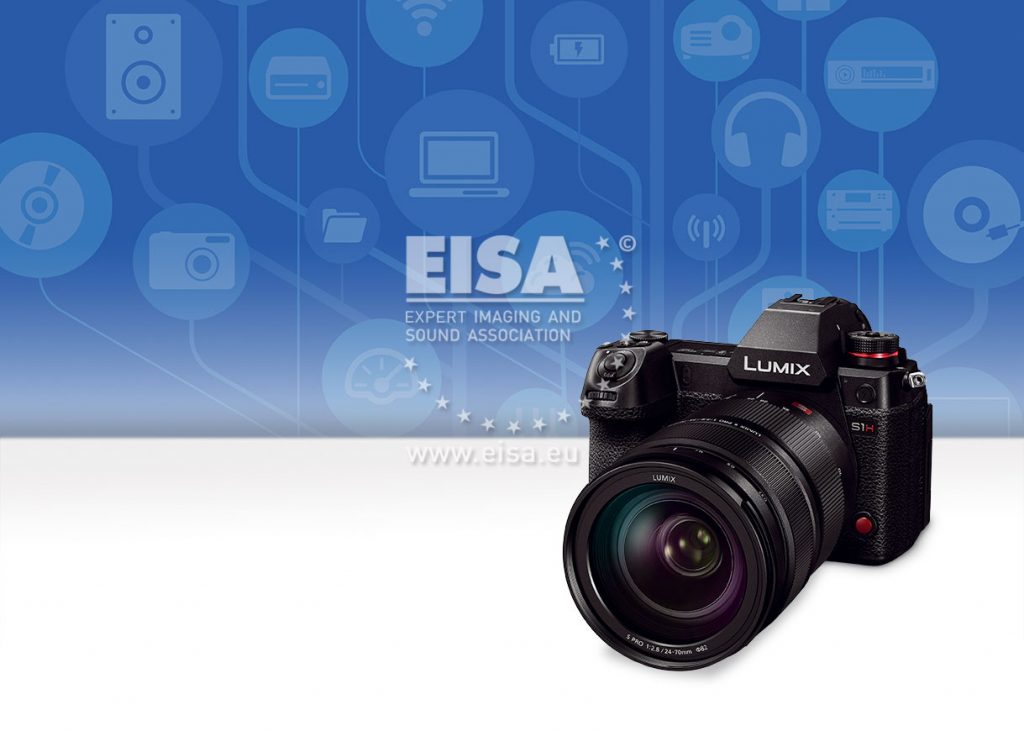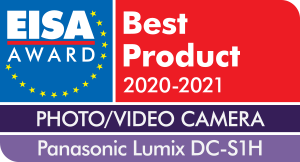 Developed with the same technical architecture as the Lumix S1 full-frame format, the Lumix DC-S1H hybrid is strongly video-orientated with 6K recording at 24fps, along with 4K capture at 60fps. It offers excellent image quality, especially in low light, and you can record in Log mode for easy colour correction and extended dynamic range. The camera also offers an attractive 4K anamorphic mode, a great feature for shooting big-screen style movies. In addition, it features an excellent electronic viewfinder, in-body image stabilisation, and a beautiful touchscreen in a robust and versatile body.
EISA COMPACT CAMERA 2020-2021
Fujifilm X100V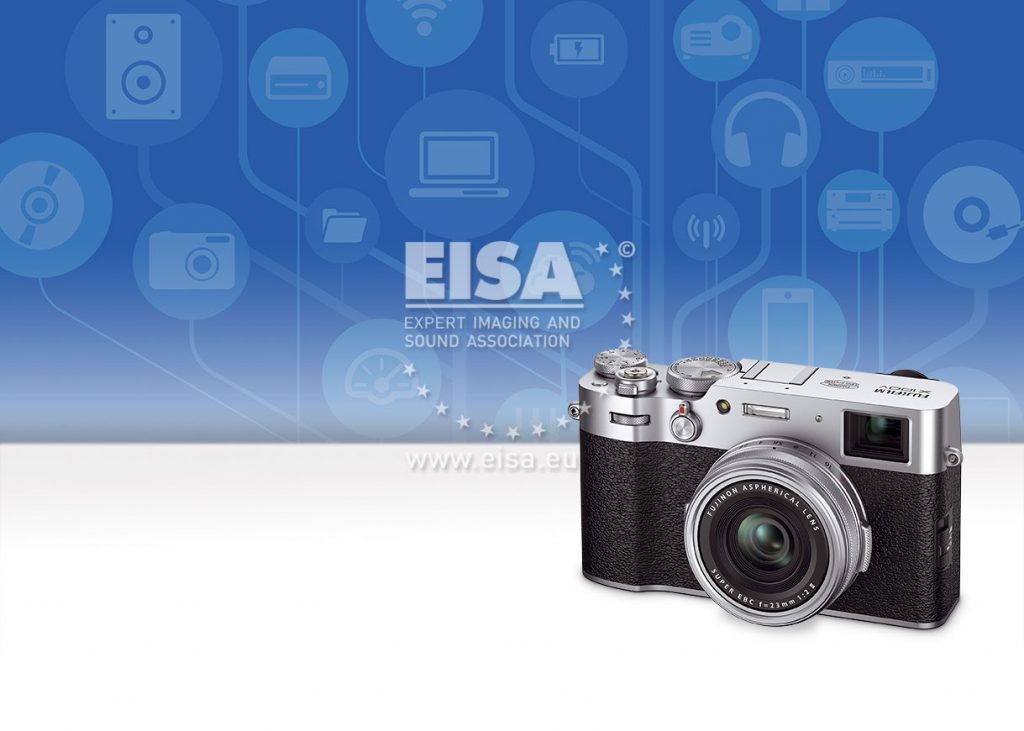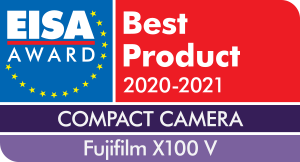 The Fujifilm X100V looks similar to its predecessors in the X100 series, but is in fact an all-new design that quite simply represents the state-of-the-art for compact cameras today. It sports the same sensor and brilliant hybrid optical/electronic viewfinder as the sophisticated Fujifilm X-Pro3 mirrorless camera, and its performance is in the same league too. It boasts a new and improved 23mm f/2 lens, along with a tilting screen that doesn't add to its size, while allowing full weather sealing. All this in a tiny camera that fits into a jacket pocket, making it ideal for travel and street photography.
EISA VLOGGING CAMERA 2020-2021
Sony ZV-1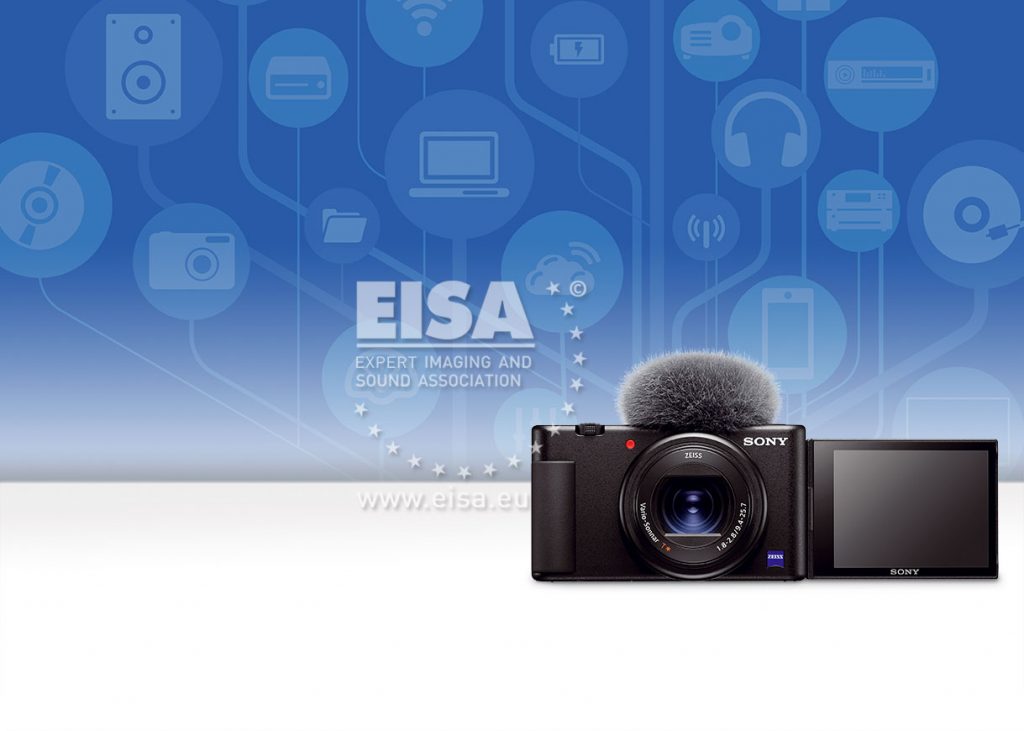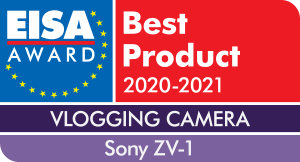 This innovative compact camera is aimed at content creators and vloggers, offering great video capabilities such as 4K recording and S-Log gamma. Its high-quality built-in microphone comes with a windshield for outdoor shooting; alternatively an external microphone can be used via the audio input or the multi-interface shoe. The ZV-1 is also a very good photo camera with a fast AF system and versatile vari-angle screen. Together with the optional grip that features a built-in wireless remote control and doubles as a tripod, the ZV-1 is an excellent production tool which lets vloggers easily create and share content.
EISA CAMERA INNOVATION 2020-2021
Canon EOS R5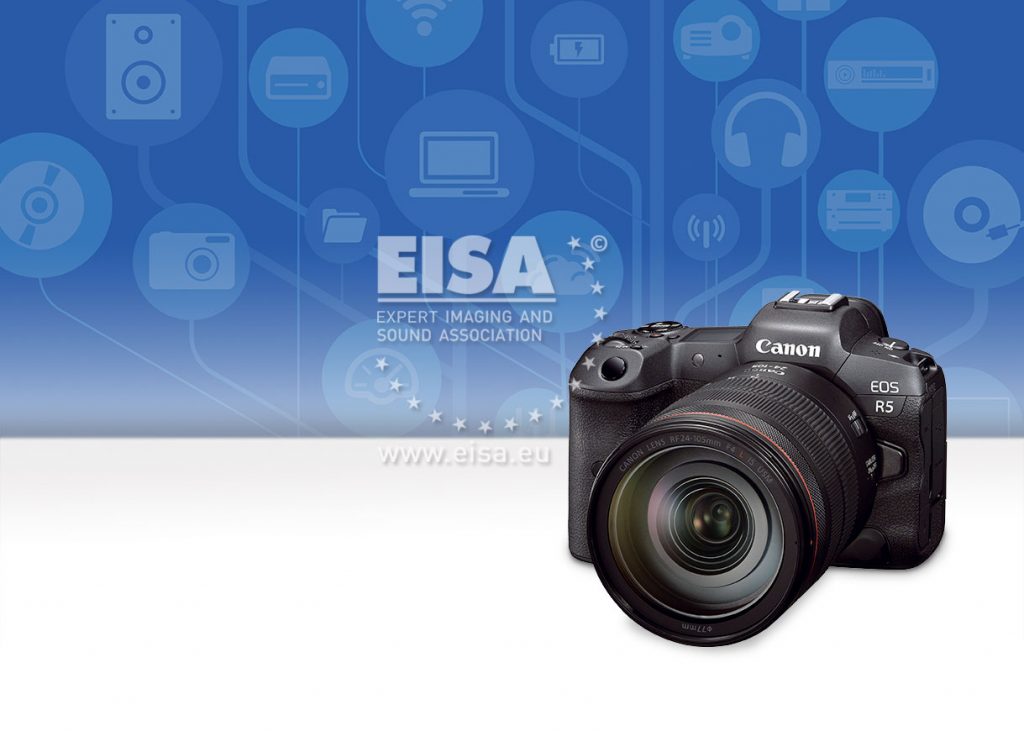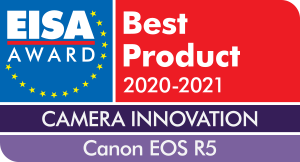 As the first mirrorless camera to be capable of recording 8K video, Canon's EOS R5 was the outstanding candidate for our Camera Innovation award this year. This extraordinary stills/video hybrid is capable of recording 4K footage at a remarkable 120fps, and shooting 45-million-pixel still images at up to 20fps. It also claims the world's most effective image stabilisation. With a high-resolution electronic viewfinder, articulated rear screen and professional-level controls, along with an optional grip that incorporates professional Wi-Fi and Ethernet connectivity, it promises to be the complete all-round package for demanding photographers and videographers.

EISA LENS OF THE YEAR 2020-2021
Canon RF 70-200mm F2.8L IS USM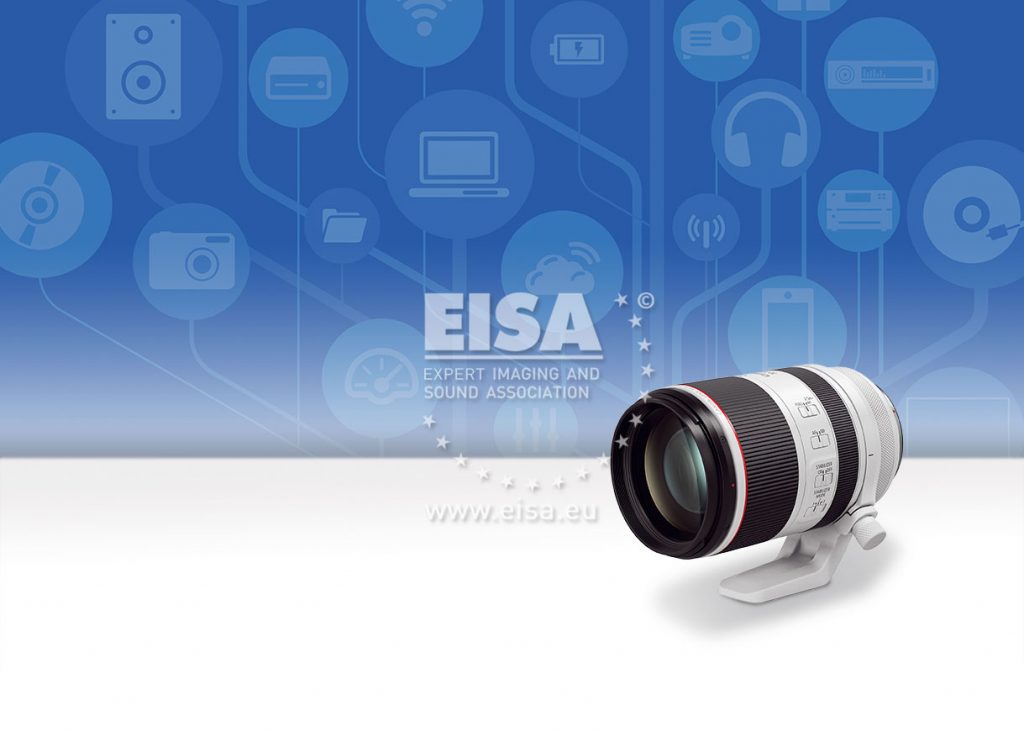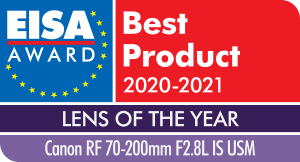 The Canon RF 70-200mm F2.8L IS USM sets a new standard for professional telezoom lenses, and is Canon's best to date. Its all-new construction is tailored to Canon's RF mirrorless system, and together with a new optical design, delivers impressive image quality in a very compact lens. It's also well sealed against dust and splashes, and can therefore be used in challenging situations. In addition, the lens offers very effective 5-stop image stabilisation. It is without doubt the best lens the EISA jury has tested in the past year.
EISA WIDEANGLE ZOOM LENS 2020-2021
Sigma 14-24mm F2.8 DG DN Art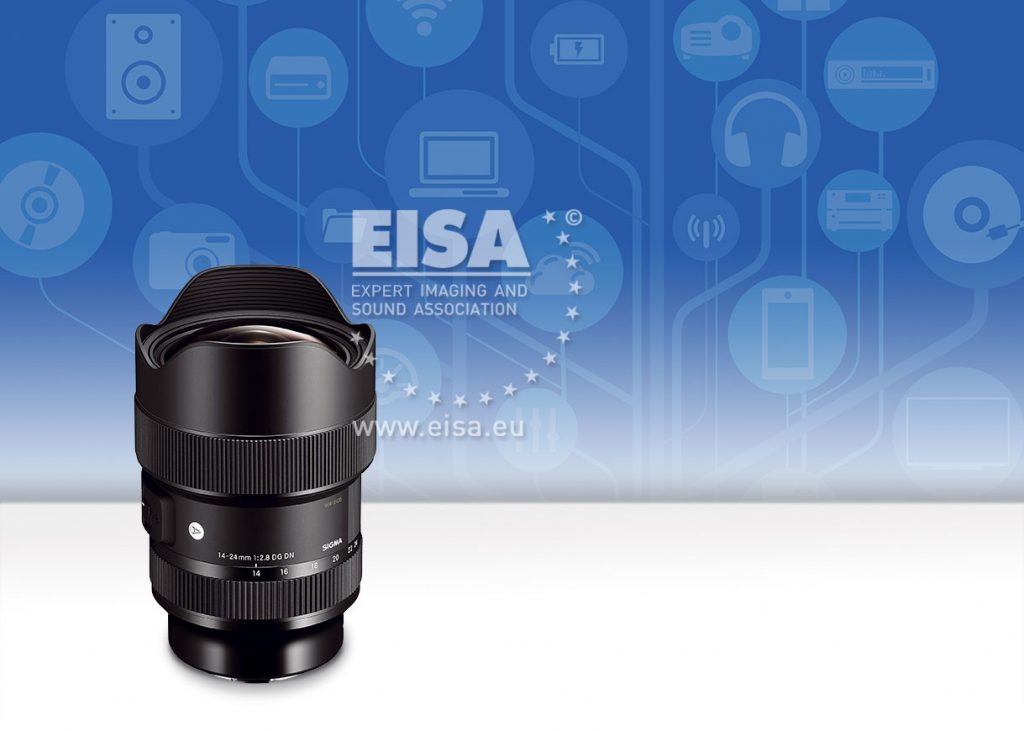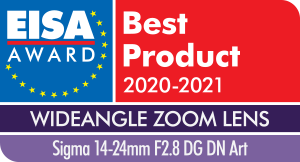 This large aperture, wideangle zoom for full-frame mirrorless cameras provides excellent quality at a very competitive price. It's available in both Sony E-mount, and L-mount for Leica, Panasonic and Sigma cameras. By optimising the design for mirrorless, Sigma has made a lens that's considerably smaller and lighter than its D-SLR counterpart, yet provides fantastic optical quality. It also boasts fast and silent autofocus, and is weather-sealed for outdoor shooting. The result is a superb lens that's perfect for a wide range of subjects including architecture, landscapes and astrophotography.
EISA STANDARD ZOOM LENS 2020-2021
Canon RF 24-70mm F2.8L IS USM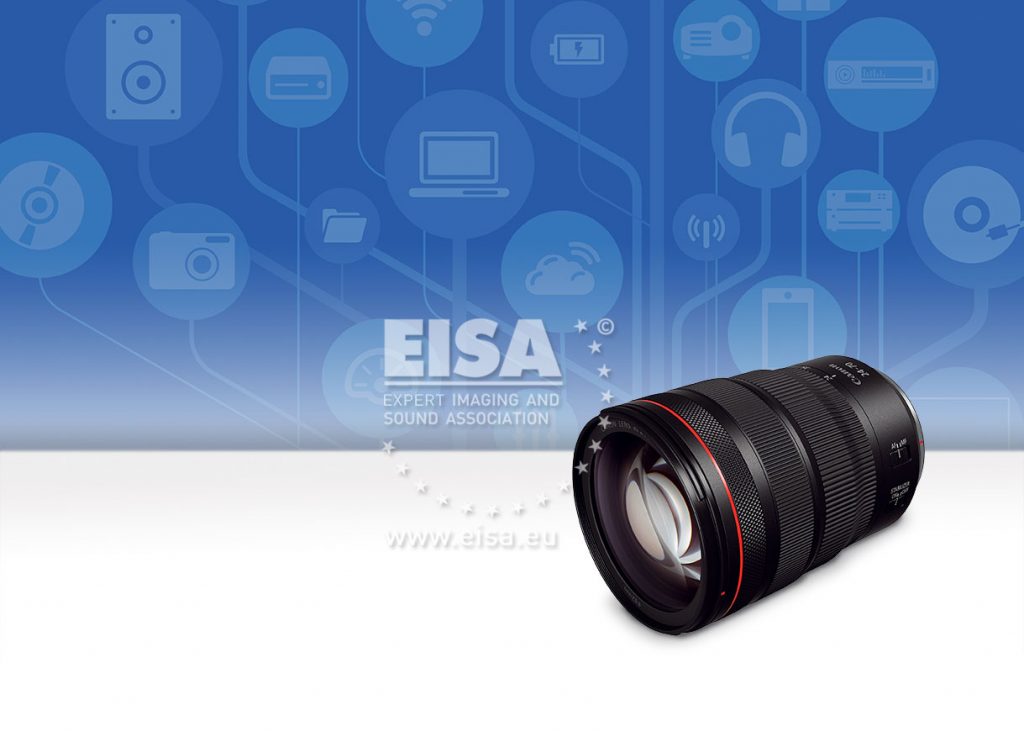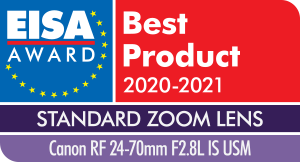 For many professional photographers, a 24-70mm f/2.8 lens is the workhorse they cannot live without. The RF 24-70mm F2.8L IS USM combines a fast aperture with a built-in 5-stop image stabiliser and provides excellent image quality across the zoom range, with exceptionally low levels of distortion. The smooth and silent Nano USM motor ensures rapid and accurate autofocus, and is perfect for video as well as stills. The RF 24-70mm F2.8L IS USM offers robust, weather-sealed build quality along with fluorine coating on the front and rear elements to protect them against water and grease.
EISA TELEPHOTO ZOOM LENS 2020-2021
Tamron 70-180mm F2.8 Di III VXD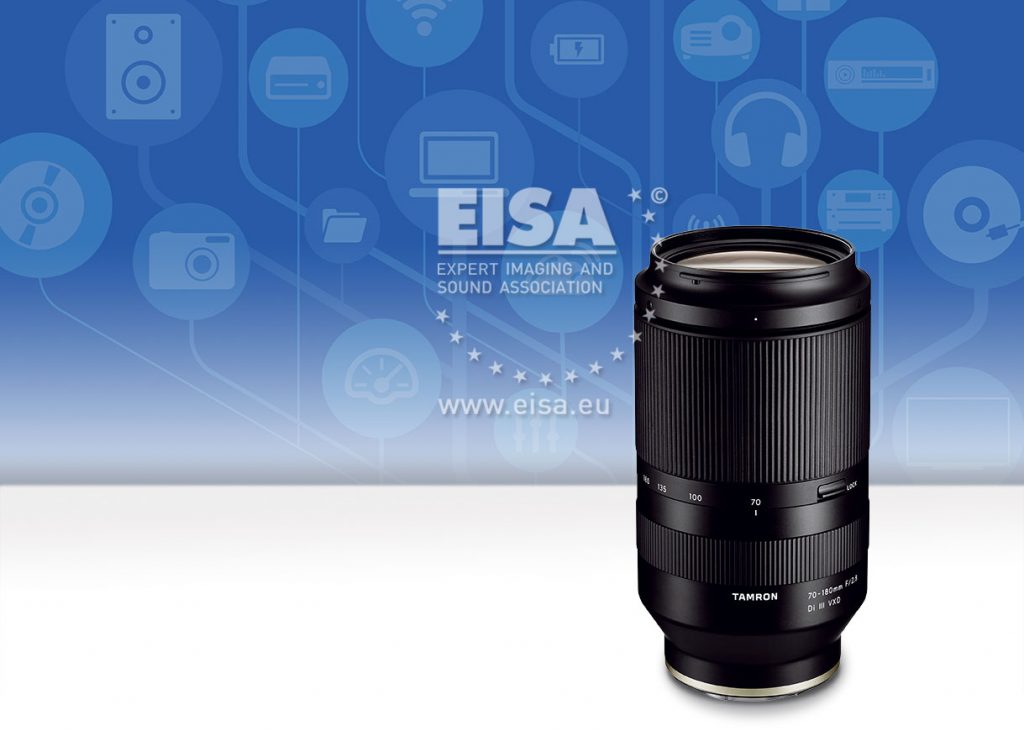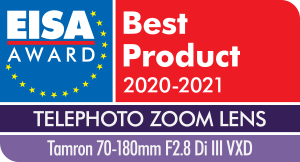 This Tamron lens is a classic telephoto zoom for Sony E-mount mirrorless cameras, with a large aperture of f/2.8. It delivers excellent sharpness and contrast across the frame at all focal lengths, even wide open. It also boasts weather-resistant construction, using lightweight yet durable materials. The optical design exploits several special elements and coatings, while a floating focus system ensures crisp and sharp images, even at close subject distances. With a very quiet but responsive autofocus mechanism, this lens is a bargain in its class, both for photography and video.
EISA TRAVEL ZOOM LENS 2020-2021
Tamron 28-200mm F/2.8-5.6 Di III RXD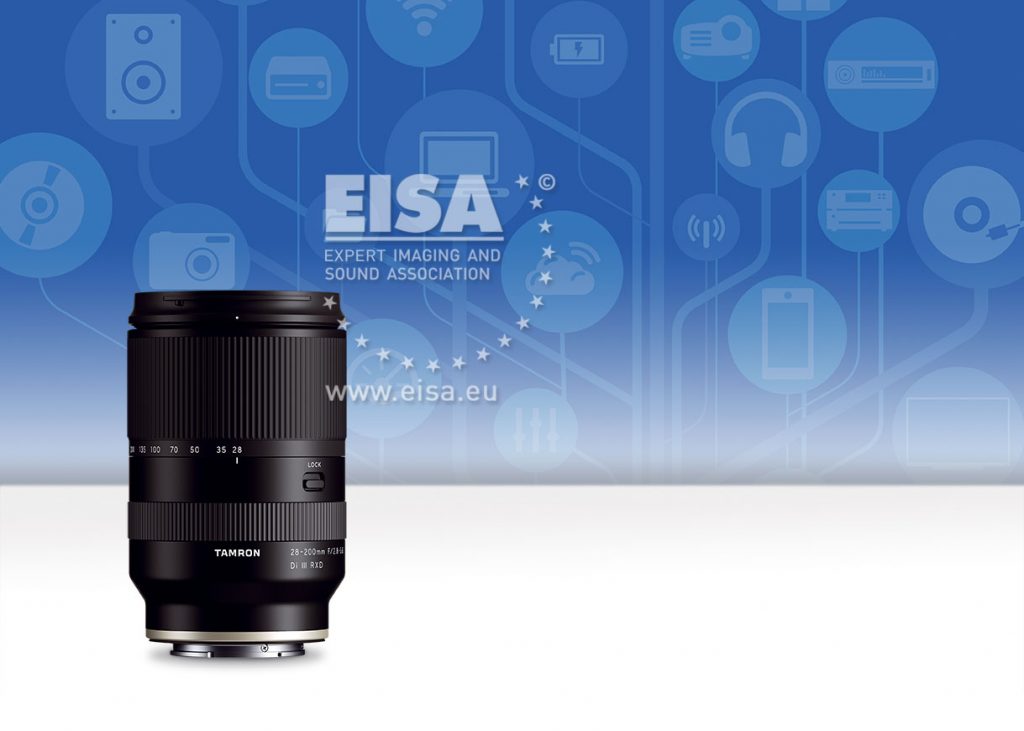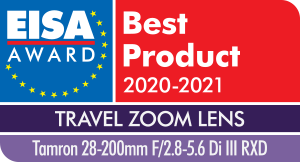 This all-in-one zoom lens is the first in its class to offer a fast aperture of f/2.8 at the wideangle end, together with compact size and light weight. Thanks to a combination of special lens elements and intelligent software corrections, the Tamron 28-200mm F/2.8-5.6 Di III RXD achieves an impressive optical performance, giving clean, sharp images. In combination with the fast aperture, a close focus distance of just 19cm allows users to shoot close-ups with nicely blurred backgrounds. The autofocus is fast, accurate and quiet, which is a boon for photographers and video makers alike.
EISA SUPER TELEPHOTO ZOOM LENS 2020-2021
Sony FE 200-600mm F5.6-6.3 G OSS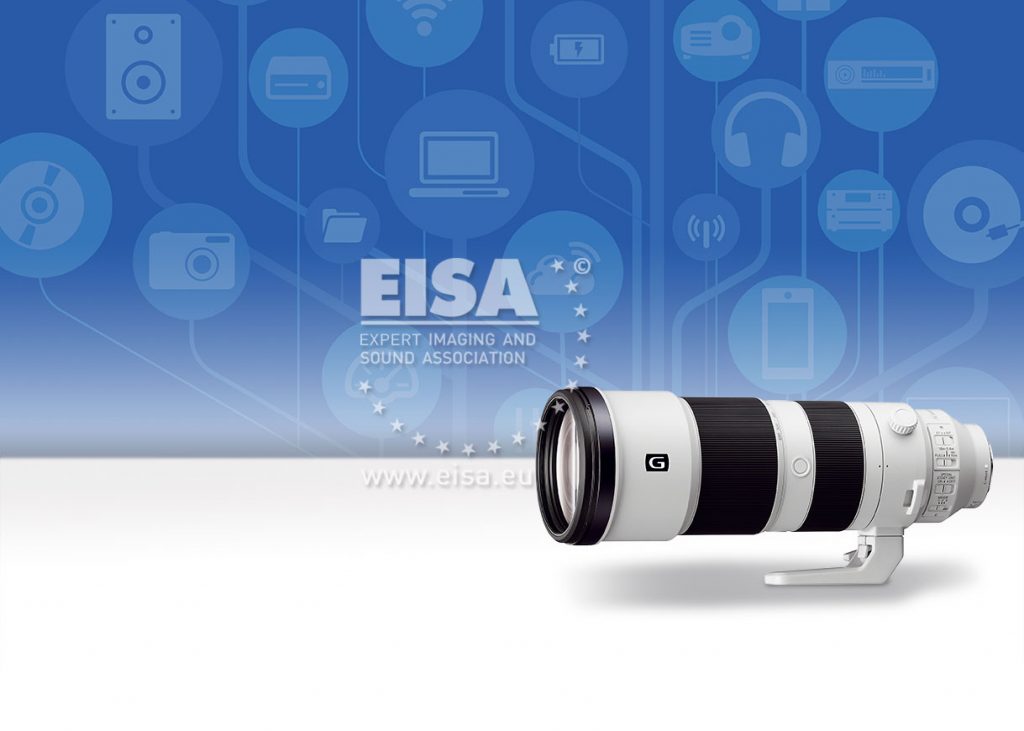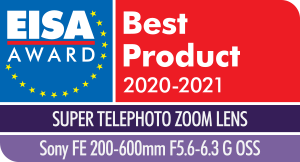 This ultra-telephoto zoom will be appreciated by those who love nature and sports photography but don't want a heavy lens. It is affordable and lightweight for its class, yet delivers great sharpness even at maximum aperture, which is very important for a lens that will often be used between 400mm and 600mm. Autofocus is very fast, and the large zoom ring moves smoothly from 200mm to 600mm without changing the length or balance of the lens, making it comfortable to use. The range can be extended even further with Sony's 1.4x and 2.0x teleconverters, maintaining full compatibility with autofocus.
EISA PROFESSIONAL TELEPHOTO ZOOM LENS 2020-2021
Nikon AF-S NIKKOR 120-300mm F2.8E FL ED SR VR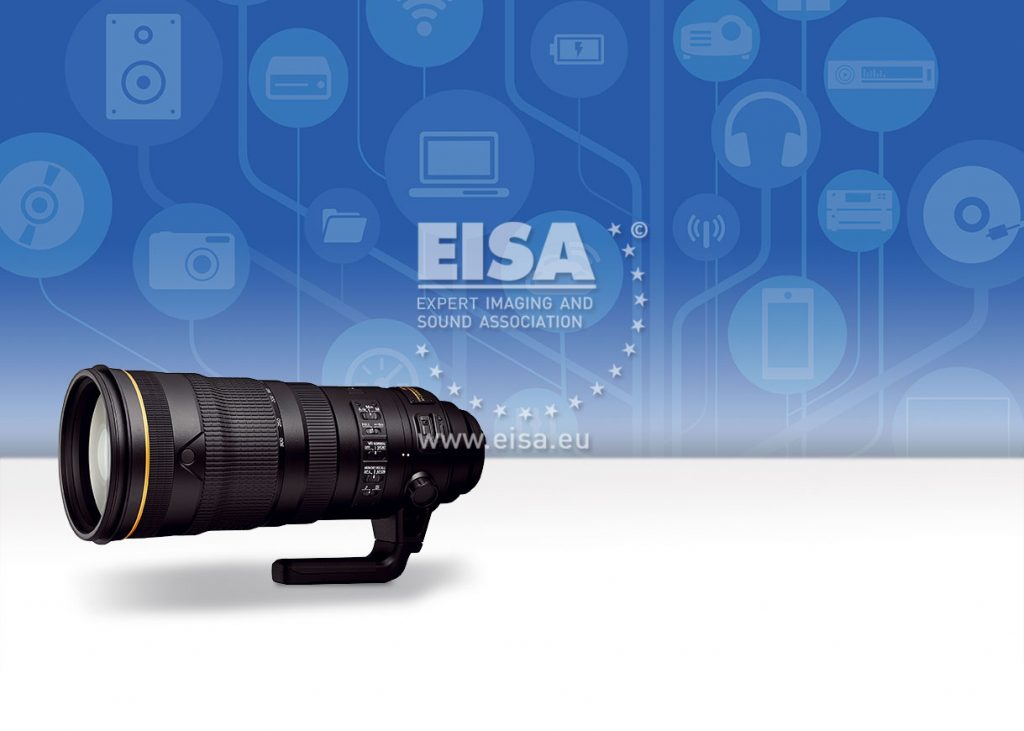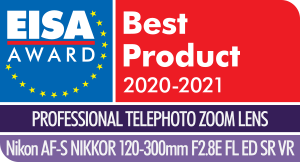 This powerful telephoto zoom is suitable for professional use in challenging conditions. Its constant fast maximum aperture across the full focal-length range offers advantages in many situations, including portraits, indoor and outdoor sports, and nature photography. Even at its maximum aperture of f/2.8, the NIKKOR delivers exceptional resolution on full-frame DSLR cameras with minimal chromatic aberration, thanks to the use of Nikon's new Short Wavelength Spectrum (SR) glass. It handles brilliantly too, with effective image stabilisation and comprehensive weather protection. Compatibility with Nikon's 1.4x and 2x teleconverters brings additional flexibility.
EISA WIDEANGLE LENS 2020-2021
Sony FE 20mm F1.8 G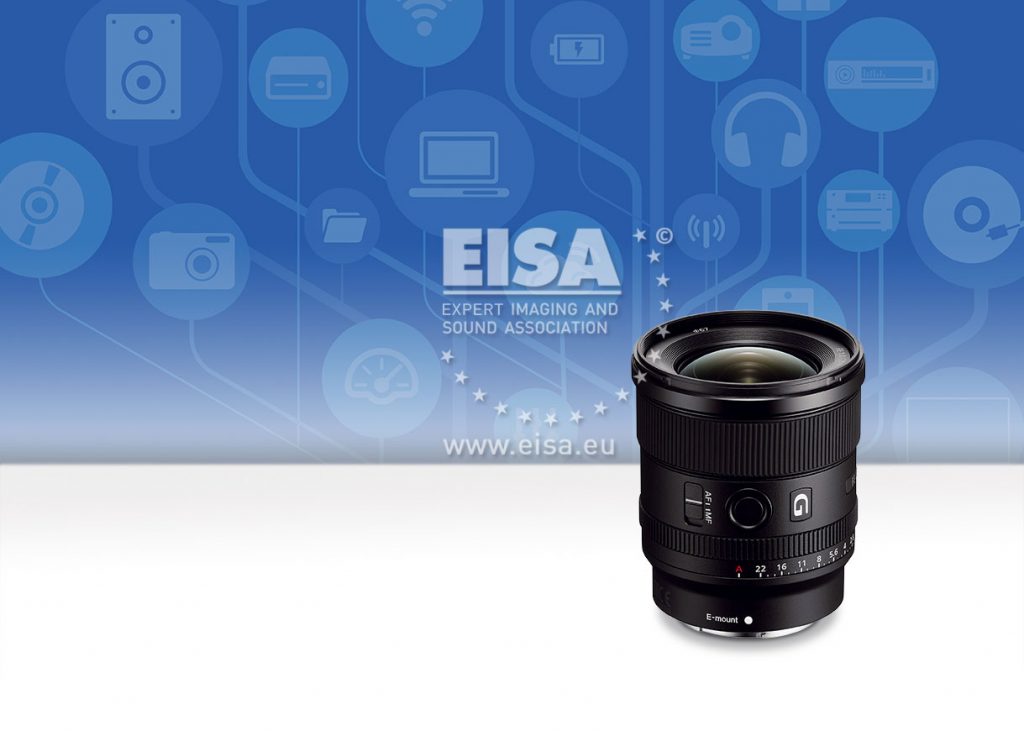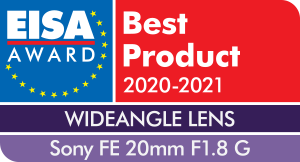 The compact and lightweight Sony FE 20mm F1.8 G is an exceptional lens that provides really sharp images in all areas of the frame, even at f/1.8. Its optical design features advanced aspherical elements and extra-low dispersion glass to deliver high corner-to-corner image quality with minimal distortion, while suppressing chromatic aberration. The 9-bladed diaphragm allows the photographer to create beautifully blurred backgrounds. Two XD motors guarantee very fast, precise and silent focusing, while the 18cm minimum focus distance (in manual mode) can be used for striking close-ups.
EISA PORTRAIT LENS 2020-2021
Nikon NIKKOR Z 85mm F1.8 S
A stunning addition to Nikon's mirrorless Z system, this is a superb portrait lens with the classic 85mm focal length, where it stands out among some very tough competition. As Nikon's best 85mm lens to date, it performs admirably at f/1.8, with just the right amount of edge softness and shading that demanding portrait photographers require, while the optical performance is technically perfect when the aperture is closed down a couple of stops. In addition, this lens has no distortion, provides fast autofocus speed, and is built to high standards, including weather-resistance for use under all conditions.
EISA LENS INOVATION 2020-2021
Canon RF 600mm & 800mm F11 IS STM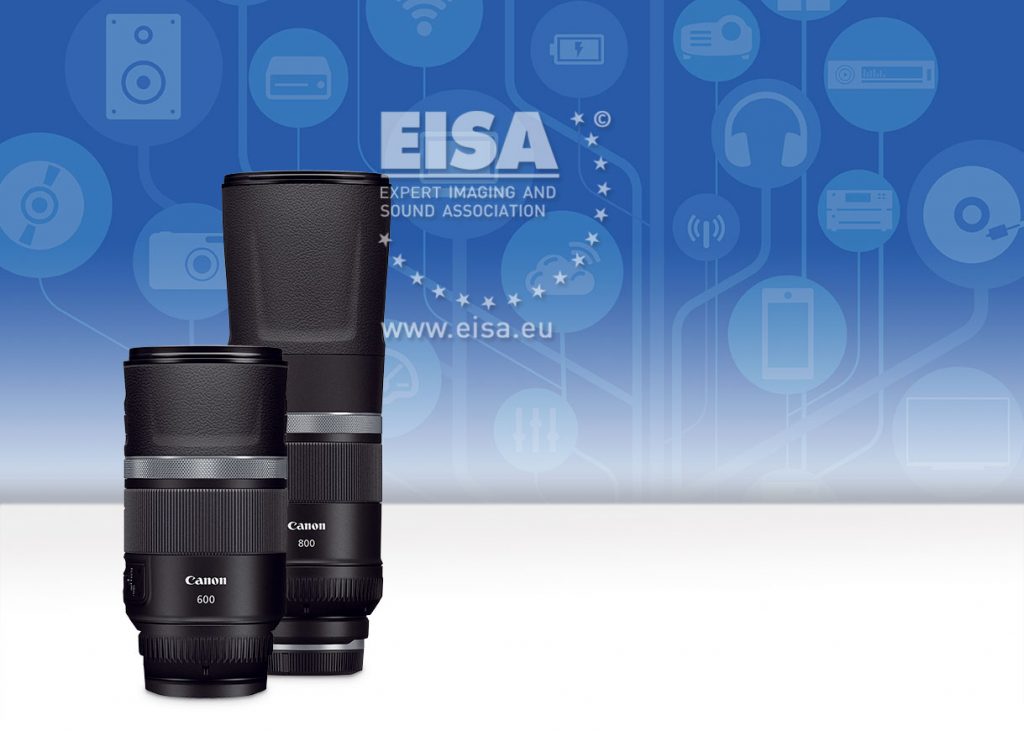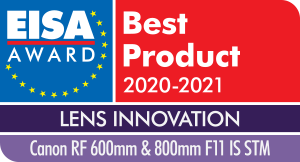 These two innovative ultra-telephoto lenses owe their unparalleled low weight to a novel design that combines diffractive optics with a small, fixed aperture. They also employ a retractable sliding barrel that enables a remarkably short packed length. What's more, the inclusion of optical stabilisation means they can readily be used handheld, without needing a monopod or tripod. Together this provides a combination of portability, affordability and telephoto reach for Canon full-frame mirrorless users that was previously only available with cropped-sensor cameras. As a result, they look sure to become popular for subjects such as wildlife, sport and aviation.

EISA CAMERA DRONE 2020-2021
DJI Mavic Air 2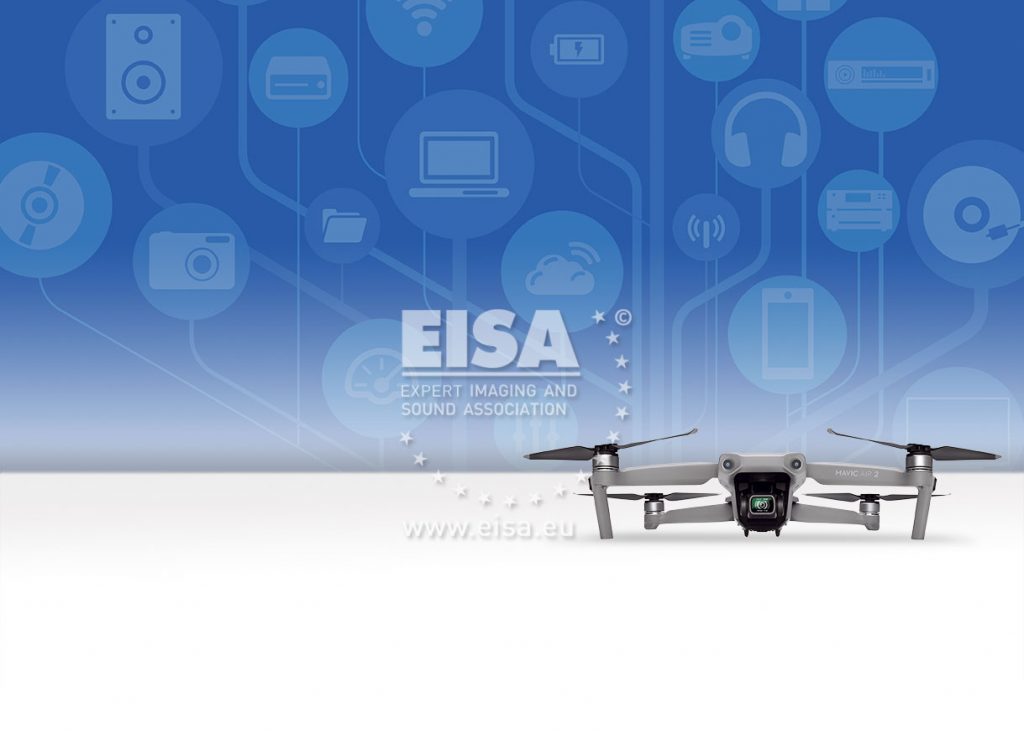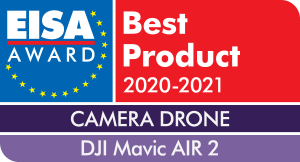 The DJI Mavic Air 2 is a compact drone that's very easy to operate and can be folded conveniently for transport. With its 1/2in CMOS sensor, the camera lets you take photos with a resolution of 48 million pixels, and in video mode the drone supports 4K at 60fps. Both photographs and videos are stored on convenient microSD cards, and the amazing gimbal makes sure neither turns out blurred. The Mavic Air 2 has a lot to offer for creative filmmakers, including HDR panorama, 8K Hyperlapse mode, and SmartPhoto mode with scene recognition that optimises the picture depending on the situation.
EISA PHOTO SOFTWARE 2020-2021
Nik Collection 3 By DxO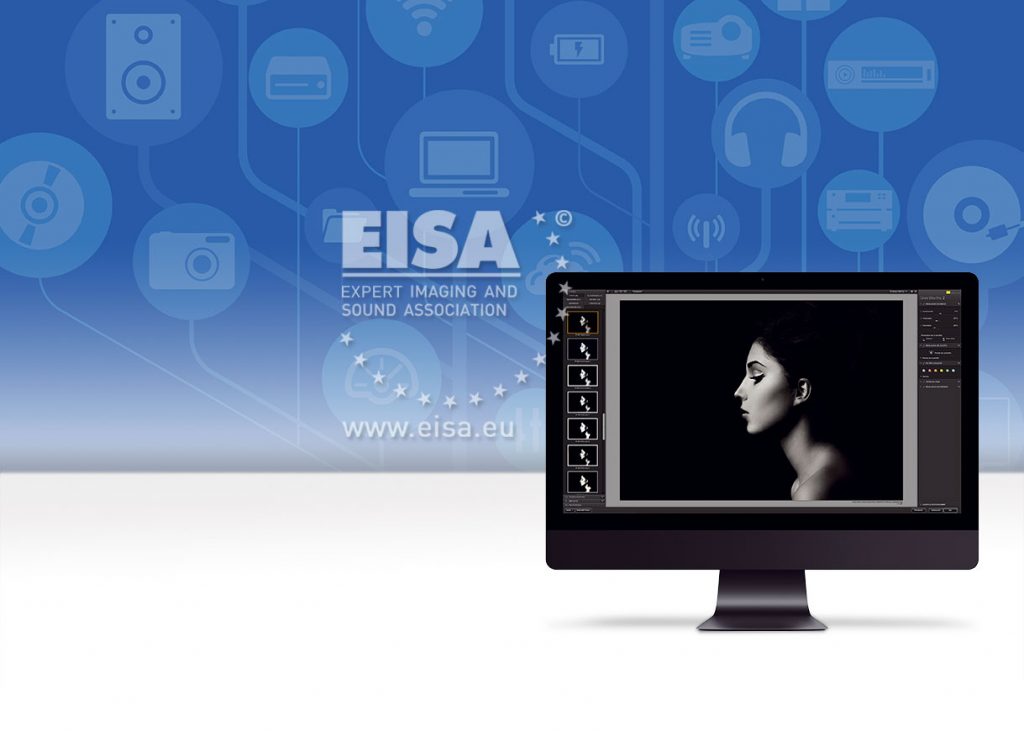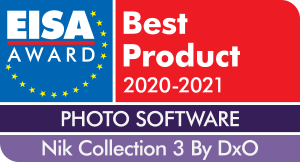 Nik Collection 3 by DxO is a suite of eight powerful photo-editing plug-ins for Adobe Photoshop, Lightroom and DxO PhotoLab, that helps photographers take their images to the next level. Together the plug-ins allow a wide range of effects to be applied quickly and easily to images, such as great black & white conversions, attractive colour adjustments and creative treatments, and new in this version, comprehensive geometric corrections. A new non-destructive mode allows you to export images as TIFF files and tweak your edits, while keeping your original images safe and your adjustments reversible.
EISA MONITOR OF THE YEAR 2020-2021
EIZO ColorEdge CS2740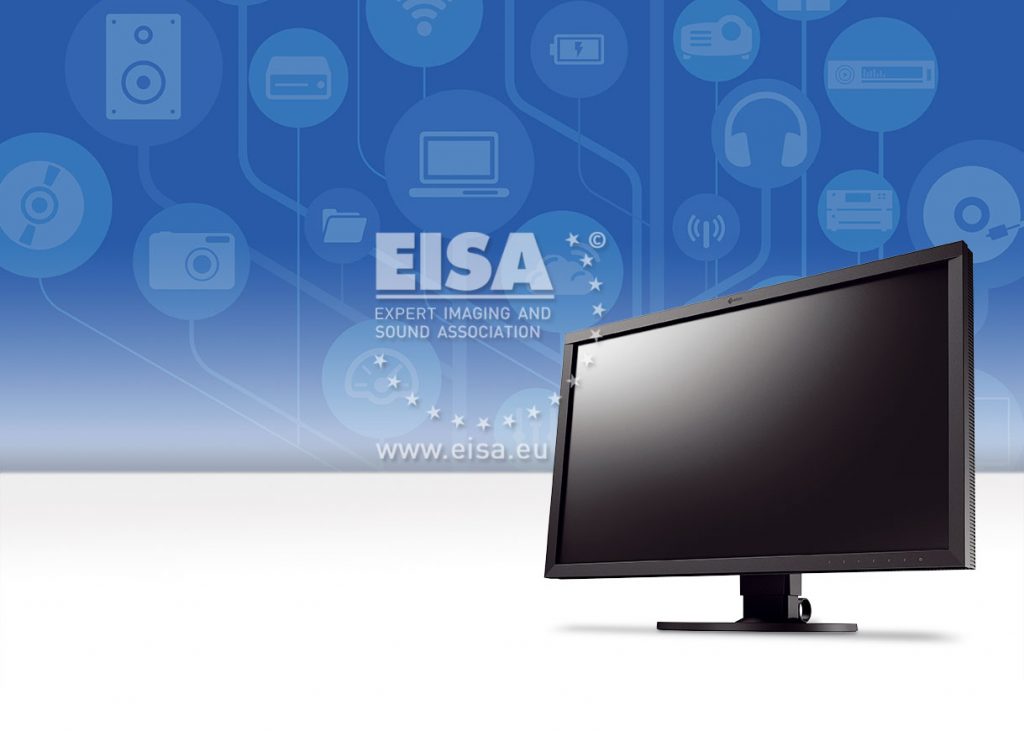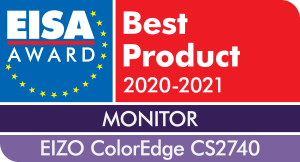 The EIZO ColorEdge CS2740 is a 27in monitor with a 4K UHD resolution of 3,840 x 2,160 pixels, or four times the resolution of Full HD. This high-quality monitor is ideal for creative tasks such as photo and video editing, and offers a wide gamut with vivid and accurate colour reproduction in the Adobe RGB space. Thanks to its high pixel density images are displayed very smoothly. It offers essential features such as colour calibration with the ColorNavigator 7 software, along with modern and versatile connectivity options including USB-A, HDMI, DisplayPort and crucially USB Type-C ports.
EISA Mobile Awards 2020-2021
EISA BEST SMARTPHONE 2020-2021
OnePlus 8 Pro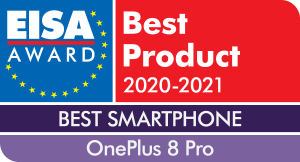 The OnePlus 8 Pro raises the bar for high-end smartphones, illustrating how cutting-edge hardware technology can dovetail with gorgeous product design. Externally, it sports a 120Hz 6.78in display, with crisp QHD+ resolution, atop an IP68-rated chassis with soft-touch finish. Inside, Qualcomm's latest Snapdragon 865 chipset – supported by either 8GB or 12GB of RAM – brings speed and stability to the 8 Pro's Android 10/OxygenOS software. To replenish the 4,510mAh battery, One Plus debuts its Warp Charge 30 Wireless technology, which can charge up to 50% in just 30 minutes. A rear-panel quad-lens camera setup brings flexibility and precision to photos. This device puts the 'smart' into smartphone!
EISA ADVANCED SMARTPHONE 2020-2021
OPPO Find X2 Pro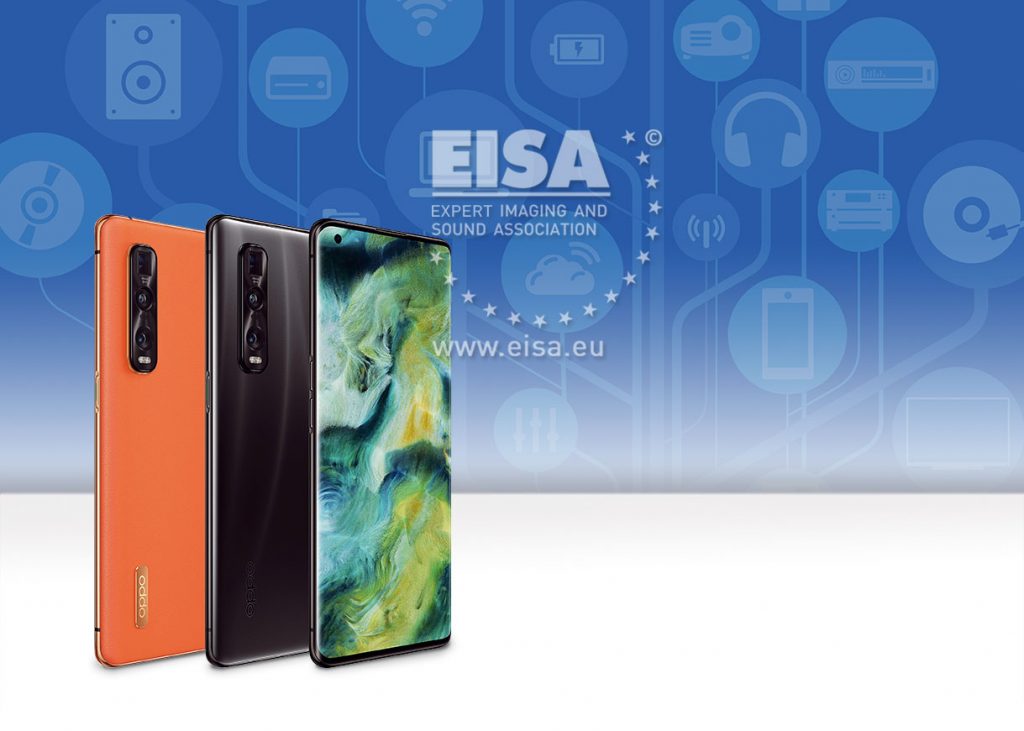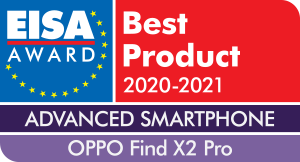 A smartphone worthy of its flagship status, OPPO's technology-laden Find X2 Pro features a sensational design – particularly in its tactile vegan leather finish – and delivers an unrivalled day-to-day user experience. Its 6.7in AMOLED HDR display with 1,400 x 3,168 peak resolution and 120Hz refresh rate provides a crisp, fluid canvas for its Android 10 and ColorOS 7.1 interface. The underlying Snapdragon SoC and Adreno 650 graphics processor offer unprecedented speed and power. Capacious onboard memory (512GB), triple camera system and 65W fast charging of its 4,260mAh battery are just some of its user-friendly features. This is OPPO's best smartphone yet, and one that stands out from the premium competition.
EISA BEST SMARTWATCH 2020-2021
Huawei Watch GT 2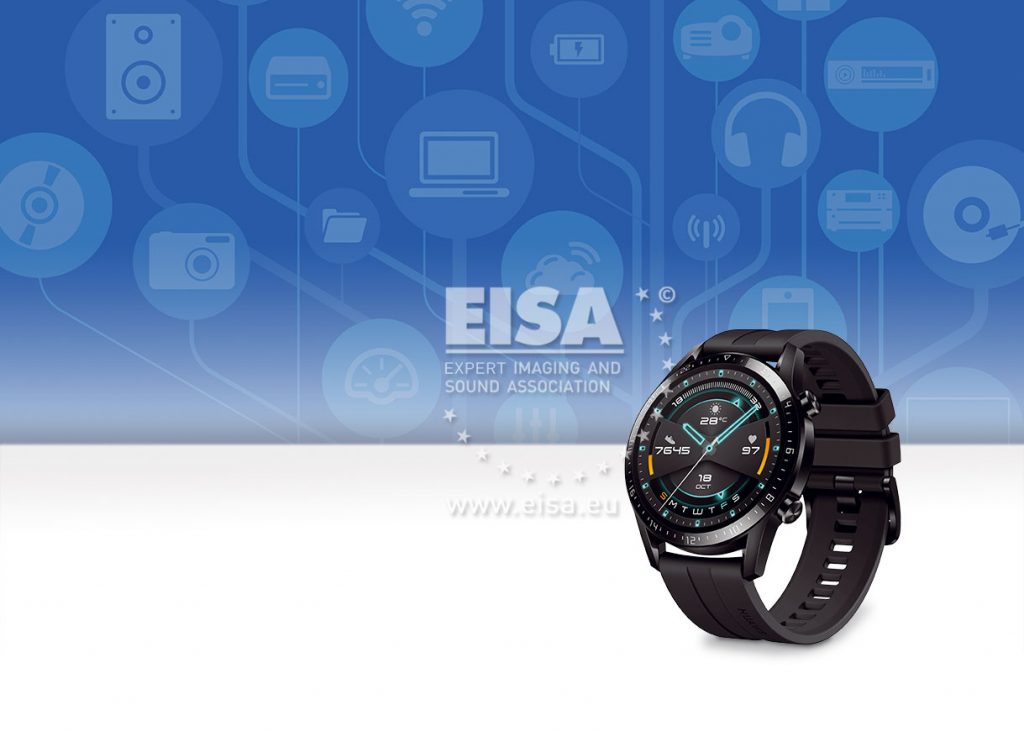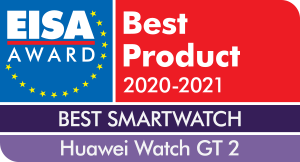 Huawei's Watch GT 2 melds the talents of a modern smart watch with a stylish, unisex design based on a circular AMOLED display, physical controls and genuine leather strap. Ideally suited to active lifestyles, it offers a host of fitness features – including the ability to analyse 15 different sports categories, and provide insight into up to 190 types of exercise data – plus an excellent two-week battery life. With Huawei's TruSleep feature, artificial intelligence is used to analyse sleep quality, and the GT 2 also monitors heartbeat and stress levels. Bluetooth calling (up to 150m from your smartphone), app notification and onboard music storage are also on the feature list. A modern classic is born!
EISA FOLDABLE SMARTPHONE 2020-2021
Samsung Galaxy Z Flip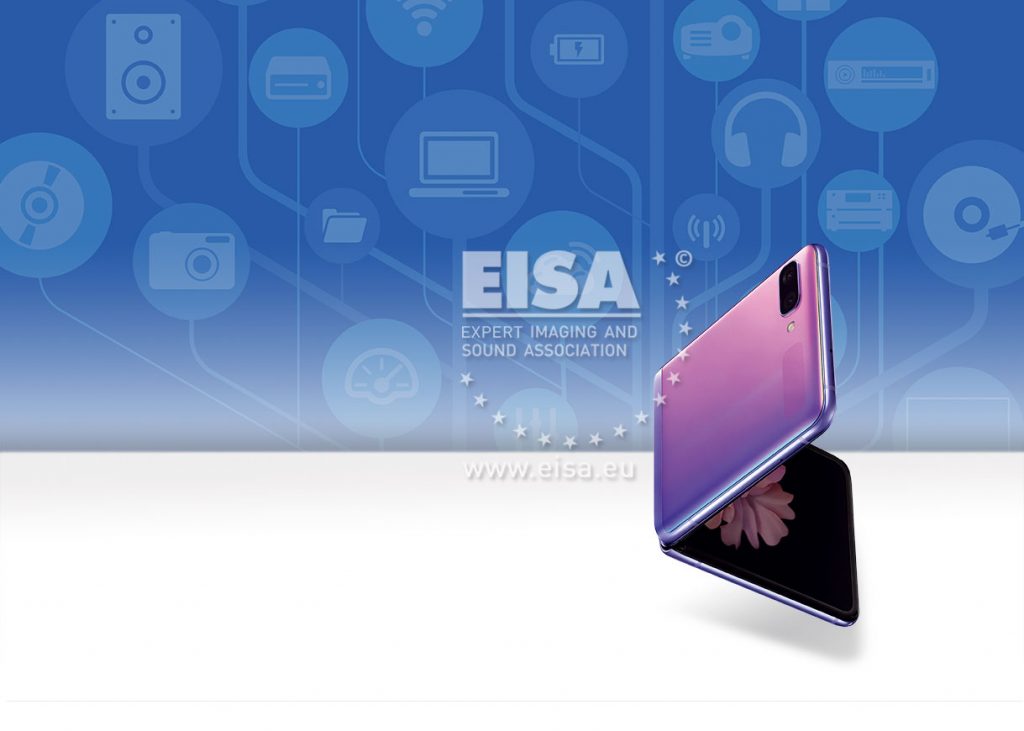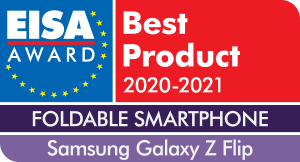 A stunning update on the 'old-school' clamshell concept, Samsung's Galaxy Z Flip uses a foldable display to create an inventive, impressive and practical smartphone. When it is open, a 6.7in Dynamic AMOLED screen, with 1,080 x 2,636 resolution, takes centre-stage – and with no noticeable fold in the middle. Closed, it becomes half the size and protects the main screen from damage, while displaying notifications, incoming calls and further information on a secondary 1.1in display. The Galaxy Z Flip's considerable appeal is boosted by its double camera setup with wide and ultrawide lenses, long-lasting 3,300mAh battery, and robust and convincing finish. This is a pioneering smartphone.
EISA IN-EAR HEADPHONES 2020-2021
Sennheiser Momentum True Wireless 2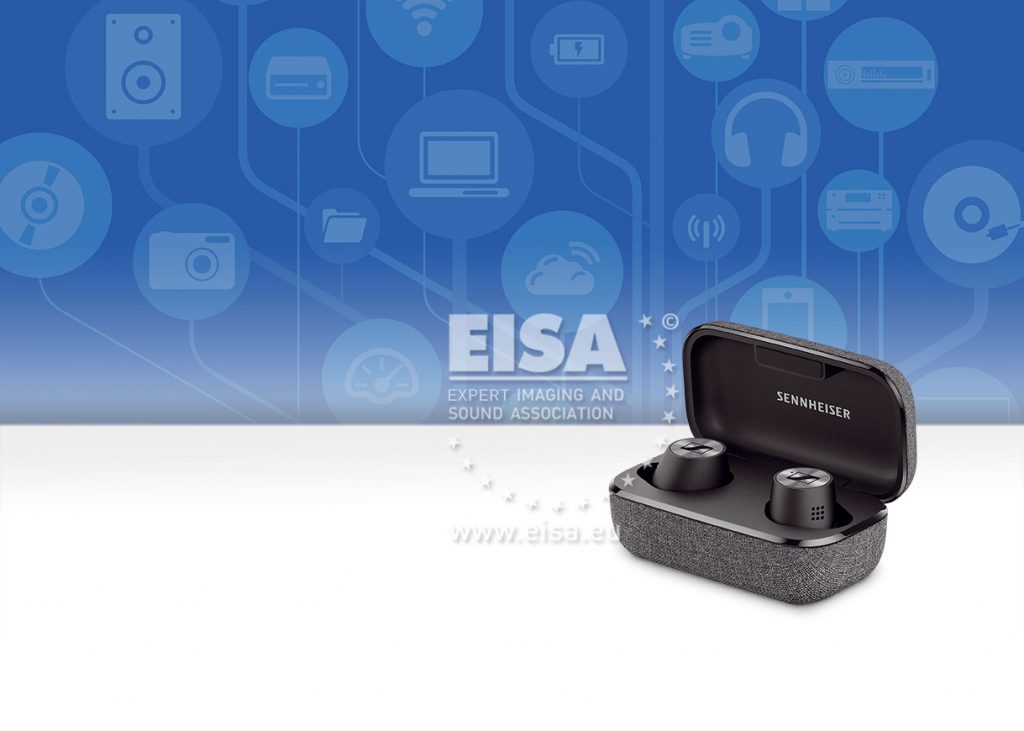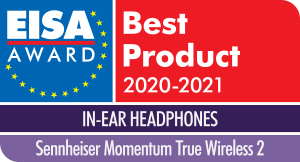 Compact and lightweight, yet packed with essential features, Sennheiser's Momentum True Wireless 2 headphones are a design triumph – and sound sublime too. Custom dynamic drivers deliver a balanced performance with convincing bass and rich detail that can be fine-tuned through Sennheiser's Smart Control app, while new active noise-cancelling technology works to keep you focused on the music and not the outside world. Battery life has been significantly upgraded to seven hours, and the well-made carry/charging case extends this further via its own rechargeable battery. Multiple tips are provided to ensure the True Wireless 2s fit any ear shape. This is proof that the best things can come in small packages.
EISA ON-EAR HEADPHONES 2020-2021
Bowers & Wilkins PX5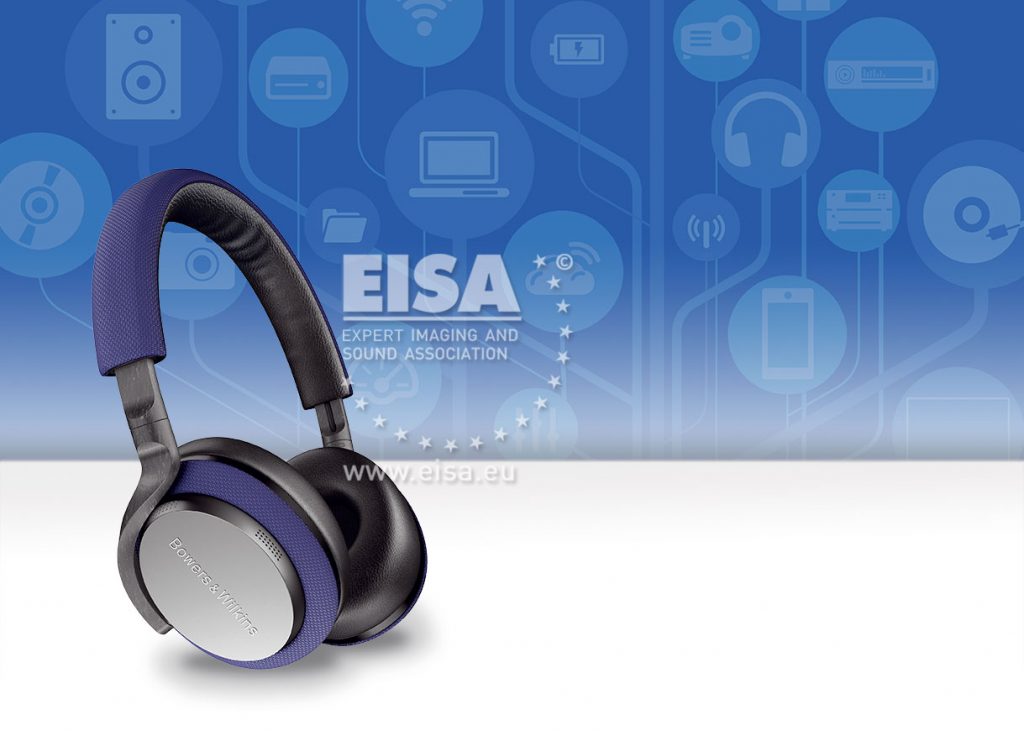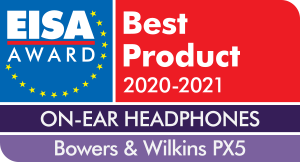 For its PX5 adaptive noise-cancelling headphones, Bowers & Wilkins pays equal attention to design, ease of use and performance. These are effortlessly stylish, with a spectacular finish blending carbon fibre, aluminium and fabric, while soft cushioned earpads and headband support long listening sessions. Sound quality from the custom-designed 35mm drivers is superb, with a frequency response ranging from deep bass to delicate highs. Both wired and wireless connections are possible, the latter via Bluetooth with support for aptX Adaptive. On-body controls include instant pause by lifting an earcup, and adjustment of the PX5's high-quality noise-cancelling. If you love music on the go, you'll love these.
EISA SMARTPHONE CAMERA 2020-2021
Huawei P40 Pro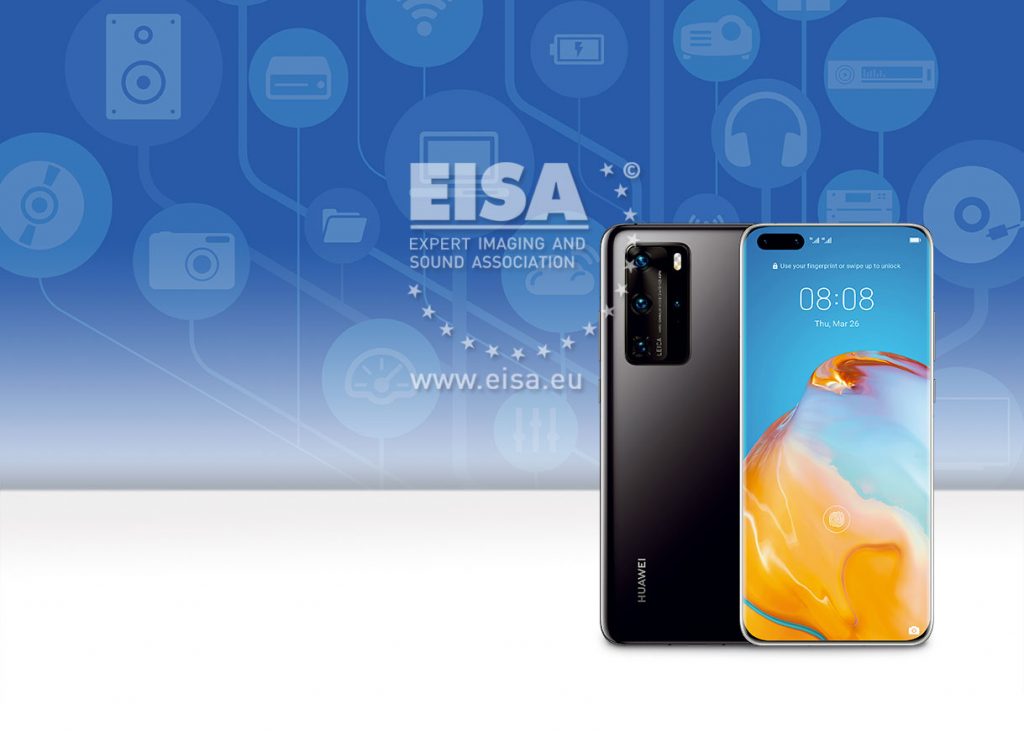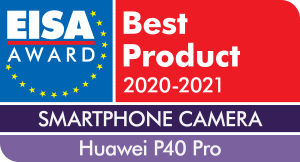 Building upon the success of its predecessors, Huawei's P40 Pro again pushes smartphone camera technology forward, with a Leica quad-lens setup that offers limitless performance potential. Its primary 50-megapixel camera with phase detection auto-focus and optical image stabilisation is joined by a 12-megapixel periscope telephoto lens, allowing 5x optical zoom, and a 40-megapixel ultra-wide 'Cine Camera' for advanced video capture. Add in the P40 Pro's ToF 3D depth sensor – and AI image enhancements – and you have a smartphone that snaps stunning daily photos and night shots of unmatched quality without unwanted noise or aberrations. The luxurious design, premium display technology and easy operation make it a true champion in its class.
EISA MOBILE AUDIO PLAYER 2020-2021
FiiO M11 Pro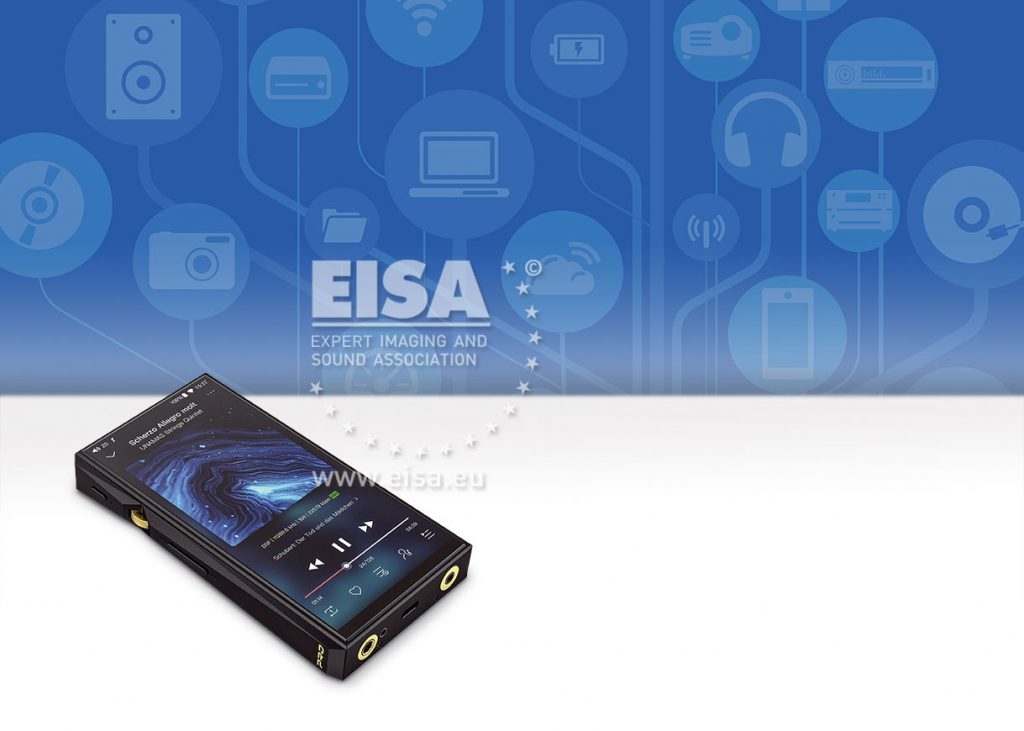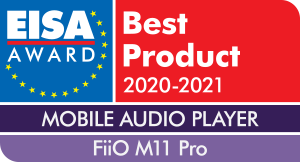 This portable music player packs best-in-class functionality into a high-quality chassis with bezel-free touchscreen display. Format support and listening options are unrivalled – the M11 Pro can be used as both a Bluetooth receiver and transmitter, as a USB DAC and USB audio player (with native DSD output), or playing direct from its onboard storage (expandable to 2TB) or streaming apps. A Samsung Exynos hexa-core SoC ensures seamless music management and a responsive user experience. Two AK4497EQ DACs with Velvet Sound architecture, meanwhile, support hi-res audio to 384kHz/32-bit, plus MQA decoding. The player's trio of headphone outputs benefit from powerful, low-distortion amplification. And that all-important sound quality? In a word: exceptional.
EISA MOBILE SPEAKER 2020-2021
LG XBOOM Go PL7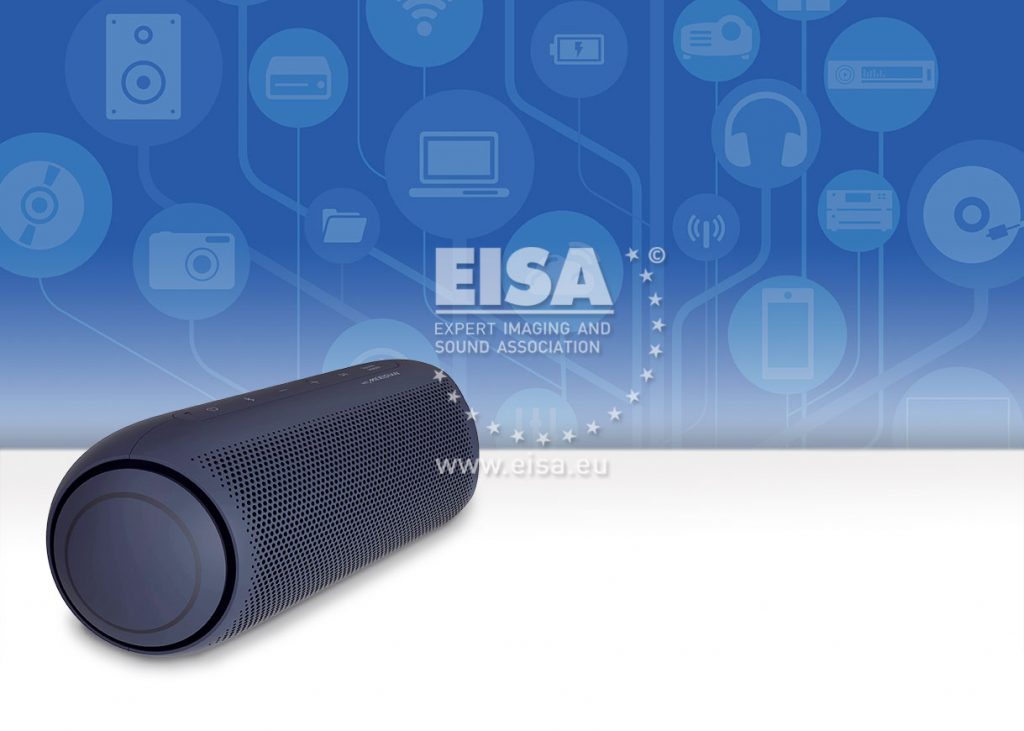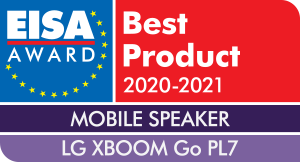 Designed in partnership with Meridian Audio, LG's XBOOM Go PL7 is built first and foremost for sound quality. Its stereo driver array and onboard amplification – accompanied by dual passive radiators – engineers a performance that's outstandingly clear and transparent with vocals and packs a superior bass punch. And this mobile speaker's build and specification is equally impressive. It's stylish and compact enough to be taken everywhere, which its 24-hour battery life (with power bank functionality) and IPX5 water-resistant certification encourages. The XBOOM Go PL7 also offers smart lighting effects, and up to 100 can connect together wirelessly to create a real party atmosphere. Hook up via Bluetooth or 3.5mm, and you're ready to rock.
EISA MULTIMEDIA SMARTPHONE 2020-2021
Sony Xperia 1 Mark II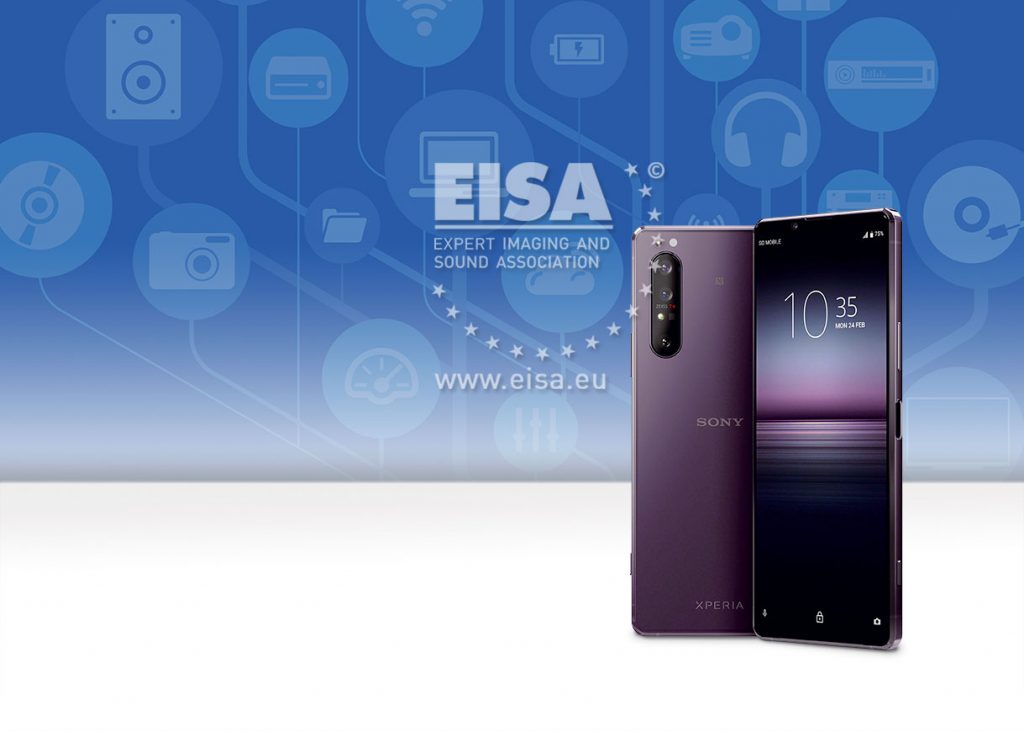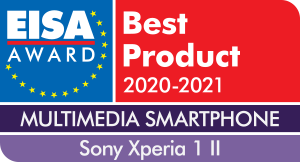 Sony's Xperia 1 Mark II is a multimedia powerhouse tailor-made for photo, film and music enthusiasts. Its three-lens system shares technology with Sony's advanced Alpha cameras, enabling a burst mode of 20fps with continuous autofocus and automatic eye detection, while Photography Pro and Cinematography Pro apps mirror the controls and functionality of Sony's professional range. For media consumption on the go, the Xperia 1 Mark II features a 6.5in 21:9 CinemaWide 4K HDR OLED screen with enveloping audio delivered by Dolby Atmos – plus support for the immersive 360 Reality Audio music format. Gamers, meanwhile, can link up a DUALSHOCK 4 controller for console-like gameplay. Snapdragon's 865 5G Mobile Platform powers this feast of functionality.
EISA Hi-Fi Awards 2020-2021
EISA BEST VALUE FLOORSTANDING LOUDSPEAKER 2020-2021
Focal Chora 826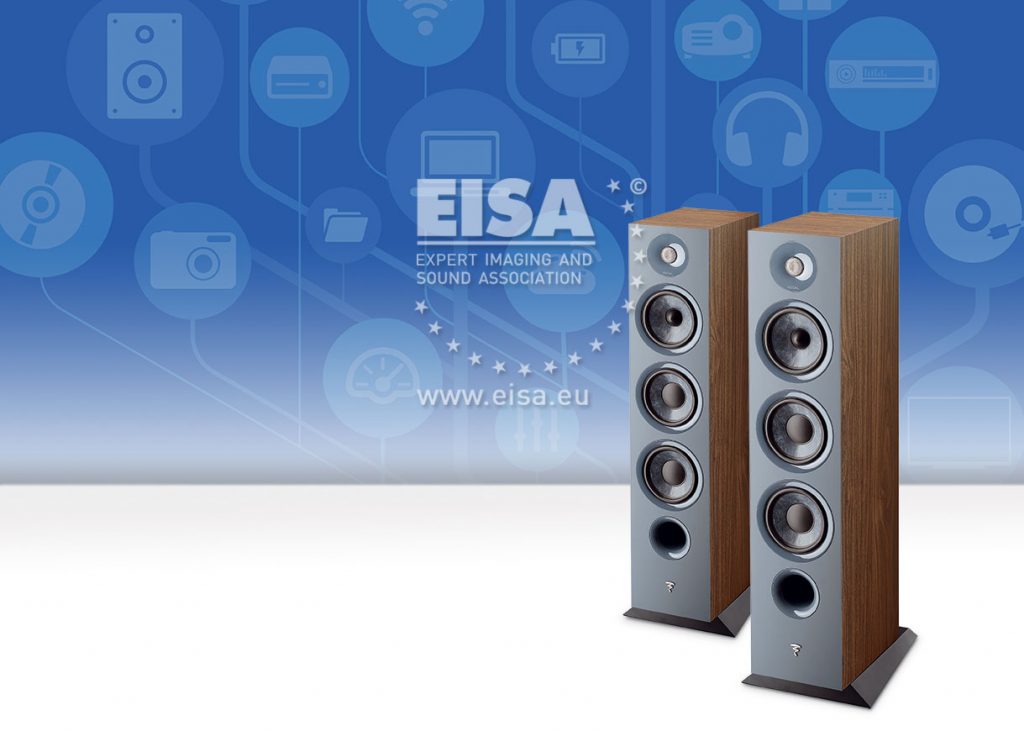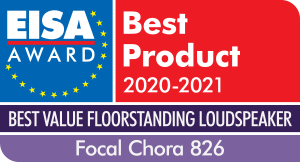 Drawing on its extensive expertise, from the manufacture of drive units to final assembly, Focal has developed an affordable floorstander able to sound great on demonstration and in the home. At the heart of the Chora 826 is a new 'Slatefibre' driver, for speed and bass extension, and the speaker has a sound that'll make you want to keep on listening, with both bass weight, treble clarity and sparkle. It's also easy to set up and position, will work with modest amplification, and sounds good in almost any room. However you look at it, this speaker offers a lot of performance for the money.
EISA LOUDSPEAKER 2020-2021
SVS Prime Pinnacle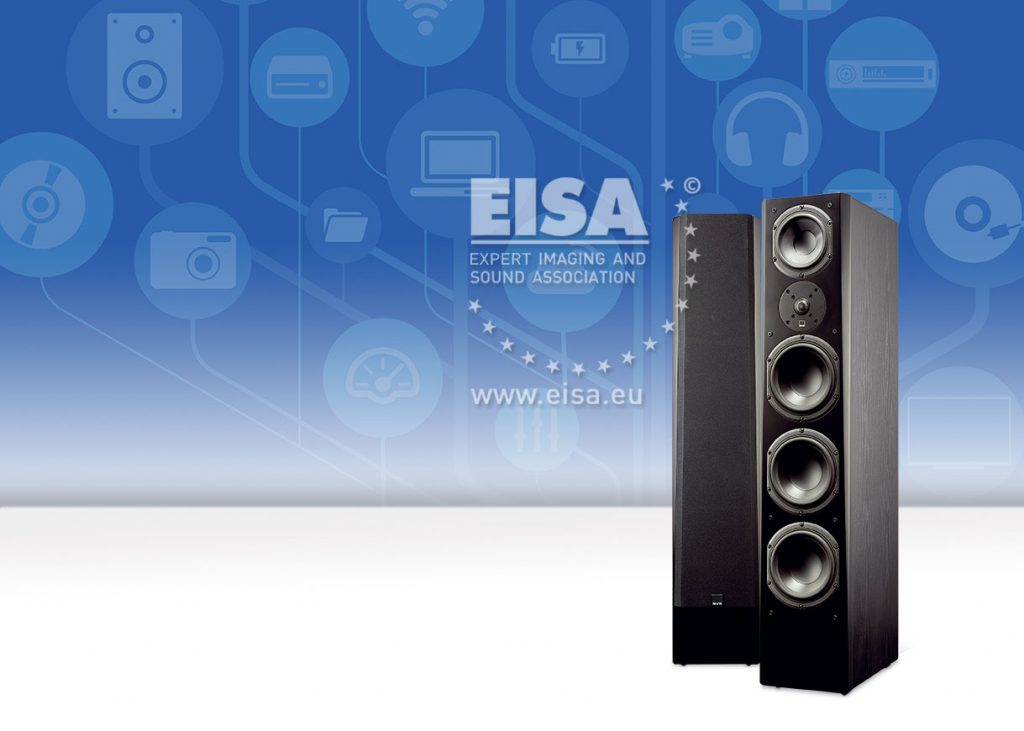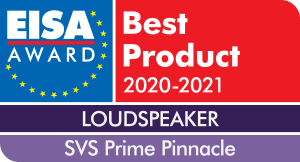 Sitting at the top of the SVS Prime range, this classically-styled floorstanding model is of simple design and construction, yet delivers a clear, crowd-pleasing performance – not least due to its trio of 16.5cm bass drivers and rear-facing ports. The woofers are drawn from the company's Ultra Tower flagship model, and ensures music driven by bass and percussion is always thrilling, just as the midband and treble are crisp and sweet. In practice the Prime Pinnacles are svelte enough to slip into all but the smallest rooms, so if you crave a warm and a full-bodied sound, these towers will have your system glowing.
EISA BEST VALUE BOOKSHELF LOUDSPEAKER 2020-2021
Monitor Audio Bronze 100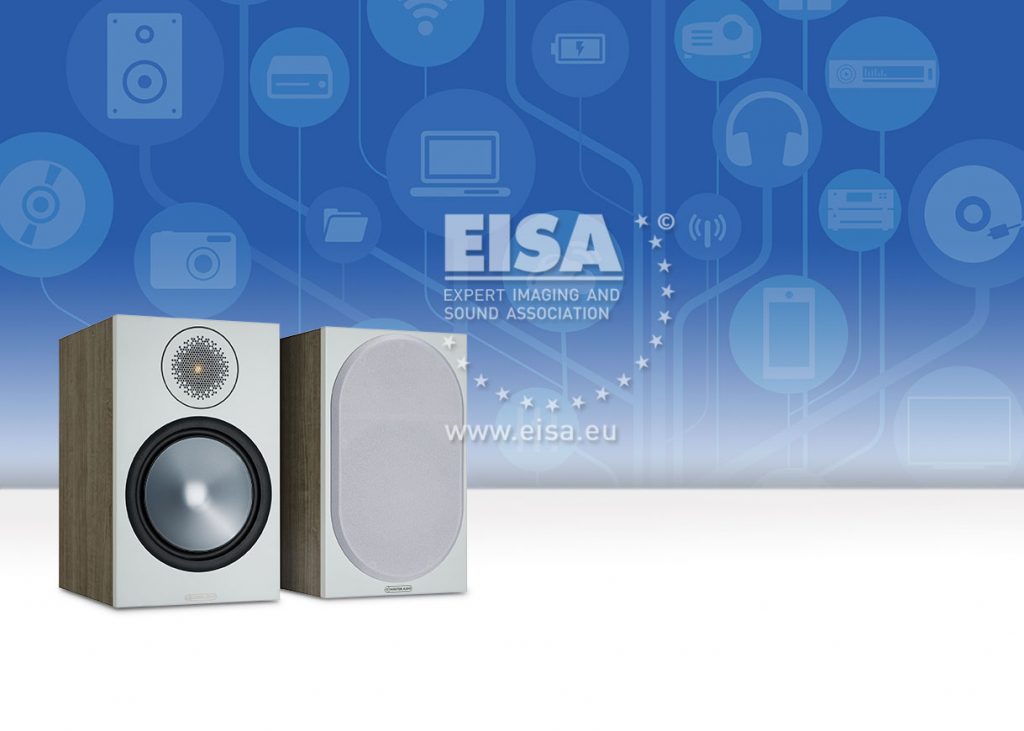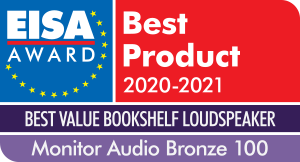 Monitor Audio has built an enviable reputation for superb small speakers, winning the EISA Award for its bookshelf model last year and building on this performance for its latest, sixth-generation series in 2020. They're admirable performers across a wide range of musical styles, with a killer combination of bass weight and sweet treble from the brand's in-house-designed Ceramic-Coated Aluminium Magnesium (C-CAM) drivers, and a reflex port 'rifled' for smoother airflow. Their contemporary looks and easy-to-drive nature add to the appeal of these very sophisticated little speakers.
EISA WIRELESS LOUDSPEAKER 2020-2021
System Audio legend 5 silverback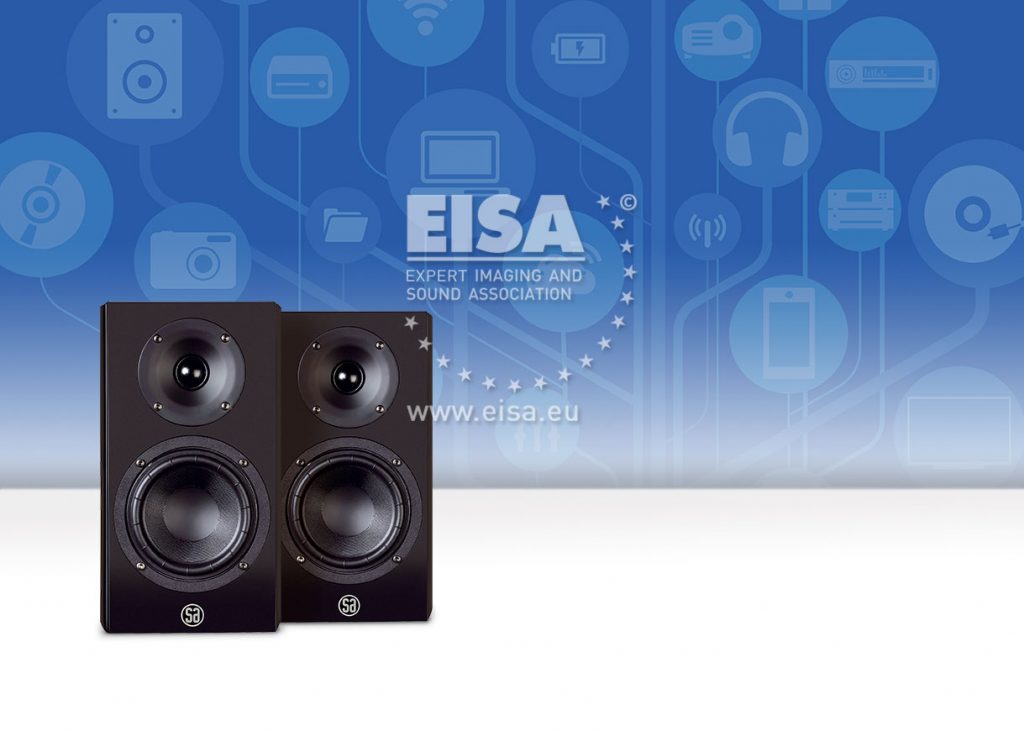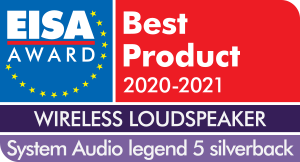 Danish company System Audio took an entirely logical approach with the legend 5 silverback speakers: they're active, with dedicated amplification for each drive unit, and become wireless when you add the full function Stereo Hub or third-party transmitter. Operation using WISA technology to avoid interference and carrying sound up to 192kHz/24-bit, the system can connect to a wide range of sources, from a digital connection from a computer to TV sound. It also has multiple streaming options, from DLNA/UPnP to GoogleCast, AirPlay and Bluetooth. It's a beautifully elegant, and fine-sounding, wire-free music solution.
EISA SMART AMPLIFIER 2020-2021
NAD Masters M33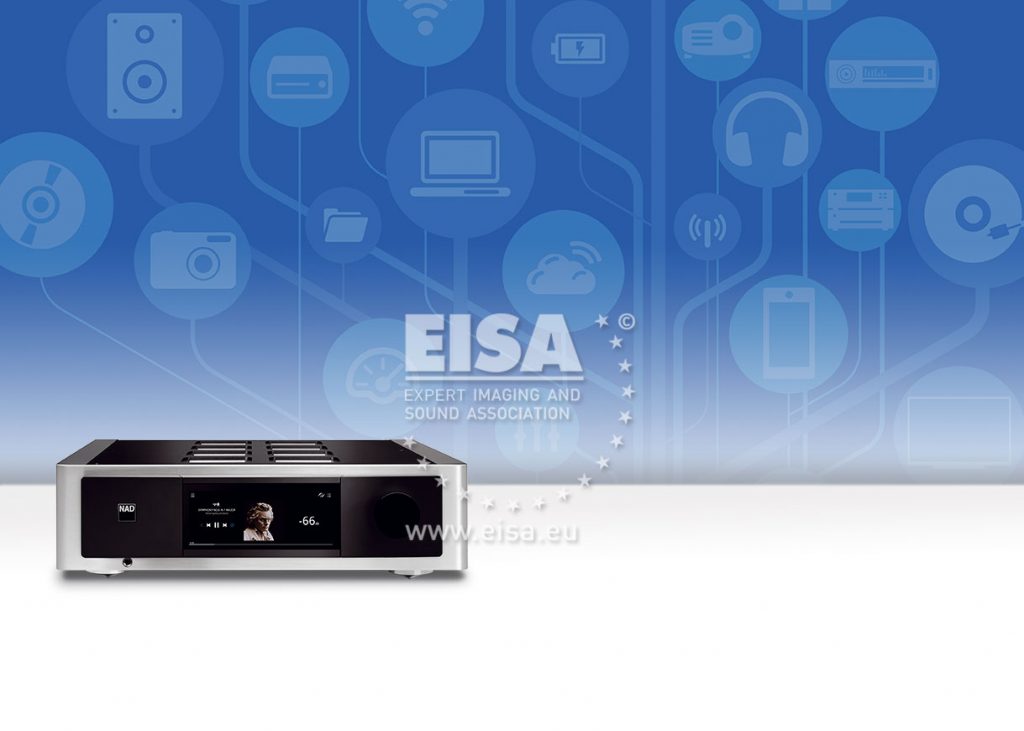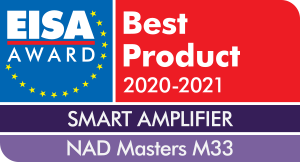 NAD won this category last year with its compact Masters M10 – not just an amplifier but also a complete 'just add speakers' streaming system. This year it has comprehensively evolved the concept with its Masters M33, combining state-of-the-art Class D amplifier technology from Purifi Audio with in-house streaming know-how. The result is just about all the amplifier anyone could need, combining massive power and beautiful clarity and finesse with broad connectivity, streaming and DIRAC room correction, all presented on a large front-panel touchscreen. It's definitely an amp for the third decade of the 2000s.
EISA AMPLIFIER 2020-2021
Arcam SA30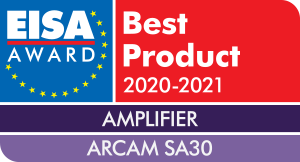 Arcam joins the 'all-in-one' streaming amplifier trend with its flagship integrated. Within the elegant but purposeful casework the SA30 combines the company's Class G amplification, for both finesse and power, with a raft of digital technologies. It will stream, and you can plug in everything from your TV to a turntable, while DIRAC room correction is offered to optimise the sound, using a computer and the supplied microphone. It's not just a technical tour de force, it's also a storming amplifier: Arcam may be streamlining its product range, but hasn't lost its focus.
EISA HIGH-END INTEGRATED AMPLIFIER 2020-2021
Musical Fidelity M8xi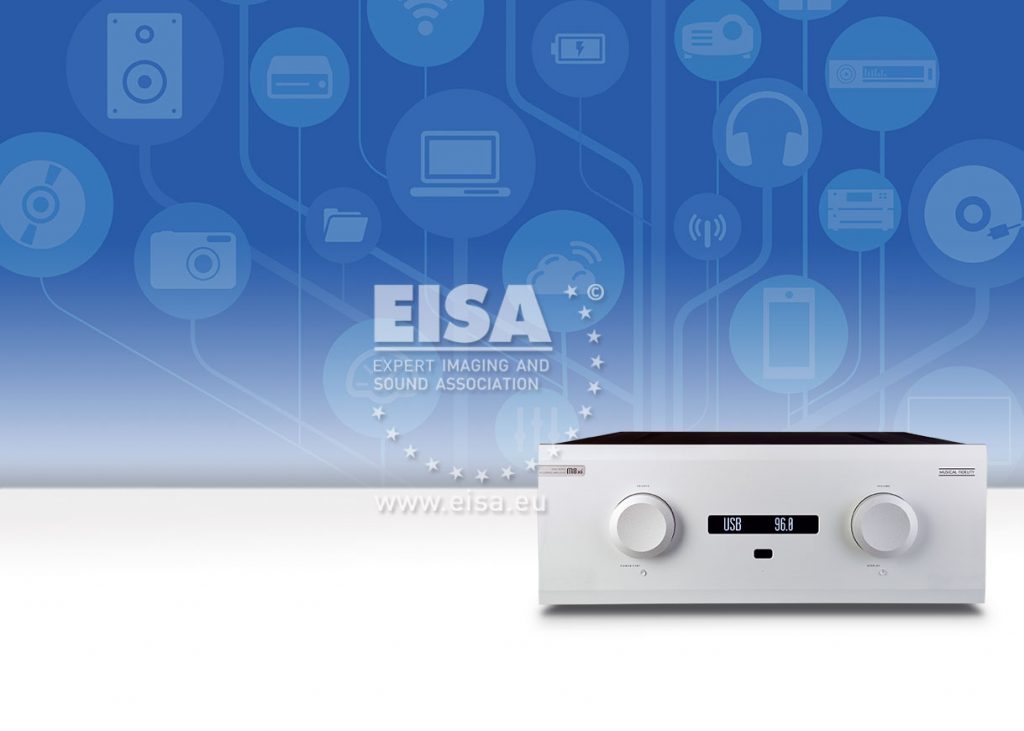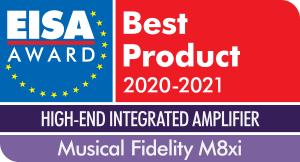 Musical Fidelity has always designed fabulous big amplifiers, following its belief that you can never have too much power. Now under Austrian ownership, and sharing a stable with Pro-Ject Audio Systems, it's delivered the M8xi, offering a massive 550W – which it comfortably exceeds from its dual-mono construction. Inputs extend to both digital and analogue audio options, but this isn't just a big prize-fighter of an amp: it's also fast and nimble, delivering music with both speed and accuracy, not to mention masses of detail. If you want your amp all in one box, and superlative performance, this is the one to buy.
EISA HIGH-END PRE/POWER AMPLIFIER 2020-2021
Michi P5/S5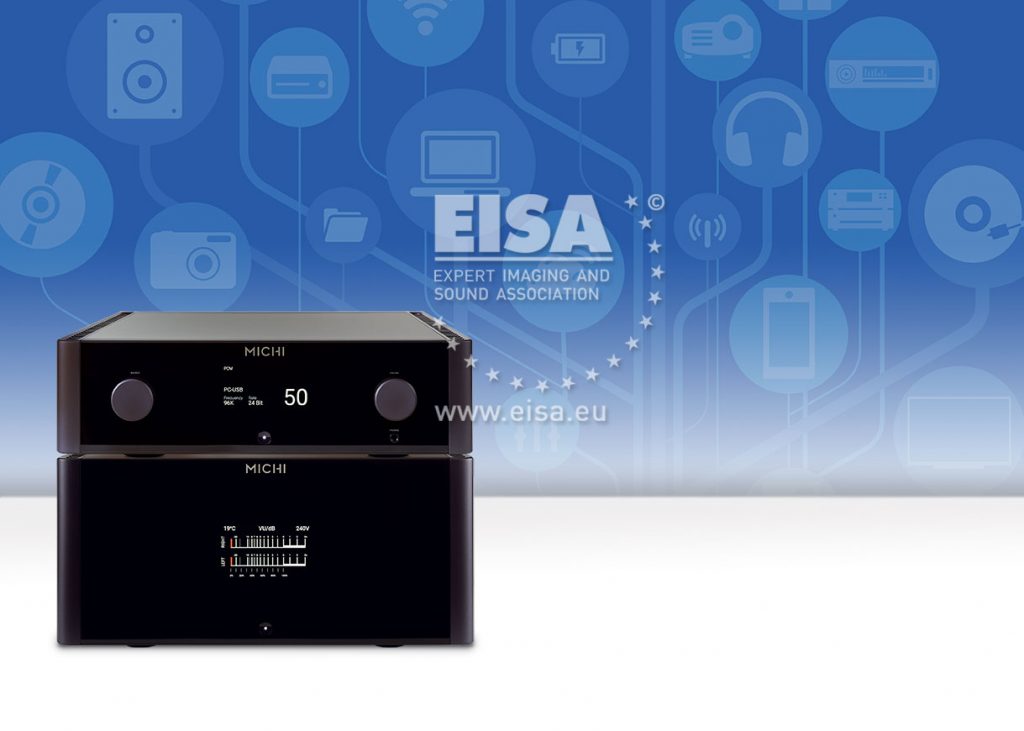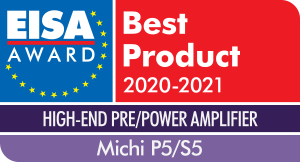 Rotel's high-end sub-brand is back, some three decades after its first appearance, and the Michi P5 control amplifier and S5 power amp bring a welcome breath of weight, scale and entirely natural music-making to the high-end arena. With cool black looks and stunning build quality, the duo displays a wide-ranging ability across a broad spectrum of musical genres. Michi is all about the emotion and spirit of the music, delivered on an entirely human scale. The amps are flexible too, the preamp offering a wide range of digital and analogue inputs, and the quality is assured by painstaking hand assembly, from the basic components upwards. It's a stunning return.
EISA TURNTABLE 2020-2021
Thorens TD 1601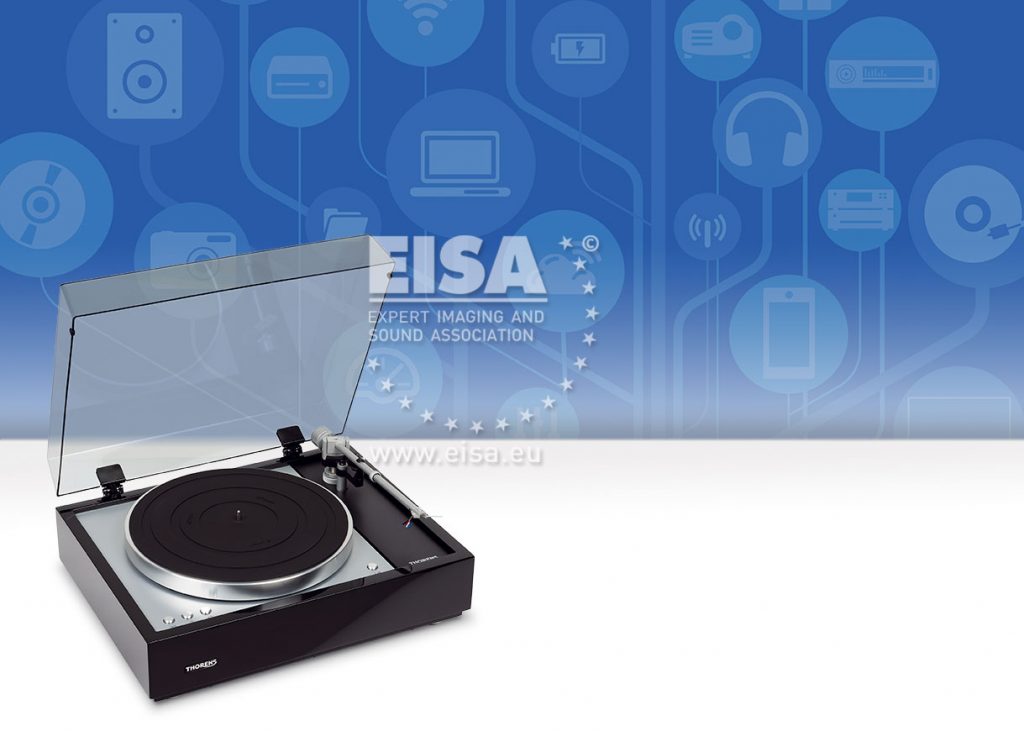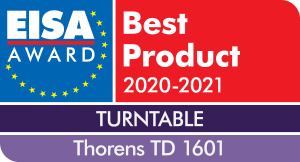 The Thorens name has been associated with turntables for almost 120 years, and while the TD 1601 has a look reflecting classic turntables of the past, under the skin it's all new. It retains the three-point sprung suspension of the TD150 of the 1960s, but brings the company's latest decoupled synchronous motor for speed accuracy, and an electric arm-lift and end of side stop for convenient playback. A fully manual version of the deck, the TD 1600, is also offered. All this plus a balanced audio output alongside the usual connections, for even lower noise, makes for a turntable that combines heritage with bang-up-to-date sound quality.
EISA BEST VALUE TURNTABLE 2020-2021
Pro-Ject T1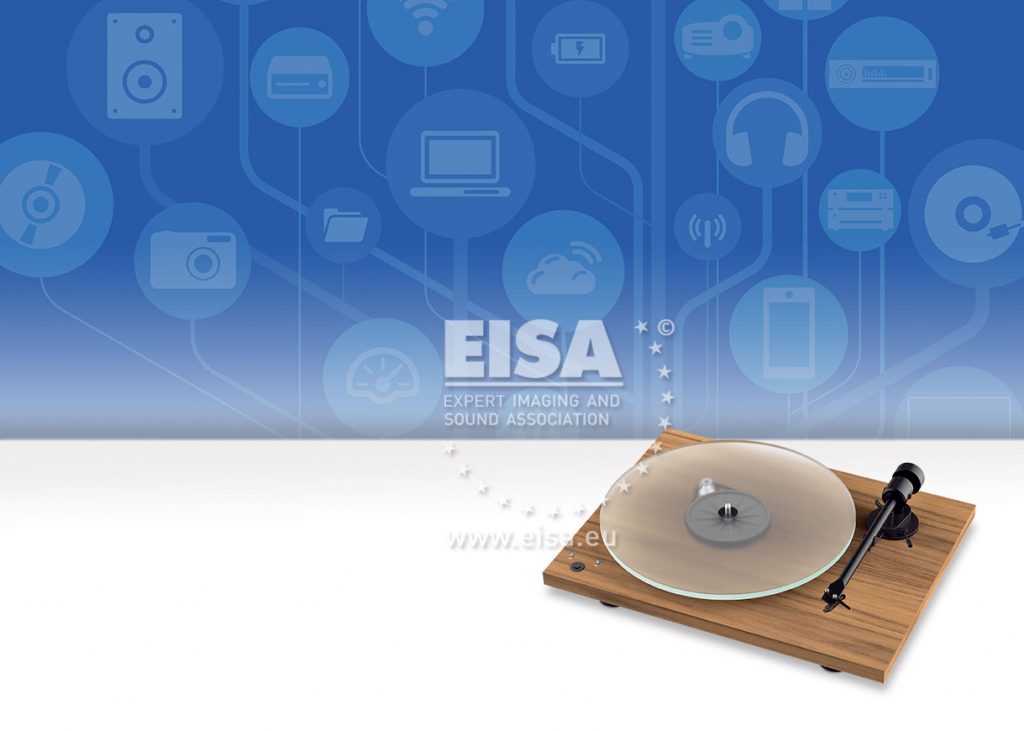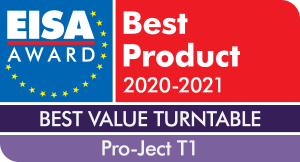 Pro-Ject has been making turntables for almost three decades, starting with the original Pro-Ject 1 and, along with the later Debut models, it more or less reinvented the budget turntable market. The T1 is the latest version of that design – a budget audiophile record-playing package with excellent sound for the money. The company also offers versions including a built-in phono stage and Bluetooth transmitter! With its machined plinth, high precision bearing, glass platter and newly-designed one-piece aluminium tonearm, it offers a wonderfully weighty and detailed sound – and even the Ortofon OM 5E MM cartridge is pre-installed, making it completely plug-and-play.
EISA BEST VALUE DAC 2020-2021
iFi Audio ZEN DAC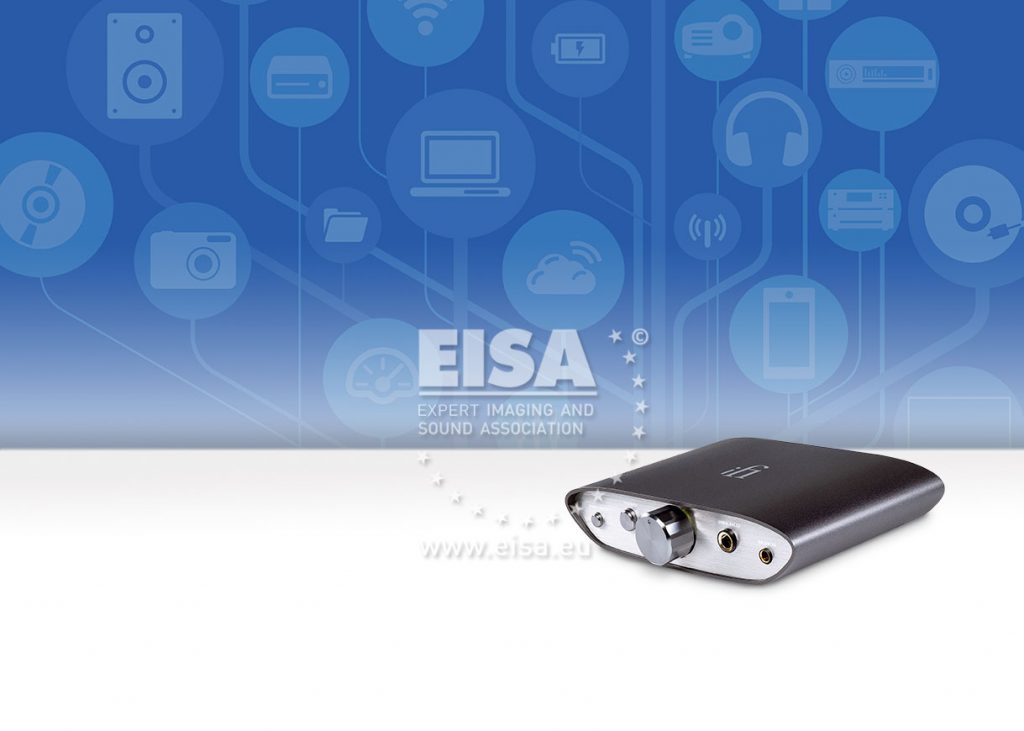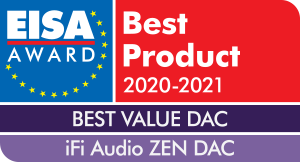 The appeal of the iFi Audio ZEN DAC is simple: with eye-catching looks, flexibility, solid engineering within and a remarkably grown-up sound, this entry-level DAC is a conspicuous hi-fi bargain. It proves that desktop audio doesn't have to be the poor relation of 'proper' hi-fi, and is a real giant-killer, whether as a DAC/headphone amp or a simple digital preamp. Buy this to boost the sound of your computer, and you may well find you're listening to it most of the time. Best of all, it does all this at a very affordable price – this is amazing value for money.
EISA DIGITAL SOURCE 2020-2021
Volumio Primo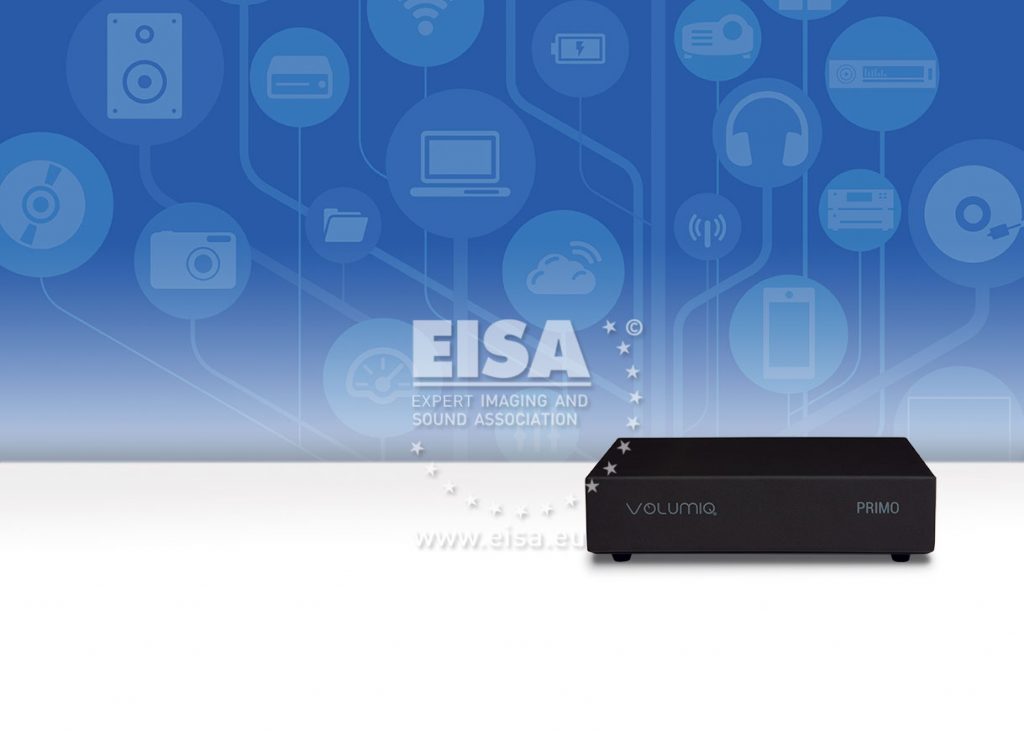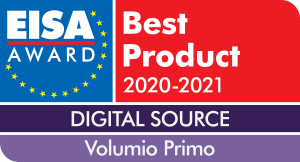 This unassuming-looking little black box is a highly affordable solution to all your digital streaming needs, for not only will it play music stored on home network devices, it also allows you to access a huge range of online music services. With simple operation via web browsers or apps, and an on-screen GUI delivered over HDMI, the Primo includes digital outputs to feed any DAC while also playing music via USB stores. Compatible with music formats all the way up to DSD, via Ethernet or Wi-Fi, this small wonder is the perfect way to start your streaming adventure.
EISA AUDIO ACCESSORY 2020-2021
Pro-Ject VC-E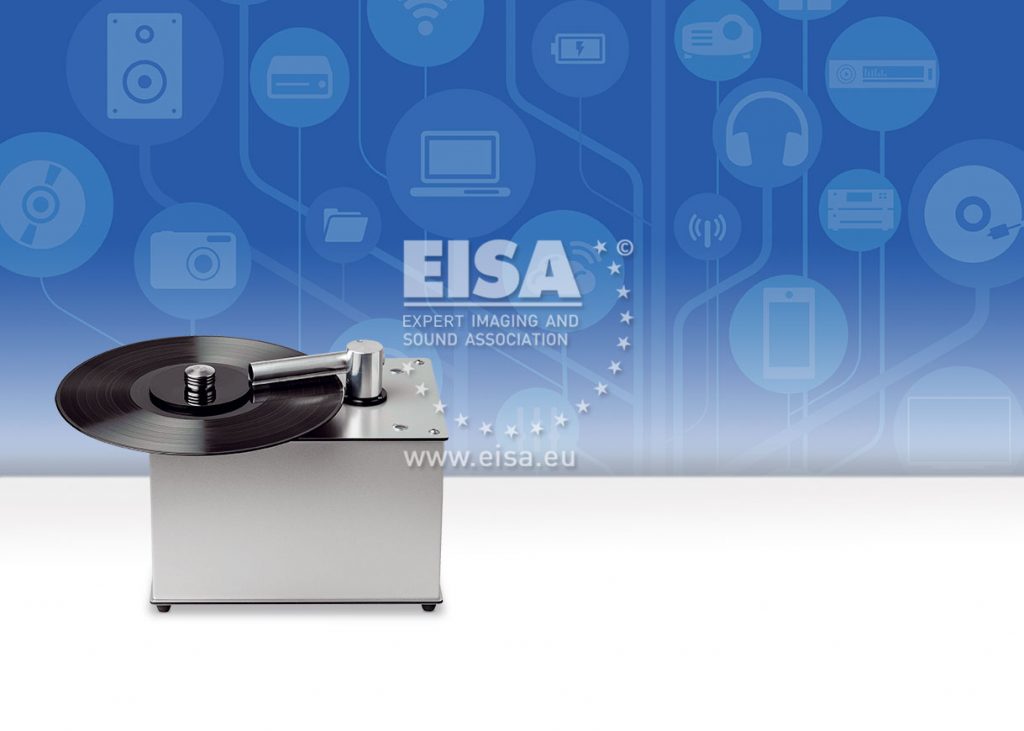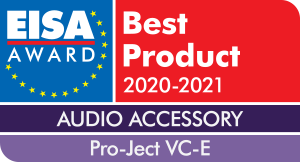 Having spearheaded the vinyl revival with its excellent – and very affordable – turntables, Pro-Ject has now turned its attention to looking after your precious LP collection with its compact VC-E record cleaning machine. Not only is it small, it's also very affordable and fast, spinning the disc at 30rpm to enable it to be cleaned in just a few rotations. In fact, Pro-Ject says one spin in each direction should be enough, while the clamp keeps the record label dry and the suction arm cleans the surface effectively. The result? Less noise, less stylus and vinyl wear, and even better sound from your favourite LPs.
EISA PHONO PREAMP 2020-2021
Primare R15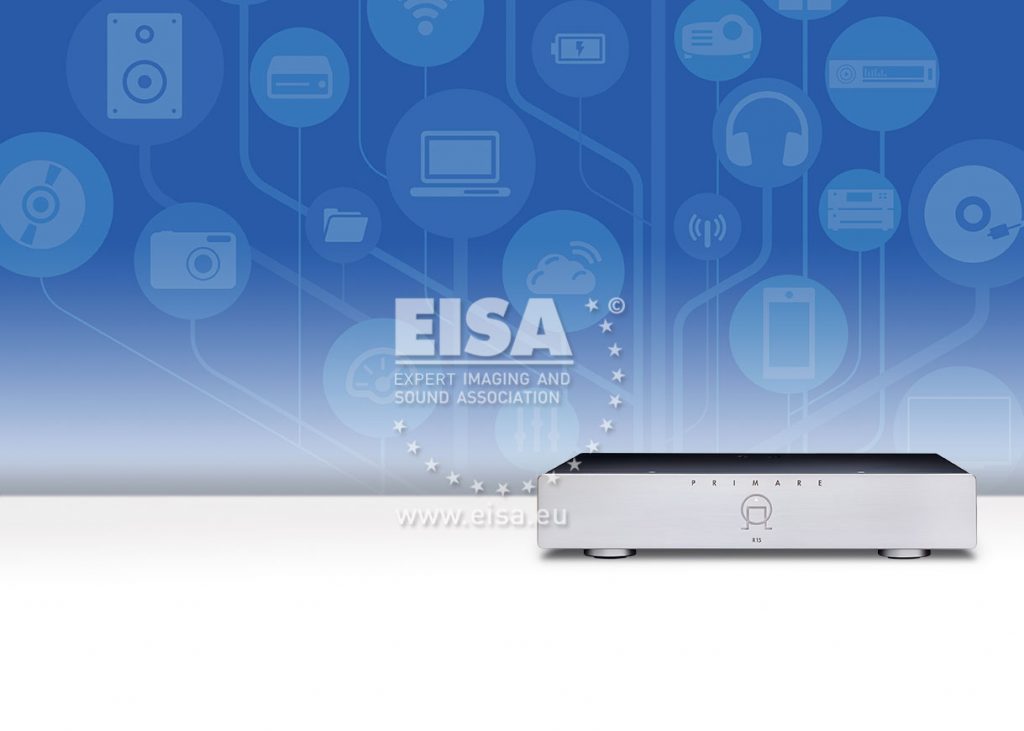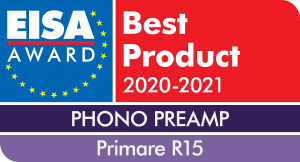 Housed in a compact case just 35cm wide, Primare's R15 phono amplifier offers two levels of gain for both moving-coil and magnet cartridges, with further adjustments of resistance and capacitance to optimise loading for the cartridge in use. Built with the same care the company brings to its main amplifiers, its low-noise design is informed by the flagship R35 model just as its sound is the familiar 'Primare' mix of weight and substance allied to detail and resolution. It's the ideal interface between a high-quality record player and the line input of your amplifier.
COMBINED WITH THE MOBILE EXPERT GROUP
EISA HEADPHONES 2020-2021
DALI IO-6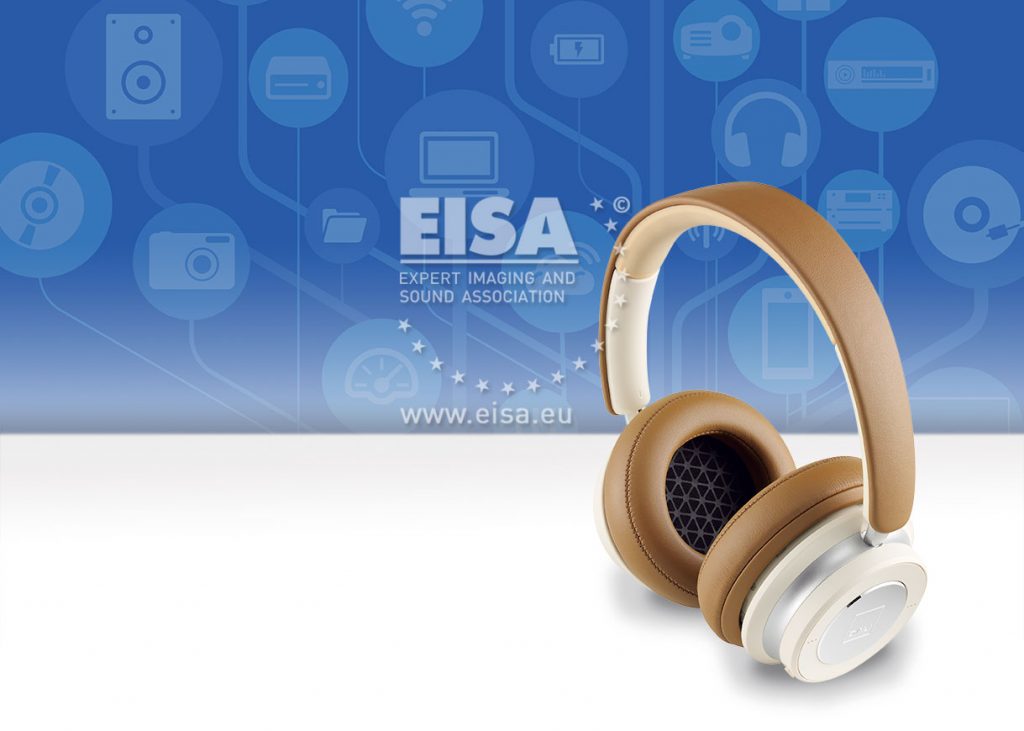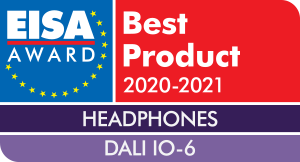 Many loudspeaker companies have diversified into headphones, but none has done so as spectacularly as Danish manufacturer DALI. Not only is the IO-6 a wireless design, it also incorporates excellent active noise cancelling, adding to its closed-back design three modes of cancellation. As if that wasn't enough, it then adds best-in-class battery life to keep you listening longer – up to 30 hours between charges, in fact. Add to that a superbly powerful yet open and informative sound, and you have nothing less than a sensational début.
EISA MOBILE AUDIO PLAYER 2020-2021
FiiO M11 Pro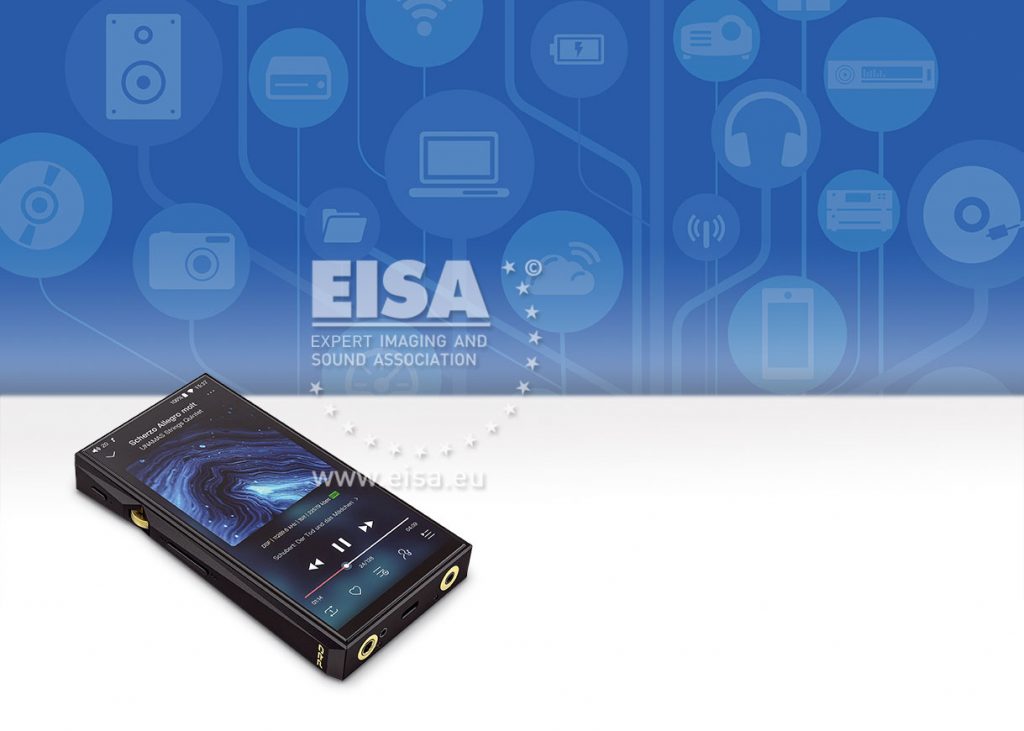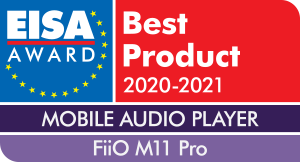 This portable music player packs best-in-class functionality into a high-quality chassis with bezel-free touchscreen display. Format support and listening options are unrivalled – the M11 Pro can be used as both a Bluetooth receiver and transmitter, as a USB DAC and USB audio player (with native DSD output), or playing direct from its onboard storage (expandable to 2TB) or streaming apps. A Samsung Exynos hexa-core SoC ensures seamless music management and a responsive user experience. Two AK4497EQ DACs with Velvet Sound architecture, meanwhile, support hi-res audio to 384kHz/32-bit, plus MQA decoding. The player's trio of headphone outputs benefit from powerful, low-distortion amplification. And that all-important sound quality? In a word: exceptional.
EISA PORTABLE DAC/HEADPHONE AMPLIFIER 2020-2021
AudioQuest DragonFly Cobalt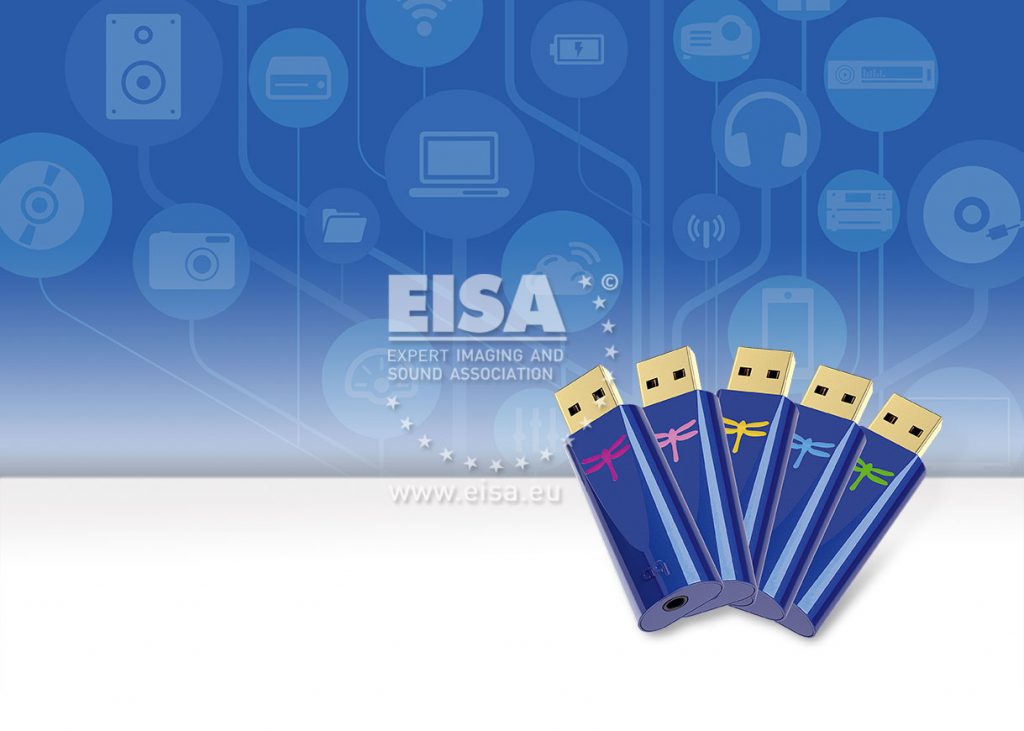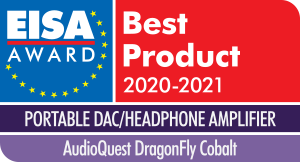 The latest addition to AudioQuest's DragonFly range is its best yet. The Cobalt model not only converts a huge range of audio formats from your computer, it also features a high-quality headphone amplifier, as well as being able to deliver great sound to a hi-fi system – and all in a package no bigger than a USB thumb-drive. It's an ideal portable audio companion: simply pop it into a USB port on your computer or 'smart device' which will both power it and supply the music. Then just plug in your favourite headphones, and you have all you need for superb music wherever you happen to be.
EISA Home Theatre Audio Awards 2020-2021
EISA HOME THEATRE SUBWOOFER 2020-2021
SVS SB-2000 Pro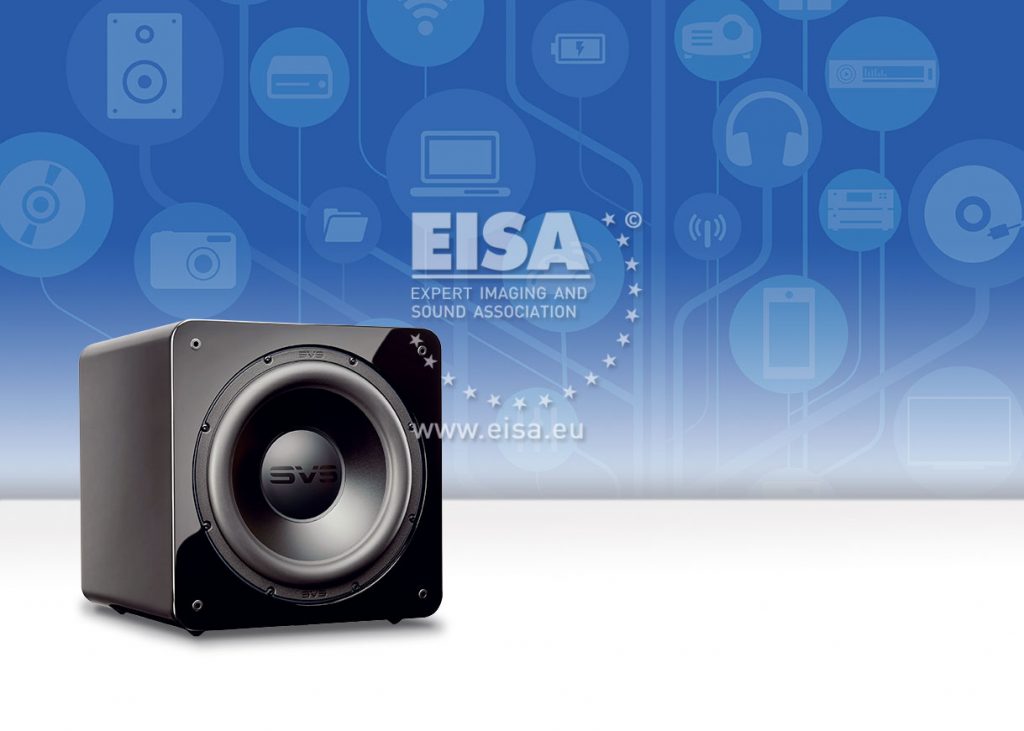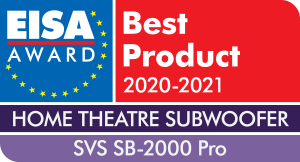 SVS has taken innovations from its larger, pricier models and built them into this new compact subwoofer. Offering a high level of performance at an affordable price, the SB-2000 Pro partners its custom 12in bass driver with a 500W 'Sledge DSP' amplifier, and becomes the entry-point for SVS's app-based parametric EQ and control system. And while the sealed cabinet may be 'small', its performance is anything but – this is a polished performer that unearths both the nuance and scale of movie soundmixes, delivering dramatic, deep bass while simultaneously remaining controlled and speedy.
EISA SMART SOUNDBAR 2020-2021
Harman Kardon Citation MultiBeam 700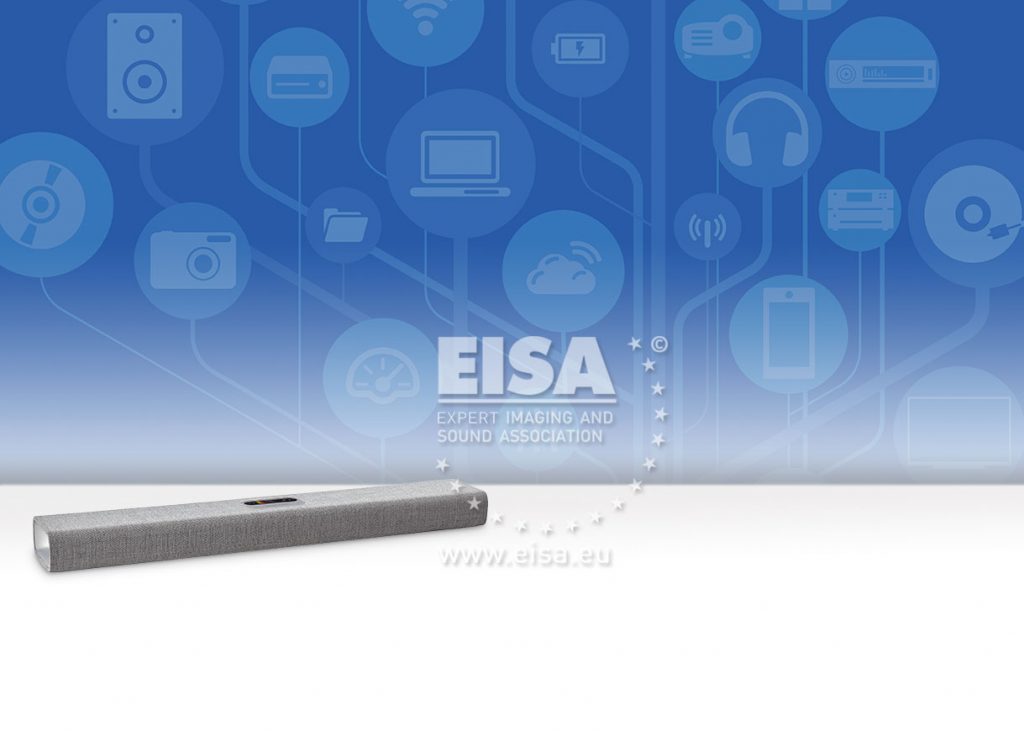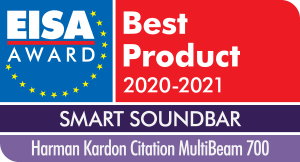 The Citation MultiBeam 700 stands apart from the soundbar crowd thanks to its brilliant blend of slick design, user-friendly features and sonic prowess. Google Assistant integration brings the voice interaction and wireless music benefits of a traditional smart speaker, while Harman Kardon's seven-driver array and DSP knowhow ensures a refined, spacious and punchy performance. The icing on the cake is the full-colour touchscreen interface, which makes EQ adjustment and source selection a breeze, and will display album artwork from Chromecast streams. This is a soundbar that offers both style and substance.
EISA HOME THEATRE SPEAKER SYSTEM 2020-2021
Arendal Sound 1961 Series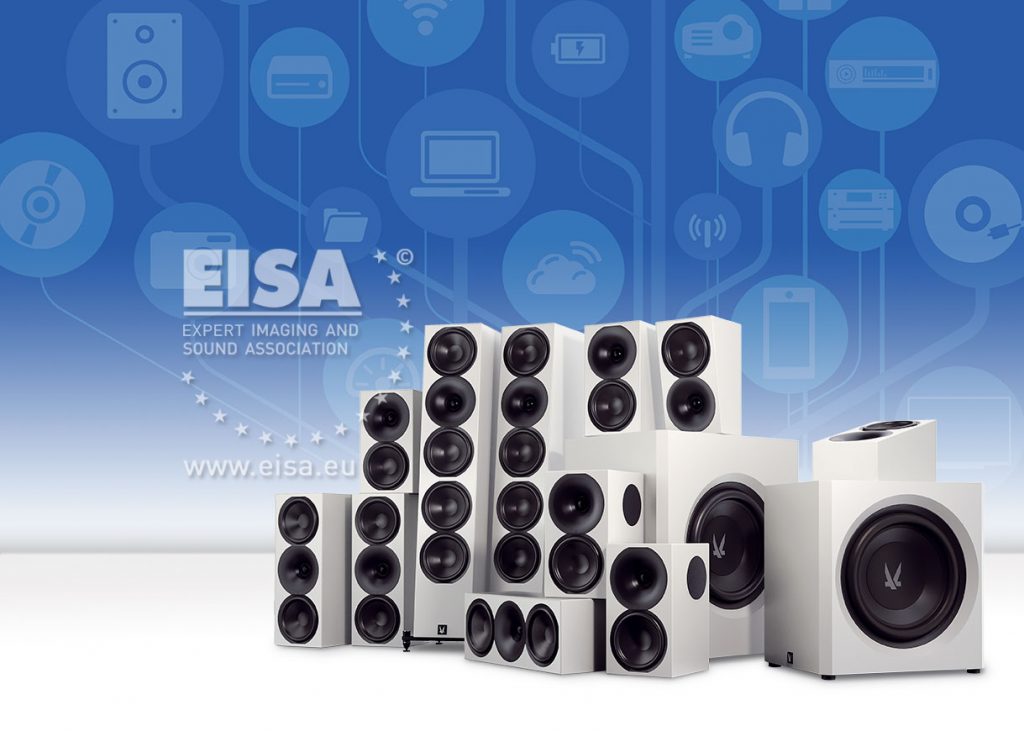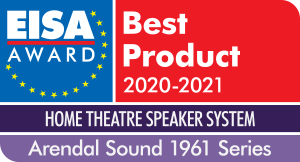 Arendal Sound's new entry-level range leverages technology from its flagship 1723 Series, but adds tricks of its own, including the company's first height channel speaker and a new Avalanche IQ amplifier platform with parametric EQ on its sealed and ported subwoofers. System builders are well catered for by a choice of floorstander, monitor, centre, bookshelf and 'TriAxial' surround models, and performance across the range showcases a detailed, energetic but neutral approach, equally suited to dramatic movie mixes and nuanced music. Styling and build quality impress too – it's a speaker series that outshines its price tag.
EISA HOME THEATRE AMPLIFIER 2020-2021
Emotiva XPA Gen3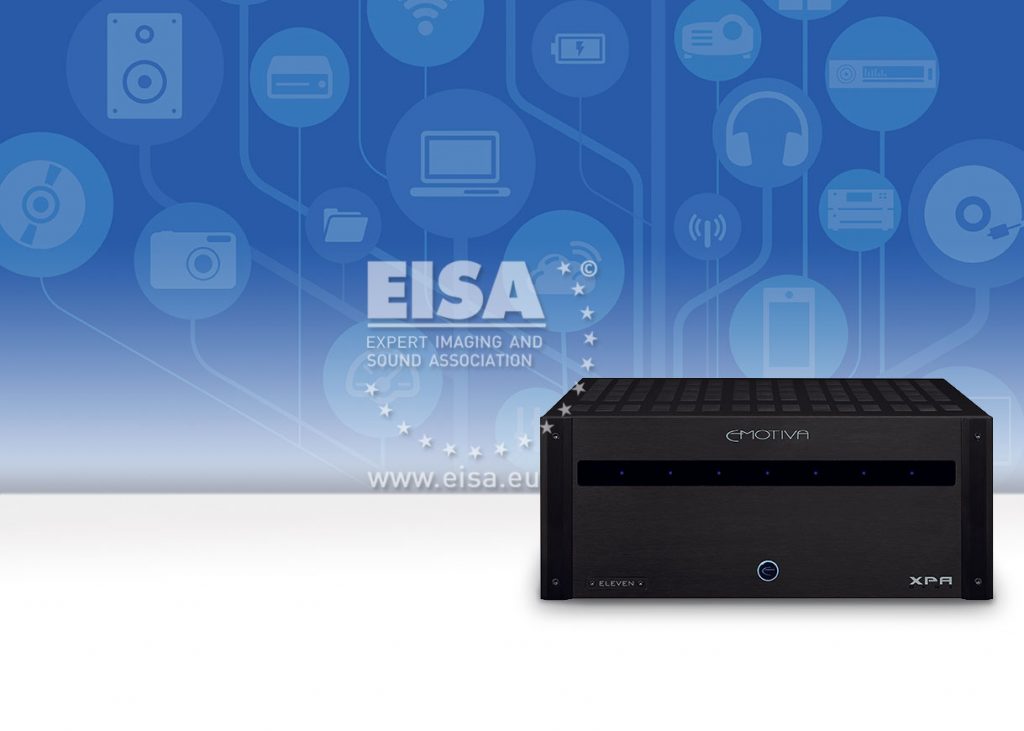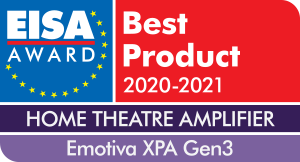 With a design approach based around 300W mono and 65W stereo modules, Emotiva's third-generation power amplifier range can be specified in configurations from one- to eleven-channel, all using a high-current switchmode power supply and Class H amplifier topology. Allied to this flexibility is the company's value for money ethos, which is fully in evidence here. The performance of the XPA Gen3 amplifiers is characterised by bass weight, soundstage scale and dynamic headroom, making them a fit for power-hungry loudspeakers and dedicated theatre rooms. The phrase 'American muscle' springs to mind…
EISA PREMIUM SOUNDBAR 2020-2021
Bang & Olufsen Beosound Stage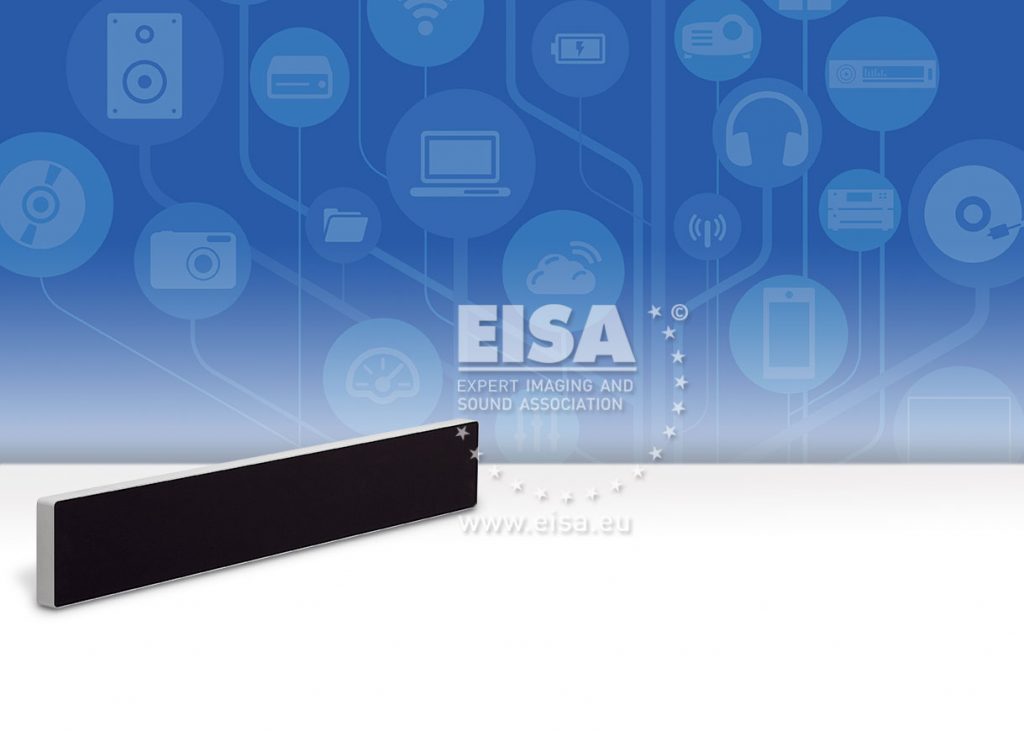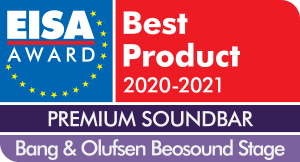 Designed to partner TVs 55in and above, and featuring the premium build quality and aesthetic the company is known for, Bang & Olufsen's soundbar debut was worth the wait. Each of the Beosound Stage's eleven drivers (including four 4in woofers) are independently amplified, and the resulting performance is effortlessly largescale, cohesive and immersive – Dolby Atmos content plays out with precision steering and overhead impact, while music tracks enjoy a wide, revealing soundstage. Connect via HDMI, Bluetooth, Apple AirPlay 2 or Chromecast, and get ready to be impressed.
EISA HOME THEATRE RECEIVER 2020-2021
Denon AVC-X4700H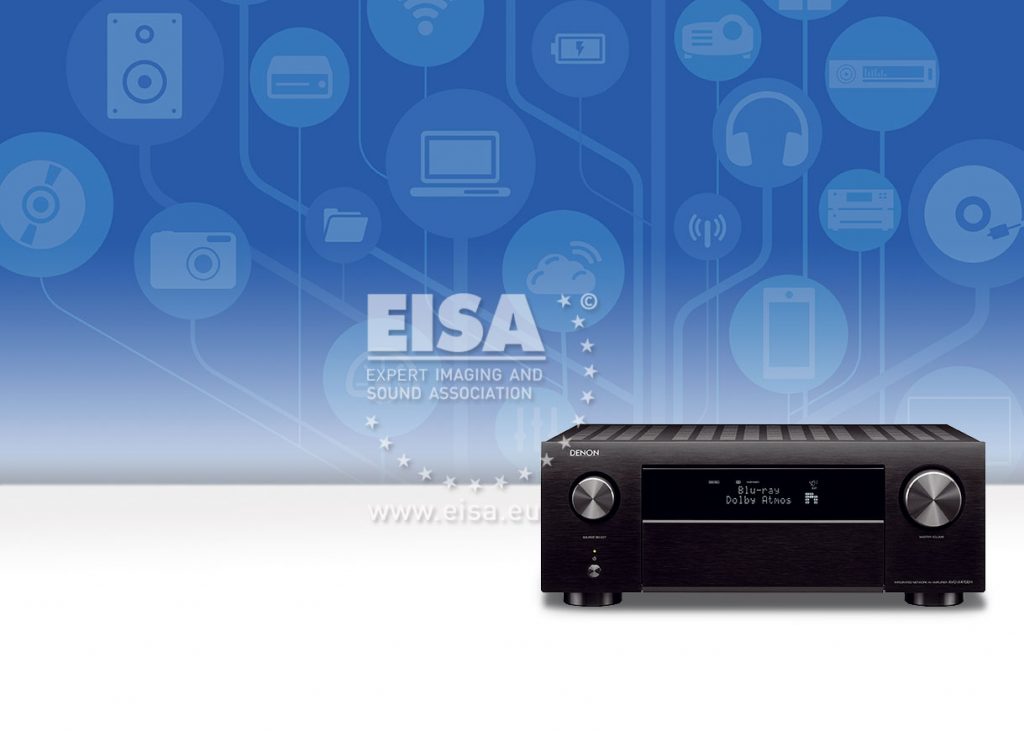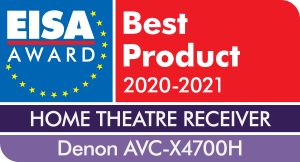 The AVC-X4700H is 8K/60Hz and 4K/120Hz-capable, ensuring this mid-range receiver ideally suited to next-generation sources – but it's the nine-channel power plant, 11-channel processing functionality and wide-ranging format support that make it a sure-fire hit in any home theatre. Film soundtracks benefit from its well-balanced, engaging
and dynamically capable delivery, with system fine-tuning handled by Audyssey's MultEQ XT32 platform, now with the option of dual presets. Extensive and useful connectivity – including HEOS multiroom/streaming, MM phono input and Bluetooth headphone support – ensures all-around appeal, as does the competitive price tag.
EISA BEST BUY HOME THEATRE SPEAKER SYSTEM 2020-2021
Triangle Borea Series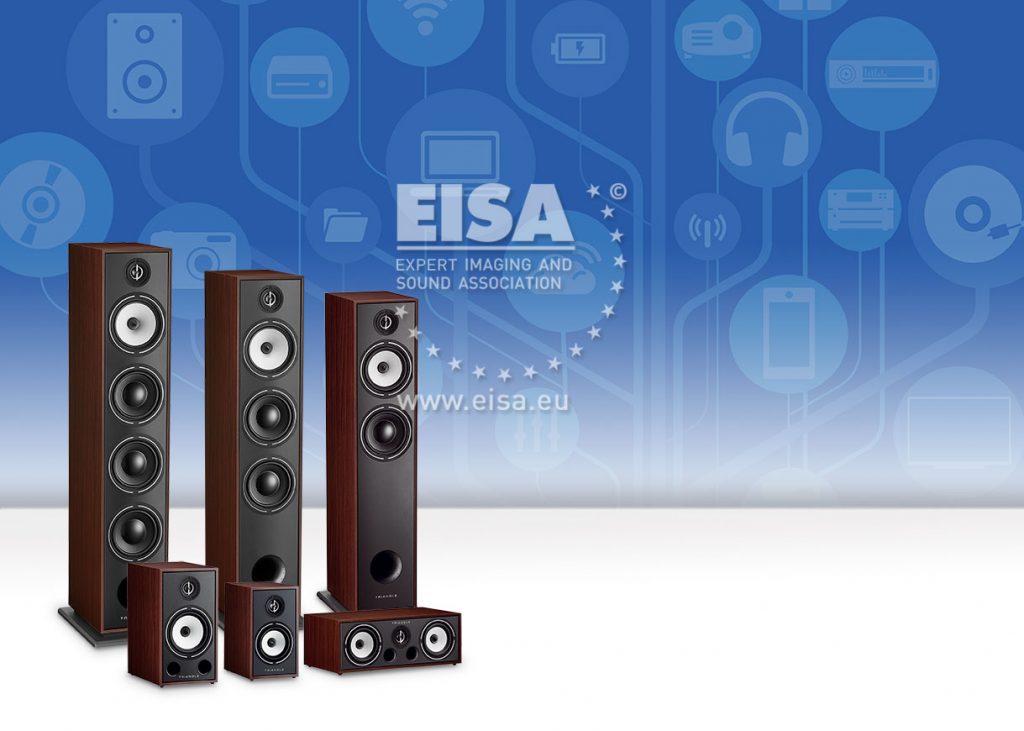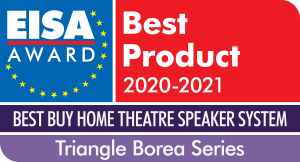 For its new multichannel speaker range, Triangle has crafted cabinets with a stylish, clean aesthetic while firmly keeping an affordable price point in its sights. Performance isn't an afterthought either – custom drivers, including Efficient Flow System silk dome tweeters and cellulose cone midbass units, are used across the floorstanding BR09, BR08 and BR07, bookshelf BR03 and BR02, and BRC01 centre channel, and these speakers work beautifully together. The Borea Series' soundstaging impresses with its even frequency response, precise effects placement, and musicality. For those building a wallet-friendly home theatre, you can't go wrong with these.
EISA SOUNDBAR 2020-2021
LG SN8YG (DSN8YG – Netherlands/Germany/Austria/Swiss)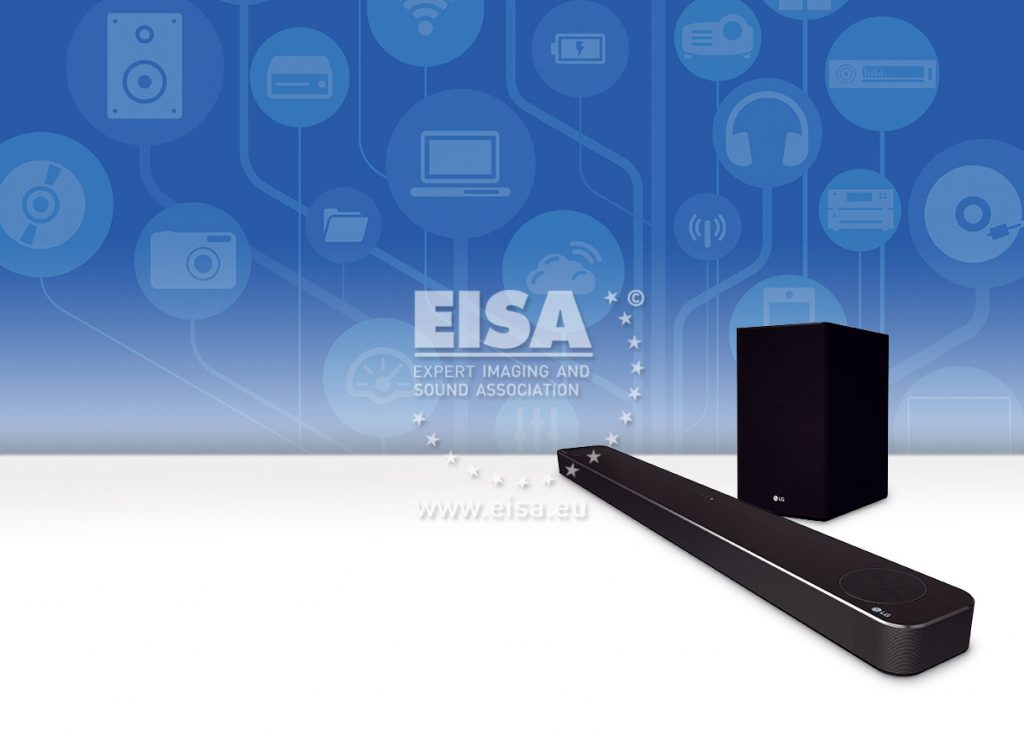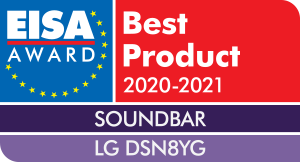 LG's SN8YG finds the brand evolving its home theatre soundbar proposition via advanced processing technology and new user-friendly features. A 3.1.2-channel model with wireless subwoofer and dual upfiring drivers for Dolby Atmos and DTS:X audio, it's a powerful, cinematic performer wrapped in a sleek, living-room friendly aesthetic. Finely tuned playback is offered by LG's AI Sound Pro mode – which analyses the incoming source – and AI Room Calibration, while Meridian Audio digital signal processing handles movies and music with care. With Google Assistant and Chromecast to stream wireless sources and implement voice control, and an optional wireless rear speaker pack to expand the listening experience to 5.1.2, this is a thrilling all-rounder.
EISA HOME THEATRE HEADPHONE 2020-2021
JVC EXOFIELD XP-EXT1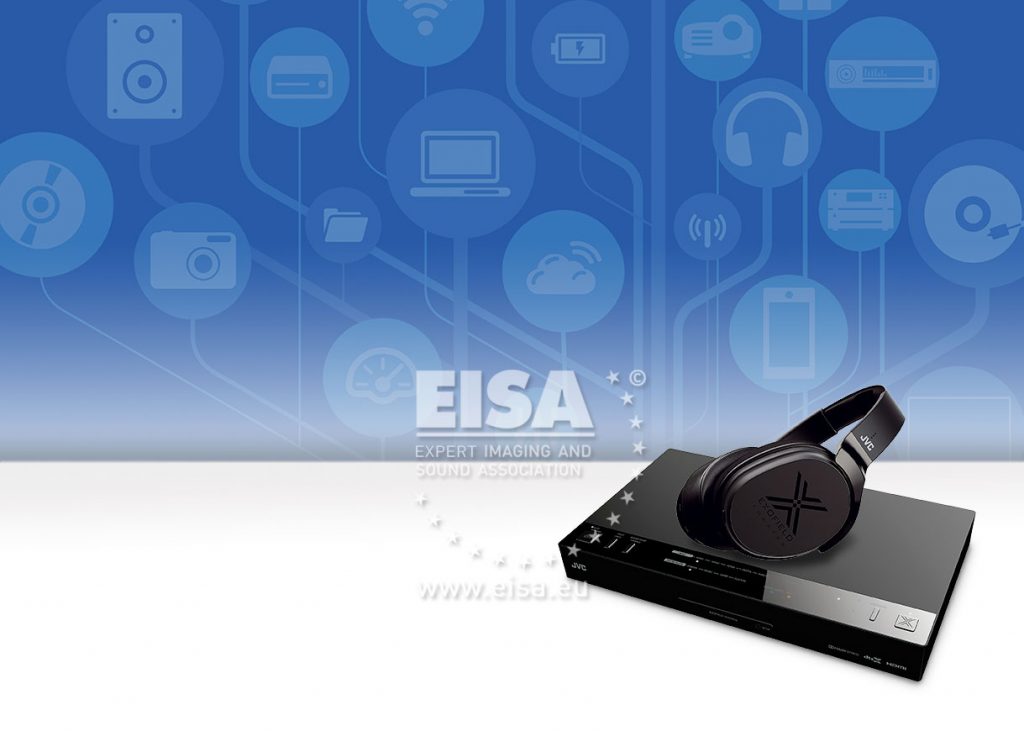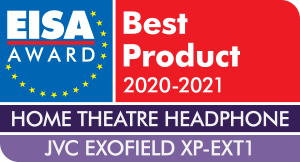 An innovative alternative to a speaker-based setup, JVC's XP-EXT1 system offers immersive 7.1.4 audio via wireless headphones. Able to decode native Dolby Atmos and DTS:X bitstreams, and upscale stereo or multichannel movie and music content to a 3D soundfield through proprietary EXOFIELD technology, this brings a personal element to your home entertainment. A supplied wireless transmitter with 4K-capable HDMI connectivity acts as the hub between your sources and TV, and offers preset sound modes tailored to different genres. Up to four individual calibrations can be taken via JVC's smartphone app, so family members can also enjoy the enveloping performance of the XP-EXT1's 40mm-driver headphones. Consider this home theatre, reinvented.
EISA Best Buy Soundbar 2020-2021
TCL TS9030 RAY·DANZ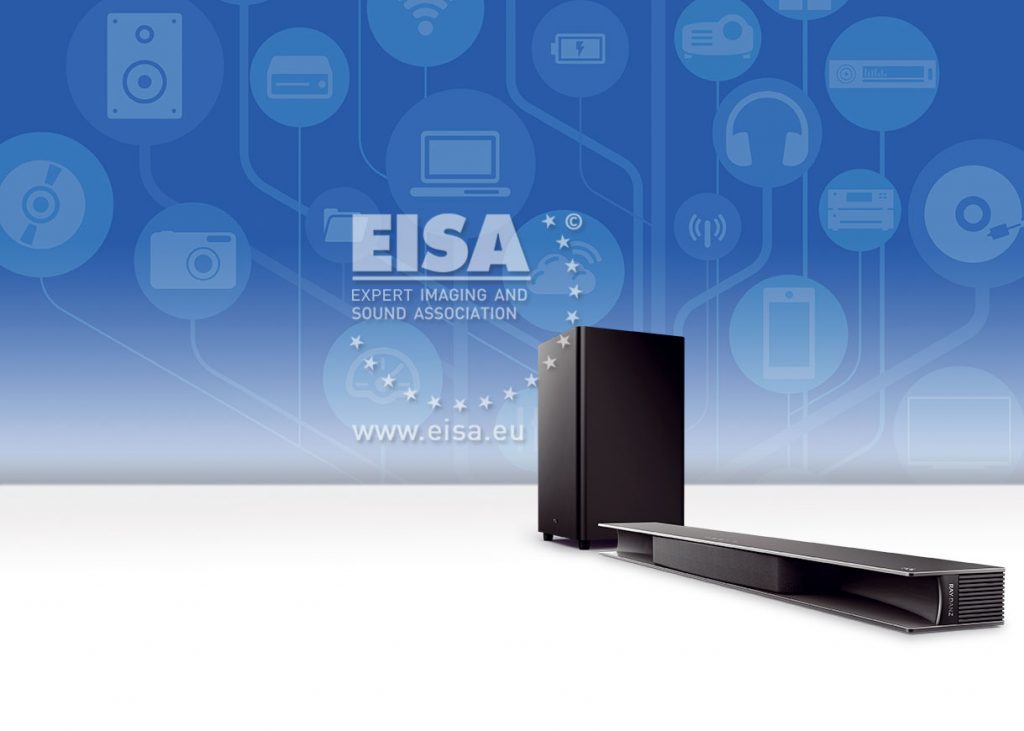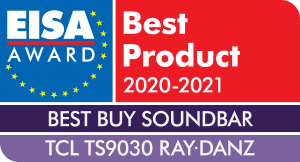 TCL's TS9030 soundbar offers a crowd-pleasing mix of affordability, usability and performance prowess. Dolby Atmos-compatible, with Google Home multiroom support and a wireless subwoofer connection, it uses the company's RAY·DANZ acoustic lens technology to optimise playback from its driver array. The result is a wide, 3.1-channel soundfield ideal for living room environments, with a dedicated centre speaker for all-important dialogue clarity. The soundbar also bristles with user-friendly features, including music playback via USB, wireless streaming through Chromecast, Apple Airplay and Bluetooth, and HDMI switching with 4K HDR passthrough. It's an audio upgrade with all-round appeal.
EISA Home Theatre High-End 2020-2021
Trinnov Altitude platform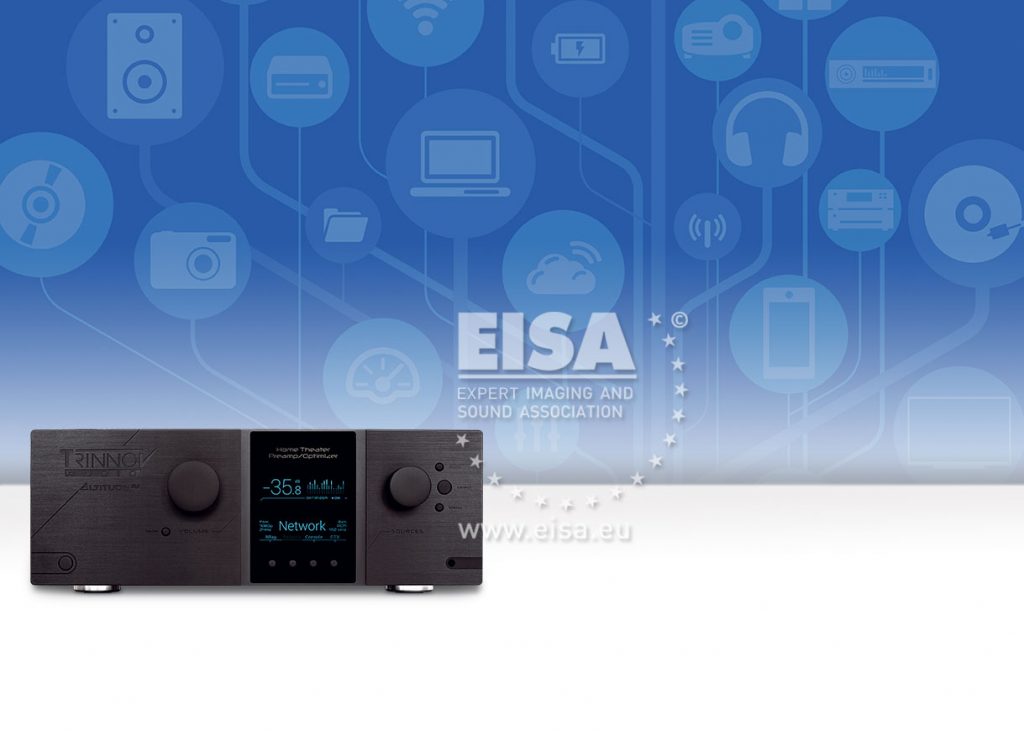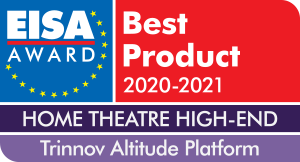 In the world of home theatre, rapid technological change can leave a product playing catchup in just a few years. Not so the Altitude series from Trinnov, where upgrading is built into the DNA of its 16-channel and 32-channel processors. Most recently these premium models have added DTS:X Pro support to their 3D audio arsenal, and a revised HDMI board to enhance connectivity and streamline operation. Performance remains best-in-class, too, thanks to professional-grade speaker calibration and bass management, while system designers benefit from remote access and control. State-of-the-art today, but designed to evolve with your needs tomorrow, the Altitude platform is worthy of high praise.
Combined HT Video and HT Audio
EISA Home Theatre Media Player 2020-2021
Zappiti Pro 4K HDR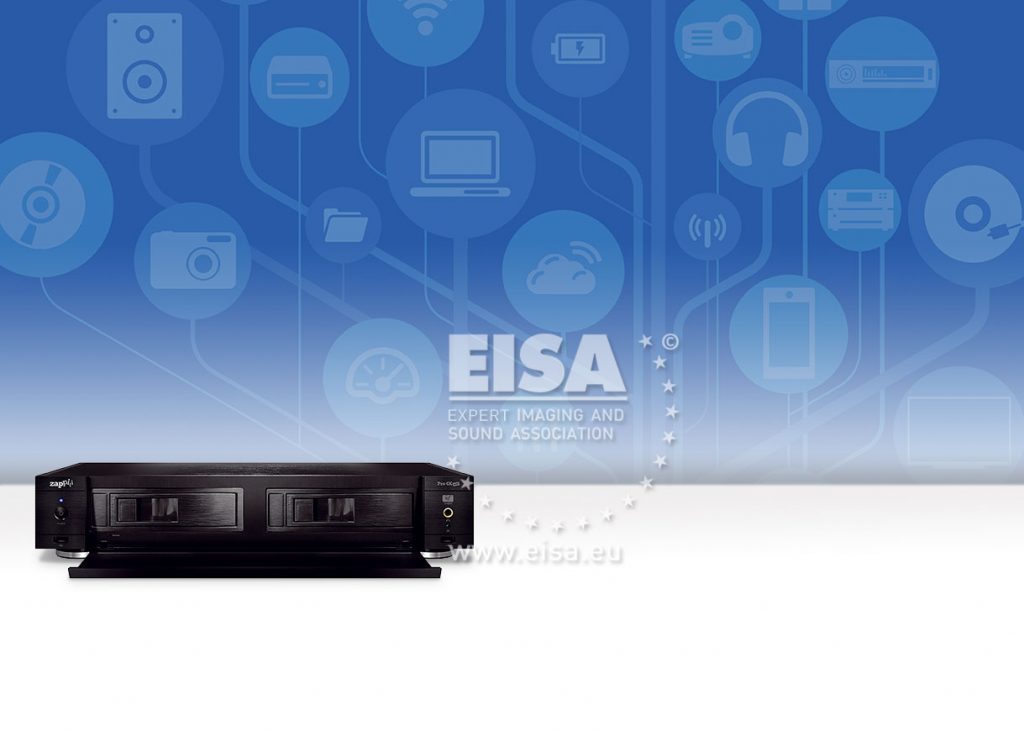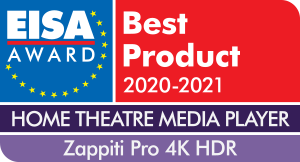 Zappiti's flagship media player is designed for home theatre owners with extensive film and music collections, replacing the traditional disc library with a graphically rich interface that grants instant access to content. The beautifully designed full-width chassis houses twin bays for up to 32TB of HDD storage, plus inputs for local USB drives, while networking functionality enables streaming from NAS devices and PCs. Format support covers 4K HDR, Dolby Atmos and DTS:X for movie playback, plus hi-res audio to 192kHz/24-bit. Backing up these AV credentials is the Pro 4K HDR's flexibility – from running a multiroom 4K system to letting users customise its GUI, this is a machine with a can-do attitude.
EISA Home Theatre Video Awards 2020-2021
EISA PROJECTOR 2020-2021
Optoma CinemaX UHZ65UST (Optoma CinemaX P1 – North America; Optoma P1 – Australia)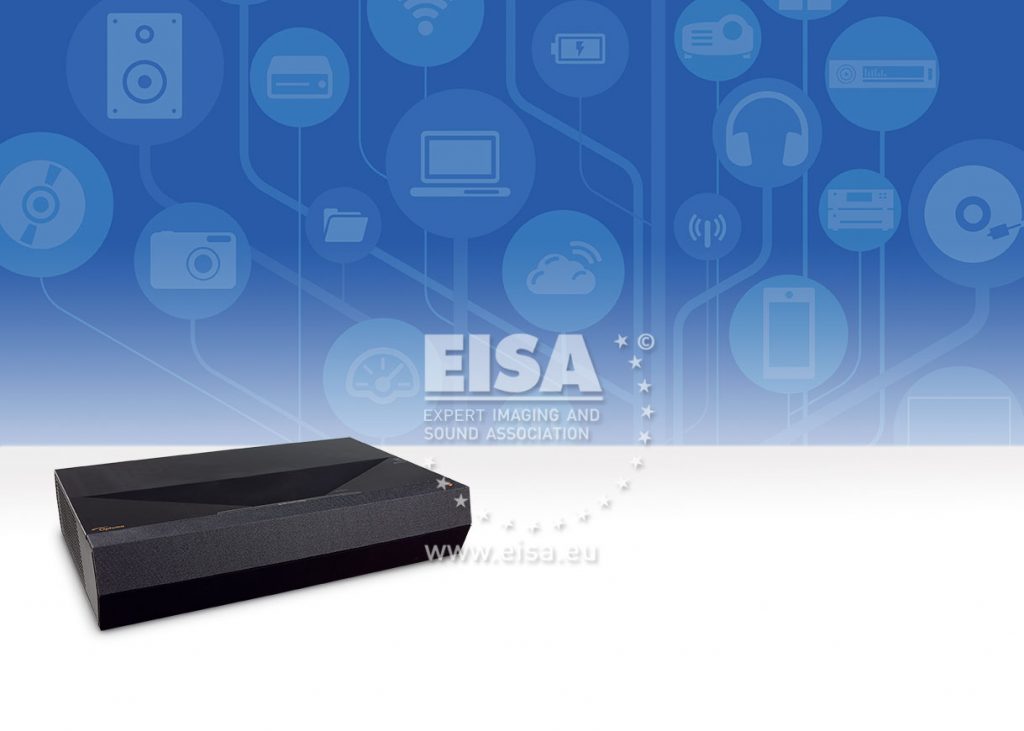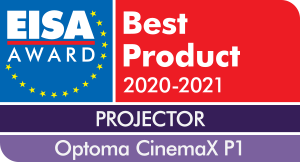 Partnering 4K HDR visuals with a superior sound performance and elegant styling, Optoma's UHZ65UST is a winning evolution of the ultra-short-throw projector concept. Its DLP optics and lens assembly can deliver an immersive 100in image from a throw distance of less than a metre, helping to bring bigscreen home entertainment to everyday environments. Pictures are richly detailed and colours are vibrant, aided by a 3,500 Lumen-rated laser light source. The onboard sound system from NuForce, meanwhile, brings film and TV soundtracks to life, and handles Bluetooth streams too. Simple to setup and easy to use, Optoma's UHZ65UST is also easy to fall in love with…
EISA BEST PREMIUM OLED TV 2020-21
LG OLED65GX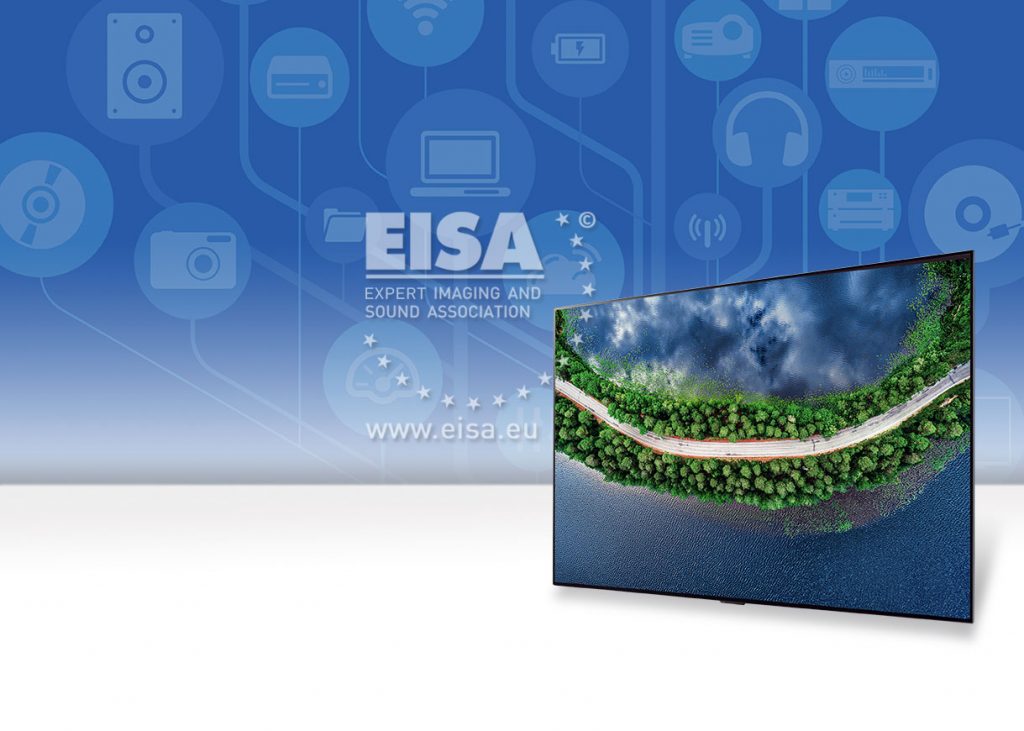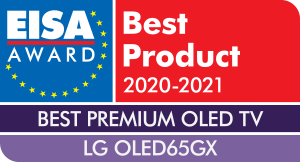 LG's 'Gallery Series' OLED takes a new approach to TV design, utilising an ultra-thin articulating mount to create a flush-to-wall finish – add the super-slim panel, and you have a screen that commands your attention. The OLED65GX's premium ethos continues when it comes to features and performance. The black level, colour and contrast strengths of OLED technology are in full evidence, refined by LG's AI Picture Pro processing, while class-leading HDMI v2.1 connectivity targets gaming setups through 4K/120fps playback, VRR technologies and ultra-low latency, and external sound systems through eARC. A lengthy features list also includes hands-free voice control, Dolby Vision HDR, LG's WebOS, Bluetooth headphone support and much more.
EISA BEST BUY TV 2020-2021
TCL 65C815 (65C815K – UK)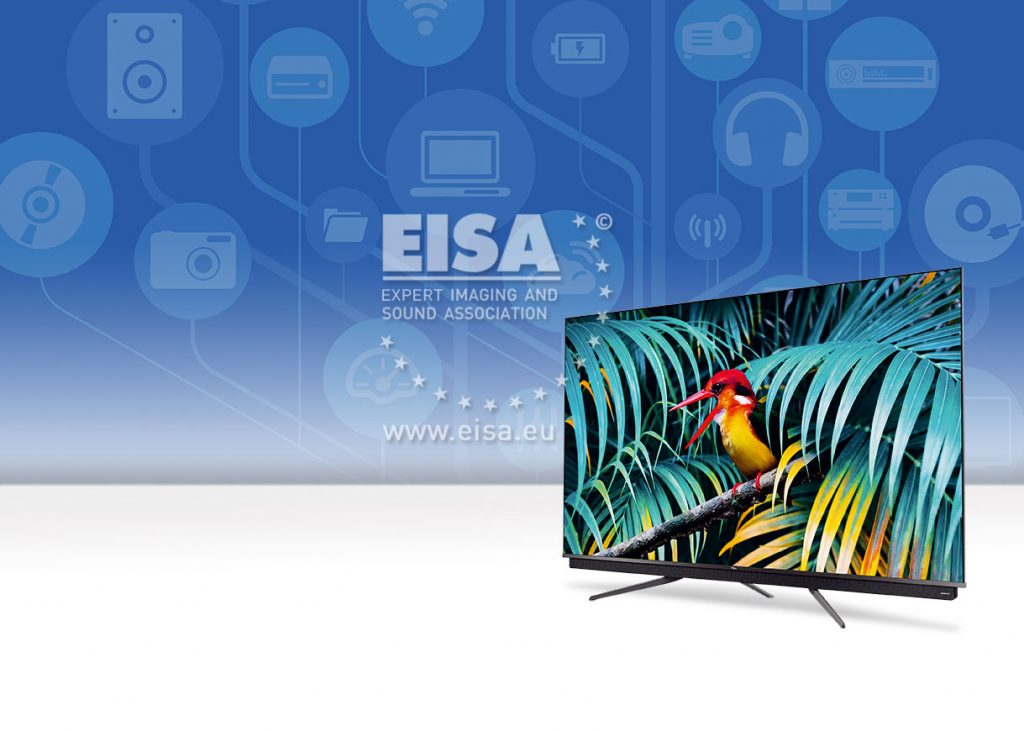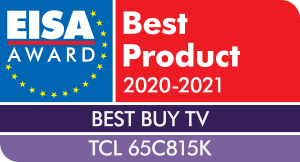 Into the ultra-competitive midrange TV market comes TCL's ultra-competitive 65C815, a feature-rich affordable 4K largescreen with an assured picture performance. Its Quantum Dot panel is used for wide colour delivery, while edge LED illumination and the TV's efficient processing ensure HDR sources (including HDR10+ and Dolby Vision) have dramatic contrast. Audio from the Dolby Atmos-compatible integrated 2.1 speaker system is a punchy accompaniment, and TCL's commitment to usability also impresses – Android TV makes content selection a breeze, and hands-free Google Assistant invites owners to get talking. This is a TV that offers tangible value for money.
EISA 8K TV 2020-2021
LG 75NANO99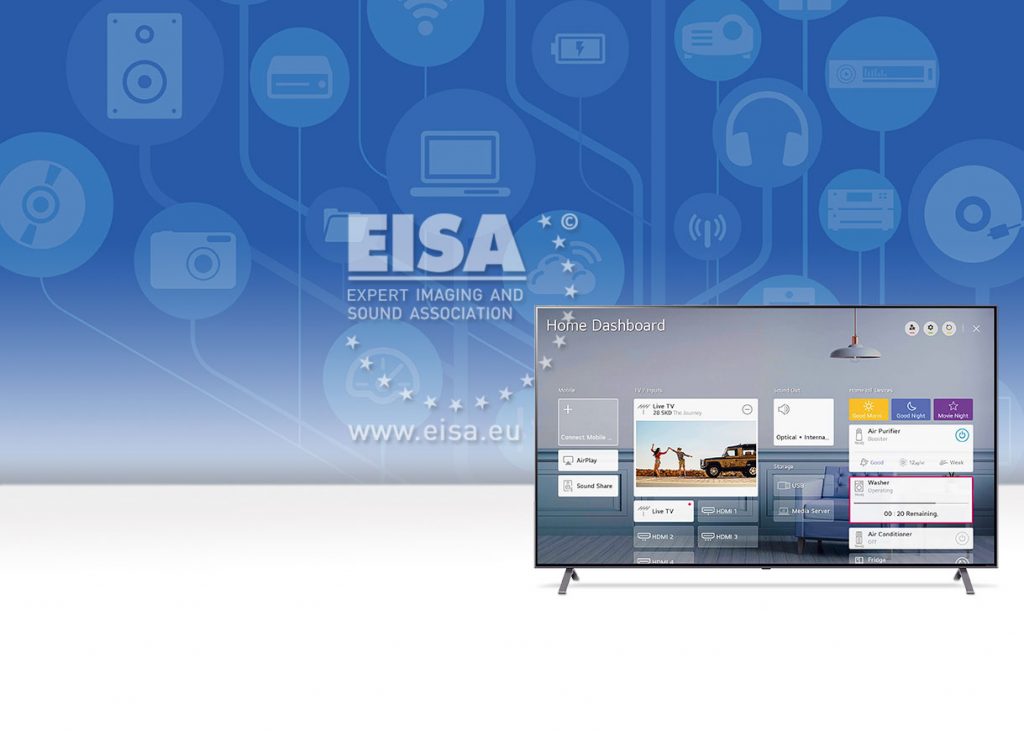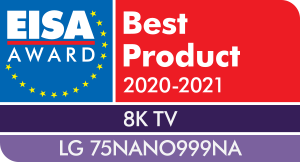 Whether you're a cinephile, gamer or sports fan, LG's 75NANO99 8K TV is sure to please. A high-performance flatscreen designed to finesse playback from any source through advanced sound and image processing – courtesy of LG's new α9 Gen3 AI chipset – it also provides future-proofed HDMI 2.1 connectivity (with 8K/60fps and 4K/120fps support) and handles all popular 8K codecs. Key to its dramatic picture quality is the NanoCell IPS panel and Full Array Local Dimming LED engine, which combine to deliver a wide viewing angle, refined colours and rich contrast, while upscaling yields superb sharpness from HD and 4K content. This is a technological tour de force, yet remains intuitive and enjoyable to use.
EISA BEST BUY OLED TV 2020-2021
Philips 55OLED805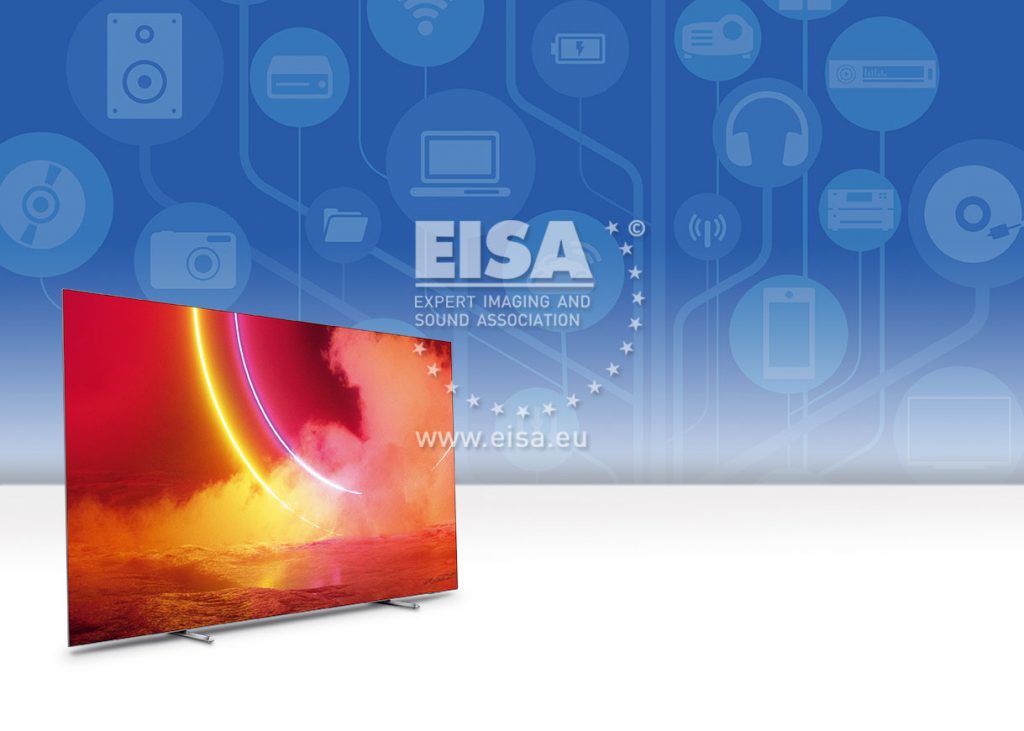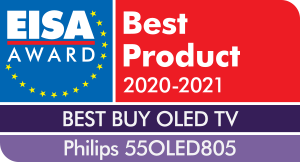 Both evolution and revolution, Philips' new mid-tier OLED TV carries over the Android smart features and universal HDR support of its previous generation but debuts extensively upgraded image processing. The result is a 4K HDR display that pushes the picture envelope and gets the best from disc and digital sources, with AI-based enhancements to the company's P5 processor delivering a boost to sharpness, colour vibrancy and motion clarity. The 55OLED805 is a true all-rounder too, with features including Ambilight illumination and DTS Play-Fi multiroom audio, and an unobtrusive design that will grace any environment. It's a brilliant TV at an eye-catching price.
EISA HOME THEATRE TV 2020-2021
Philips 65OLED935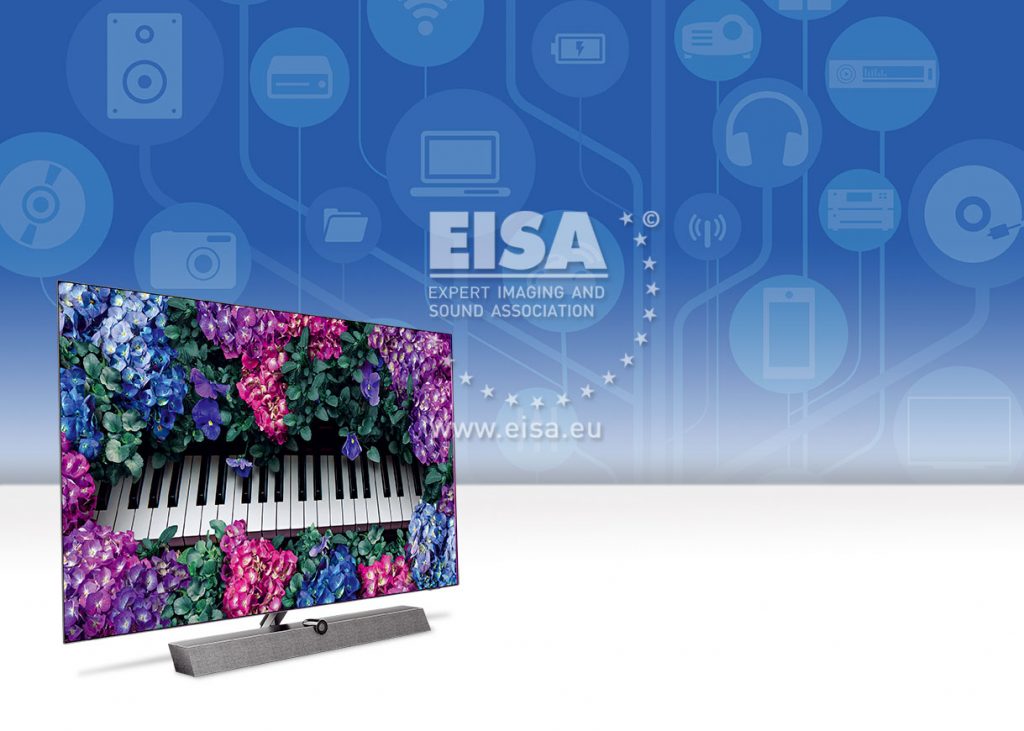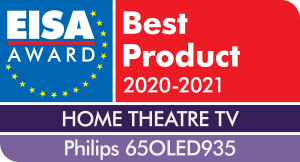 Superior sound and pristine vision dovetail together in Philips' range-topping 4K OLED TV. The former comes from the 65OLED935's innovative integrated 3.1.2 speaker system, designed in partnership with audio specialist Bowers & Wilkins. This features twin upfiring drivers for Dolby Atmos replay, a central 'Tweeter-on-Top' to improve dialogue and vocal clarity, and rear-ported subwoofer for cinematic bass. Pictures, meanwhile, benefit from AI+ processing (which introduces ground-breaking anti screen-burn technology) and the expansive contrast and precision detailing of OLED. Four-sided Ambilight adds another level of immersion to a home theatre TV that's already utterly captivating.
EISA LARGESCREEN TV 2020-2021
Samsung QE75Q950TS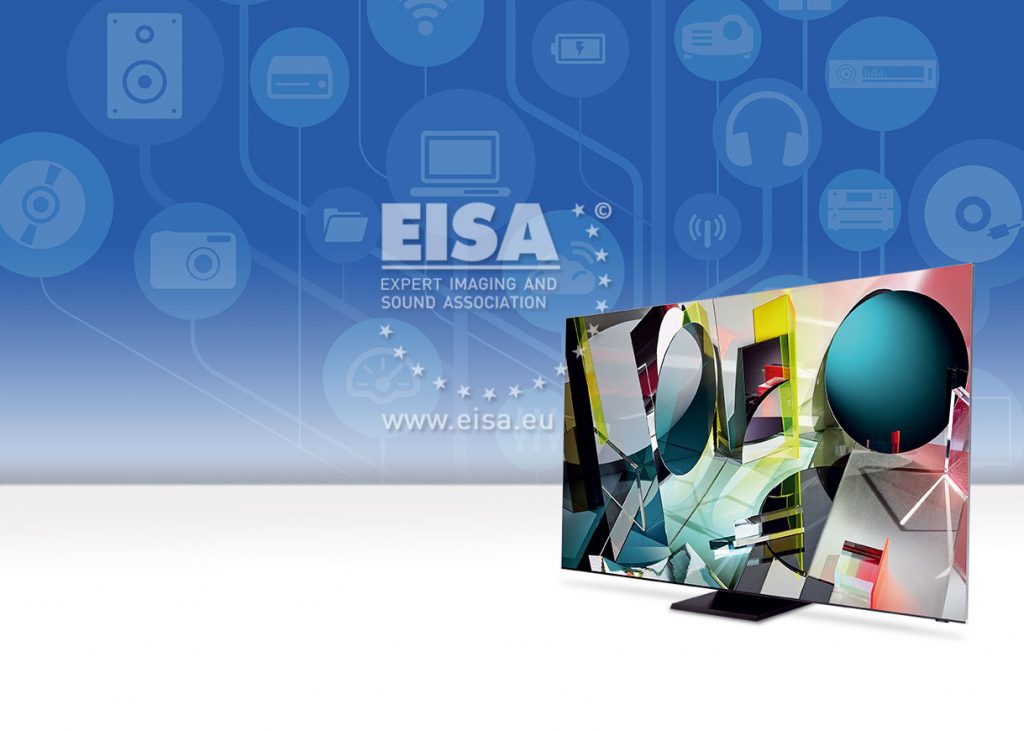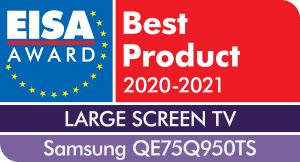 For its third generation of 8K TV, Samsung has adopted a no-compromise approach when it comes to design, feature set and performance. The 'Infinity' styling of the QE75Q950TS encases its QLED panel in a bezel just 2mm wide. In conjunction with the TV's external One Connect box and discreet single-cable connection, you're left with little to admire but its bright, razor-sharp visuals, which carry immense impact at this 75in size. And then there's the audio. Utilising speaker drivers built into all four sides of the TV's frame, and proprietary Object Tracking Sound+ processing, the QE75Q950TS creates a detailed and dynamic soundfield with width and height. This bigscreen certainly makes a big impression…
Combined HT Video and HT Audio
EISA Home Theatre Media Player 2020-2021
Zappiti Pro 4K HDR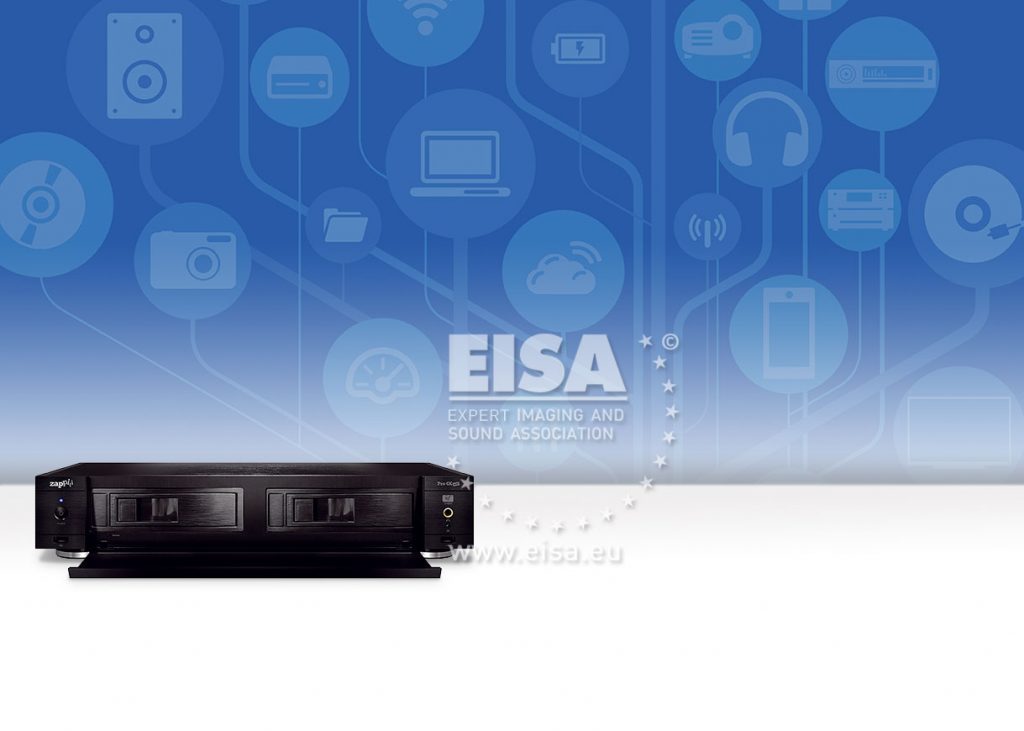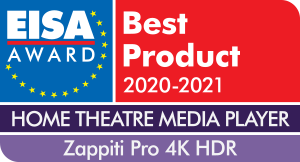 Zappiti's flagship media player is designed for home theatre owners with extensive film and music collections, replacing the traditional disc library with a graphically rich interface that grants instant access to content. The beautifully designed full-width chassis houses twin bays for up to 32TB of HDD storage, plus inputs for local USB drives, while networking functionality enables streaming from NAS devices and PCs. Format support covers 4K HDR, Dolby Atmos and DTS:X for movie playback, plus hi-res audio to 192kHz/24-bit. Backing up these AV credentials is the Pro 4K HDR's flexibility – from running a multiroom 4K system to letting users customise its GUI, this is a machine with a can-do attitude.
EISA In-Car Electronics Awards 2020-2021
EISA IN-CAR HEAD UNIT 2020-2021
Kenwood DMX9720XDS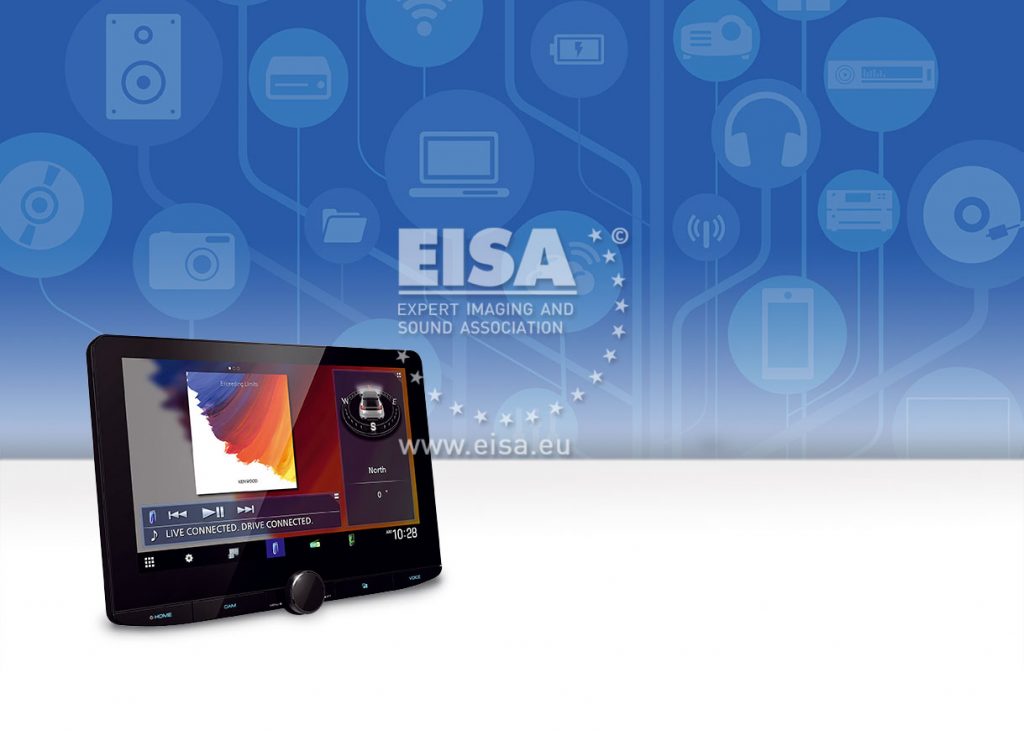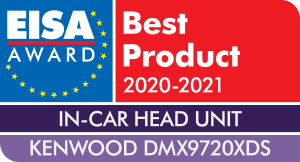 A head unit that offers it all, Kenwood's DMX9720XDS mixes user-friendly features with a high-quality design and premium sound. Its 10.1in anti-reflection HD touchscreen has an intuitive, customisable interface that's the gateway to its extensive talents, including wireless Apple CarPlay and Android Auto integration, dual smartphone connection, and support for up to four dashcams for a full-angle view. For sonic entertainment, meanwhile, it's compatible with high-resolution audio files including FLAC and DSD, LDAC streams over Bluetooth 5.1, and delivers radio via DAB+. HDMI and USB inputs cater to HD video. Consider this the perfect driving companion for connected entertainment lovers.
EISA IN-CAR SOUND PROCESSOR 2020-2021
Helix DSP ULTRA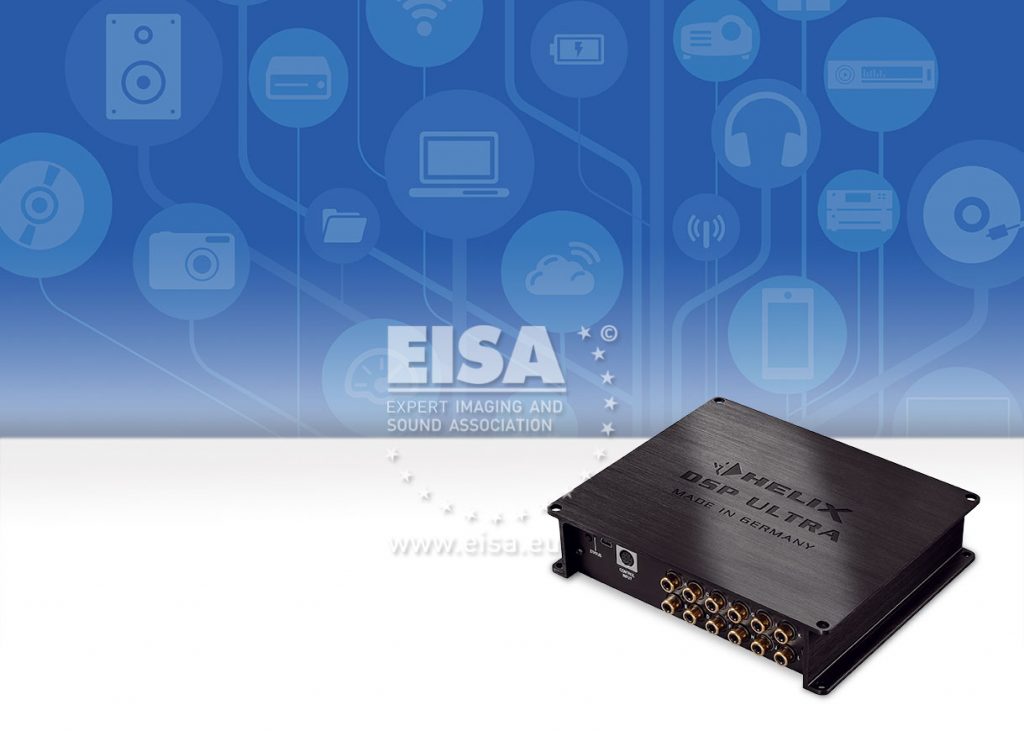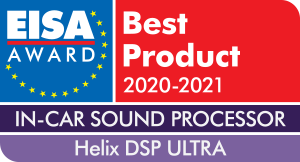 Designed for premium installations, the flagship model in Helix's DSP series is all about potent processing power and total control. A dual 64-bit DSP architecture capable of 2.4 billion calculations per second – in conjunction with Asahi Kasei 32-bit ADC and DAC devices – handles incoming signals from the Helix DSP Ultra's analogue and optical/coaxial digital inputs, and feeding a 12-channel output. Joining this supremely powerful hardware is a complete software package that allows the user to tailor the signal to their needs, with customisable electronic crossover, time alignment and equaliser functions, plus DSP modes to expand the soundstage, boost music clarity and implement Helix's innovative Virtual Channel Processing.
EISA IN-CAR BEST VALUE DSP 2020-2021
Ground Zero GZDSP 4-8XII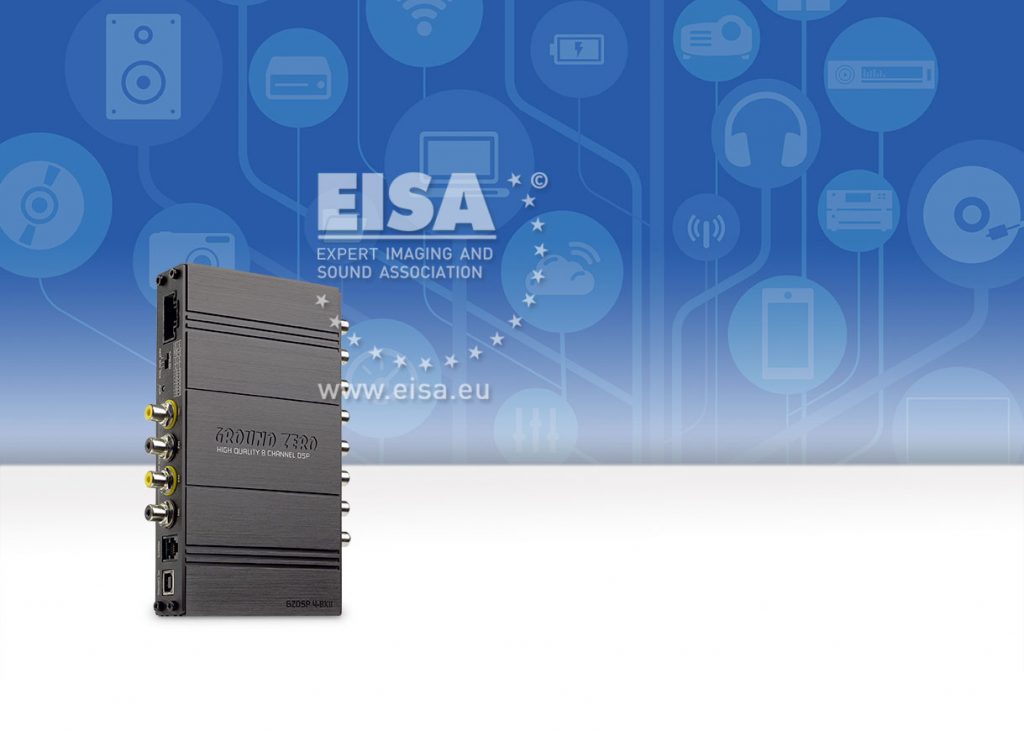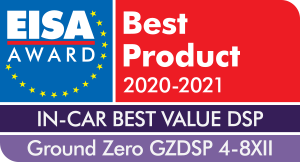 Digital signal processors have grown in importance as enthusiasts seek to upgrade the performance of a car's factory-fitted system, and Ground Zero's affordable but versatile GZDSP 4-8XII is a superb addition to the market. Utilising the processing power of two Analog Devices Sigma DSPs, it features both line-level and speaker-level inputs, and offers 10-band EQ on each of its eight output channels, plus phase, crossover and time delay management. Its Windows-based real-time control program is easy to use, and a wired remote and Bluetooth adapter for wireless audio streaming and app control are optional extras. This DSP is simple to integrate and impressively flexible.
EISA IN-CAR AMPLIFIER 2020-2021
MOSCONI GLADEN ATOMO 2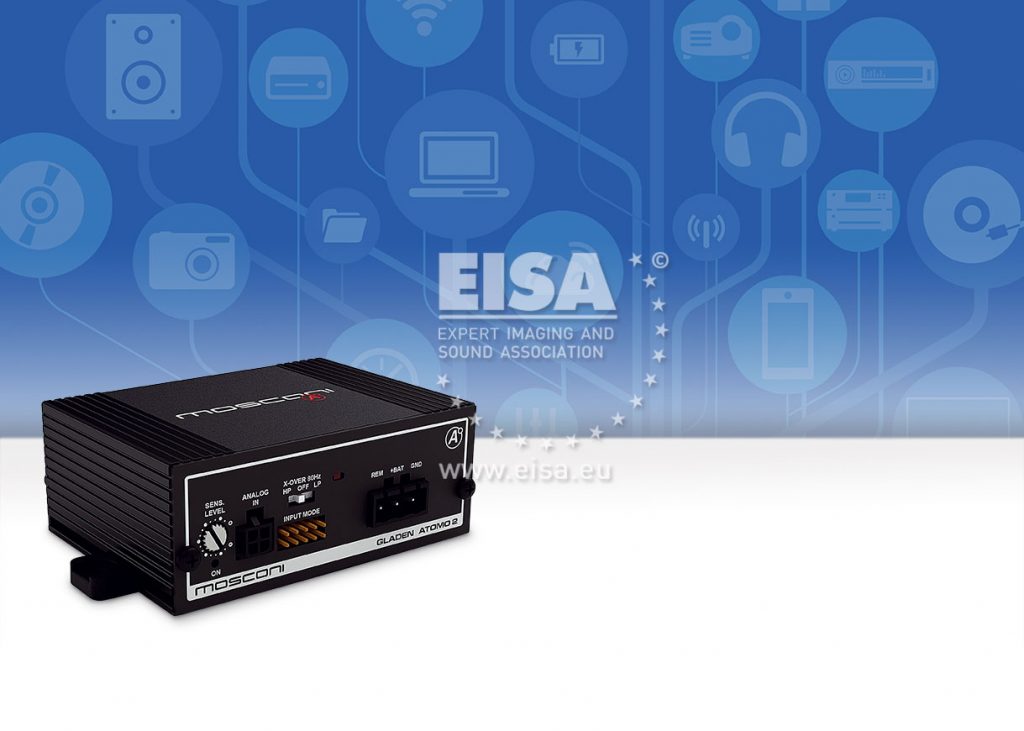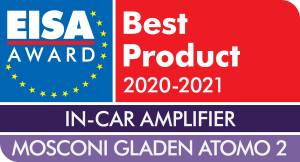 In the car audio world where there's often an insistence that 'size matters', Mosconi's GLADEN ATOMO 2 has something new to say. A stereo Class D power amplifier rated at 100W into 4ohm, it uses a robust aluminium chassis of remarkably small dimensions that means it can be hidden practically anywhere. And once in place it sets about delivering impressive sound quality, in addition to user features including an 80Hz crossover, auto-on function and high- and low-level connections. Together with Mosconi's ATOMO 1 subwoofer amplifier, and its ATOMO 4|6 DSP for signal control, it allows the creation of a small but powerful system.
EISA IN-CAR DSP AMPLIFIER 2020-2021
ETON Stealth 7.1 DSP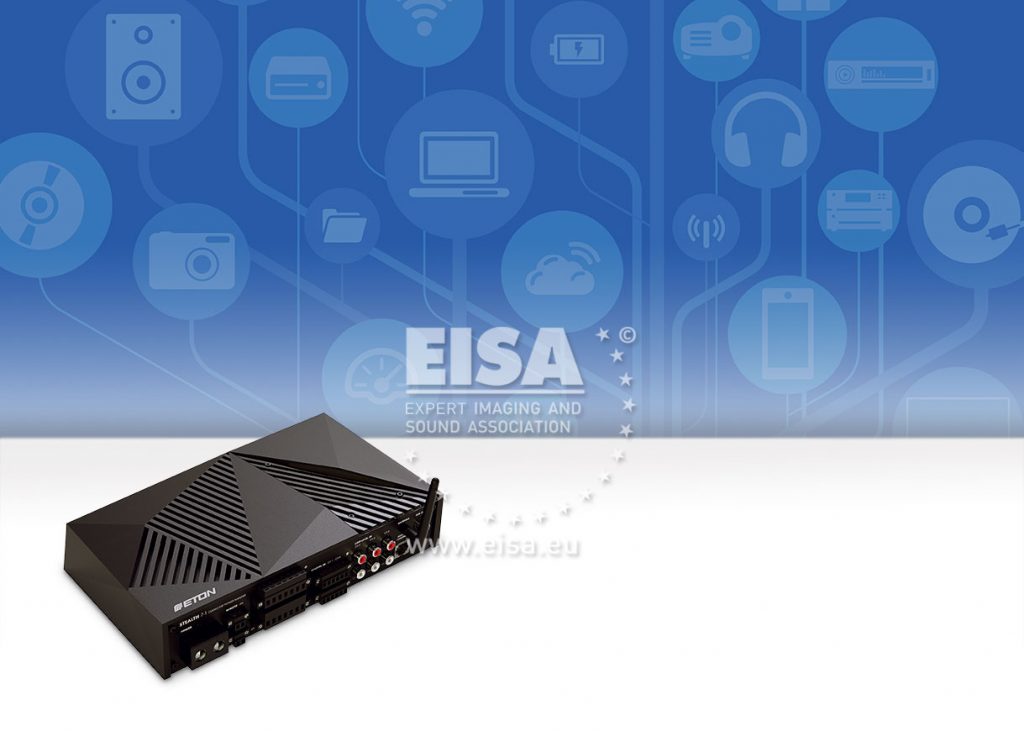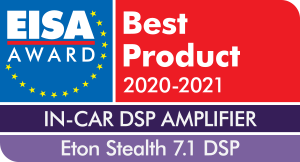 You'll find everything required to transform an in-car factory system into a sophisticated high-class audio setup in Eton's Stealth 7.1 DSP. A masterpiece in compact and discreet design, it features an eight-channel DSP engine to accommodate a full setup of speakers and subwoofer. Programming is possible via desktop software and wirelessly through Eton's DSP control app – the built-in Wi-Fi connection also enabling hi-res audio streaming. In addition to its feature set and excellent connectivity (including high/low-level and optical inputs), the Stealth 7.1 DSP is a commendable amplifier too; a high-efficiency Class D design promising ultra-low distortion and power up to 180W-per-channel in stereo mode.
EISA IN-CAR SPEAKER SYSTEM 2020-2021
ESB 8.6K3U LE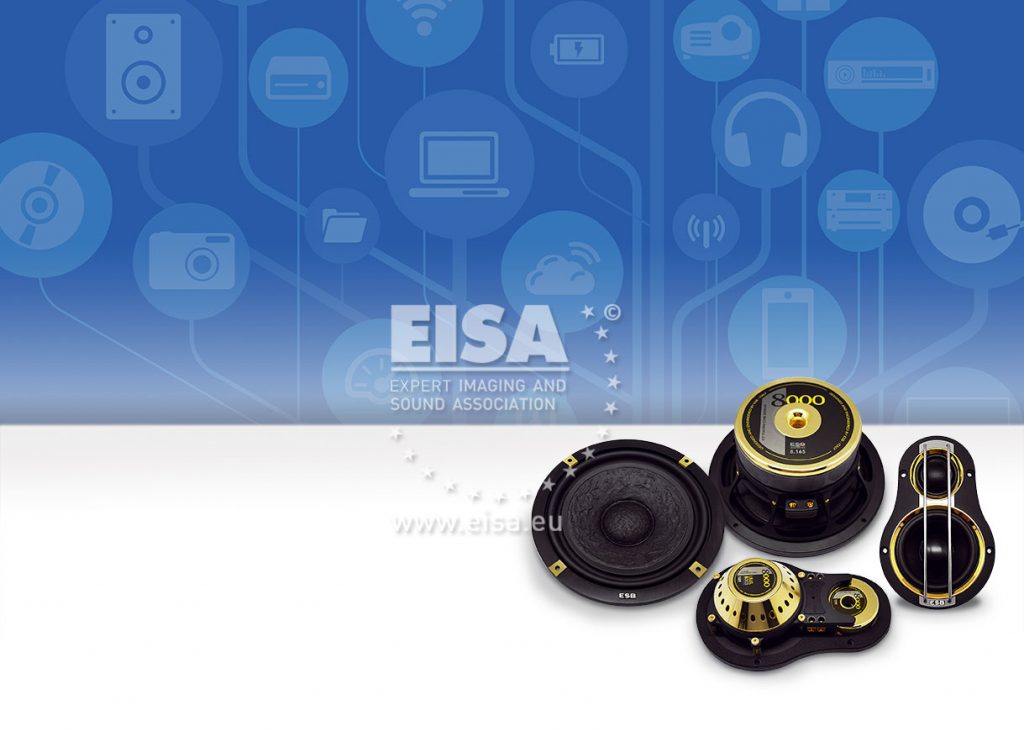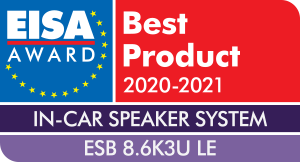 Italian manufacturer ESB first developed its UMA – mid/high unit – several decades ago for both the hi-fi and car audio industries, and shows no sign of ending its commitment to the dual-driver concept. The 8003 UMA, of ESB's flagship 8000 Series, is the latest iteration, and places a 1.1in Torcon soft dome tweeter and 3in cellulose fibre-coned midrange within its single precision-machined enclosure. In addition to the elegant design, this speaker offers great sound, aided by excellent power handling and low distortion. Add the weight and drive of ESB's similarly stylish 6.5in woofer and you have a complete system of superior sonic ability and great value.
EISA IN-CAR SUBWOOFER 2020-2021
Hifonics ZRX6D2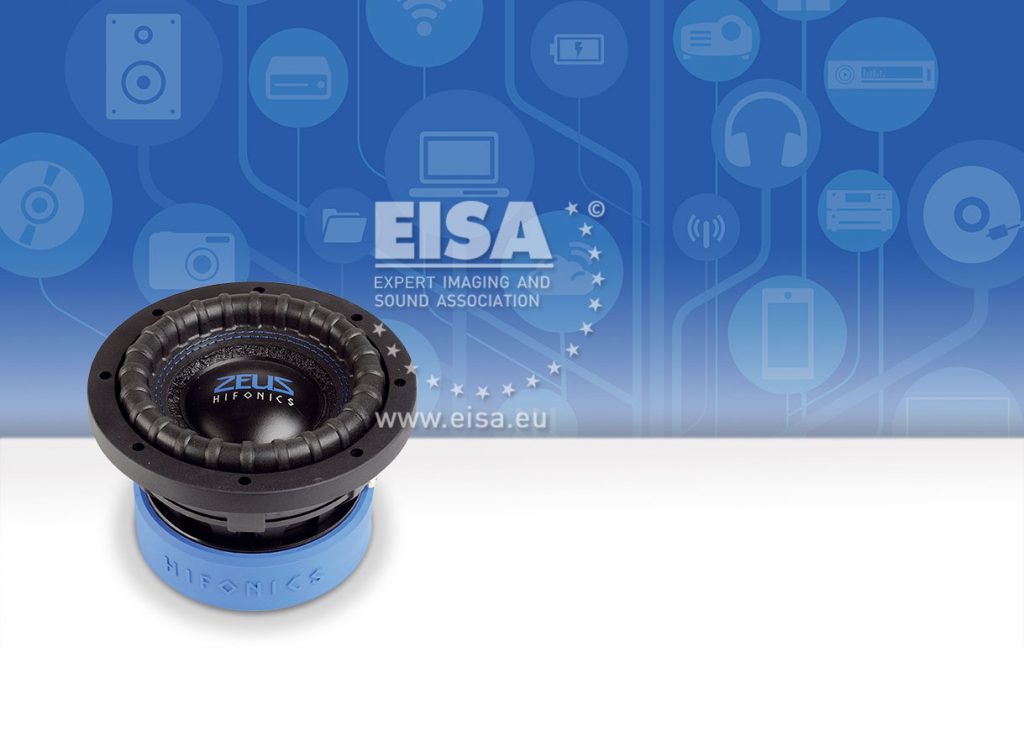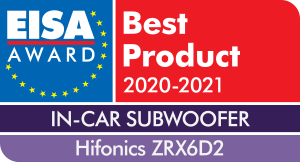 Everybody wants thrilling, deep bass but only a few have space for a traditional large-enclosure subwoofer in their trunk. The challenge, therefore, is for an up-to-date sub to be small but remain powerful – and Hifonics' ZRX6D2 is exactly this. It uses a 6.5in coated paper-coned driver with ribbed surround for linear travel, and its compact die-cast aluminium frame houses a dual 2in voice coil and twin magnet assembly to provide a deep ±0.6in stroke. Requiring only a 15-litre cabinet, it easily outperforms much bigger designs. By creating maximum bass impact from a minimal footprint, the ZRX6D2 perfectly meets today's requirements.
EISA IN-CAR DASHCAM 2020-2021
Kenwood DRV-A501W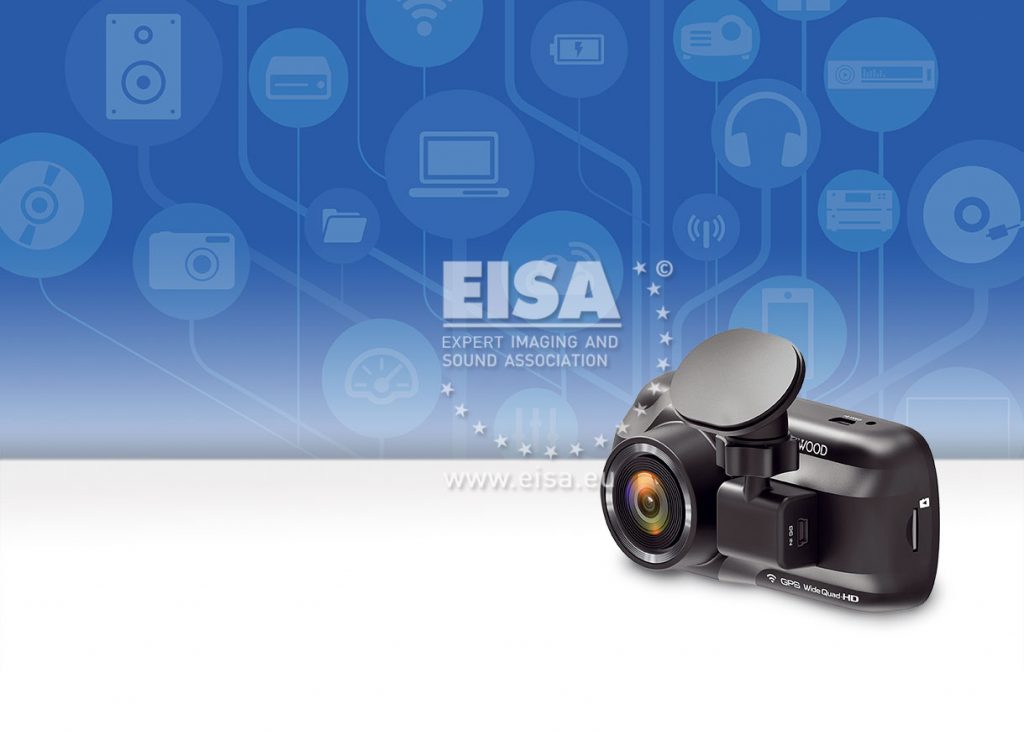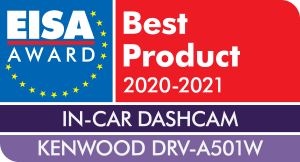 The DRV-A501W is a dashcam with brains, and one that brings its users peace of mind. Its Wide Quad HD camera integrates HDR and a polarisation filter for superior quality regardless of lighting conditions. Recordings can then be viewed instantly on its full-colour 3in display (a first for Kenwood), and transferred via onboard Wi-Fi to a smart device for editing and uploading, with GPS data information. A Smart Parking Mode uses the in-built G sensor to automatically instigate recording when the vehicle is parked, meaning any collisions are caught on camera, while a second rear camera can be added to enable simultaneous Full HD recording. A Quick Release mounting system makes installation slick and simple. This dashcam solution will let you drive with confidence.
EISA IN-CAR HIGH END COMPONENT 2020-2021
Audison bit One HD Virtuoso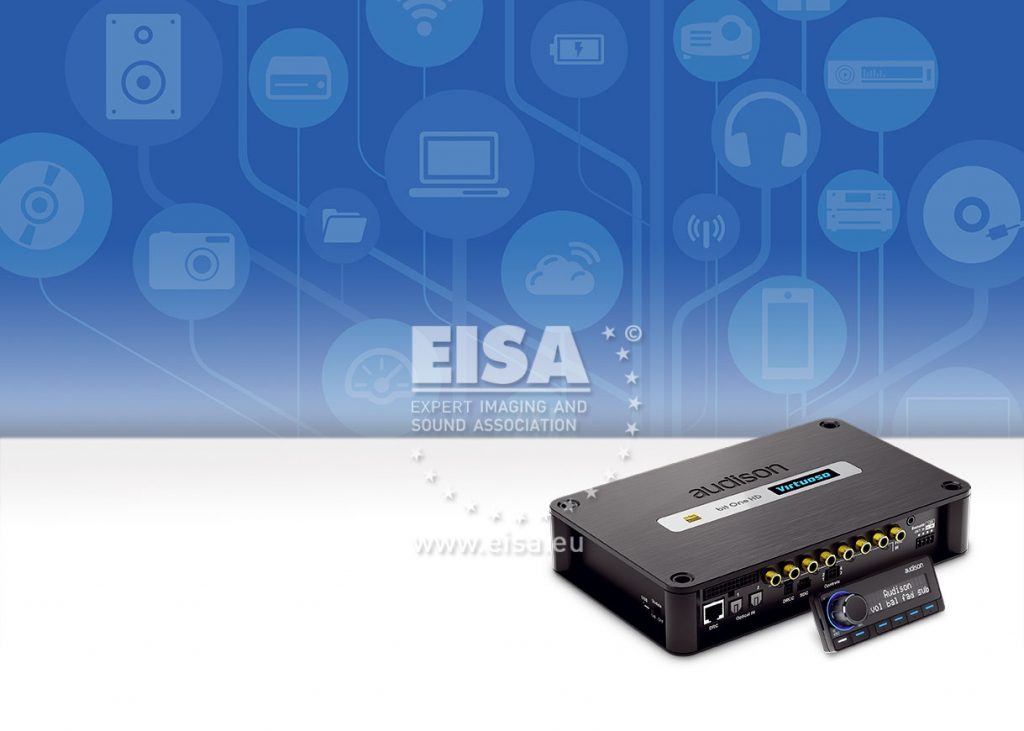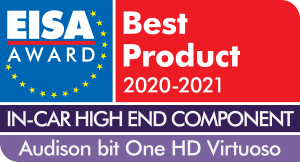 For a category leap in sound quality and control, look no further than Audison's bit One HD Virtuoso. This high-end and hi-res audio-certified processor leverages superior technologies, including Burr-Brown SoundPlus op-amps, 192kHz/24-bit Cirrus-Logic DACs, and an Analog Devices' SHARC DSP programmed by Audison engineers to offer exclusive sound customisation and control capabilities. FIR filters are used for crossover and equalisation on its nine-channel output, in combination with powerful input signal analysis functions – the result is a processor that delivers a premium performance with fine-tuning potential, aided by a revolutionary interface philosophy with OEM systems. Virtuoso by name – virtuoso by nature.
EISA CAMPERVAN HEAD UNIT 2020-2021
Zenec Z-E3766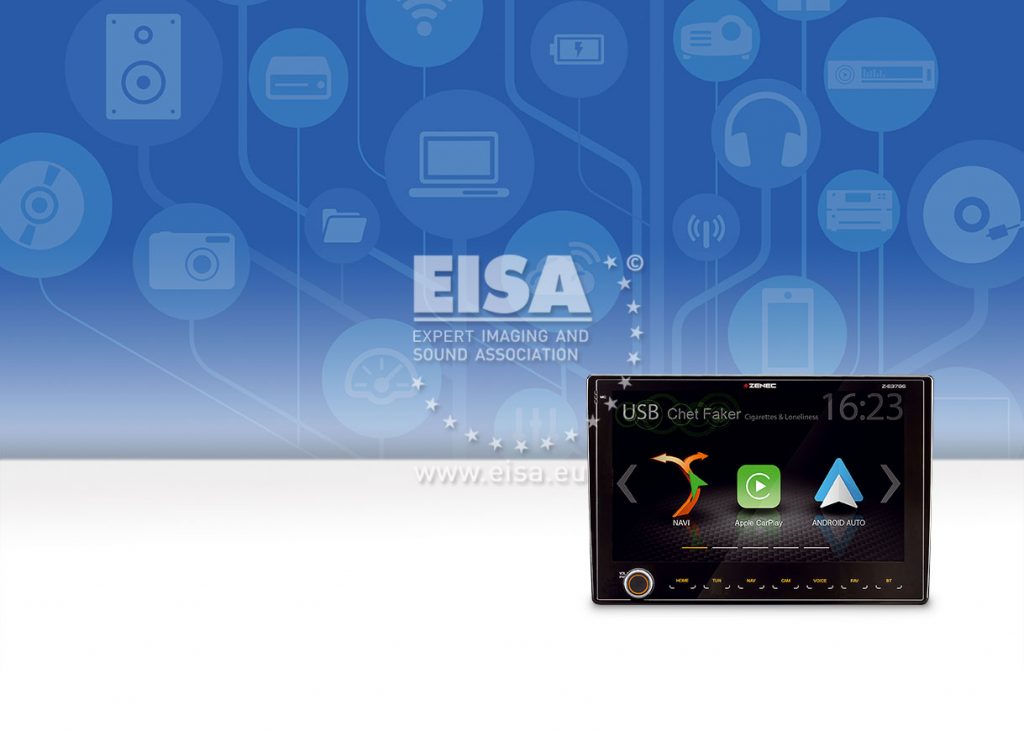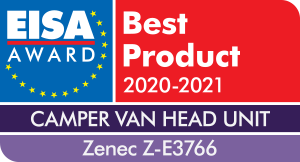 Zenec's Z-E3766 naturally offers features expected of a first-class in-car head unit, including smartphone integration through Apple CarPlay and Android Auto, twin-tuner DAB+ radio, HDMI and USB connections for media playback, and a large 9in touchscreen display. Importantly, the Z-E3766 is tailored to a campervan installation – it offers a perfect fit in the dash of a Fiat Ducato or similar, and will handle up to three cameras. Zenec's optional 3D navigation software includes preconfigured vehicle profiles and an extensive database of stopover sites, while two-way Bluetooth provision enables music streaming to speakers outside the vehicle. For those who live their life on the road, there is no better package.