Smart Photography is pleased to bring to you, a detailed listing of EISA Awards 2021-2022.
EISA PHOTOGRAPHY AWARDS 2021-2022
EISA CAMERA OF THE YEAR 2021-2022
Sony Alpha 1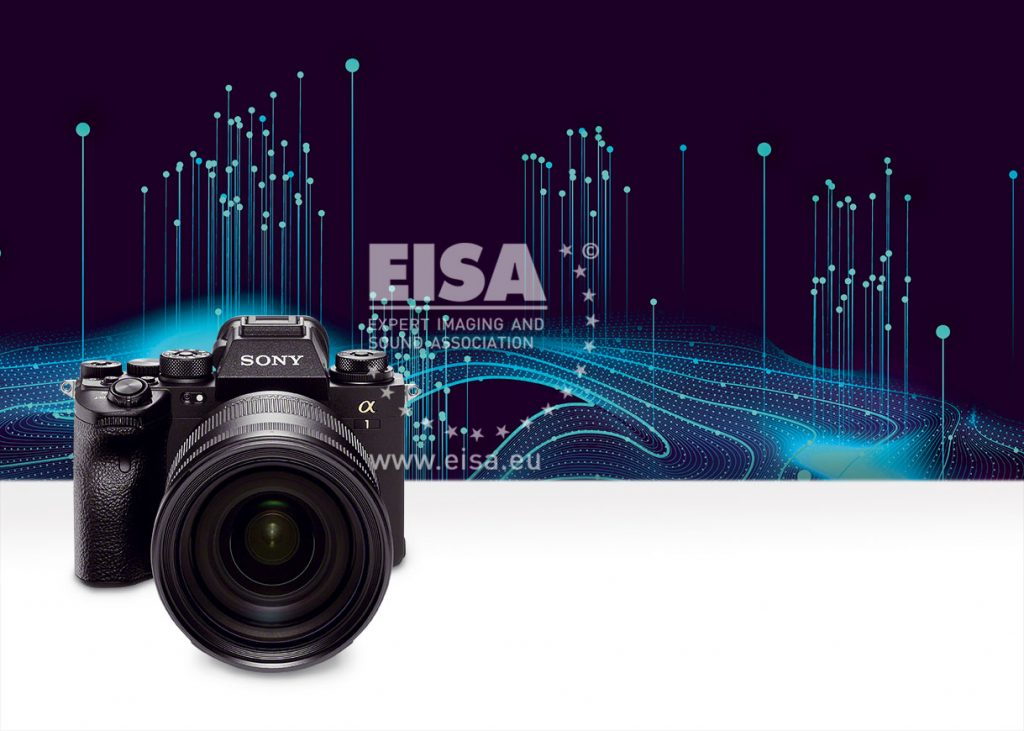 With the Sony Alpha 1, photographers no longer face a choice between high resolution or high speed. Instead, it delivers 50-million-pixel images at up to 30fps with an uninterrupted blackout-free view in its electronic viewfinder, thanks to its unique full-frame stacked Exmor RS CMOS sensor with integrated memory and a powerful BIONZ XR processor. The fast sensor readout enables accurate focus and exposure tracking during burst shooting, while the dual-driven shutter system allows flash sync up to 1/400sec and electronic shutter flash sync at up to 1/200sec. For videographers, the Alpha 1 offers up to 8K (7680×4320) 30p movie recording. This really is the one camera that does it all.
EISA BEST BUY CAMERA (APS-C) 2021-2022
Fujifilm X-S10
The Fujifilm X-S10 is a lightweight and compact mirrorless camera with easy handling and lots of creative settings. Its image sensor delivers 26-million-pixel images, 4K video at 30fps, and a sensitivity range from ISO 160 to 12,800. The fast and sensitive autofocus system is reliable and accurate even in low light. The X-S10 includes in-body image stabilisation (IBIS) to ensure sharp images by counteracting camera shake across five axes. In addition, the camera's internal stabiliser can synchronise with optically stabilised X-mount lenses for even better results. All in all, the Fujifilm X-S10 is an excellent camera at an affordable price.
EISA BEST BUY CAMERA (FULL FRAME) 2021-2022
Nikon Z 5
The Nikon Z 5 is a compact and lightweight camera equipped with a 24.3-million-pixel full-frame sensor mounted on a mechanical stabilisation system. It's very pleasant to use thanks to a large grip, a joystick to change options quickly, a touchscreen and a sharp 3.6-million-dot electronic viewfinder. With a maximum sensitivity of ISO 51,200, the Nikon Z 5 can keep shooting in difficult light. Its 273-point autofocus system is very effective and will automatically identify human eyes and faces, as well as those of some pets. The camera can also shoot 4K video, although with a 1.7x crop. Overall, it's the best-value full-frame camera on the market.
EISA ADVANCED CAMERA 2021-2022
Nikon Z 6II
The Nikon Z 6II is a versatile camera with a 24.5-million-pixel BSI-CMOS full-frame sensor which can record video up to 4K Ultra HD at 60fps. Its next-generation autofocus system can work in light levels as low as -4.5EV, while two EXPEED 6 processing engines provide faster image processing and a larger buffer capacity for continuous shooting compared to its predecessor. The Z 6II also gains dual card slots, one for CFexpress/XQD and one for standard SD. It can be powered via its USB-C interface and is fully compatible with a vertical battery grip. It's one of the most accomplished cameras available for serious enthusiast photographers.
EISA PREMIUM CAMERA 2021-2022
Canon EOS R5
Canon's highly-specified mirrorless all-rounder is feature-filled and built to last. It produces extremely sharp, high-resolution 45-million-pixel images, while being capable of recording both 8K and 4K video. It also boasts a high-speed, high-precision Dual Pixel CMOS AF II autofocus system, up to 8 stops of in-body image stabilisation, and high-speed continuous shooting at up to 20fps. The AI-based subject-recognition system is capable of detecting and tracking human eyes, faces, and bodies, as well as those of some animals. Combine these features with its robust build and superb handling, and there is probably no assignment that the R5 cannot take care of.
EISA PROFESSIONAL CAMERA 2021-2022
Fujifilm GFX 100S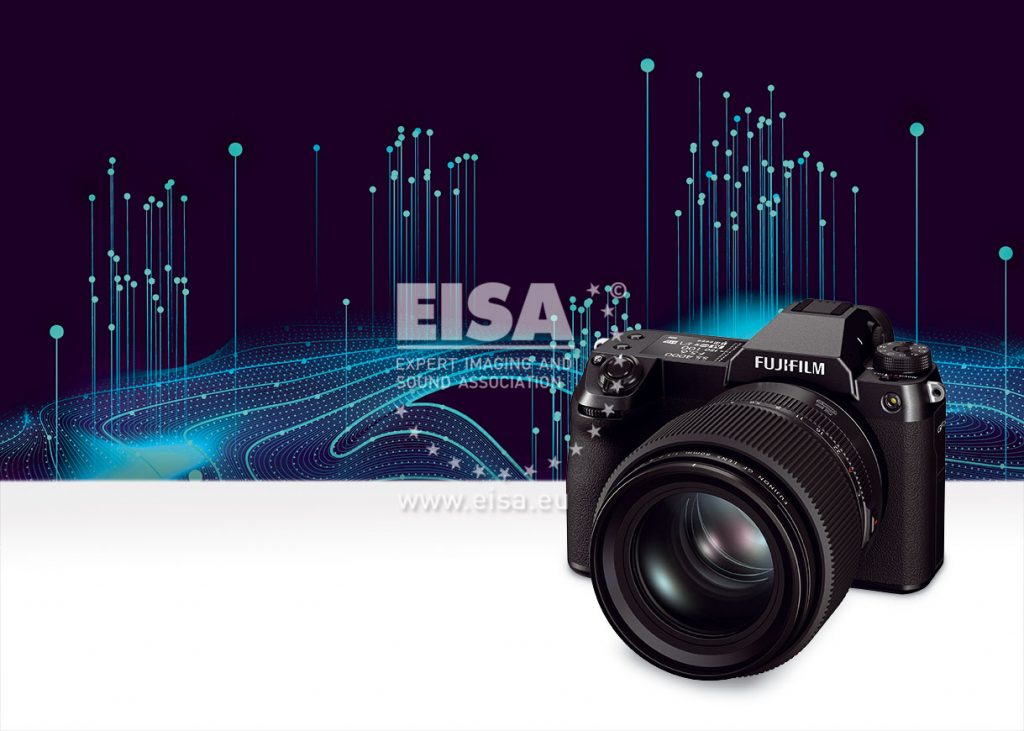 With the GFX 100S, Fujifilm has packed the groundbreaking features of the GFX 100 into a much more compact and affordable camera. Like its bigger sibling, it employs a 102-million-pixel BSI-CMOS sensor that measures 44x33mm, and which includes phase detection pixels for fast, accurate hybrid autofocus. Its updated sensor-shift in-body image stabilisation can now compensate for camera shake by up to 6 stops, which together with the low-vibration shutter, helps photographers get the sharpest possible images when shooting handheld. In Pixel Shift Multi-Shot mode the camera can even generate 400-million-pixel images for the ultimate quality when shooting still life.
EISA PHOTO/VIDEO CAMERA 2021-2022
Sony Alpha 7S III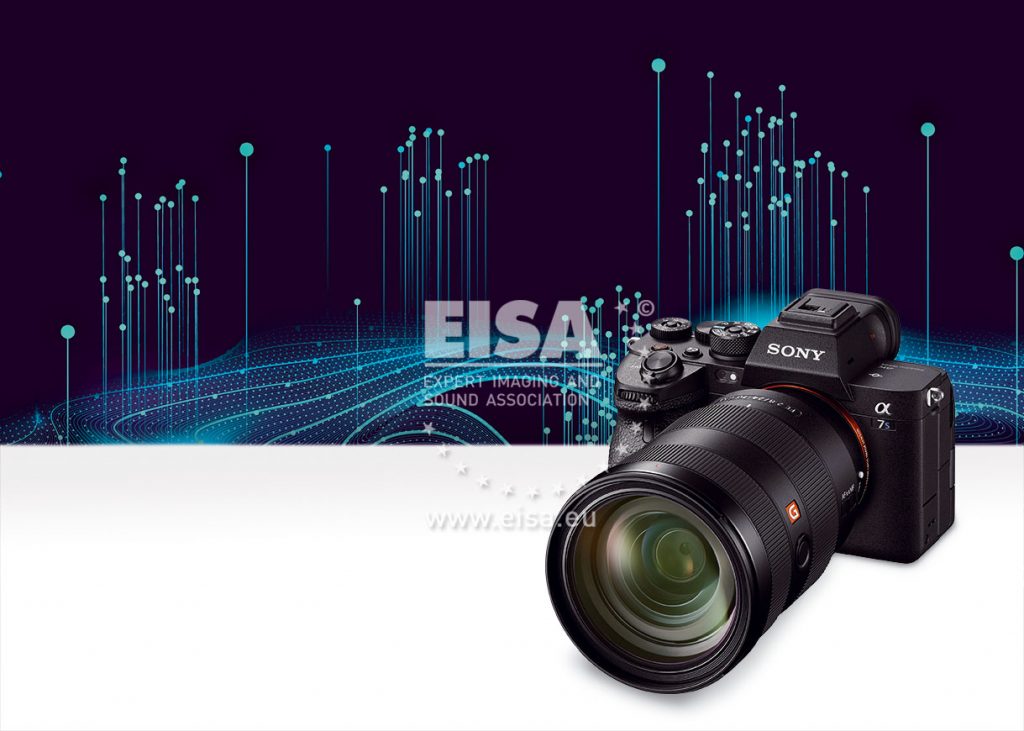 The Sony Alpha 7S III delivers 4K video without any compromise. At its heart is a new 12-million-pixel back-illuminated full-frame Exmor R CMOS image sensor that provides outstanding performance at high ISO sensitivities with minimal rolling shutter effects. Its full-pixel readout enables ultra-sharp and clean video without a crop. In 4K/60p mode the camera can record for more than an hour without overheating, while for slow motion, 4K/120p and Full HD/240p are also available. Internally, the camera records 10-bit footage with 4:2:2 colour subsampling; it can also output 16-bit RAW data to a compatible recorder over HDMI. Other highlights include an extremely large, high-resolution 9.44-million-dot viewfinder and a fully articulated touchscreen monitor.
EISA LENS OF THE YEAR 2021-2022
Tamron 17-70mm F/2.8 Di III-A VC RXD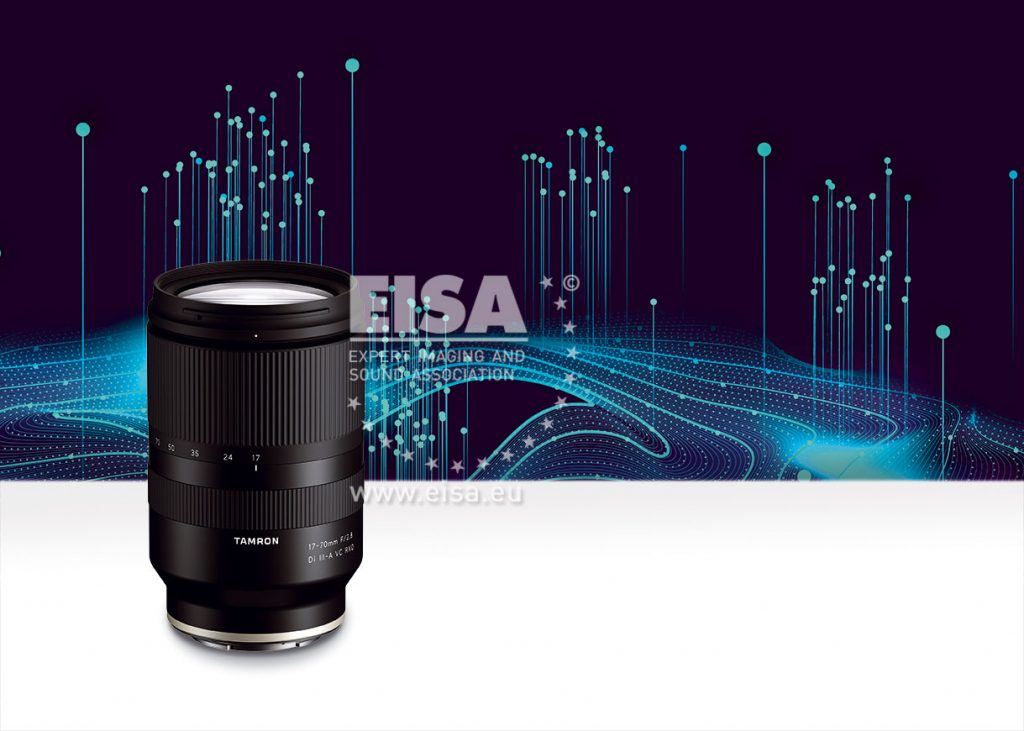 For enthusiast photographers who use Sony cameras with APS-C sensors and are in search of a high-quality zoom, this might be the perfect choice. It offers a uniquely useful combination of a large maximum aperture and a broad 26-105mm full-frame equivalent focal length range, without compromising on optical quality. The lens is weather-sealed to match the higher-end Alpha 6000-series models, while its effective optical stabilisation allows handheld shooting at slow shutter speeds without blurring due to camera shake. In addition, the autofocus is quiet and accurate while being fully compatible with features such as Eye AF. Overall, it's a great choice for everyday shooting.
EISA WIDEANGLE LENS 2021-2022
Sony FE 14mm F1.8 GM
This extremely compact wide-aperture ultra-wideangle prime lens combines Sony's latest optical design achievements and manufacturing techniques into a rectilinear 14mm f/1.8 lens that is as easy to carry in the field as it is to use in studio. The compact size and weight, however, do not compromise high image quality or weather-resistant build quality. Sporting careful optical correction, the Sony FE 14mm F1.8 GM performs impressively well for landscapes, nightscapes, and architecture. The 9-blade aperture and XA lens elements contribute to attractive bokeh, while the linear AF motors provide fast and accurate autofocus.
EISA WIDEANGLE ZOOM LENS (APS-C) 2021-2022
Tamron 11-20mm F/2.8 Di III-A RXD
Designed for use with Sony E-mount cameras, this is the world's first ultra-wideangle zoom lens for APS-C mirrorless to boast a fast maximum aperture of f/2.8. It is both compact and lightweight yet gives top-quality results. Its closest focusing distance is only 15cm at the shortest focal length, making it ideal for close-up shooting. The RXD autofocus motor is completely silent and focuses precisely and quickly on any subject, which is especially important for video recording. As a result, it's the perfect choice for shooting with extraordinary viewing angles and striking perspectives.
EISA WIDEANGLE ZOOM LENS (FULL FRAME) 2021-2022
Sony FE 12-24mm F2.8 GM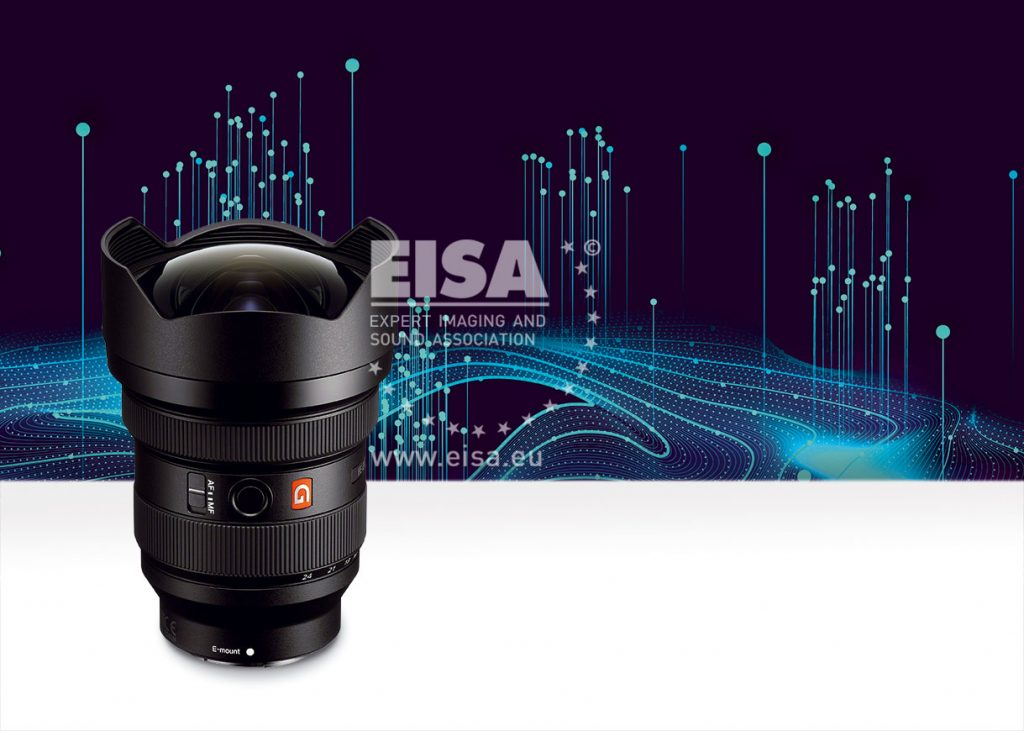 Sony's large-aperture ultra-wideangle zoom is a truly amazing lens, with remarkable optical performance that's on a par with high-end primes. The sharpness is very impressive from edge to edge, even at maximum aperture. The lens is also astonishingly compact considering its 122° angle of view and bright maximum aperture of f/2.8. The high build quality includes weather-sealing and a water- and oil-repellent fluorine coating on the front element. Quick and accurate autofocus makes this lens a useful tool for both landscape photographers and photojournalists.
EISA STANDARD LENS 2021-2022
Sony FE 50mm F1.2 GM
This unique standard lens combines outstanding image quality and a very bright aperture with a remarkably compact and lightweight design. Its 11-blade circular diaphragm and XA lens elements together provide pleasing bokeh. In addition, the lens is equipped with an aperture ring that can be switched between clicked and clickless operation, a dust- and moisture-resistant design and four XD linear autofocus motors that deliver fast and precise autofocus and tracking. This lens offers Sony shooters a brilliantly performing tool for portraits, night scenes and general photography.
EISA TELEPHOTO ZOOM LENS 2021-2022
Tamron 150-500mm F/5-6.7 Di III VC VXD
Tamron's ultra-telephoto zoom for Sony E-mount provides a focal length range that is ideal for wildlife, sports and action photography in an impressively compact design. It also offers a minimum focus distance of 60cm at the 150mm position, providing a maximum magnification of 1:3.1 for close-up work. The Broad-Band Anti-Reflection coating suppresses ghosting and flare, while the optics are protected by the moisture-resistant construction along with a fluorine coating on the front element. This is the first Tamron lens for full-frame mirrorless cameras to feature optical image stabilisation, enabling sharp handheld ultra-telephoto shooting.
EISA PROFESSIONAL TELEPHOTO ZOOM LENS 2021-2022
Nikon NIKKOR Z 70-200mm f/2.8 VR S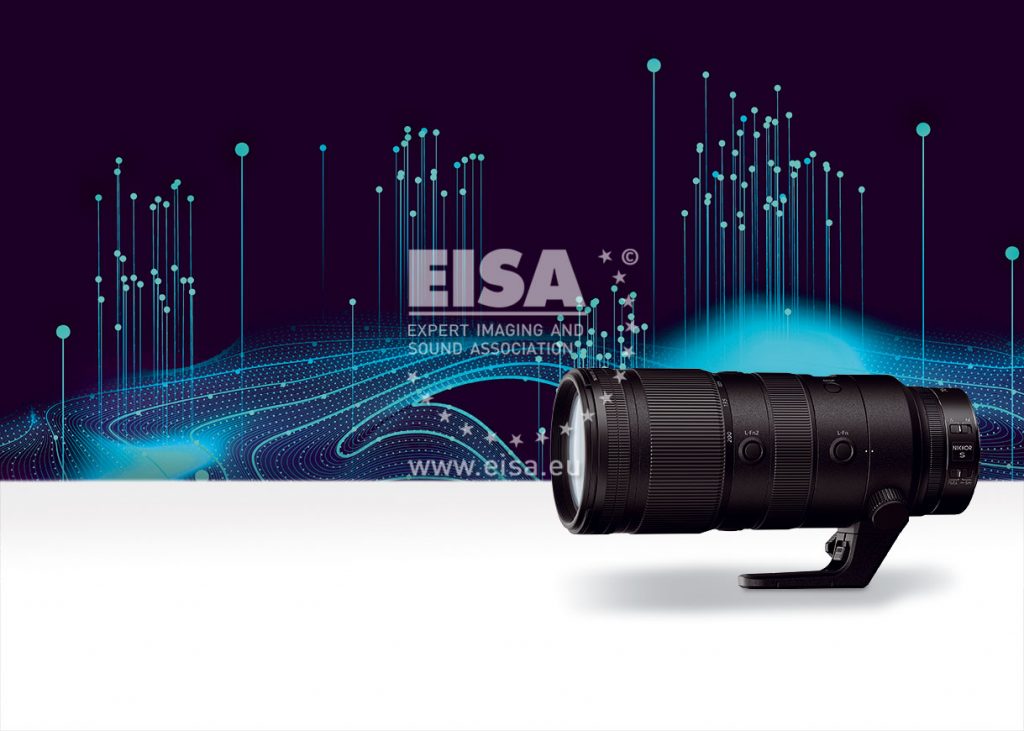 As to be expected of a lens that's made for high-end, professional use, this fast telephoto zoom is as advanced as it gets. Optically it's superb, combining high levels of sharpness with effective suppression of aberrations. Other desirable features include weather-resistant construction, autofocus that's fast, silent and accurate, and effective optical stabilisation. A customisable control ring, two programmable buttons and a top-plate display panel provide an unmatched level of control. The result is a fantastic lens that's ideal for a wide variety of uses, ranging from wildlife and sports to portrait and wedding photography.
EISA PORTRAIT LENS 2021-2022
Sigma 85mm F1.4 DG DN | Art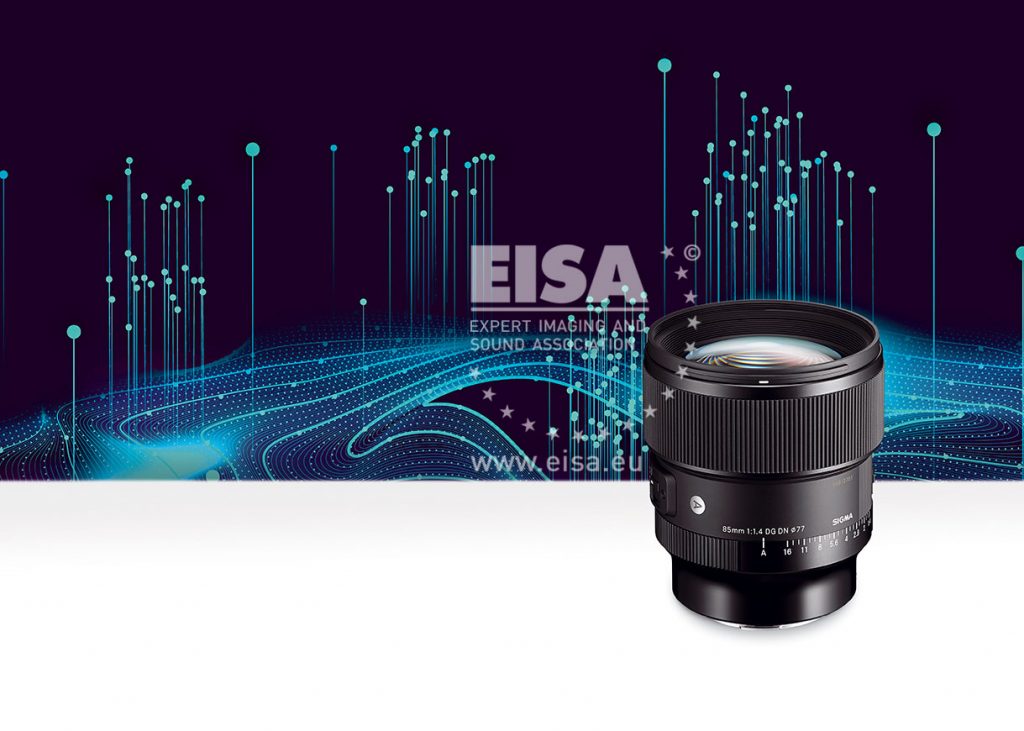 Sigma has created a lens that redefines portrait photography by combining an ideal focal length with technology that ensures top-quality results. Designed specifically for full-frame mirrorless cameras, its lightweight and compact body is distinguished by its excellent quality of construction, including dust and splash resistance. Users will enjoy sharp pictures without any aberrations thanks to the use of five SLD elements and one aspherical element, as well as the latest high-refractive index glass. Thanks to its f/1.4 maximum aperture, it produces beautiful artistic bokeh that will satisfy both professional and advanced amateur photographers.
EISA MANUAL LENS 2021-2022
Laowa Argus 33mm f/0.95 CF APO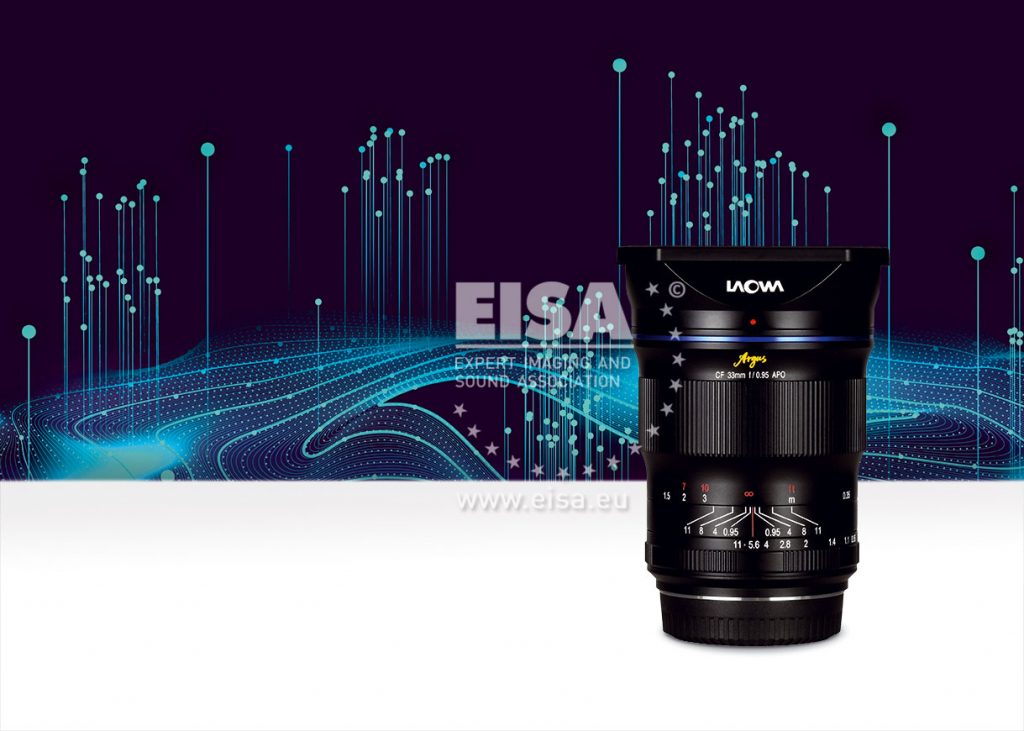 The Laowa Argus 33mm f/0.95 CF APO is an exceptionally bright standard lens for mirrorless cameras with APS-C sensors. This ultra-large-aperture lens is perfect for both low-light photography and for obtaining extremely shallow depth of field – especially when combined with its 35cm closest focusing distance. Thanks to its apochromatic design, the colour fringing usually associated with fast apertures is unusually well controlled. The long focus throw, low focus breathing and stepless aperture ring also make it ideal for video use. It's available in Canon RF, Fujifilm X, Nikon Z and Sony E mounts.
EISA MACRO LENS 2021-2022
Nikon NIKKOR Z MC 50mm f/2.8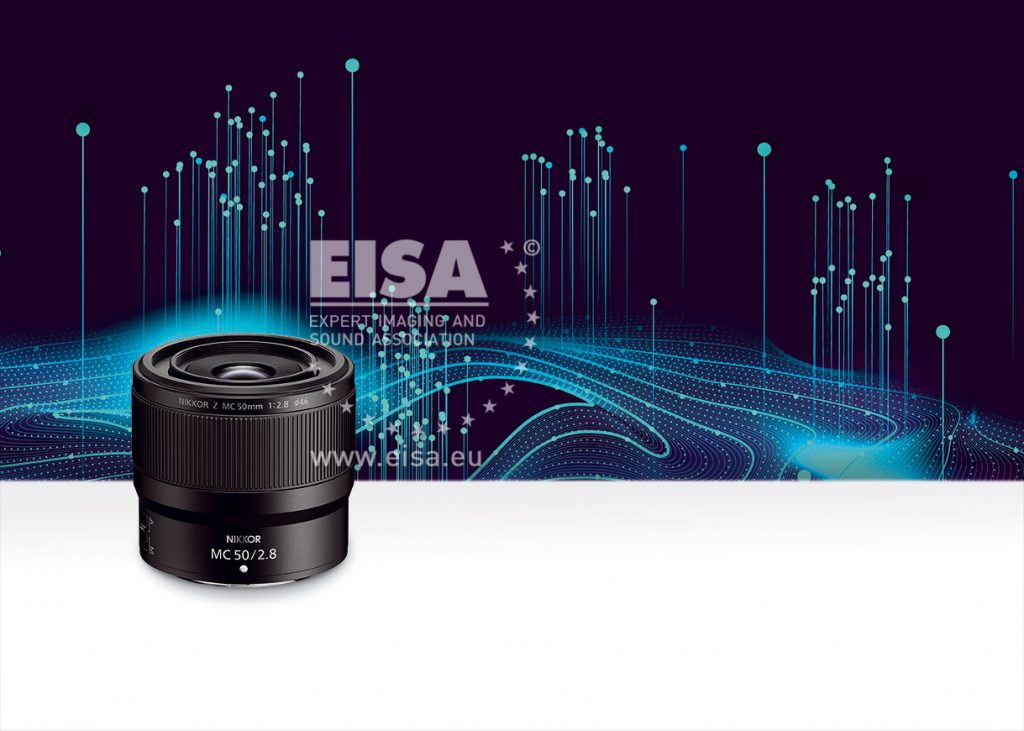 This affordable, compact and lightweight standard macro lens for Nikon Z cameras provides 1:1 reproduction at its minimum focus distance of 16cm. The optical design uses both aspherical and extra-low dispersion glass elements to minimise chromatic aberration. A fluorine coating protects the front lens element, and the barrel is sealed against dust, dirt and moisture, allowing it to be used in challenging conditions. It features a silent control ring with which you can set the aperture or ISO sensitivity. When used with a DX-format Z-series camera, the lens has an angle of view equivalent to 75mm, making it a great choice for both macro and portraits.
EISA SPECIAL PURPOSE LENS 2021-2022
Laowa 15mm f/4.5 Zero-D Shift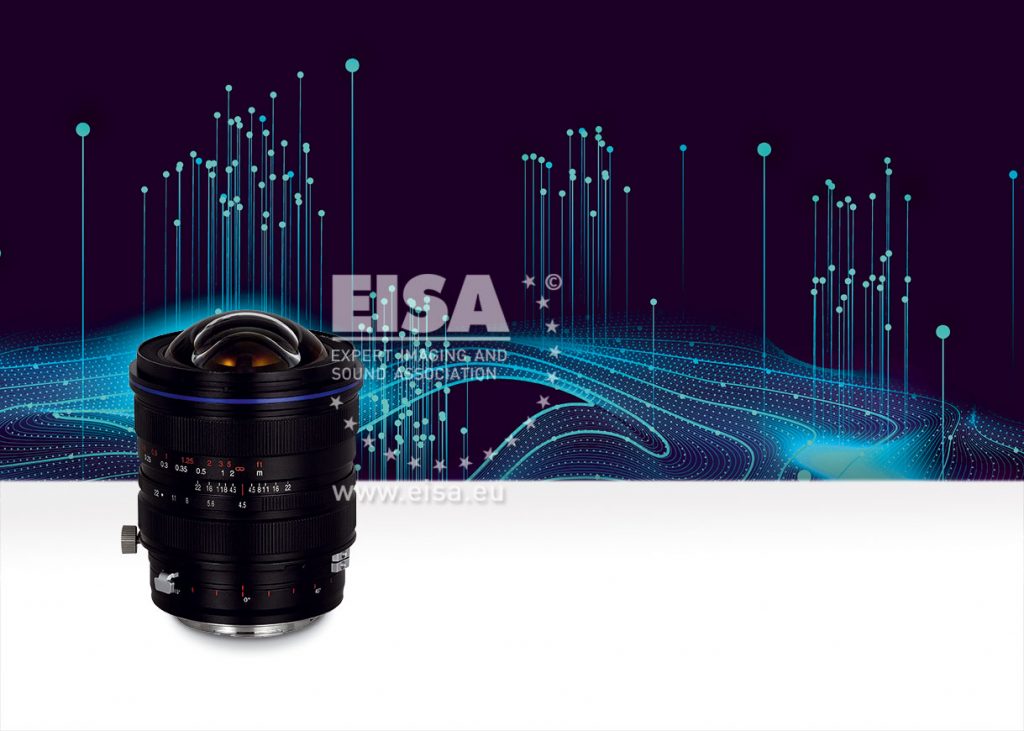 Currently the widest-angle shift lens on the market, this is characterised by its durable steel construction and excellent workmanship. Designed for use with full-frame cameras, both mirrorless and DSLRs, it provides ±11mm shift, which makes it ideal for correcting perspective in architectural and interior photography. Despite its very demanding optical design, it's much more affordable than other ultra-wideangle shift lenses. All aspects of operation are manual, including focusing and aperture setting, with the shift mechanism using a unique rotary dial that's both precise and easy to use. Thanks to its compact size, low weight and smooth, reliable operation, the lens is a fine choice for photographing architecture.
EISA LENS INNOVATION 2021-2022
Canon RF 100mm F2.8L Macro IS USM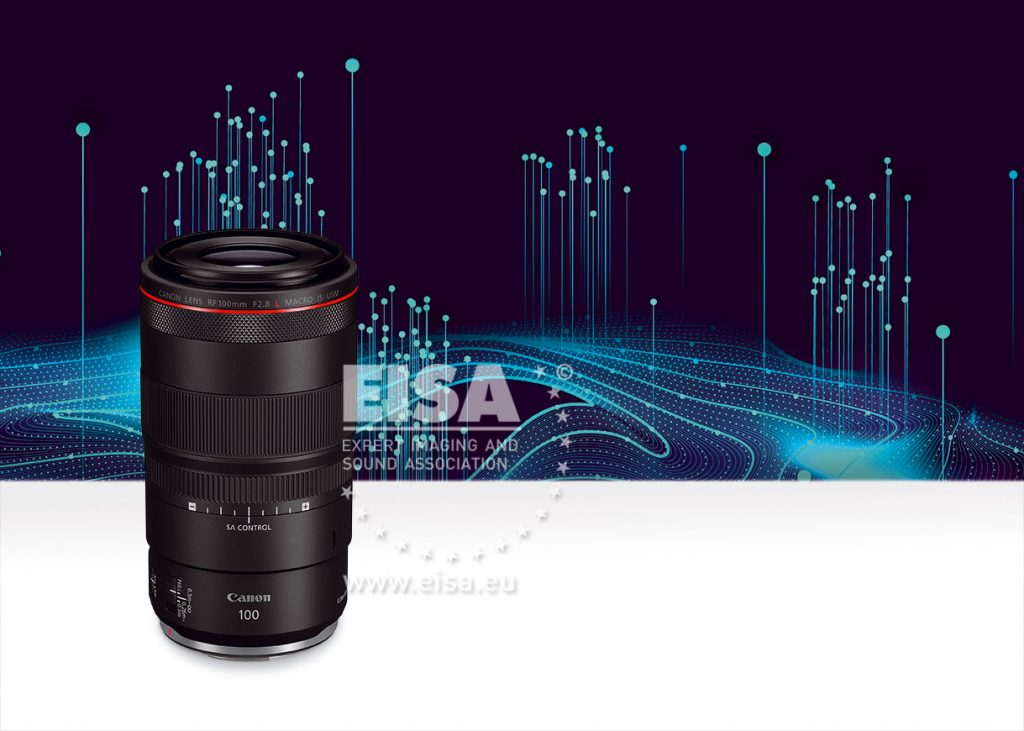 While most manufacturers have built up their full-frame mirrorless lens ranges by replicating their most popular SLR designs, Canon has consistently been more imaginative. Its new RF-mount 100mm f/2.8 offers the highest magnification ratio of any autofocus macro lens, at 1.4x, allowing users of its EOS R-system cameras to fill the frame with a subject measuring just 26x17mm. It also gains a new spherical aberration control ring that adjusts the smoothness of blur in either the foreground or background. Together, these two innovations promise to open new avenues of creative expression for close-up photography.
EISA PHOTO SOFTWARE 2021-2022
Zoner Photo Studio X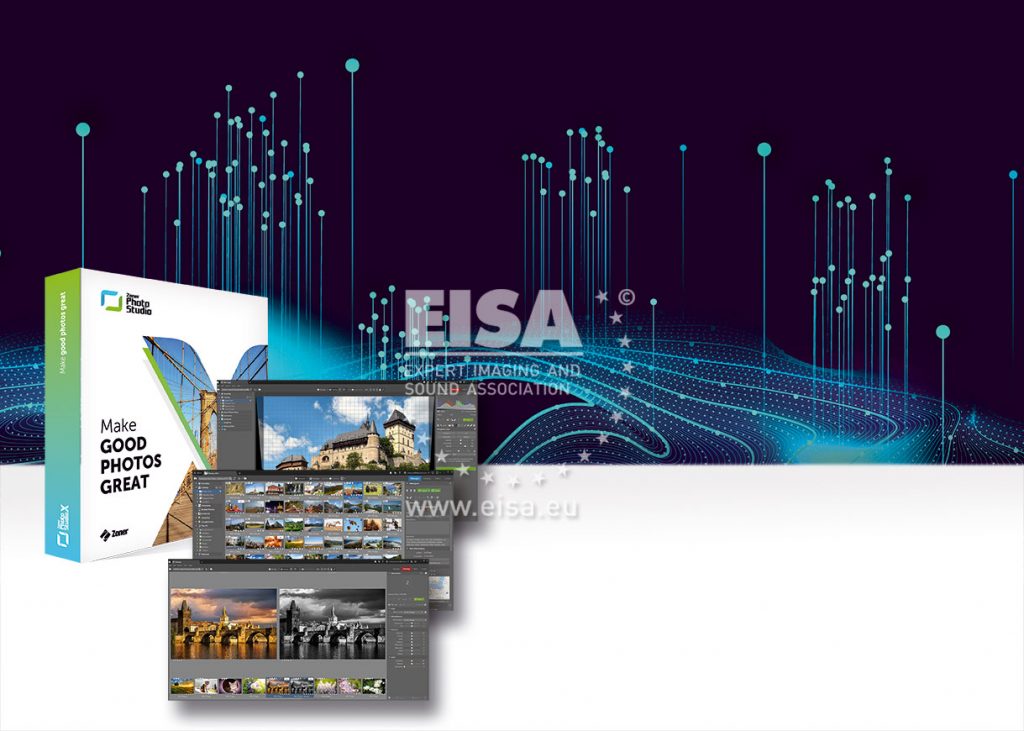 This innovative photo software offers a wide range of user-friendly features. Along with being a fully featured raw converter, it provides easy photo editing with layers and masks, while the retouching brush and faces tool are perfect for enhancing portraits. Zoner Photo Studio X also manages your photo catalogue, allowing you to browse by date, shot location, keywords, or folders. The continuous updates and use of artificial intelligence are also very advantageous for users. Zoner Photo Studio X combines features that usually require several programs from other vendors at a very competitive price.
EISA ADVANCED PHOTO SOFTWARE 2021-2022
DxO PureRAW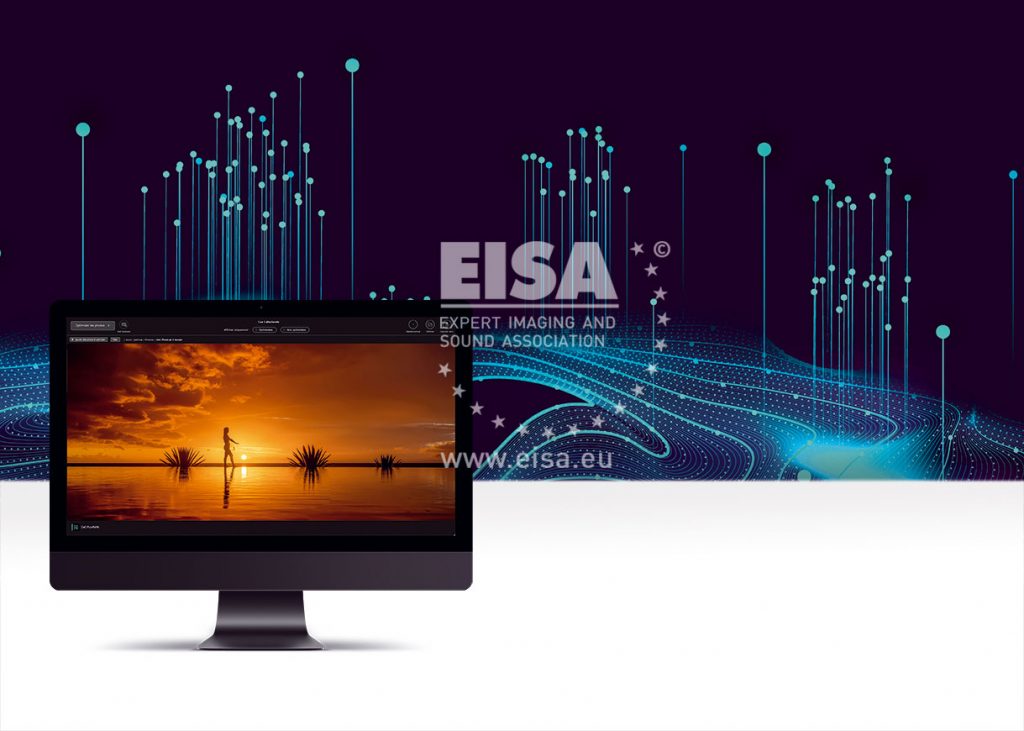 PureRAW by DxO is a truly unique piece of software. You use it to pre-treat your images before importing them into Adobe Lightroom, Photoshop or any other photo software that supports the Linear DNG raw format. This allows you to benefit from DxO's superior demosaicing algorithms, lens corrections, noise reduction and image sharpening, all without sliders or complex adjustments and without any need to master a new interface. You just get better images without changing much of your existing workflow.
EISA PHOTO SERVICE 2021-2022
CEWE Photoworld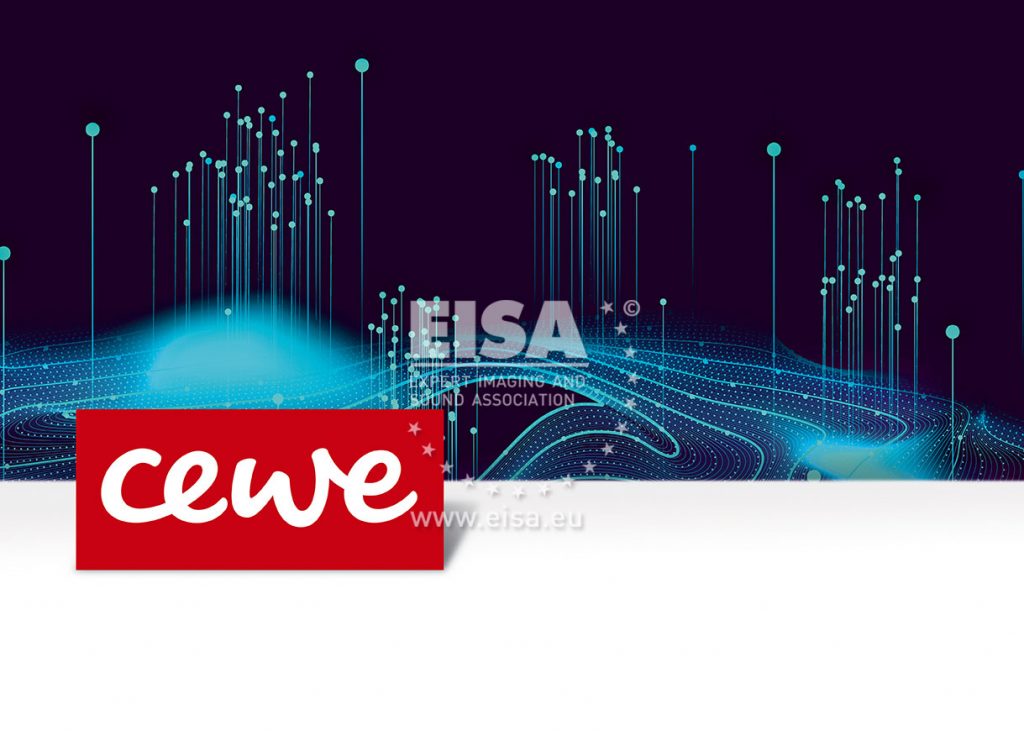 Nowadays, most pictures are taken with smartphones. With the CEWE Photoworld app for iOS and Android, it's easy to turn these into beautiful photobooks. With the help of artificial intelligence, the user just has to select which pictures on their phone or tablet should go into the photobook and the app does the rest automatically, including the order, image corrections and which picture details are shown. This is tremendously helpful and speeds up the process enormously, while users can still change everything according to their own taste. The quality of the printed result is just as high as with regular CEWE photobooks.
EISA PHOTO PRINTER 2021-2022
Epson SureColor SC-P700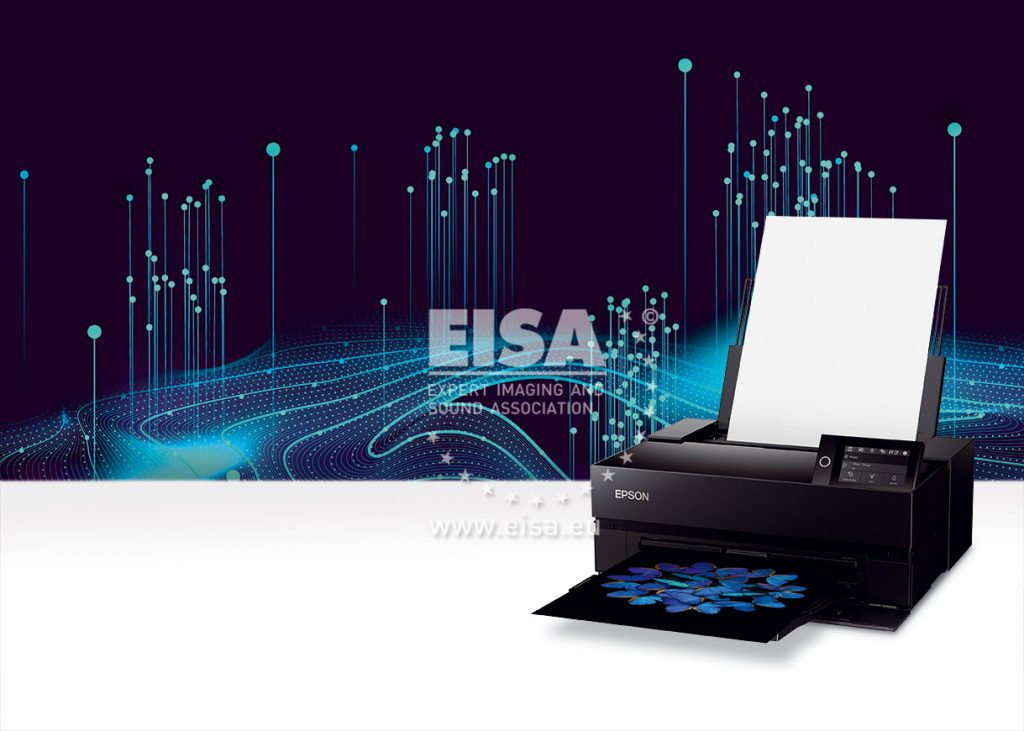 This A3+ printer allows professional and ambitious amateur photographers to make long-lasting prints of their most-cherished images. Thanks to its UltraChrome Pro 10 ink set, the SC-P700 delivers outstanding print quality in both colour and black & white. It handles sheets of photo or fine art paper effortlessly, boasts an integrated roll paper unit, and doesn't require any ink change when switching between matt and glossy media. With its compact footprint and wide range of interfaces (USB 3.0, Wi-Fi and Ethernet), the SC-P700 can fit into any workspace or studio while providing an easy-to-use, customisable user interface via its 4.3in touchscreen.
EISA MOBILE AWARDS 2021-2022
EISA ADVANCED SMARTPHONE 2021-2022
OPPO Find X3 Pro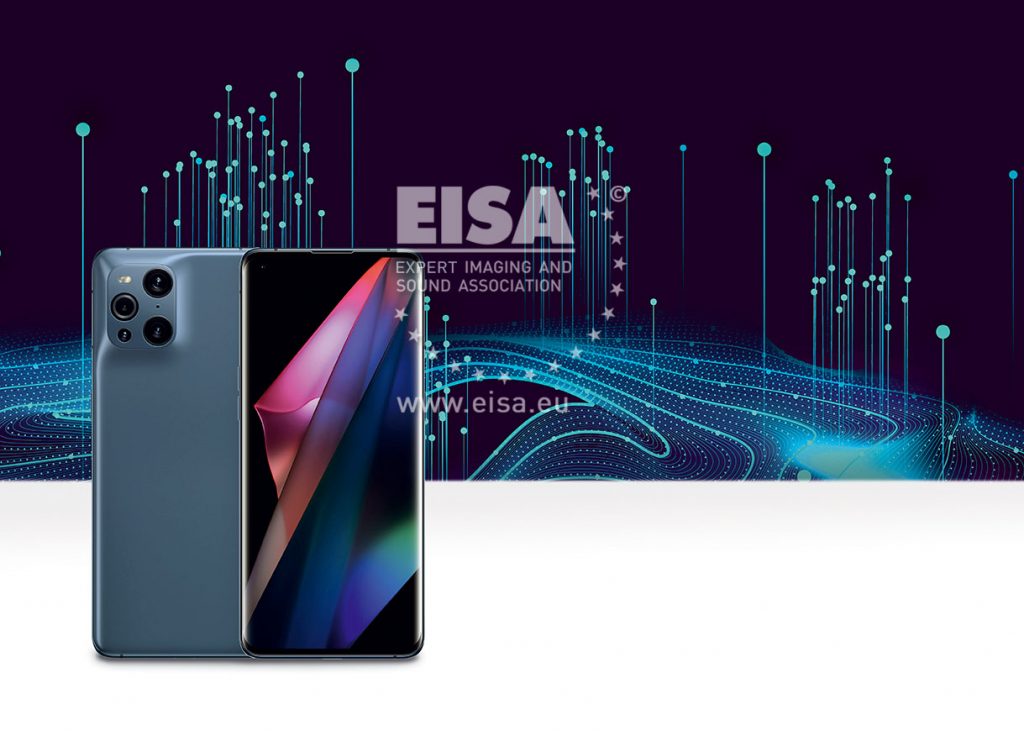 Raising the technological bar to new heights, the OPPO Find X3 Pro impresses with its comprehensive feature set and modern, highly distinctive design. Powered by a Qualcomm 5nm Snapdragon 888 processor, with 12GB of RAM, the Find X3 Pro sports a 6.7in 120Hz LPTO AMOLED display and durable 4500mAh battery with 65W fast charging support. Moreover, OPPO's flagship offers arguably the best smartphone camera setup this season, packing four lenses on its back – a 50-megapixel primary and ultra wide-angle, a 13-megapixel telephoto and, uniquely, a 3-megapixel microscope snapper, working between 1-3mm distances to deliver 60x magnification. This multi-camera setup delivers on every promise, making OPPO's Find X3 Pro the most advanced smartphone on the market.
EISA BEST SMARTPHONE 2021-2022
Apple iPhone 12 Pro Max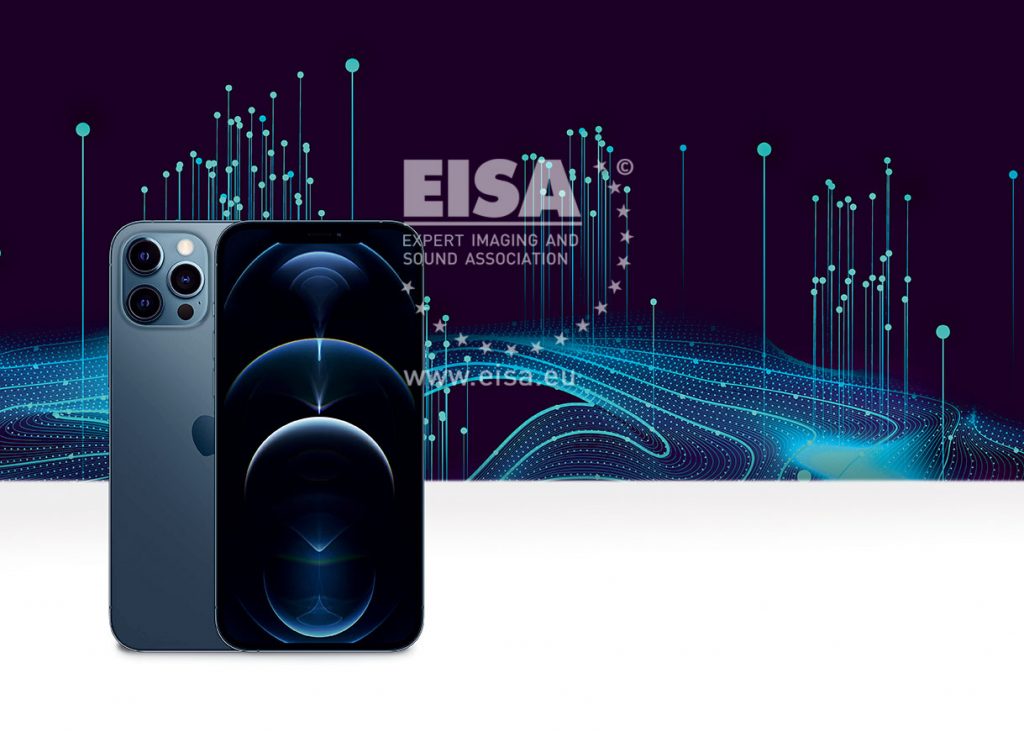 With its beautiful matte-glass rear finish and large 6.7in screen, the design alone of Apple's flagship iPhone 12 Pro Max grabs your attention. Beneath its premium exterior lies a smartphone with lightning-fast processing and superb battery life – whether used for gaming, browsing, video editing or business, it'll easily last the day, and no matter what you want to do, the iPhone 12 Pro Max will do it quick, smooth and without hiccup. The display is gorgeous, delivering accurate colours combined with high brightness, and its trio of 12-megapixel cameras (and multiple user settings) are a photographer's dream. Support for 4K HDR with Dolby Vision results in high-quality videos perfect for sharing on a largescreen TV.
EISA MULTIMEDIA SMARTPHONE 2021-2022
Sony Xperia 1 III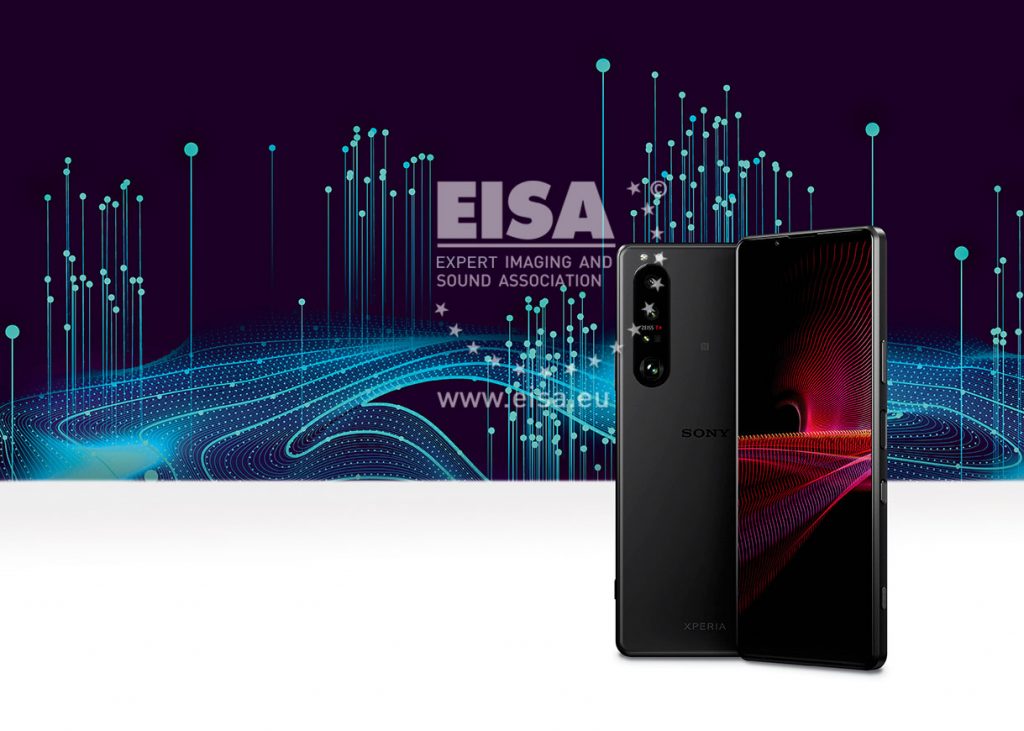 Sony's Xperia 1 III introduces the first ever 120Hz 4K screen on a smartphone, plus a variable focal-length periscope telephoto camera, making this a genuine multimedia hero ideal for anyone who uses their mobile device mostly to create or to consume high-quality video and photo content. These capabilities are supported by Qualcomm's latest 5nm Snapdragon 888 chipset and a full 12GB of RAM, a potent engine that ensures this smartphone also excels at mobile gaming and app multitasking. A high-end handset for demanding users, the Xperia 1 III wraps its pleasing functionality in a fresh design with an impeccable glass finish and IP65/IP68 water/dust-proofing. 
EISA BEST BUY SMARTPHONE 2021-2022
TCL 20 Pro 5G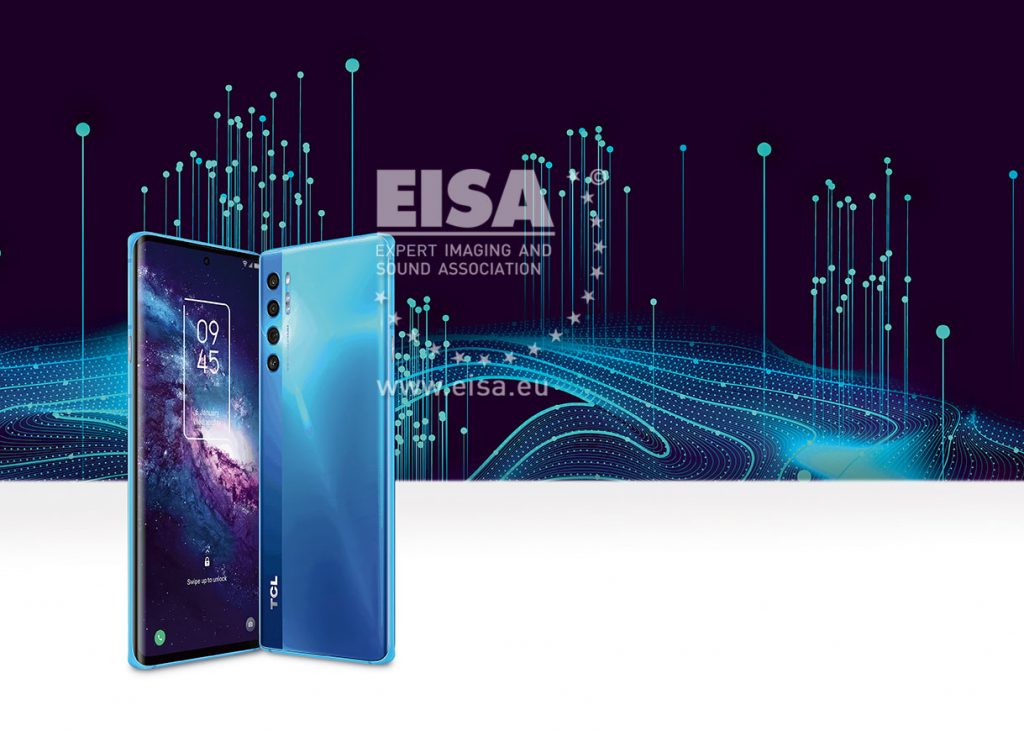 This season's best-value smartphone, TCL's 20 Pro 5G incorporates premium features not offered by any competitor in this price range. With its excellent build quality, 6.67in curved AMOLED HDR screen, wireless-charging 4500mAh battery and rear-mounted triple-camera array, it has the feel of a flagship model. The user experience is rewarding, be it the impressive brightness of its display, photographic quality or the slick nature of its 8nm Snapdragon 5G processor and 6GB of RAM architecture. Bold styling and a robust design also contribute to the 20 Pro 5G's appeal. This an affordable and extremely reliable entrance to the speedy world of 5G technology.
EISA BEST FOLDABLE SMARTPHONE 2021-2022
Huawei Mate X2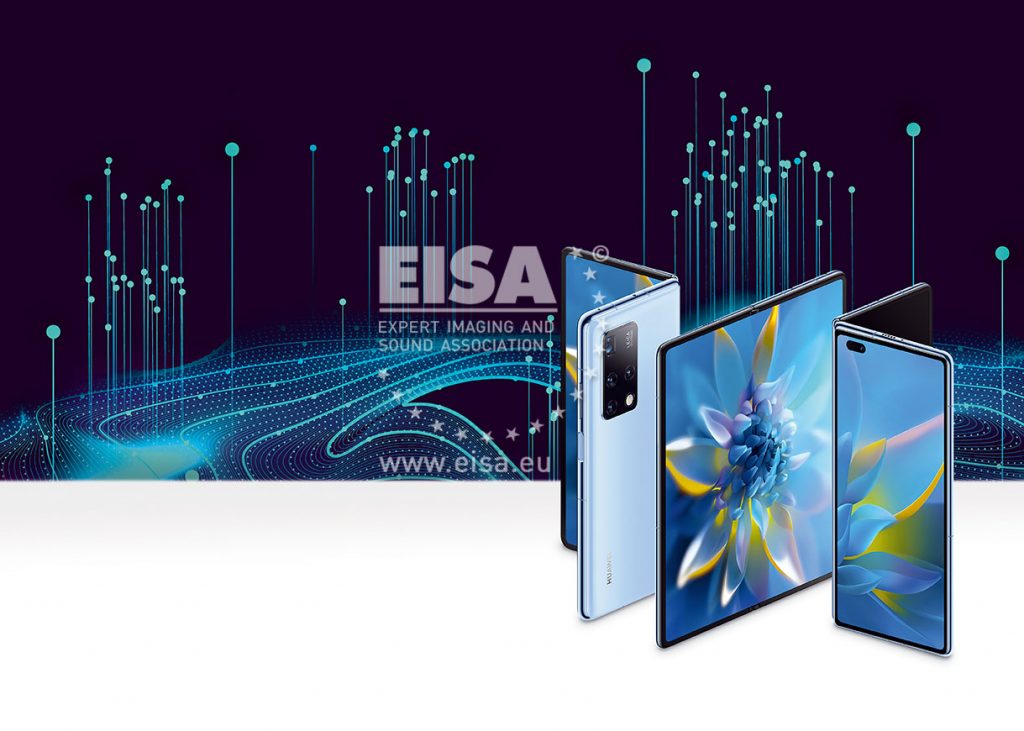 At the leading edge of smartphone design, you'll find Huawei's remarkable Mate X2. Thanks to its stunning inward-folding OLED display, it's possible to pack a gorgeously large, bright and sharp 8in screen in your pocket, and the folding mechanism impresses, leaving the surface of the display perfectly straight and the device feeling smooth in your hand. On the hardware-side, the Mate X2 matches its innovative form factor with state-of-the-art technologies, including the latest Kirin 9000 5G chipset in conjunction with 8GB of RAM and a 4500mAh battery. Furthermore, with its quad-camera system that includes both ultrawide and 10x optical zoom lenses, this smartphone can be considered a complete package – and one that will leave everyone breathless.
EISA WIRELESS HEADPHONES 2021-2022
Philips Fidelio L3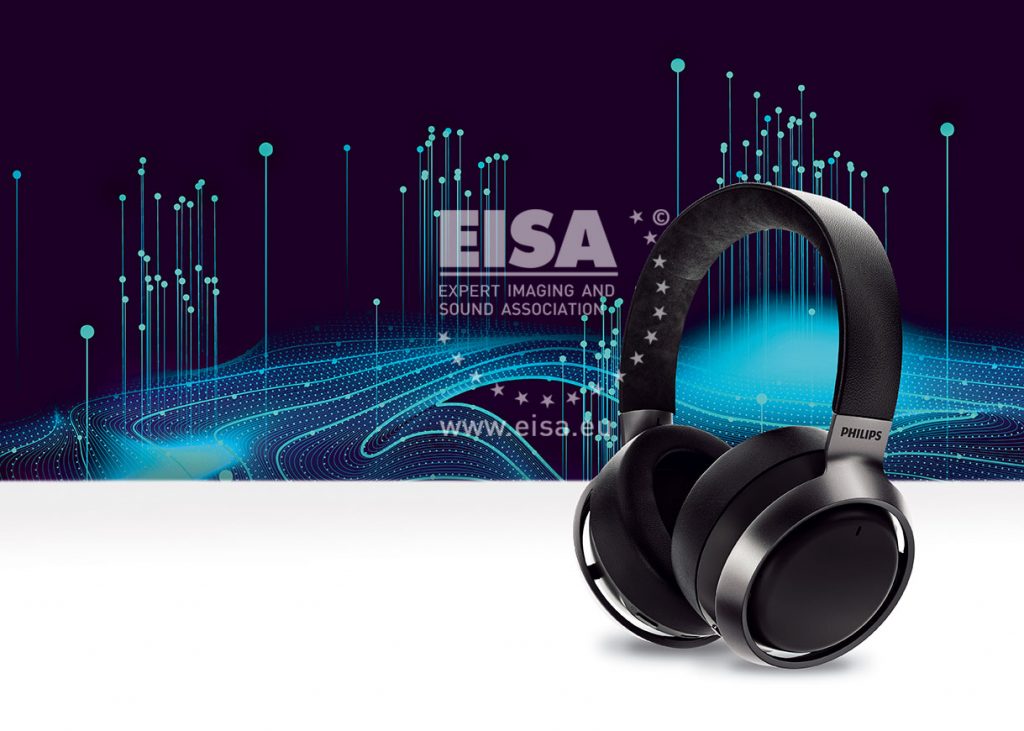 Wearing the Fidelio L3, the top-of-the-range headphone in Philips' relaunched Fidelio range, is like being wrapped in a tender hug – a stylish and well-built over-the-ear design, it offers an incredible balance of beauty, efficiency and sound quality. The active noise cancellation (ANC) system, based on a hybrid design with dual microphones, works superbly and is completely transparent. Meanwhile, the frequency extension of the headphone's 40mm drivers is surprising, with powerful but perfectly controlled bass, extremely low distortion and a tonal balance that doesn't alter with ANC in play. It's an unfatiguing sound that encourages long listening sessions, something helped by the Fidelio L3's comfortable design and long battery life. You won't want to take it off.
EISA SMARTWATCH 2021-2022
Huawei Watch 3 Pro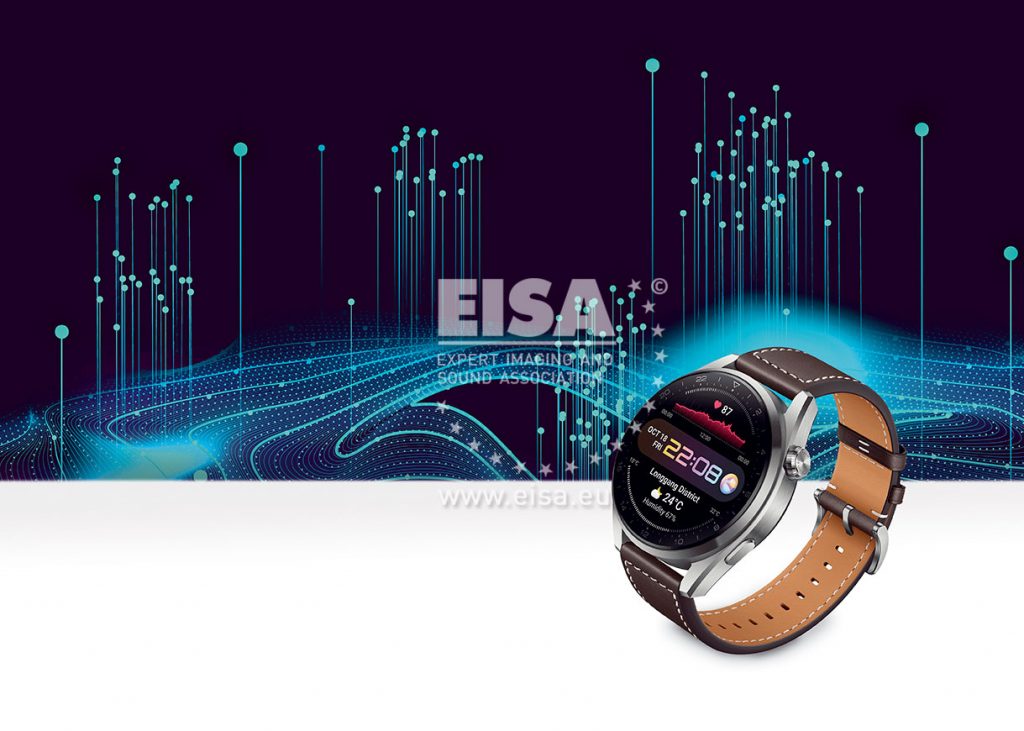 The Watch 3 Pro is Huawei's first smartwatch based around its proprietary HarmonyOS. This advanced operating system brings with it a host of applications and features, including heart rate and blood oxygen level monitoring, stress testing and drop detection, and ready-made programs for 100 different workouts. It can also work as a smartphone via its compatibility with eSIM, and packs an integrated speaker to be used with apps including Tidal and MyTuner Internet radio. On your wrist it looks superb, courtesy of a titanium body around its 1.43in AMOLED screen, the latter protected by a curved 3D sapphire-crystal glass that gives it an air of modern elegance.
EISA IN-EAR HEADPHONES 2021-2022
LG TONE Free FP8 (DFP8, UFP8, DFP8W, FP8W, UFP8W, FP8E, TFP8E)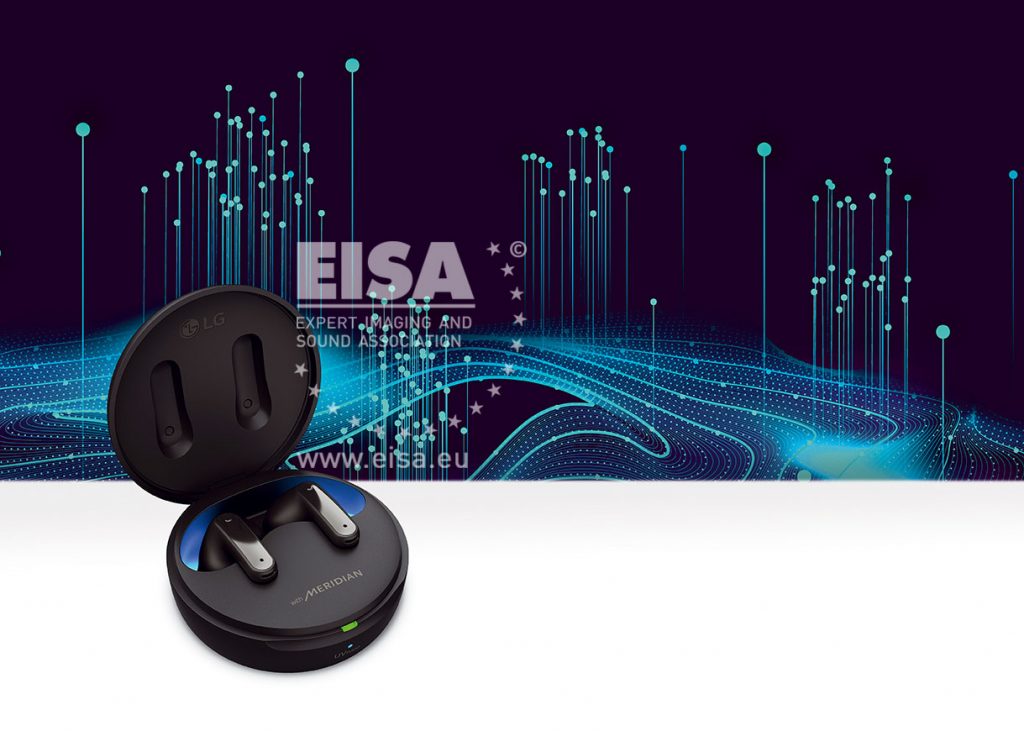 Designed in partnership with Meridian Audio, LG's TONE Free FP8 true wireless earbuds offer a mix of welcome features and impressive performance. Affordably priced, with a 10-hour battery life and instant smartphone pairing over Bluetooth 5.2, these deliver a clear sound with voice calls and full-range clarity with music from their 8mm hybrid (silicon/Nomex) drivers. Active Noise Cancellation is effective, as is the FP8's bass response, and the earbuds fit comfortably for long listening sessions. When not in use, they can be recharged in LG's smart-looking UVNano case, which sanitises them via a UV LED for peace of mind. This is a forward-thinking design matching style with real substance.
EISA MOBILE SPEAKER 2021-2022
We. by Loewe We. HEAR 2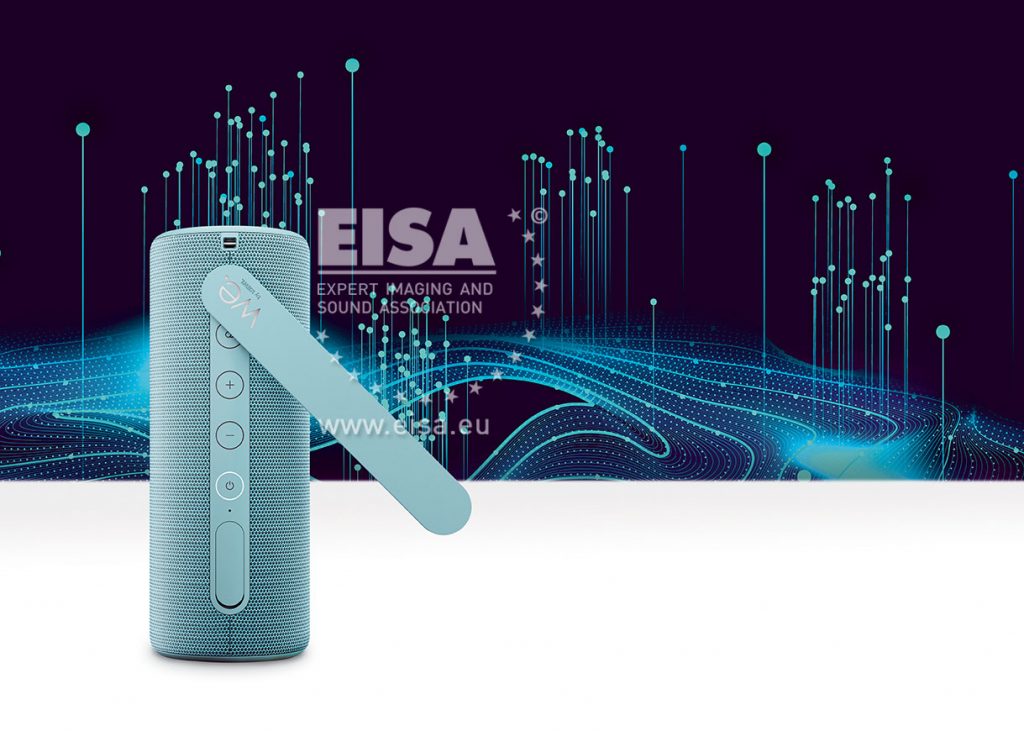 As we expect from We. By Loewe's products, the portable We. HEAR 2 speaker is tastefully designed and looks gorgeous. It's available in four different colours, so you can pick the one that fits your interior – or exterior, since the speaker is IPX6-rated to be water/dust-proof. Controls for volume and Bluetooth-pairing are cleverly housed behind its anti-roll-stand, and its sound performance is clean, detailed and punchy, with ample volume to get your party started. Charging via USB-C fully replenishes the We. HEAR 2's 15-hour battery in around 4-5 hours. The robust cylindrical chassis is designed to be positioned both horizontally or upright, or attached to the included adjustable belt for music on the move.
EISA IN-CAR ELECTRONICS AWARDS 2021-2022
EISA IN-CAR HEAD UNIT 2021-2022
Kenwood DMX8020DABS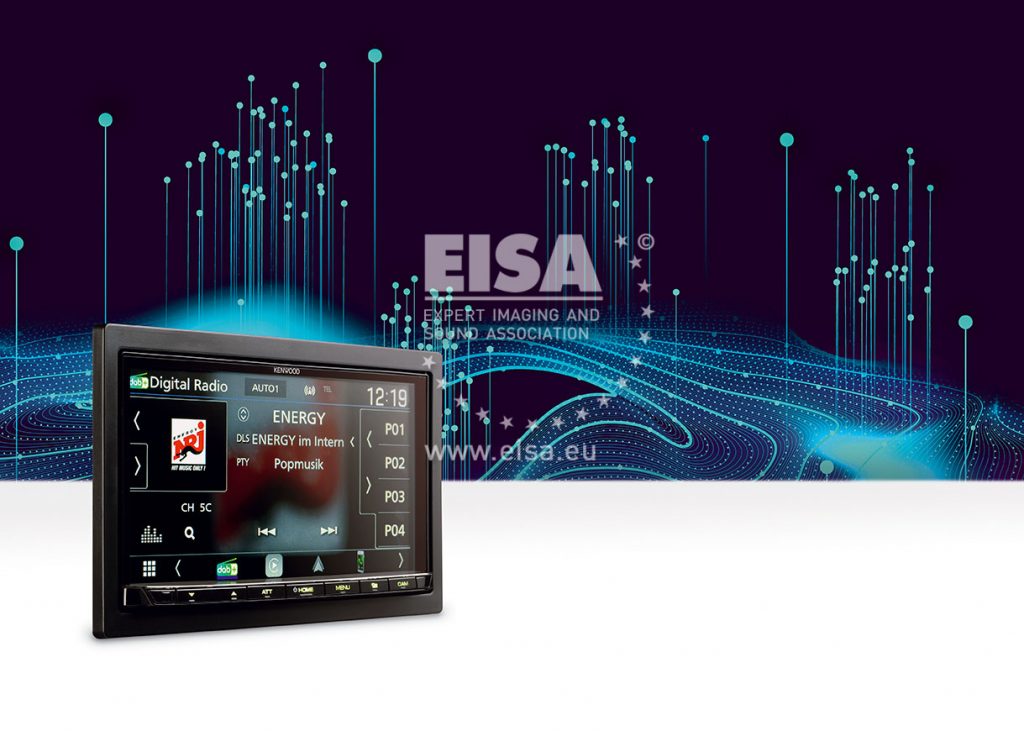 Kenwood's DMX8020DABS offers almost everything you could hope for from a modern head unit. Smartphone integration and use of familiar apps and services is easy with built-in Wi-Fi, Android Auto, Apple CarPlay and wireless screen mirroring. Music playback, meanwhile, benefits from its advanced DSP and 13-band equaliser, time alignment and crossover settings for custom sound-tuning – there's also support for hi-res audio files to get the most from your speaker system, and versatile connectivity including three camera inputs and even connection for a Kenwood dashcam. For a futureproofed head unit that's both loaded with features and offers a high-quality audio performance, Kenwood's DMX8020DABS should be your first choice.
EISA IN-CAR INTEGRATION 2021-2022
Zenec Z-E2055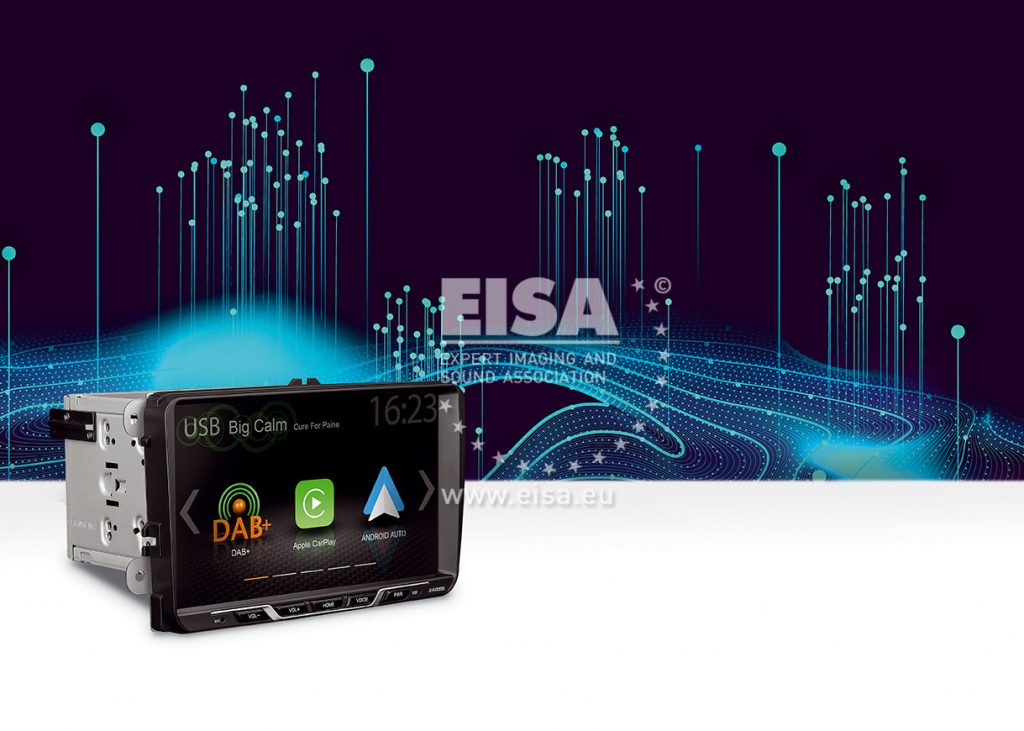 Zenec's Z-E2055 multimedia receiver brings next-generation infotainment to the dashboard of the Golf V, Golf VI and many other vehicles from the Volkswagen Group. It offers more features, improved operation and better sound quality than OEM systems, but importantly still supports all the original functions of the car. The capacitive, touch-sensitive full-colour 9in display acts as the window to the Z-E2055's dizzying array of talents, from EQ of its 4x50W audio system to parking sensor and climate control integration. Connectivity includes Bluetooth, Android Auto, Apple CarPlay, HDMI and USB, all made easy to use thanks its logical operating system.
EISA IN-CAR SPEAKER SYSTEM 2021-2022
Eton ONYX 16, ONYX 80, ONYX 28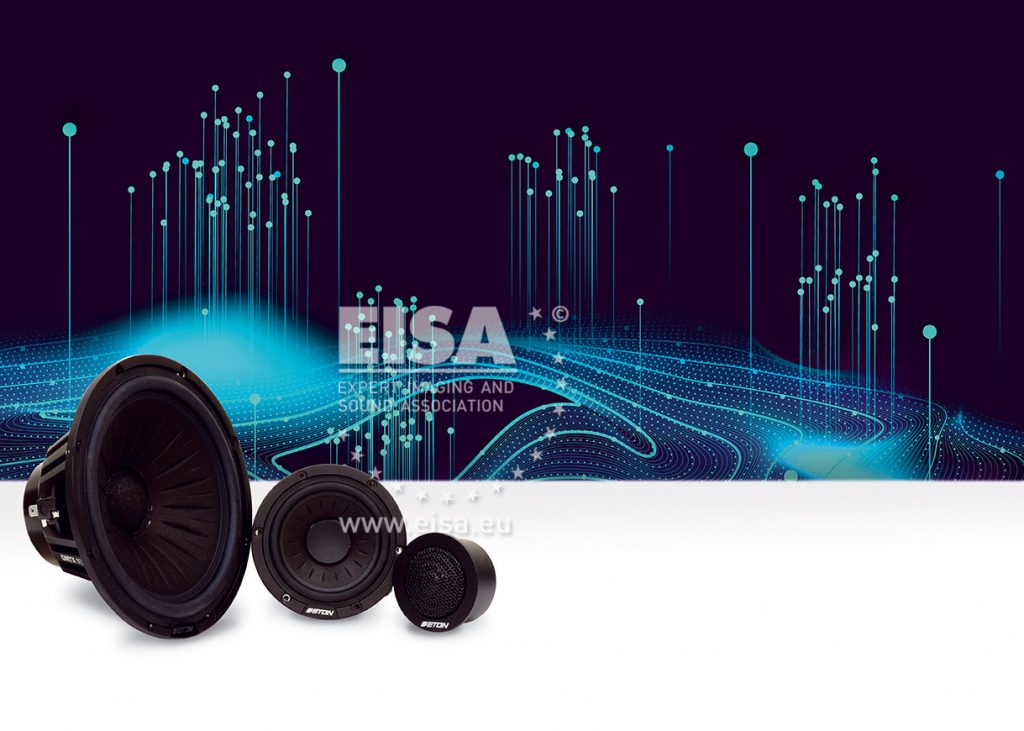 Like its gemstone namesake, Eton's ONYX series should catch the eye – or ear – of in-car enthusiasts. It's comprised of three separate high-end speaker drivers, all engineered for a premium performance. Both the 80mm ONYX 80 midrange and 165mm ONYX 16 bass/mid driver use ribbed paper cones, neodymium magnets and ultra-stiff aluminium die-cast baskets, while the ONYX 28 hand-coated fabric dome tweeter is housed in a flush-mountable enclosure with vented rear chamber. Each is designed for the highest musical performance, but are meant, of course, to be used together. Combine them in three-way active speaker system to get the ultimate high-end sound experience.
EISA IN-CAR SPEAKER SERIES 2021-2022
Ground Zero Uranium SQ
The loudspeaker packages and individual component options in Ground Zero's expansive mid-level Uranium SQ range are an excellent choice for those seeking to build a high-quality in-car system without breaking the bank. Depending on specific needs, enthusiasts can choose from passive and active two-way and three-way configurations all based around a 165mm aluminium cone woofer and 28mm dome tweeter, or cherry-pick from Ground Zero's series of separates – which includes 60mm full-range and 80mm midrange units – to assemble a bespoke solution. Capable of an audio performance with excellent resolution and tonality, plus authoritative bass, the Uranium SQ line-up lets you design the perfect system for your car and budget.
EISA IN-CAR SOUND PROCESSOR 2021-2022
ESX D68SP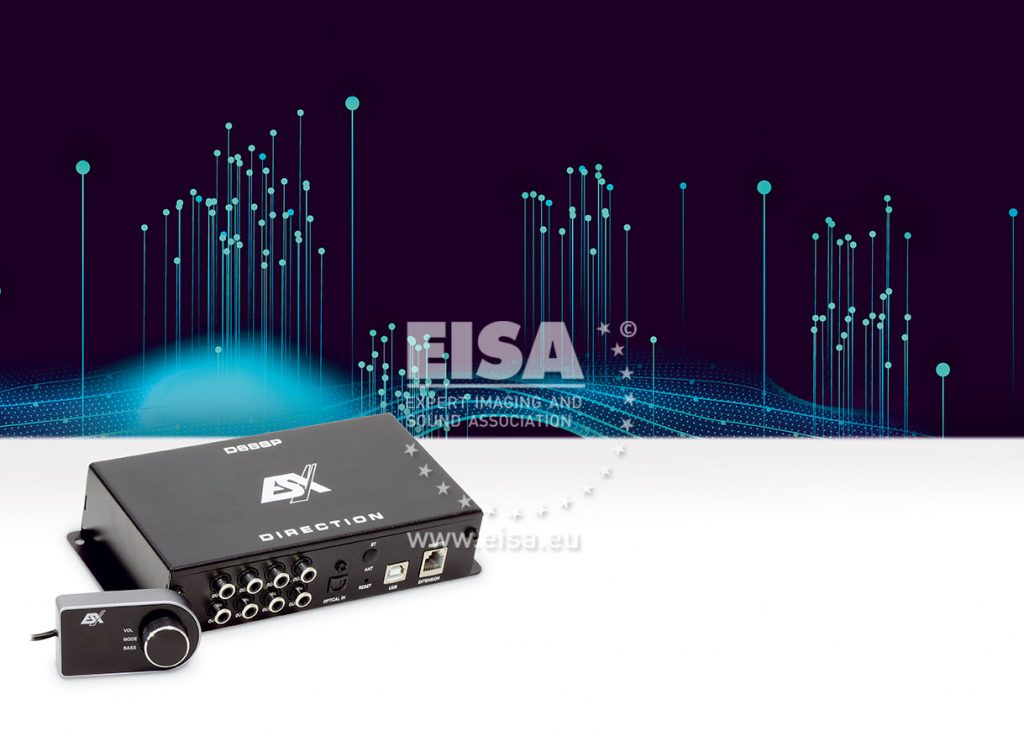 Demanding audiophiles are the target of ESX's superior D68SP digital audio processor. This class-leading eight-channel output device makes skillful use of high-grade components, including an AKM 'Velvet Sound' DAC and 295MHz/32-bit Analog Devices DSP, to deliver a sublime performance. There's deep customisation potential, too, thanks to newly designed PC-based software that gives precise, detailed adjustments of its multiband EQ, subwoofer control and more. Opt for ESX's BT-D Bluetooth (5.0) upgrade and real-time control – plus hi-res audio streaming – can be marshalled by a smartphone. High-performance but still eminently affordable, this is a processor that will appeal to any car audio enthusiast.
EISA IN-CAR INNOVATION 2021-2022
Audiotec Fischer Conductor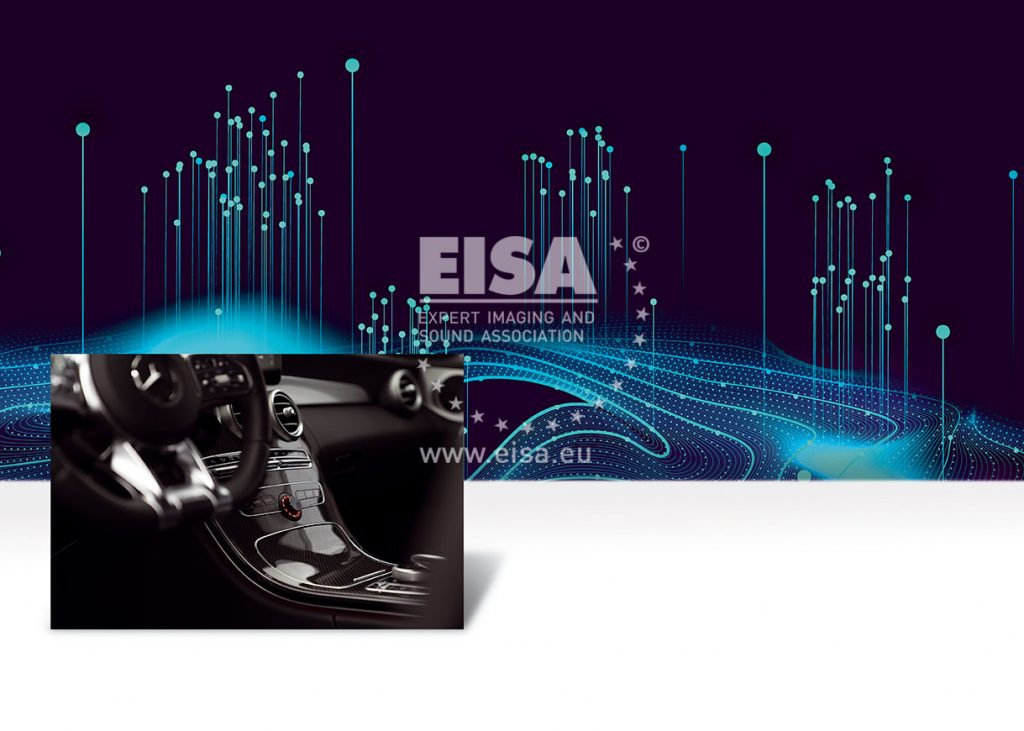 Simply calling Audiotec Fischer's Conductor a 'knob' doesn't do it justice. A simple but very useful add-on for a car's audio system, it's a specialised multifunction control that operates in conjunction with DSP products from the Match, Helix and Brax brands. Once installed, it provides easy, tactile access to up to four independent volume adjustments, plus sound mode and source selection, and can also govern playback of a streaming device via Audiotec Fischer's optional Bluetooth extension card. Functionality is widely configurable, making bespoke operation a breeze, and its design is smart yet unobtrusive. Owners may well wonder how they used to live without it.
EISA IN-CAR DSP AMPLIFIER 2021-2022
Match UP 10DSP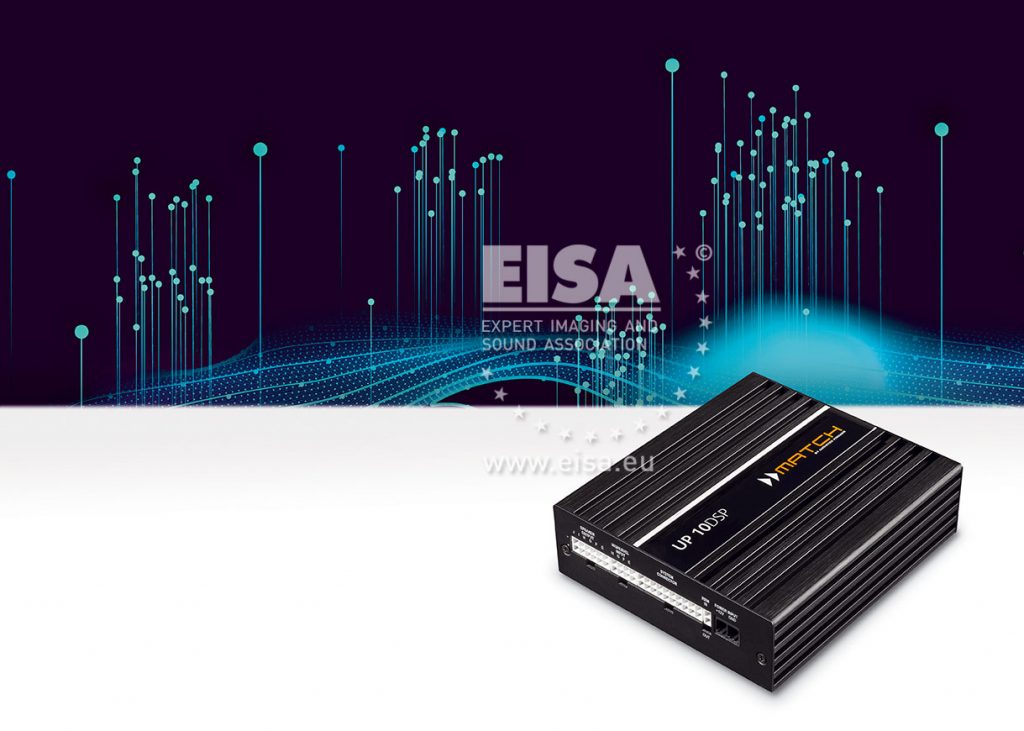 The most powerful model in the Match DSP amplifier range, the UP 10DSP delivers a thrilling performance upgrade on your multichannel in-car audio experience. Its ADEP.3 high-level input provides a safe, simple connection to any OEM system, with different installation kits available, while user-friendly but pro-grade DSP PC-Tool software then takes control of setup. The UP 10DSP's compact enclosure barely hints at the brains and brawn inside – a highly efficient Class GD 10-channel amplifier, premium D/A and A/D converters, and feature-packed 11-channel 64-bit DSP, the latter providing a range of clever functions including Augmented Bass Processing for subwoofer alignment, and StageXpander to engineer a wide soundfield. This is a real do-it-all amp for those that want the best-in-class.
EISA IN-CAR CAMPER VAN COMPONENTS 2021-2022
Alpine Adventure Audio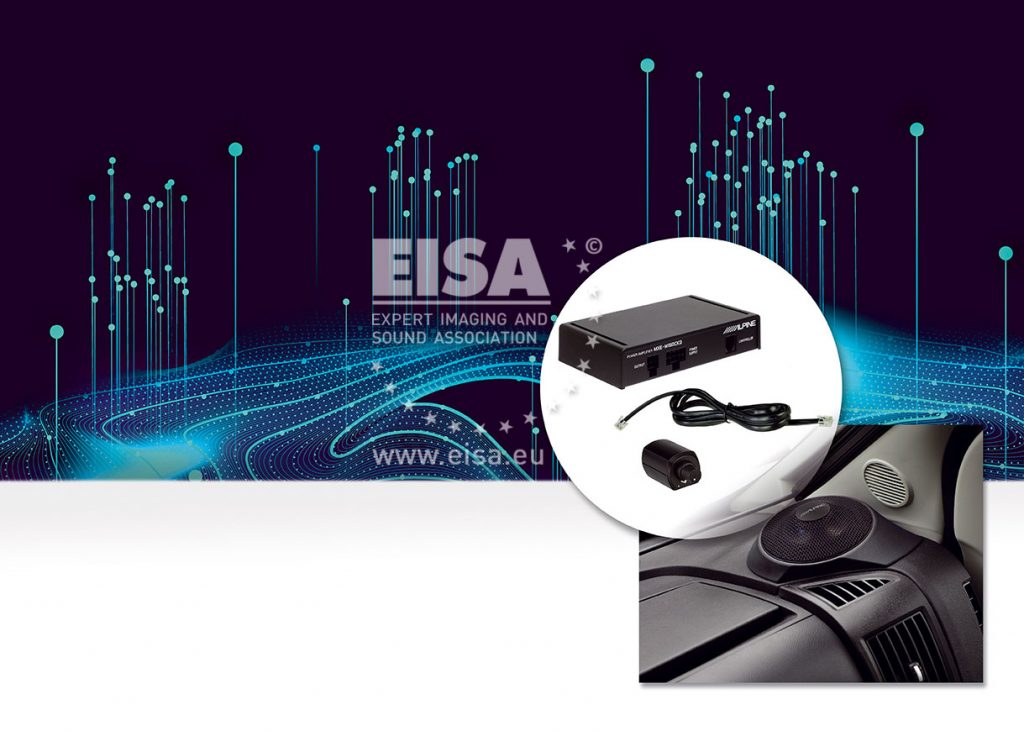 This scalable system from Alpine is designed for a camper van or motorhome, where there is often little space to accommodate a more traditional car audio setup. Providing a three-stage upgrade of the standard in-car platform of a Fiat Ducato or similar, Adventure Audio begins with new radial dashboard speakers styled to match the interior while improving soundstaging. The second upgrade is the SWC-D84S subwoofer, which discreetly installs within the cupholder cabinet – this sub can then be paired to Alpine's compact 150W power amplifier if desired. Each step is plug-and-play, with all the required accessories supplied, resulting in a simple yet supremely effective method of bringing good sound quality to your 'on-the-road' home.
EISA IN-CAR COMPACT SUBWOOFER 2021-2022
Pioneer TS-WX010A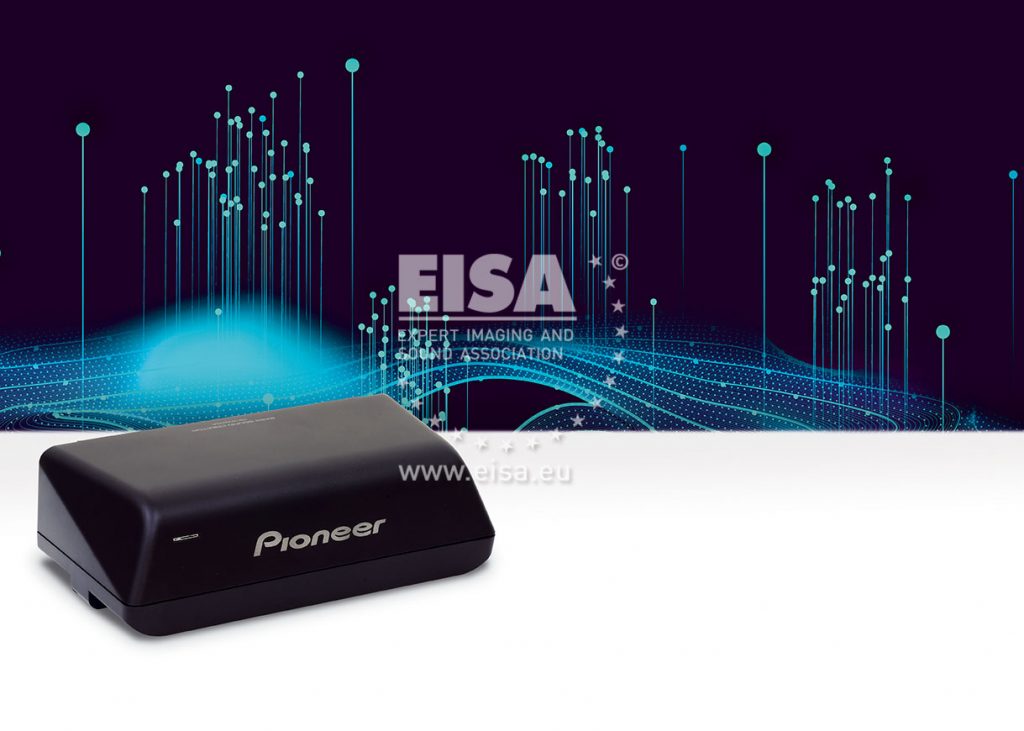 An ultra-compact – and affordable – active in-car subwoofer, Pioneer's TS-WX010A can be installed under seats, or even under a dashboard, and then easily connected to a wide range of OEM systems via the supplied installation kit. Within its 23cm-wide sealed enclosure (designed to be mounted horizontally or vertically) resides a highly efficient Class D amplifier driving a down-firing 168x79mm low-mass aluminium cone woofer. These combine to deliver a remarkable bass response for such a small device, and its size also facilitates placement for optimal performance, efficiency and SPL. The TS-WX010A is an excellent choice for upgrading the sound system of any compact car.
EISA IN-CAR OEM PREMIUM AUDIO SYSTEM 2021-2022
Maserati MC20 with Sonus faber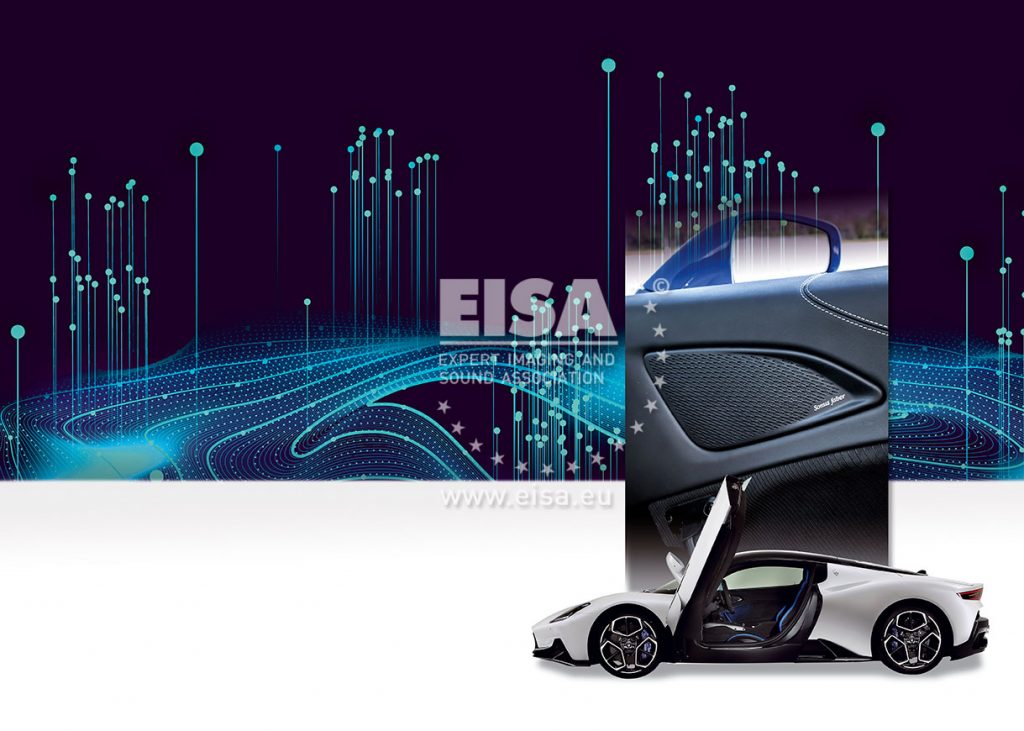 When Maserati sought a premium audio system for its MC20 sports car, it naturally turned to high-end marque, and fellow Italian brand, Sonus faber. The latter leveraged its sound tuning expertise to create a 12-channel system tailored to the environment of the twin-seat, mid-engine 3.0 litre V6 MC20 – collaboration between the companies meant optimal speaker positioning, particularly of the main three-way units within the doors, was defined during the engineering stage. The speakers then work in conjunction with custom EQ and real-time optimisation of a 695W-rated Class D amplifier, which also provides stereo and surround options. The result is an effortlessly musical performance that showcases power, subtlety and speed, much like the car itself.
EISA HOME-THEATRE VIDEO AWARDS 2021-2022
EISA 8K TV 2021-2022
LG 75QNED99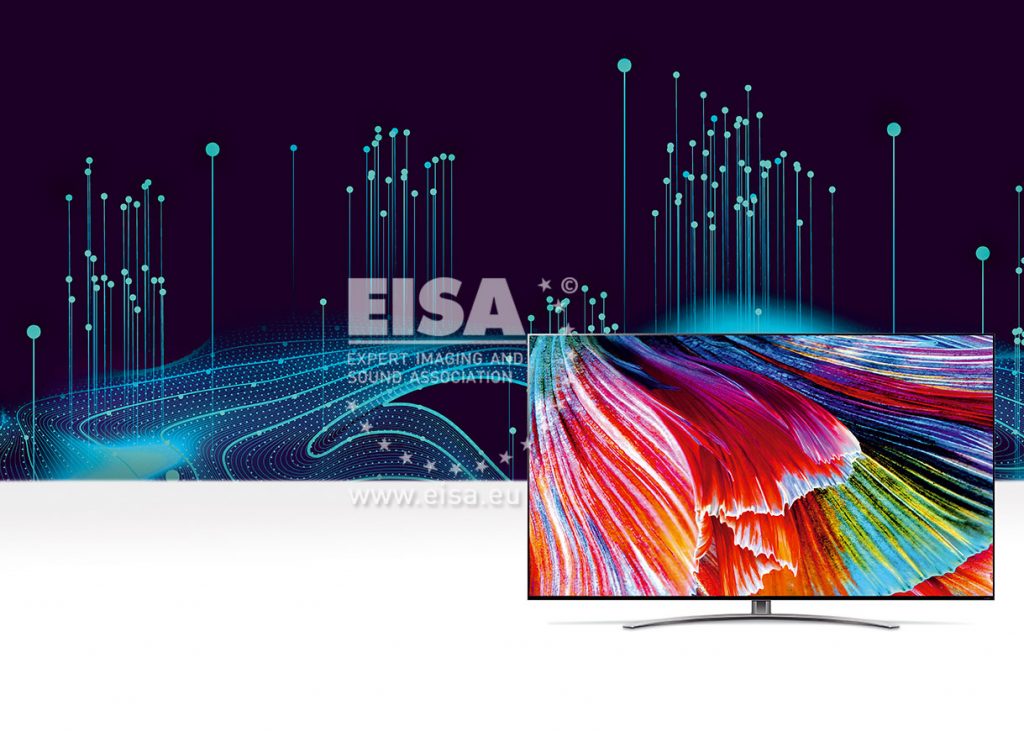 Deserving of its flagship status in LG's LCD TV lineup, the 75QNED99 emphasises the benefits of state-of-the-art mini LED backlighting technology, multizone local dimming, and 8K resolution on a crowd-pleasing scale. The TV's 75in Quantum Dot NanoCell panel exhibits impressive brightness, a wide contrast and vibrant colours, while LG's newly implemented backlight delivers precision illumination with HDR material that dovetails with the 75QNED99's ultra-sharp 8K presentation. This is a performance that brings a sense of cinema to movie night, but the set is a talented all-rounder too, suited to largescale gaming (with 4K/120Hz playback from compatible hardware) and streaming TV from LG's excellent WebOS 6.0 smart platform.
EISA BEST GAMING TV 2021-2022
LG OLED48C1
As gaming consoles and PCs become more advanced, utilising the latest in high frame rate and HDR technologies, gamers are seeking displays that can do them justice. The appeal of LG's OLED48C1 is that it accommodates all of the brand's next-generation video processing features in a 48in screen that's ideal for both a living room setup and a gaming den. In addition to 4K/120Hz support (including in Dolby Vision HDR) across all four of its HDMI inputs, this smartly styled OLED supports Variable Refresh Rates for stable, tear-free game play, plus Auto Low Latency Mode. LG's Game Optimizer setting then provides genre-specific presets to further tailor picture performance, while a lightning-fast response time means you're always one step ahead of the action.
EISA BEST PREMIUM OLED TV 2021-2022
LG OLED65G1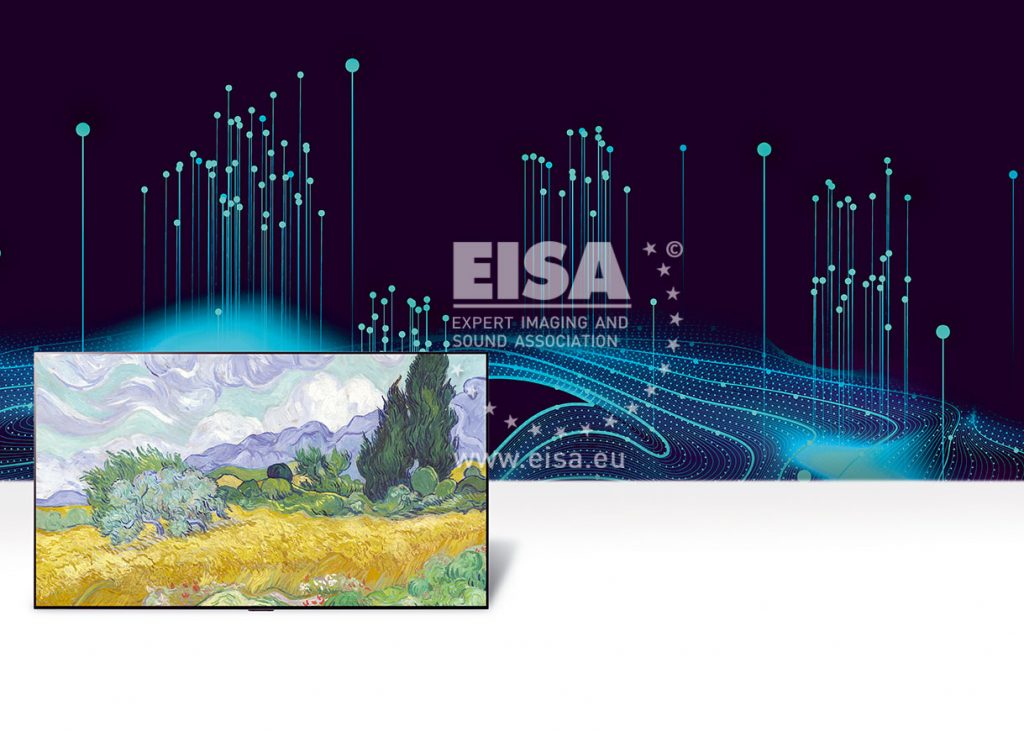 With the 65in G1, LG combines its Gallery Series design – which allows this super-thin TV to mount flush-fit to your wall – with a new brighter-than-ever Evo OLED panel. This joins with OLED technology's traditional black level strengths to deliver a 4K HDR image with dramatic contrast and vibrant, nuanced colours. Also key to its performance prowess is the latest generation of LG's Alpha9 processor, which further refines AI Picture Pro image optimisation, noise reduction and motion handling. Emphasising the TV's premium feel, meanwhile, is support for Dolby Vision IQ and Dolby Atmos audio, futureproofed HDMI connectivity (with 4K/120fps playback), and wide-ranging smart features. The OLED65G1 is a thrilling statement set.
EISA BEST BUY OLED TV 2021-2022
Philips 55OLED806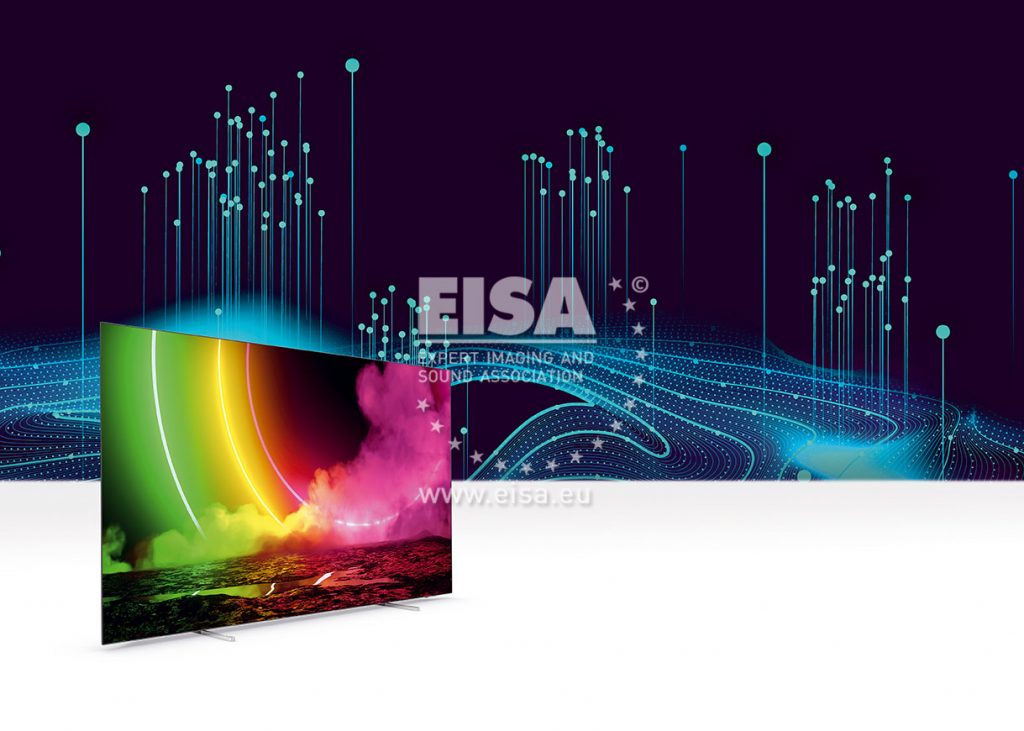 A superb-value 4K HDR TV, Philips' 55OLED806 introduces technology previously reserved for the company's high-end models, including four-sided Ambilight smart illumination and anti burn-in technology. These new talents partner HDR10+ and Dolby Vision playback, the app-laden Android 10.0 platform, and advanced HDMI specification to craft an OLED television with all-round appeal. Designed for gamers, streaming TV addicts and movie lovers (the latter benefiting from automated selection of Filmmaker Mode or Home Cinema Mode), this mid-range model serves up a stellar picture performance – all while cutting a fine figure in your living room courtesy of its ultra-slim bezel and customisable desktop feet.
EISA PREMIUM LCD TV 2021-2022
TCL 65C825 (65C821 & 65C822)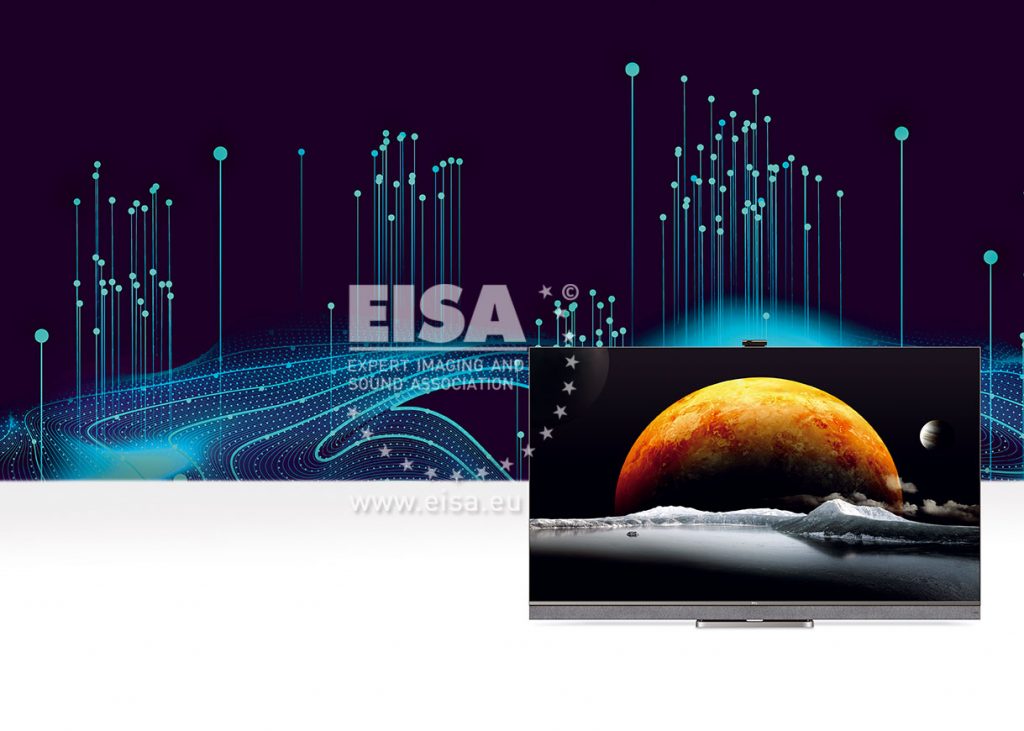 By replacing a conventional LCD backlight with a multi-zone dimming array comprising thousands of mini LEDs, TCL's flagship 65C825 4K TV ushers in a picture performance that belies its tempting price tag. Black levels and shadow detail are excellent, as is the precision of its HDR playback – Dolby Vision IQ and HDR10+ are both handled, while HDR10 is fine-tuned by Dynamic Tone Mapping. Beyond its cinematic visuals, this mini LED TV ticks plenty of other boxes, from a sound system designed in collaboration with Onkyo that provides largescale, full-range audio, to its Android smart platform and compatibility with next-generation games consoles. Approached from any angle, the 65C825 is a TV triumph.
EISA BEST HOME THEATRE TV 2021-2022
Philips 65OLED936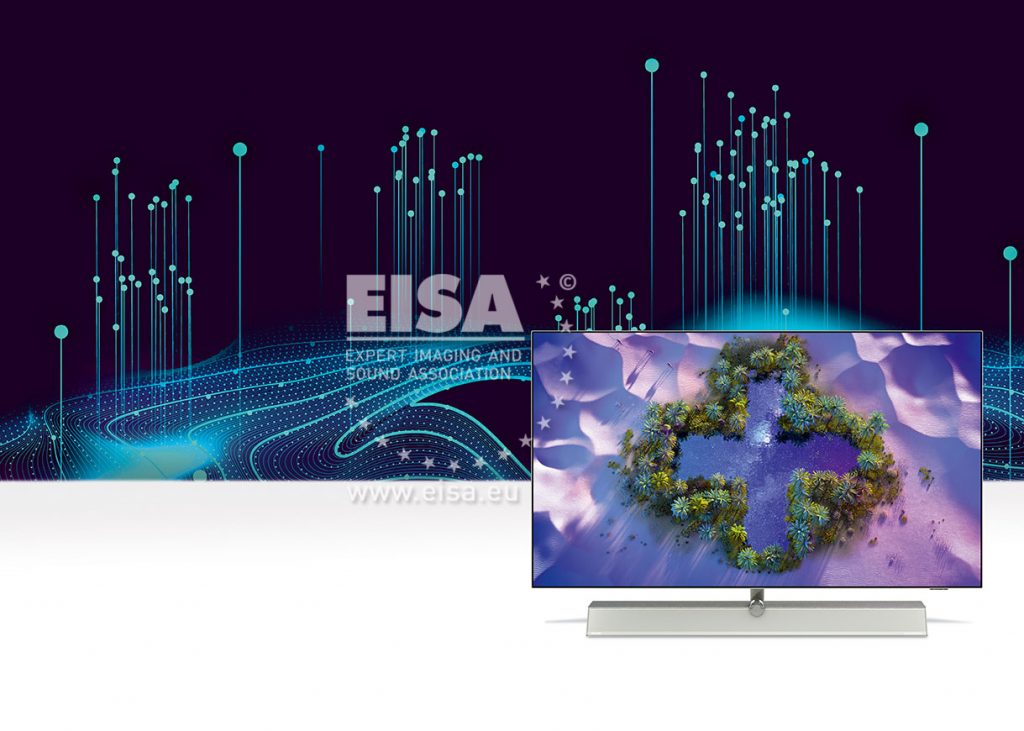 The 65OLED936 is a TV worthy of its flagship positioning, offering exemplary images, blockbuster audio and employing Philips' most advanced image engine. The latter works in unison with the latest OLED panel and a suite of well-judged picture modes to present a first-rate picture, with professional-grade calibration an option. Yet it's the sound that most marks this 65in TV out as the one to beat. The integrated speaker system, once again engineered by audio specialist Bowers & Wilkins, features an upgraded 3.1.2 driver array, resulting in a Dolby Atmos experience with a rarefied sense of space, detail and clarity, plus a rich, robust bass response. More than just a TV, Philips' 65OLED936 is a complete home theatre package.
EISA LASER TV PROJECTION SYSTEM 2021-2022
BenQ V7000i/V7050i and ALRS01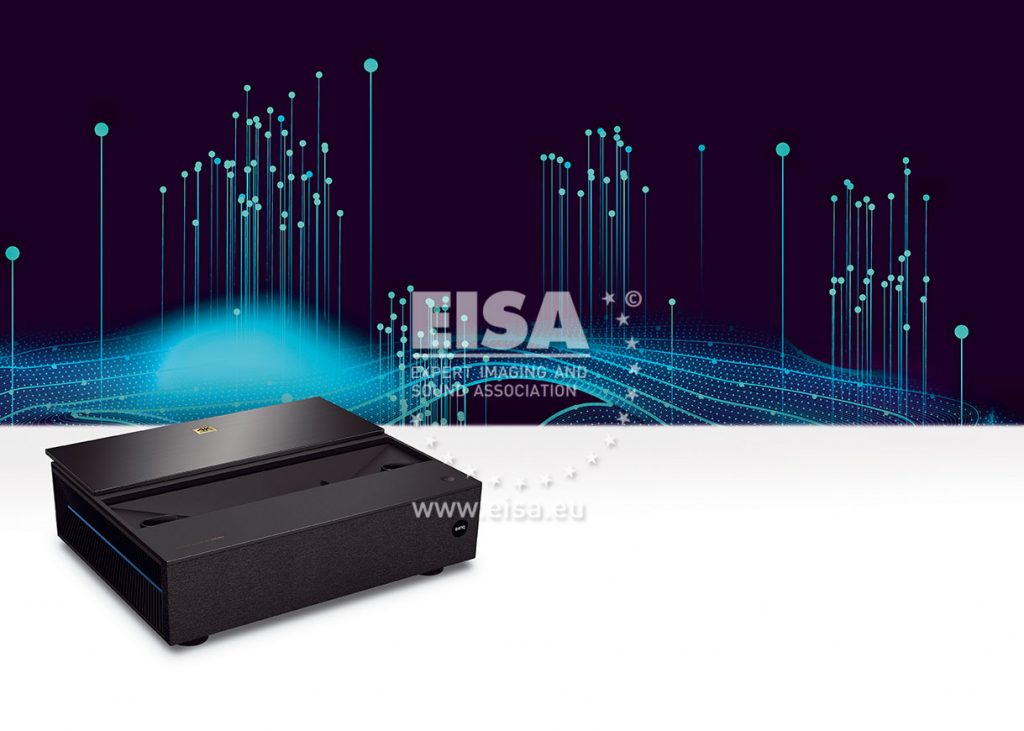 Mixing the super-sized visuals of a traditional projector with the user-friendly installation and operation of a TV, BenQ's V7000i (white chassis) and V7050i (black) offer convenient, high-quality home theatre thrills. Setup is a breeze, thanks to an integrated focus pattern, measuring tool and keystone correction, while a bundled dongle introduces Android TV for video-on-demand apps, voice control and more. Build quality and styling are luxurious, audio performance from the front-facing stereo speaker array is clear and robust, and 4K HDR playback benefits from naturalistic colours, crisp images and vibrant contrast – particularly when used with BenQ's optional 100in ALR (Ambient Light Rejection) screen. This is a superior all-in-one solution.
EISA BEST BUY LCD TV 2021-2022
TCL 55C728 (55C727 & 55C729)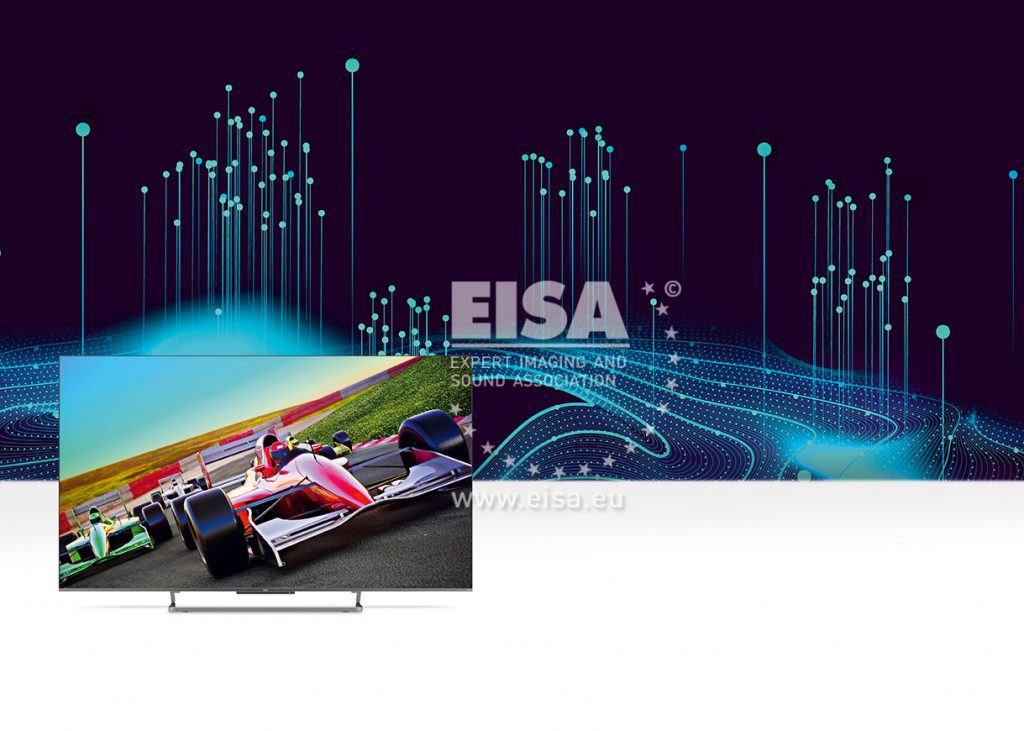 TCL's 55in 55C728 fulfils the brief of an affordable 4K TV. The set itself offers a slim-bezel styling with a discreet stand, while its features roster includes HDMI 2.1 connectivity, the Android TV OS – upgradable to Google TV later this year – and Dolby Vision IQ HDR and Dolby Atmos audio support. Importantly, however, it backs up this appealing specification with a picture quality that's a cut above the price point. TCL's direct-lit QLED panel delivers a detailed, wide-colour performance with expressive contrast, bringing film, TV and gaming content to life. The integrated Onkyo-designed speaker system provides a punchy sonic accompaniment. Those seeking a versatile, living-room friendly flatscreen that won't break the bank should look here.
EISA BEST BUY PROJECTOR 2021-2022
XGIMI HORIZON Pro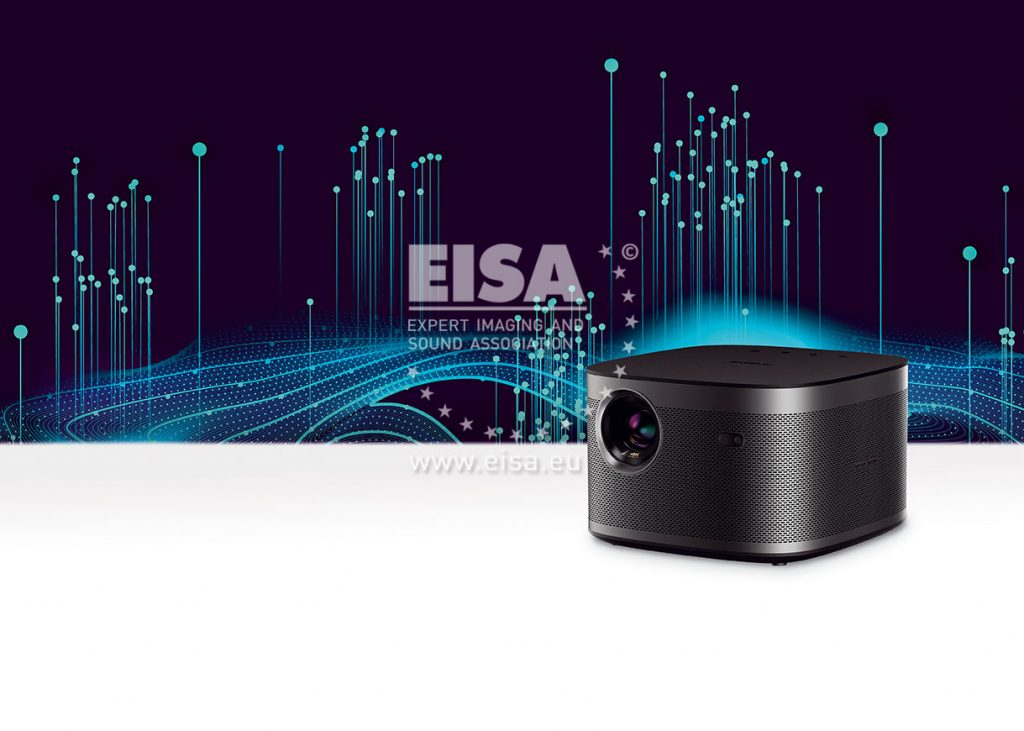 XGIMI's innovative HORIZON Pro – a compact, easily portable 4K HDR model with Android TV smart talents – offers a plug-and-play user experience and the ability to be installed almost anywhere. Automated focus and keystone correction are joined by intelligent 'obstacle avoidance' to adjust its image to fit any wall surface, plus automatic alignment for use with a dedicated screen. Pictures, delivered by a 2200 Lumens LED light source, are sharp, bright and intensely coloured. Generous connectivity includes Wi-Fi and Bluetooth for streaming sources, HDMI for Blu-ray playback and a digital audio output for hook-up to an external sound system – although the performance of the Horizon Pro's own Harman/Kardon speakers is worthy of praise.
EISA FAMILY TV 2021-2022
Hisense 65U8GQ
The 65U8GQ underscores Hisense's appreciation of what makes a modern flatscreen a genuine all-rounder. A ULED model with full array local dimming of its Quantum Dot panel, this 65-incher implements the brand's superb, easy-to use VIDAA U5 smart OS, meaning a wide-ranging selection of video-on-demand apps and content recommendations are just a remote-click away – or requested via the TV's in-built Alexa and Google Assistant voice control. Console gamers are catered for by the 65U8GQ's support of VRR and ALLM on all HDMI inputs, while film fans can soak up its cinematic playback of 4K HDR sources in both Dolby Vision and HDR10+. This is a highly impressive set at a tempting price.
EISA HOME THEATRE PROJECTOR 2021-2022
Sony VPL-VW590ES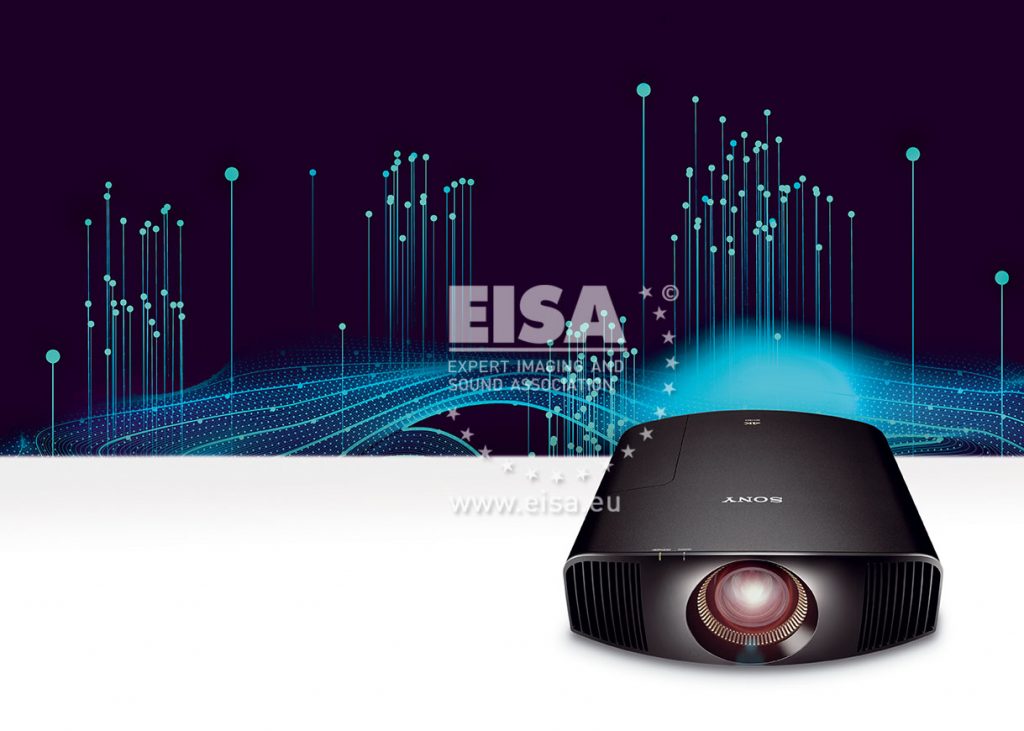 Occupying the sweet-spot in the current Sony home theatre range, the VPL-VW590ES benefits from the action of a dynamic iris while retaining the affordability of lamp-based projection. Key to its premium status is the use of genuinely native 4K optics without recourse to mirror-switching – it employs a trio of 4096×2160-resolution SXRD panels, able to deliver both white and colour to the maximum available brightness of 1800 Lumens. Sony's new 'X1 For Projector' processor, based upon technology from its Bravia TVs, delivers frame-by-frame HDR enhancement, 4K Motionflow, and Super Resolution upscaling. The result is largescreen projection images of truly cinematic quality, with spectacular detail and deep contrast.
EISA PREMIUM UST PROJECTOR 2021-2022
Samsung The Premiere LSP9T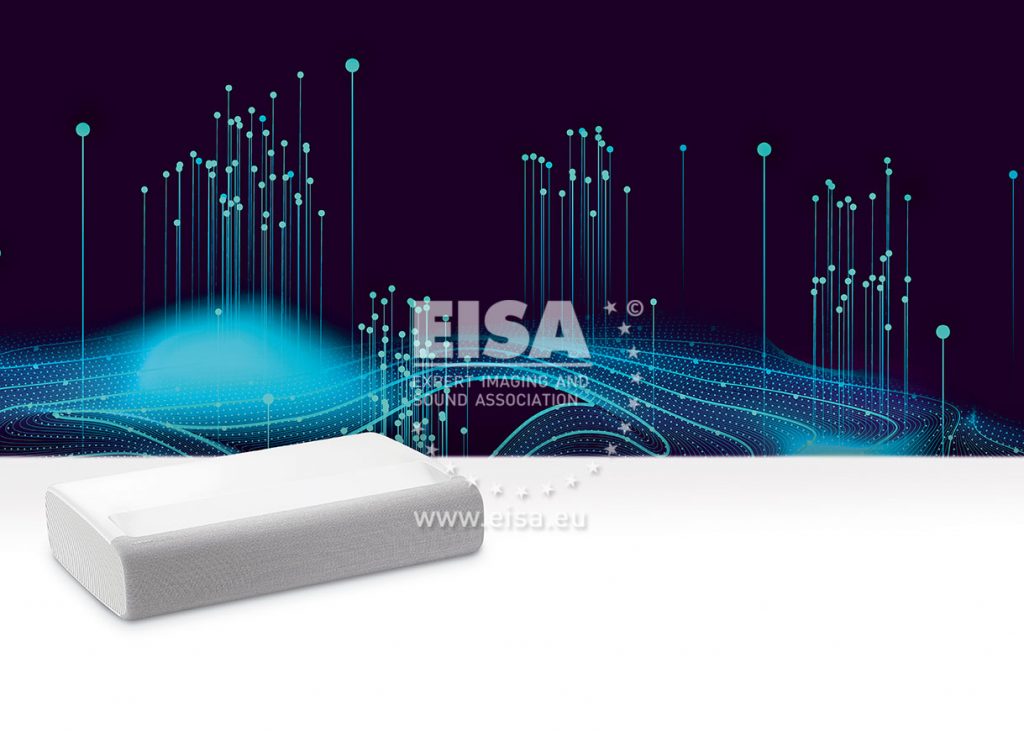 Within the LSP9T projector's well-dressed chassis, Samsung unites state-of-the-art imaging technology with an enjoyably immersive 4.2-channel sound system, TV tuner and a sophisticated smart platform. Movie, television, app and gaming sources are all ready for the big screen experience, and it's one delivered with panache. A triple-laser light engine generates a colour space far in excess of DCI-P3, yielding best-in-class colour finesse with 4K HDR (including HDR10+) sources, while motion handling and image sharpness also excel. Feature-laden and high-performance, this the best example yet of how an ultra-short-throw projector can effectively replace a conventional flatscreen TV.
EISA HOME THEATRE AUDIO AWARDS 2021-2022
EISA SOUNDBAR INNOVATION 2021-2022
LG Eclair QP5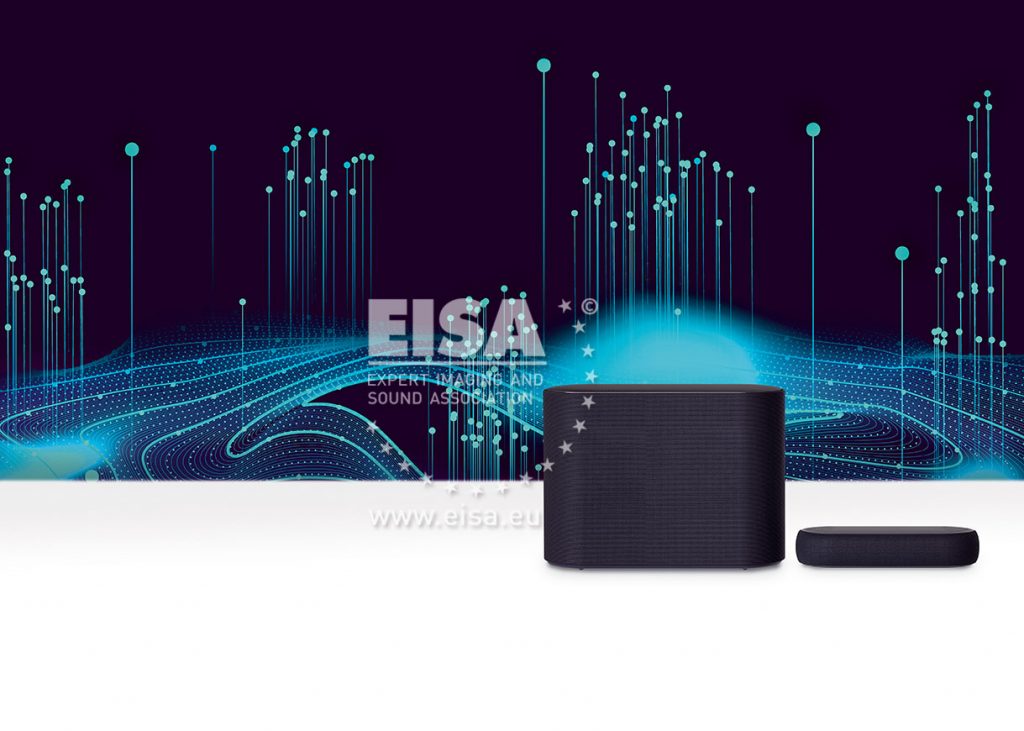 Ideal for installation in a living room, bedroom or games den, LG's Eclair QP5 features an ultra-compact soundbar enclosure that can be installed almost anywhere, yet manages to incorporate a five-driver system with dedicated Dolby Atmos height speakers. In conjunction with the Eclair QP5's wireless, style-matched subwoofer – which features twin 5.25in bass drivers in a vibration-cancelling bipolar configuration – the result is a 3.1.2 soundstage that plays bigger and bolder than the cabinet dimensions suggest. HDMI 2.1 eARC connectivity, DTS:X playback and AI-assisted real-time audio tuning, plus intelligent interaction with LG's TV range, all add to the allure of this innovative sound system.
EISA COMPACT SUBWOOFER 2021-2022
SVS 3000 Micro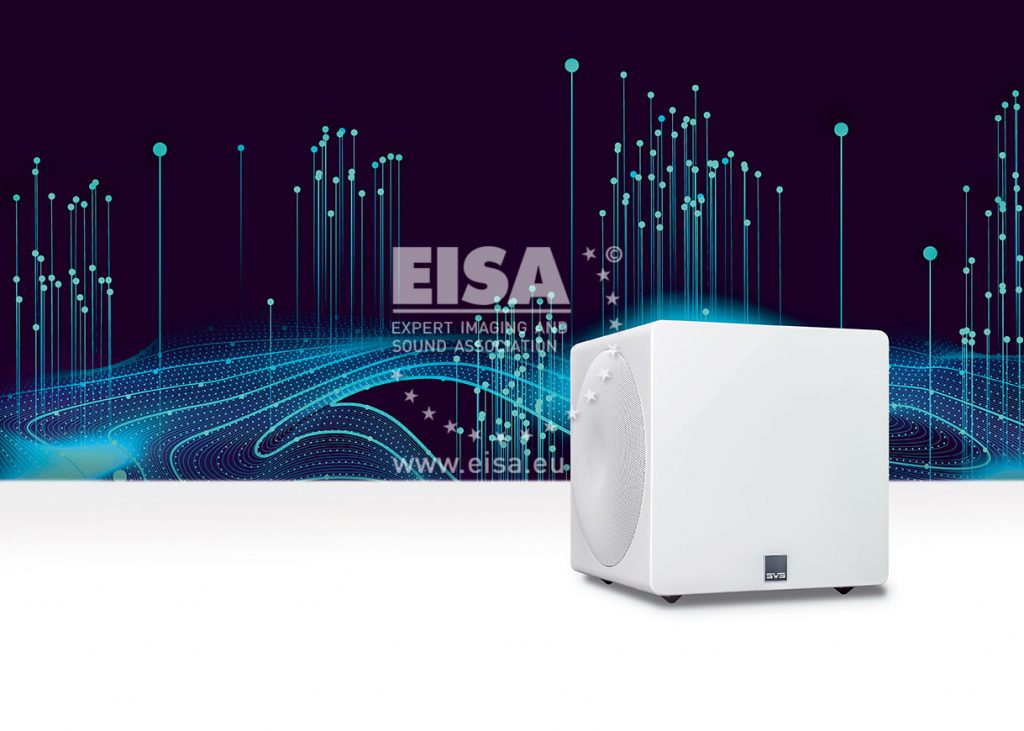 Other models in SVS's 3000 series use a single, large woofer in a sealed or ported enclosure. Here, however, the US bass specialist has introduced its smallest ever subwoofer driver (an 8in aluminium cone), and fitted two of them within a new, rock-solid cabinet measuring less than 30cm in all directions. The 3000 Micro is therefore destined for use in space-starved home theatres and living rooms, while still delivering the performance that brand fans will expect. Its onboard 800W-rated Sledge DSP amplifier keeps a tight rein on proceedings, allowing this sub to mix control and subtlety with brute force when needed. Factor in the affordable price tag and it's a clear category winner.
EISA HOME THEATRE RECEIVER 2021-2022
Yamaha RX-V6A
Yamaha's seven-channel networked AV receiver comes to your kit rack boasting a gorgeous all-new design philosophy and seven-input/one-output HDMI stage that's ready for advanced gaming consoles and the 8K video sources of the future. And while implementing an array of smart features, including allowing its MusicCast multiroom speakers to be used as wireless surrounds, Yamaha hasn't turned attention away from performance. Propelled by revised high slew-rate amplification and proprietary Cinema DSP, the RX-V6A crafts spacious, detailed and immersive soundfields with Dolby Atmos and DTS:X sources, while applying upmixing polish to stereo and multichannel material. This is a brilliant, forward-thinking addition to the brand's AVR fleet.
EISA COMPACT SOUNDBAR 2021-2022
JBL BAR 5.0 Multibeam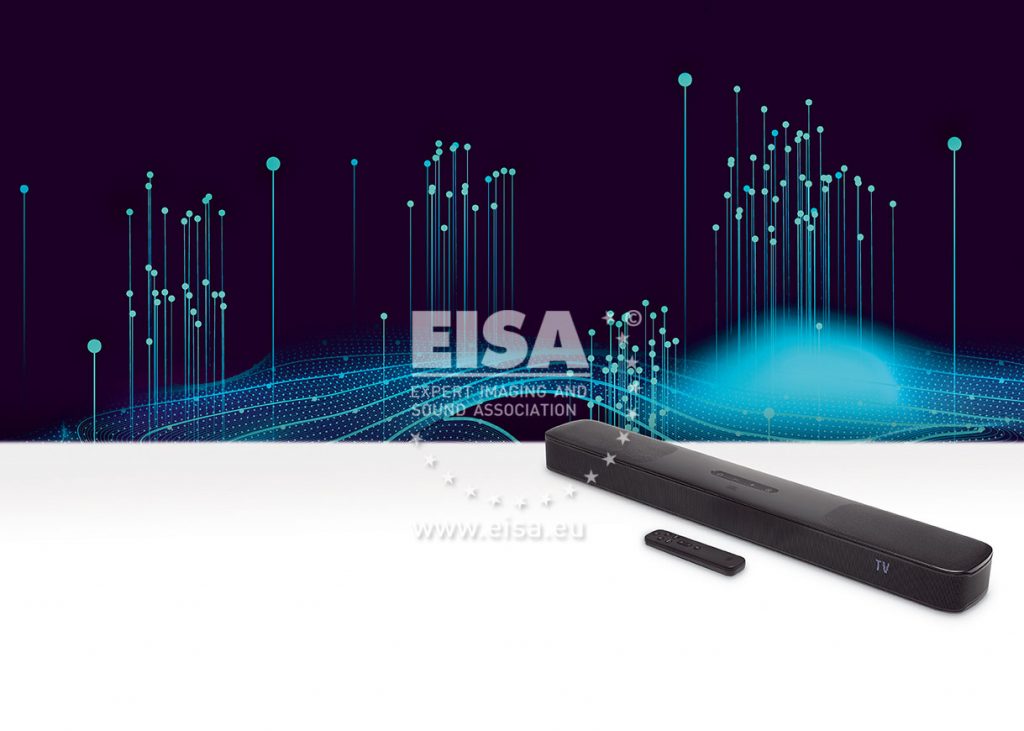 JBL's Bar 5.0 Multibeam hides a wealth of technological talent within its compact chassis. As a living room-friendly single-box system, there's no accompanying subwoofer here – instead, the soundbar's five active drivers are joined by four passive radiators that provide tangible, well-integrated bass. Then, for a cinematic sound experience, Virtual Dolby Atmos DSP combines with JBL's automatic Multibeam calibration for a soundstage that offers width, height and excellent effects placement. Believable dialogue comes courtesy of a dedicated centre channel, while music playback (via Chromecast built-in, Bluetooth, or the Bar 5.0 Multibeam's HDMI and optical audio inputs) benefits from its balanced delivery.
EISA SMART SOUNDBAR 2021-2022
Denon Home Sound Bar 550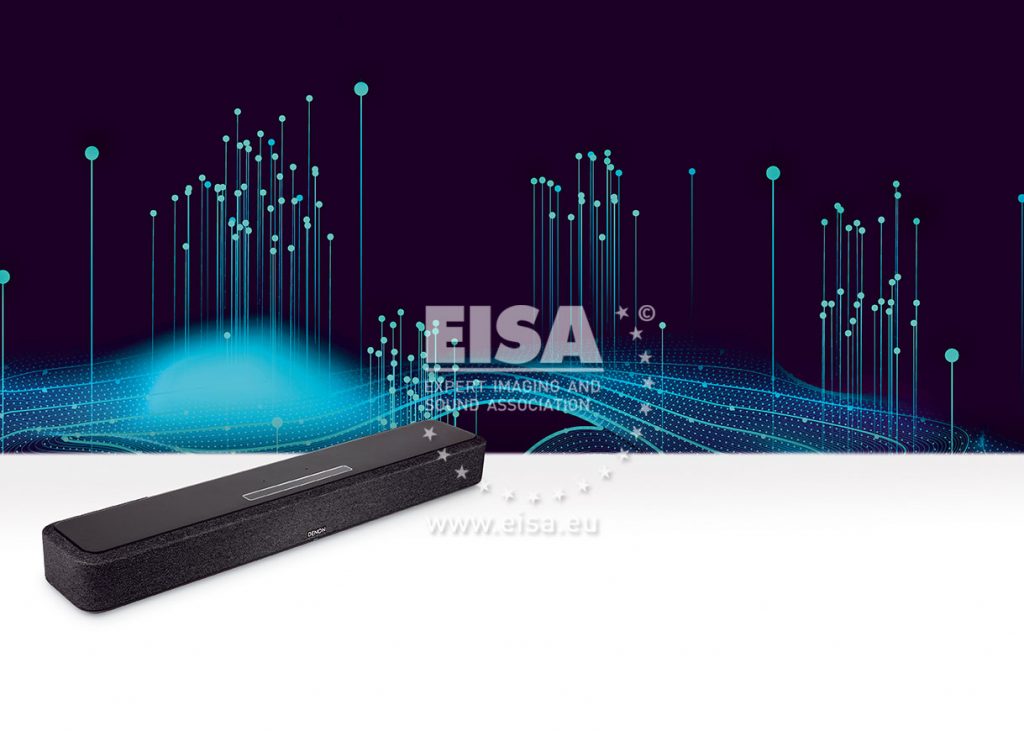 One part Dolby Atmos/DTS:X soundbar, one part fully-fledged HEOS multiroom speaker, Denon's Home Sound Bar 550 brings both a rewarding audio performance to movie and music playback, and the possibility of expansion to a home cinema-style multichannel system with optional wireless surrounds and subwoofer. Operation via its remote control is simple and intuitive, but the HEOS app experience is even slicker – and it's here that users can stream music from subscription services, Internet radio or their own network. Amazon Alexa functionality, via in-built microphones, removes the need to even lift a finger. Rounding off this smart package are proximity-sensing touch controls, HDMI switching with Dolby Vision passthrough, and a superior design and build.
EISA BEST BUY SOUNDBAR 2021-2022
TCL TS8132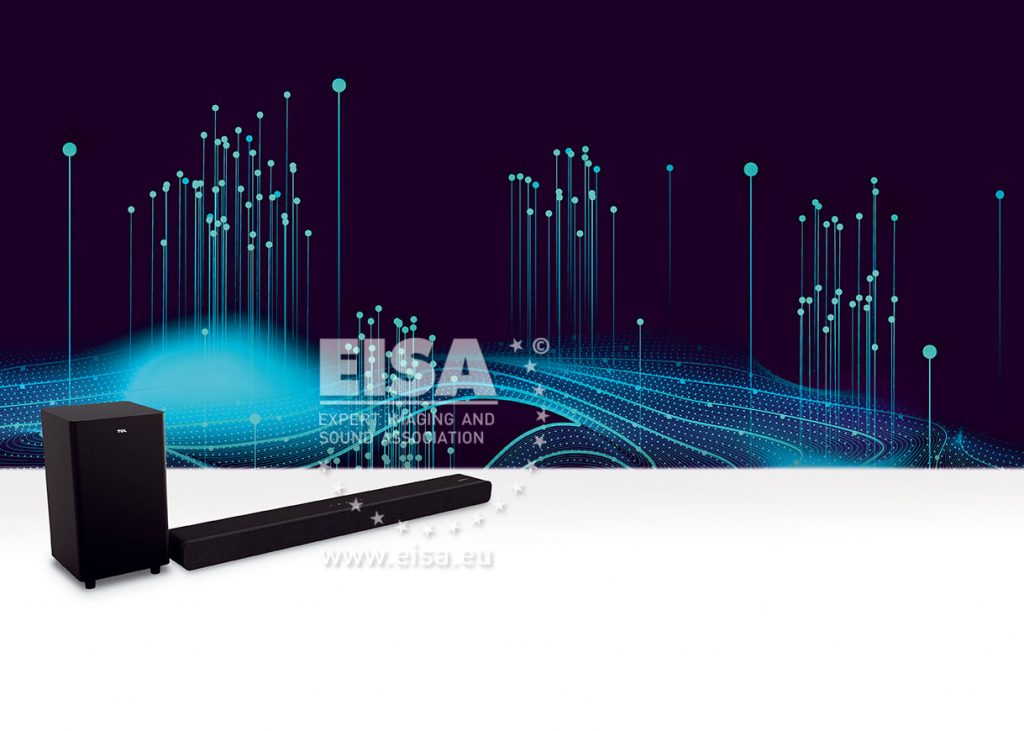 Via a physical driver array incorporating a dedicated centre channel and twin upfiring units, plus a wireless subwoofer, TCL's affordable soundbar system creates enveloping 3.1.2-channel sonics from a discreet design. Ideally suited to a TV-based setup, the TS8132's dialogue handling, effects separation and detailing are strong points, as is the sense of scale brought by its deep bass response. Native Dolby Atmos playback is supported, and stereo content can be upmixed through the soundbar's surround mode. The specification is fit for a pricier model, too – dual HDMI ports, USB and optical digital audio make it easy to connect a range of sources, while Chromecast (with Google Assistant voice control), Apple AirPlay and Bluetooth usher in plenty of wireless potential.
EISA BEST BUY HOME THEATRE SUBWOOFER 2021-2022
SVS SB-1000 Pro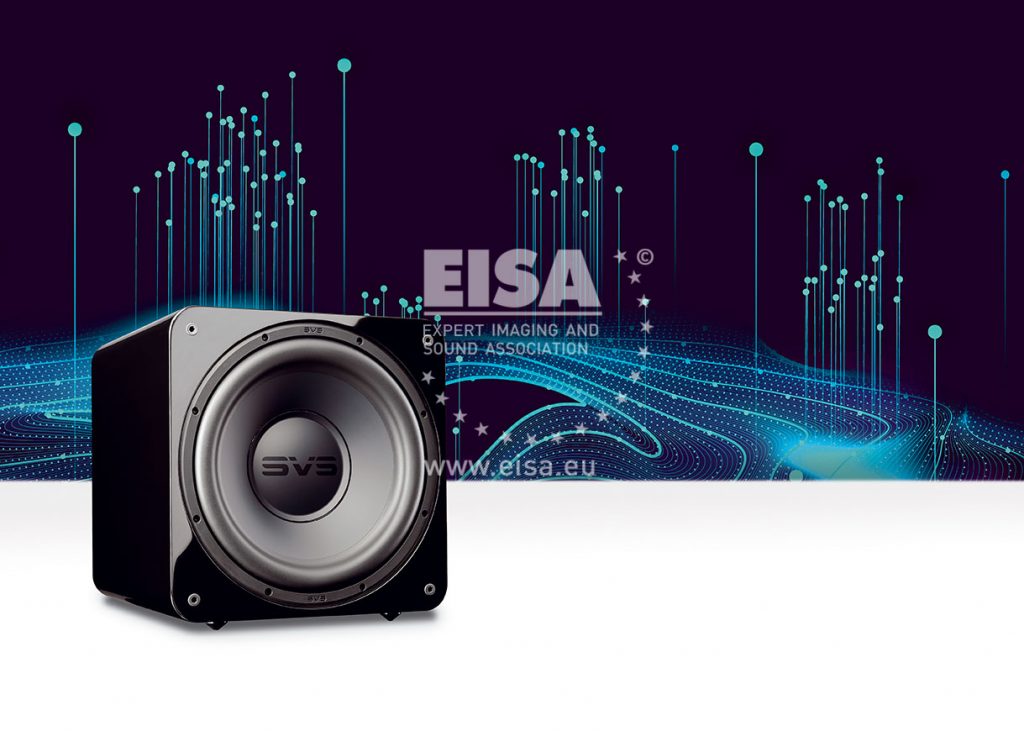 Whether you pick up SVS's keenly-priced SB-1000 Pro in its standard black ash finish or premium gloss white or black, the end result is the same – a performance that beguiles in terms of speed, slam and depth, from a cabinet that measures barely bigger than the subwoofer's forward-facing 12in driver. Inside, a 325W-rated DSP amplifier provides ample power, giving explosive soundmix moments the scale and impact they deserve. And to cap off an excellent overhaul of SVS's entry-level model, the company's Bluetooth-based control and EQ app – once the preserve of its flagship 16 Ultra series – is on hand to fine tune in-room performance. Looking for a brilliant, bargain bass-maker? Look here.
EISA HOME THEATRE SPEAKER SYSTEM 2021-2022
Polk Audio Reserve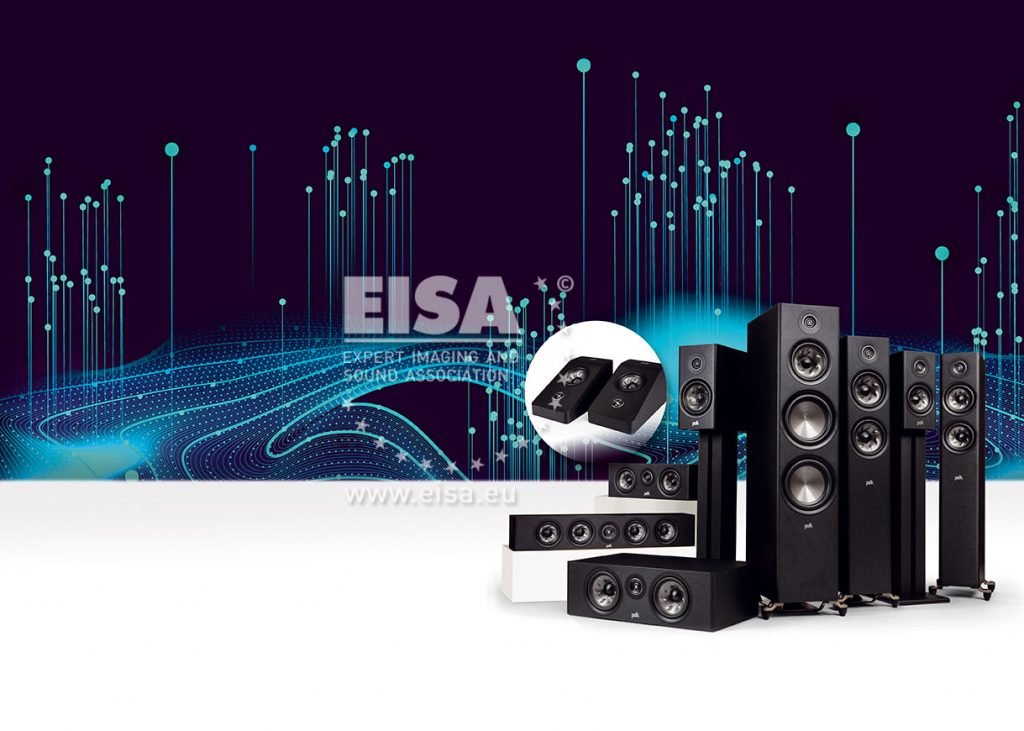 To create its Reserve Series, Polk Audio has leveraged technologies from its high-end Legend loudspeakers – including eye-catching Pinnacle tweeters and Turbine Cone drivers – while also introducing its first on-wall/on-cabinet height modules. A treat for system builders, the range has nine options, including a slim centre channel and three different floorstanders, timbre-matched to accommodate mix-and-match installs. The voicing favours neutral tonality, excellent detail retrieval and a smooth balanced bass response aided by Polk's Power Port 2.0 venting technology – all attributes likely to set a home theatre fan's pulse racing. While the Reserve Series' understated design helps the speakers blend into any room, its performance guarantees you'll sit up and listen.
EISA HOME THEATRE SOUNDBAR 2021-2022
Philips Fidelio B97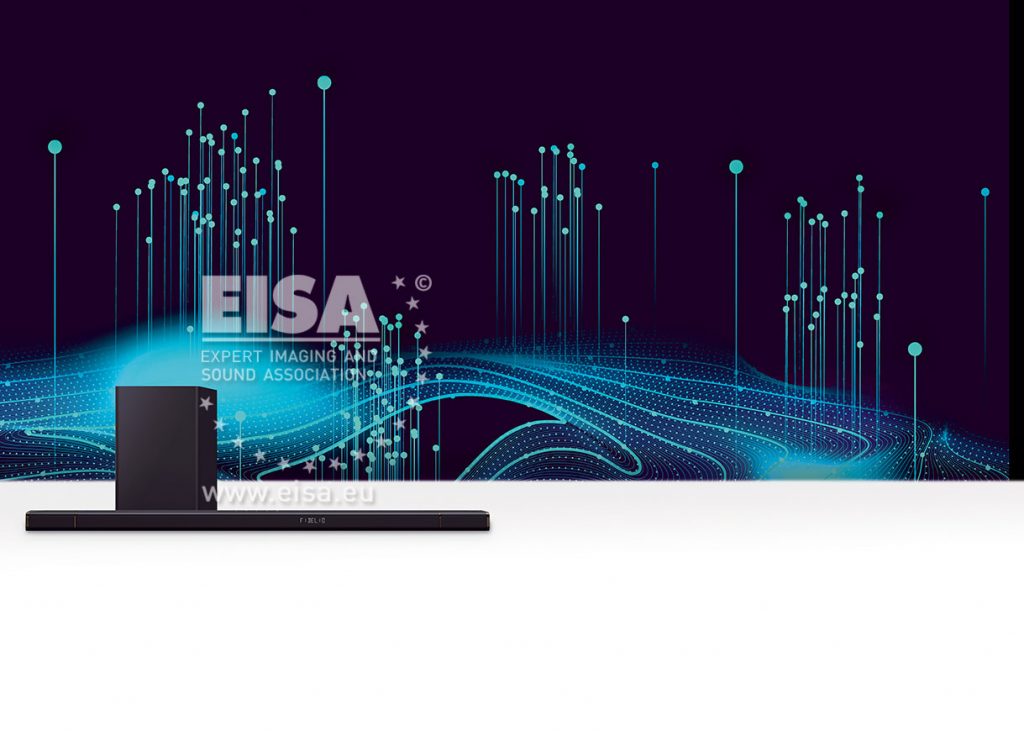 Philips' range-topping IMAX-Enhanced soundbar system leaves no stone unturned in its pursuit of immersive, enthralling home cinema sonics. This smartly styled package partners a five-channel soundbar enclosure with wireless surround speakers and 8in subwoofer for a 7.1.2 Dolby Atmos/DTS:X experience. Its performance is one of deep, explosive bass, an expansive soundstage, midrange clarity and enveloping ambience. It's flexible too – the surround speakers can attach to the main soundbar (recharging their internal batteries at the same time), while connections cover both wired and wireless options including HDMI eARC, Chromecast and DTS Play-Fi. Preset listening modes and custom EQ then help tailor the B97 to your taste – and it sounds delicious…
EISA UHD PLAYER 2021-2022 (Combined with Home Theatre Video)
Reavon UBR-X200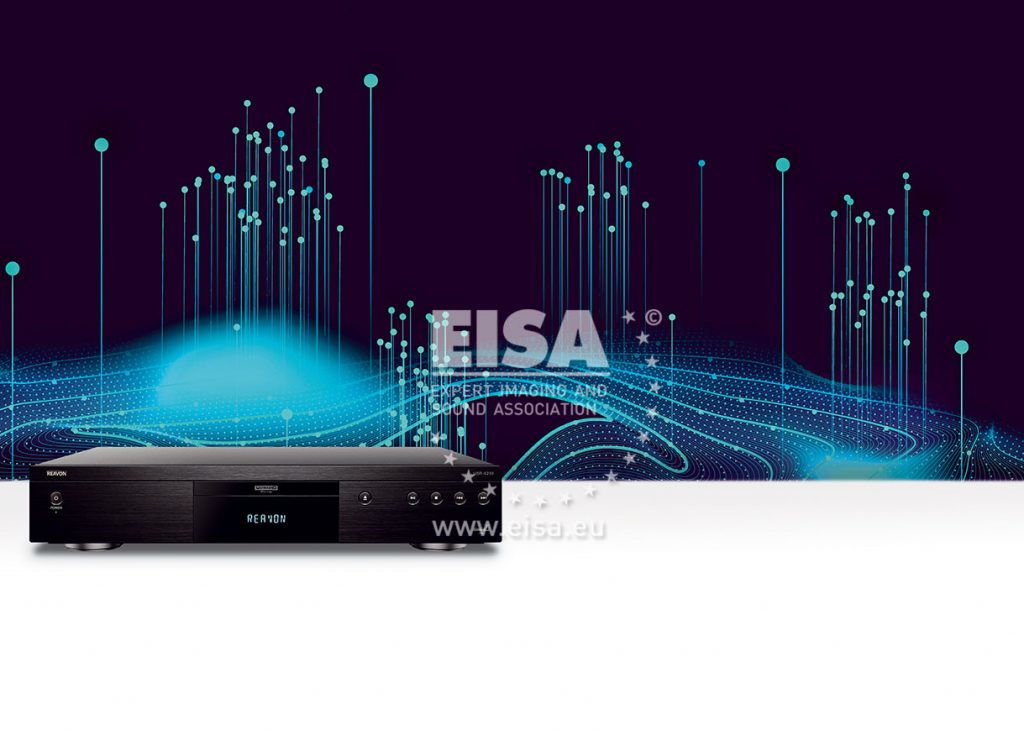 Reavon's UBR-X200 brings a universal approach to home theatre entertainment with playback of Ultra HD Blu-ray, DVD, CD, SACD and DVD-Audio discs, plus high-resolution music files from a USB drive or networked device. Externally, the player exudes a premium feel thanks to the build quality and styling of its full-width, steel-plated chassis, while inside an eight-channel Burr-Brown DAC and MediaTek SoC (System On a Chip) work to provide a suite of features including balanced stereo audio over XLR, and Dolby Vision HDR from 4K platters. Onscreen menus provide full control over setup and customisation, while the backlit remote is ideal for use in a dedicated movie room. It's an excellent choice for physical media fans.
EISA HI-FI AWARDS 2021-2022
EISA FLOORSTANDING LOUDSPEAKERS 2021-2022
Monitor Audio Silver 500 7G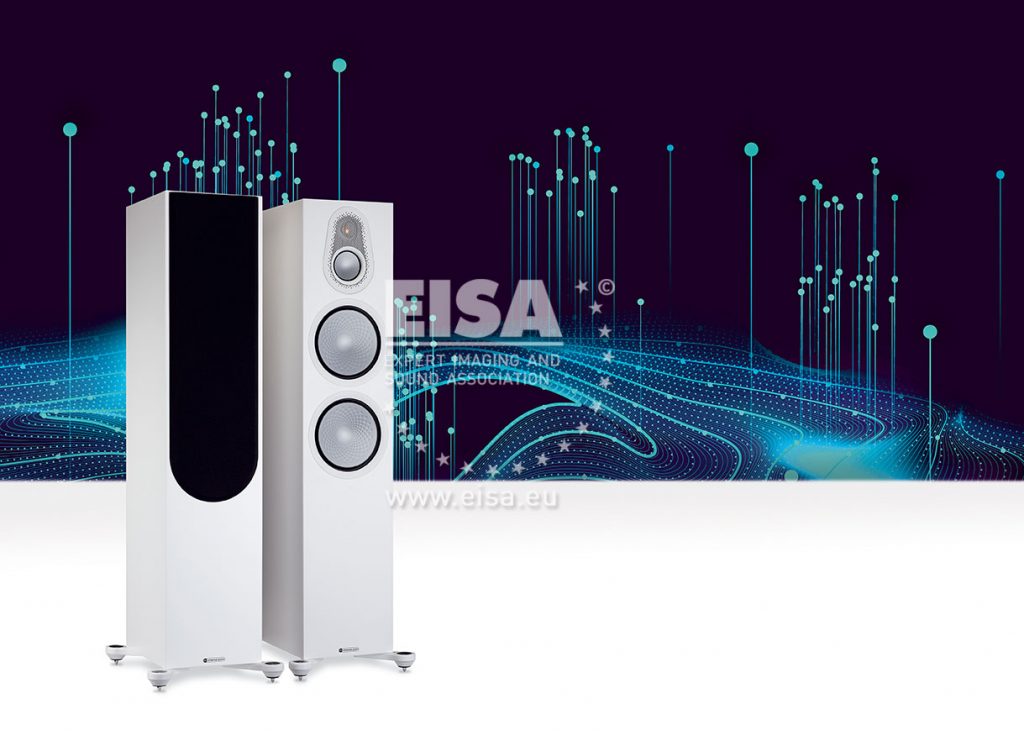 The seventh generation of Monitor Audio's Silver Series incorporates a wide range of acoustic innovations, all on show in the magnificent floorstanding flagship of the range, the Silver 500 7G. The C-CAM metal/ceramic tweeter has a new motor and housing, for cleaner, sweeter treble, while the RST II midrange and bass drivers are fashioned from an improved ceramic-coated alloy for greater stiffness. Add in a refined crossover and a beautifully-finished enclosure, into which the drivers are fixed with bolt-through mountings, and you have a speaker as adept with the finest detail as it is developing a massive, powerful view of the music.
EISA STANDMOUNT LOUDSPEAKERS 2021-2022
KEF LS50 Meta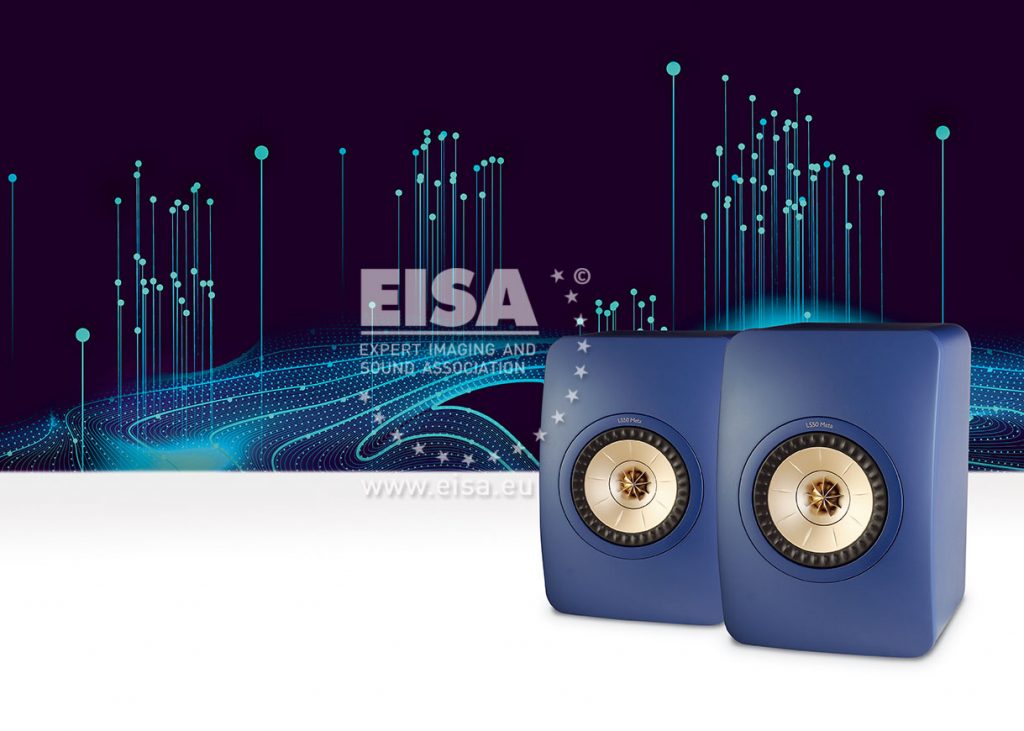 The original, EISA Award-winning LS50 loudspeaker was widely acclaimed, but KEF's engineers have taken it to a new level with numerous detail revisions including the use of Metamaterial Absorption Technology to further control unwanted driver resonances. That may seem like a small internal upgrade, but the result is a magnificent compact speaker capable of a huge soundstage, generous bass and terrific imaging. It's an already impressive speaker now transformed into something truly special and, at the price, is the very best of its genre. If space is tight – or even if it isn't – these remarkable speakers are the ones to have, and the strikingly attractive looks further enhance their user-appeal.
EISA WIRELESS FLOORSTANDING LOUDSPEAKERS 2021-2022
System Audio Legend 40.2 Silverback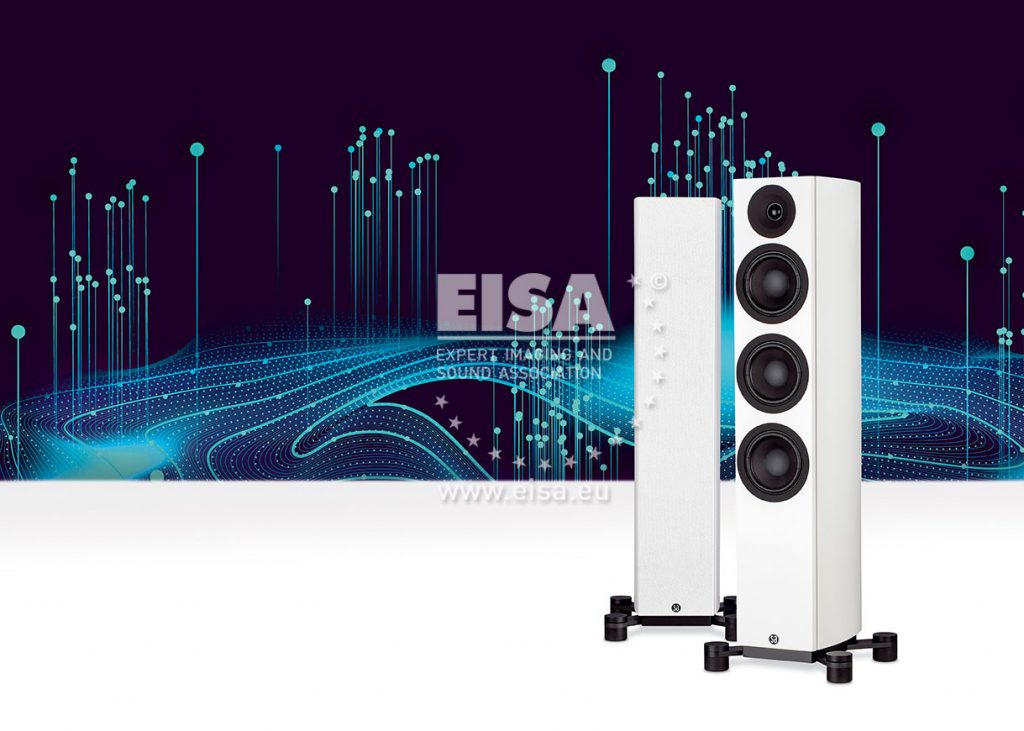 System Audio's elegant active speaker is not only slender, but it's packed with technology to allow the user to achieve the optimum sound and then tweak it to their own taste. Use it with the optional wireless Stereo Hub and you get a choice of automated and manual equalisation to adapt the speaker to your room. System Audio offers a generous pick 'n' mix approach to DSP, including downloadable 'RAM Tweaks' to further reconfigure the sonic balance. However, most impressive of all is this wireless speaker's compelling sound, which majors on resolution, bass power and a fine grasp of rhythm.
EISA WIRELESS STANDMOUNT LOUDSPEAKERS 2021-2022
KEF LS50 Wireless II
Developed from the original LS50W design, using the same Metamaterial Absorption Technology found in the LS50 Meta model, this is much more than just a pair of speakers. In fact, it's a complete wireless hi-fi system, able to play music from portable devices, local network storage and streaming services, all under the control of a cleverly-designed app. Set-up and configuration is simple, meaning you'll have music playing in minutes, while the combination of KEF's Uni-Q driver and plenty of internal amplifier power delivers a focused, involving sound way beyond expectations for speakers so small. They can handle hi-res music or just Bluetooth from your phone, look fabulous whether on shelves or their dedicated stands – and of course have that 'hi-fi without all the boxes' appeal.
EISA HIGH-END LOUDSPEAKERS 2021-2022
Wilson Audio SabrinaX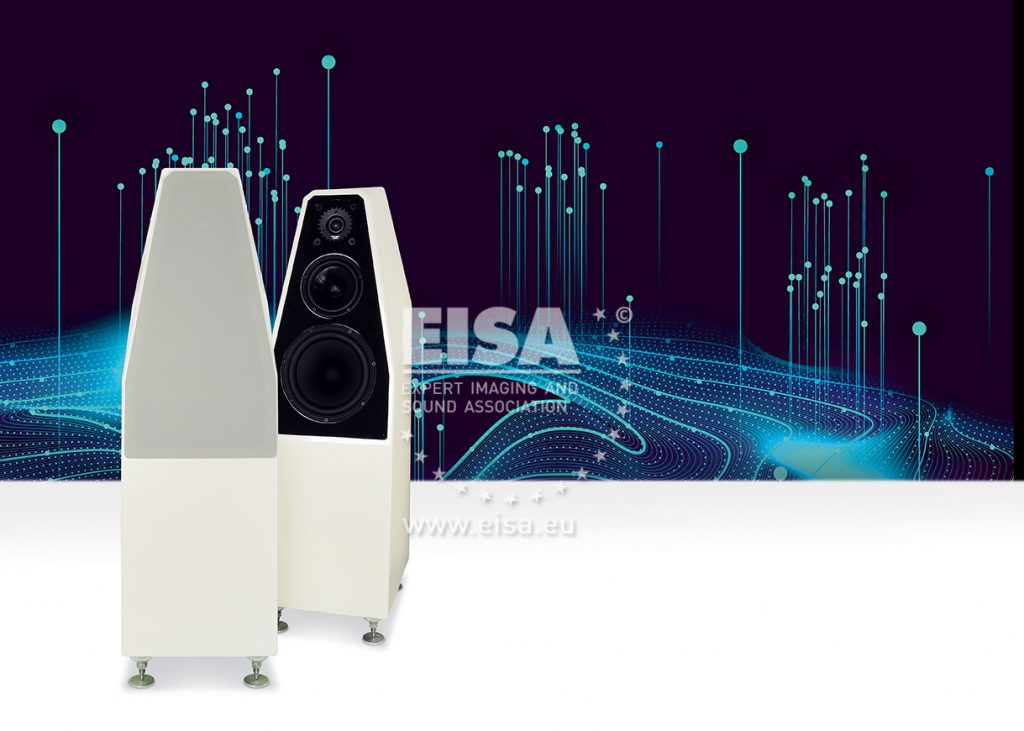 Wilson Audio's Sabrina was long-established as a remarkable compact high-end speaker, but for this X model the company has made some major changes to further enhance performance. These start with those beautiful cabinets, now made from the inert X-material from which the speaker takes its name, finished in a choice of WilsonGloss paint colours. The tweeter is derived from the company's flagship models, for better detail and 'air', and while the midrange is retained from the original Sabrina, a new woofer delivers tighter, faster bass. The result? An expanded soundstage and extended bass, delivering massive scale with free-breathing atmosphere and ambience – whatever you play.
EISA HI-FI SUBWOOFER 2021-2022
KEF KC62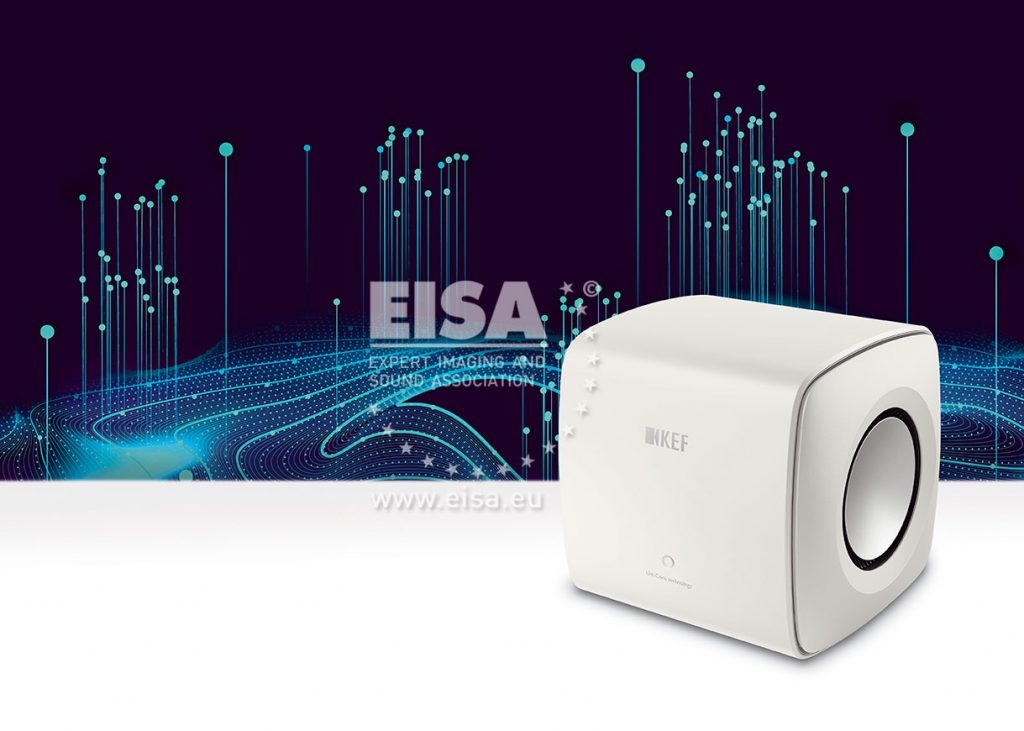 On rare occasions it's hard to associate the equipment before you with the sound you're hearing. Take as an example the amazing KEF KC62 subwoofer – it's tiny at just 25cm per side, with a pair of drivers just 16.5cm in diameter, and yet this seemingly miraculous speaker delivers massive, fast and tautly controlled bass down to subterranean depths. So the KC62 is so small you can hide it away almost anywhere, but the performance is all down to clever design – the opposed drivers use Uni-Core force cancelling, each powered by a 500W amplifier, all under the control of digital signal processing. Want even more fun? Try using two of them!
EISA STREAMING AMPLIFIER 2021-2022
Cambridge Audio EVO 150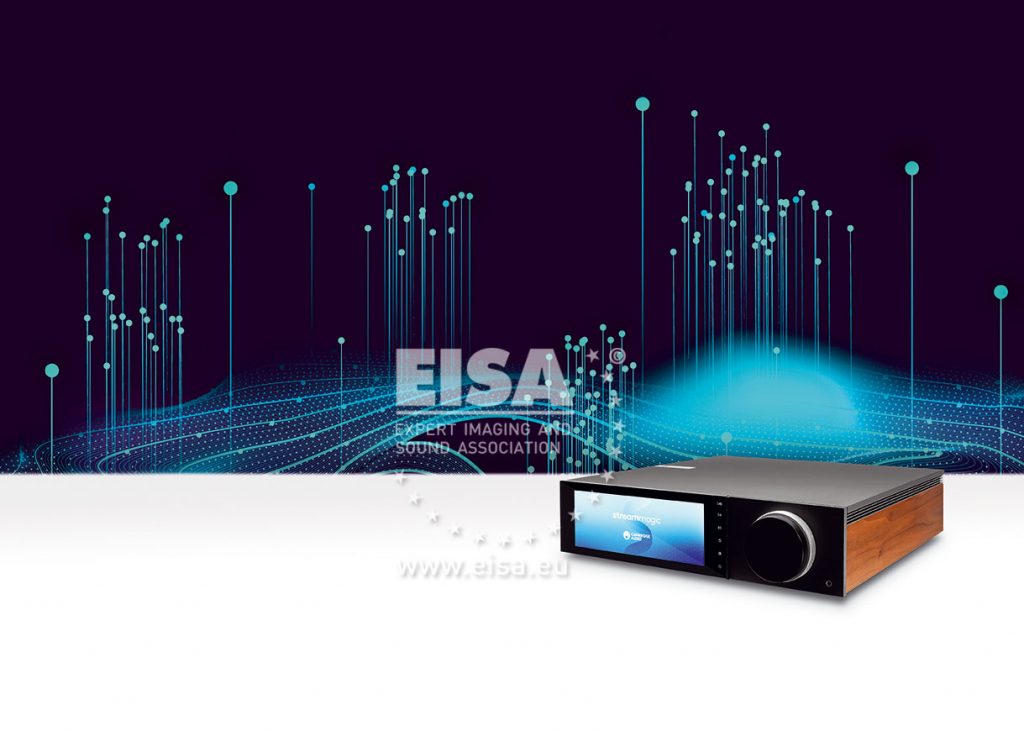 Compact, clever and capable of driving even demanding speakers to deliver a room-filling sound – whether from your phone, your computer or streaming services – the EVO 150 is all the system many users will ever want or need. It has style on its side, and amazing flexibility including balanced inputs and a phono stage, but the most outstanding feature here is how simple it makes set-up and operation for breathtaking performance. The Cambridge Audio engineers have considered everything, from the way the EVO 150 leads you through installation to the superb StreamMagic app control, making this a system all the family can enjoy, with class-leading sound.
EISA INTEGRATED AMPLIFIER 2021-2022
Rotel Michi X3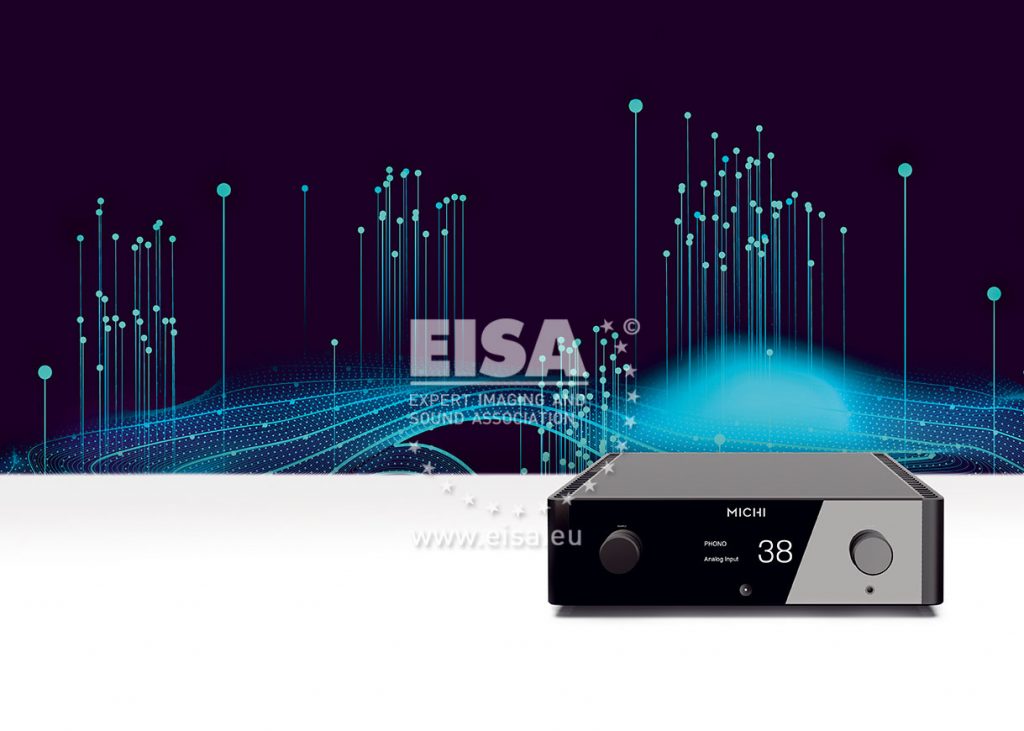 This may be the more affordable of two integrated amplifiers in Rotel's revived Michi lineup, but it's undoubtedly the sweet spot of the range, combining 'drive anything' confidence with speed, warmth and the ability to switch from pile-driver to a gossamer touch when required. There's no shortage of power here, but the Michi X3 carries its massive output lightly, being fast, detailed and beautifully controlled, and is all the more rewarding as a result. Add in its flexibility, build quality and sheer style, and you have an amp able to take on all the super-integrated amplifiers now available and show most of them a clean pair of heels.
EISA POWER AMPLIFIER 2021-2022
NAD C 298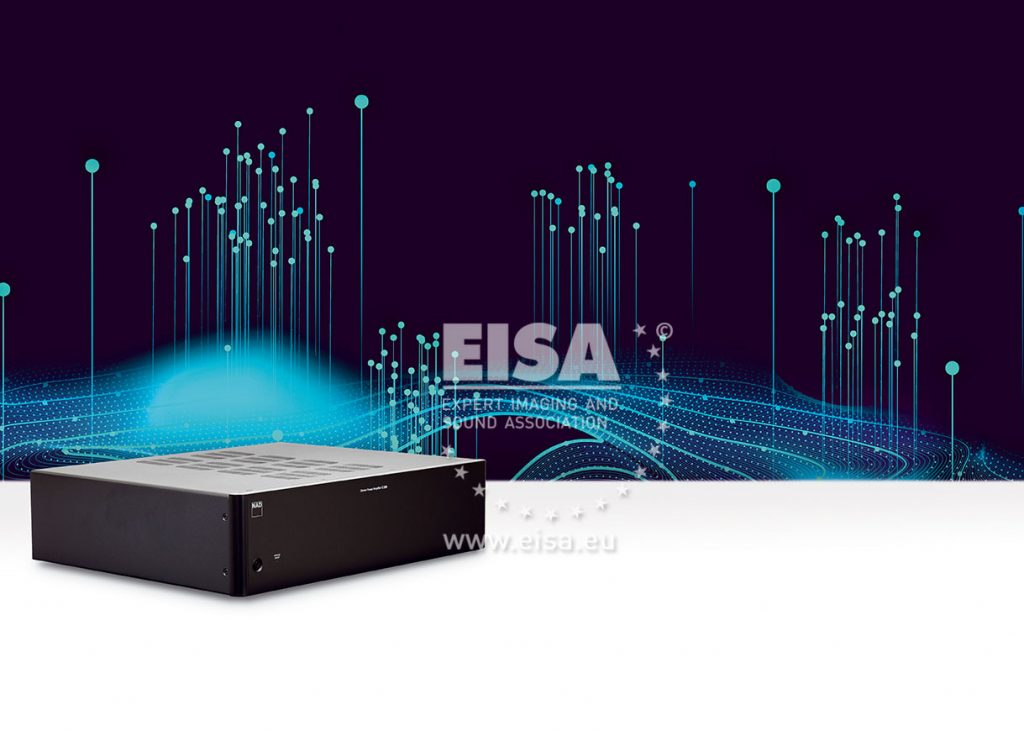 NAD started its story making amplifiers, and has been researching and developing the technology for almost half a century. All that shows in the unassuming-looking C 298 power amplifier, designed for use in everything from conventional hi-fi and home cinema systems to hideaway custom installations. It has single-ended and balanced inputs for flexibility, and switchable signal-sensing for remote operation, while its energy-efficient Purifi Eigentakt amplification technology gives it the ability to drive just about any speaker with impunity. The sound is spectacular, and upgradable too – switch it into bridge mode, and you have a 600W+ monoblock!
EISA PHONO STAGE 2021-2022
Hegel V10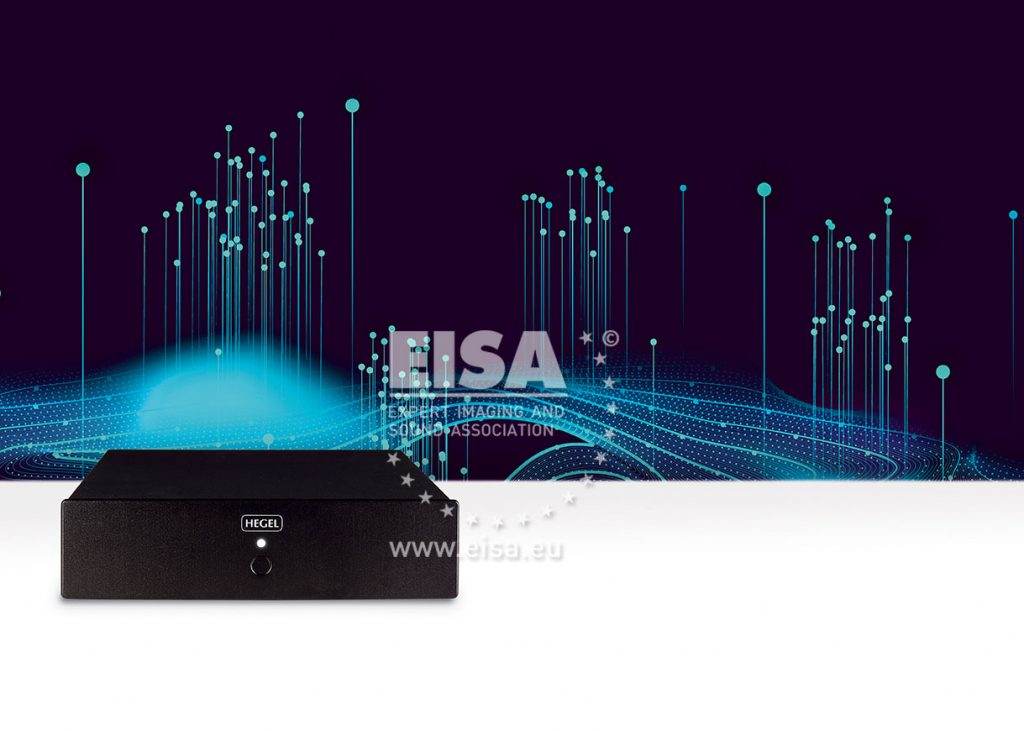 Hegel has taken its time adding a dedicated phono stage to its acclaimed series of amplifiers, but it's been worth the wait. The V10 is designed to service a wide range of moving-coil and moving-magnet cartridges, aided by its highly flexible gain, loading and subsonic filter settings that are selected via a matrix of DIP switches underneath the black case. Indeed, the elegant but functional Norwegian styling belies the scope of this vinyl-loving preamp. So it's worth taking the time to dial-up the optimum settings and realise a sound that's both smooth and gloriously insightful, and clearly 'voiced' to partner Hegel's other electronics.
EISA DIGITAL MUSIC PLAYER 2021-2022
Bluesound NODE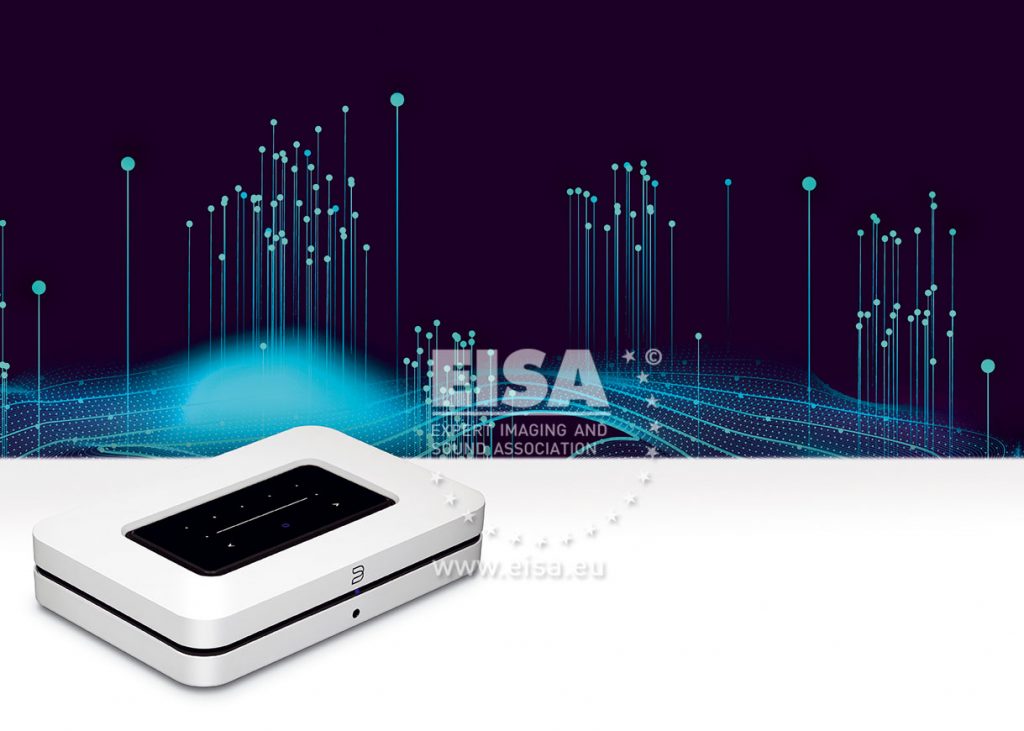 Bluesound's multiroom wireless system was revolutionary when it first appeared, its BluOS platform having been designed to play music all the way up to hi-res, with a process of refinement and development ever since. This latest version of its NODE music player is a simple way to bring multiroom to your system, with Wi-Fi, Ethernet, Apple AirPlay 2, aptX HD Bluetooth and USB-A to access audio content from streaming services, Internet radio and your own music library. And the new NODE now also has HDMI ARC, for audio from TVs and gaming systems – all controlled using the intuitive BluOS Controller app or via the popular voice assistants.
EISA HIGH-END MUSIC PLAYER 2021-2022
HiFi Rose RS150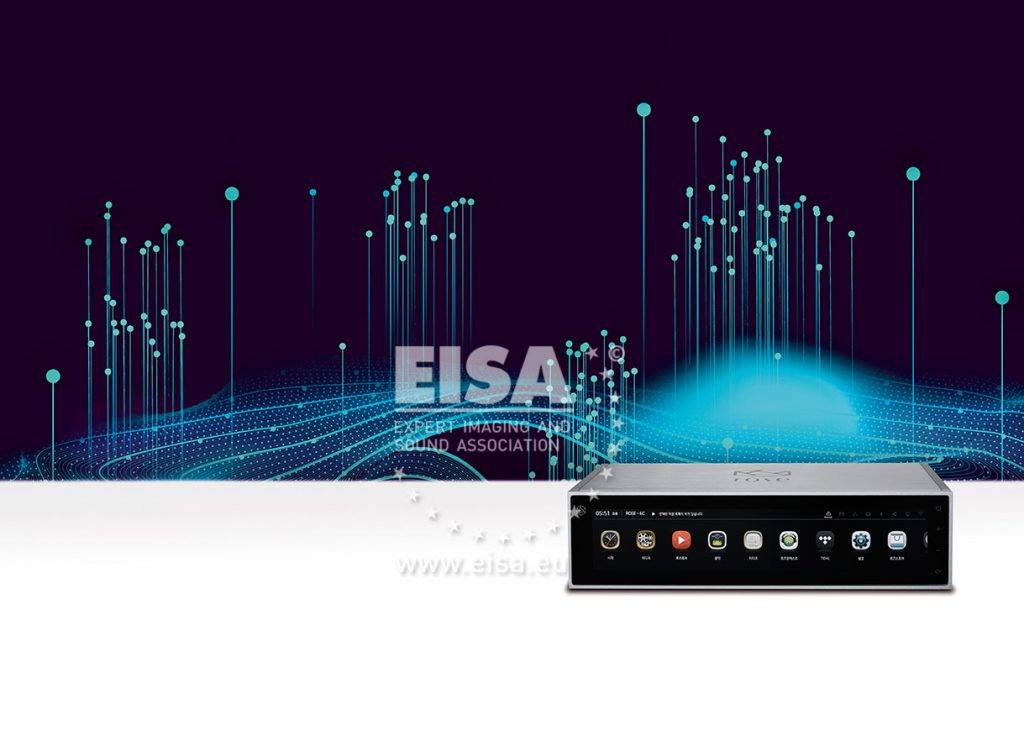 It's hard not to form initial impressions of the RS150 based on the way it looks, from its build quality to that graphic-filled full-width touchscreen display, but it soon becomes clear there's more to it than meets the eye. This is an accomplished – and extremely flexible – player/DAC that will play everything from Bluetooth streams to hi-res content, and you can even install SSD storage to make it a complete library and player in one unit. The sound is striking, too, majoring on richness and detail that contributes to a very mature presentation. This is a decidedly impressive debut for the Korean brand.
EISA DAC 2021-2022
Cambridge Audio DacMagic 200M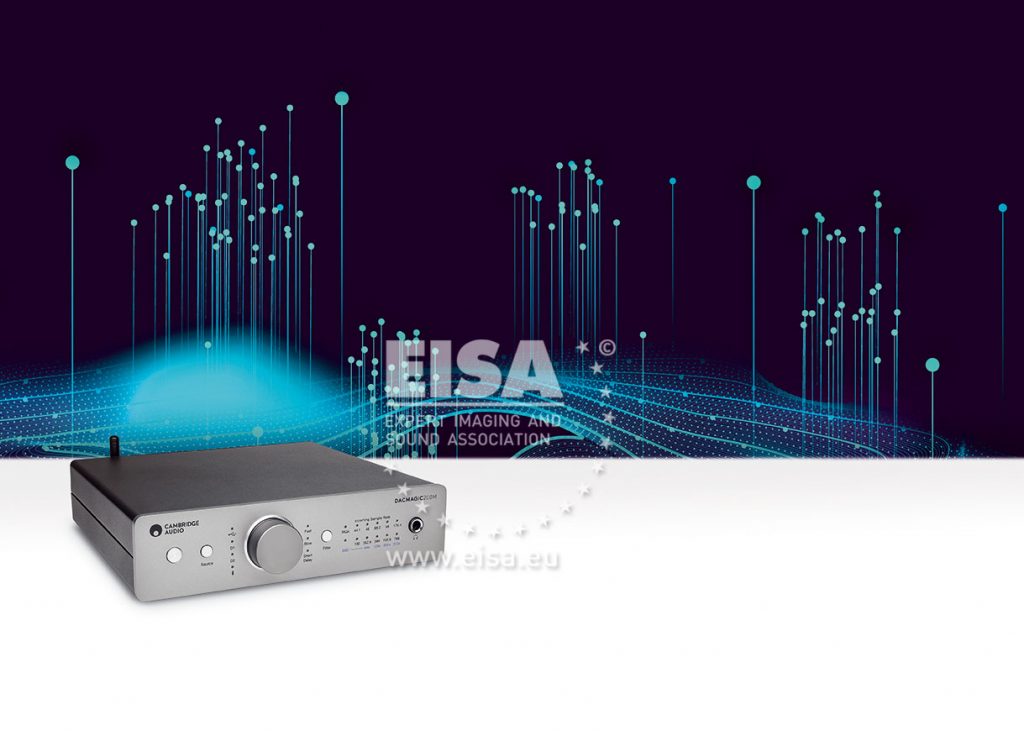 Cambridge Audio has been making DACs since 1994, and it all shows in the latest addition to its DacMagic line, the 200M. It lives up to the precedent of its illustrious forebears with an attractive combination of solid build, ease of use and performance, plus wide-ranging file-format compatibility, all the way up to 768kHz/24-bit and DSD512 (at least via its USB input). Easy to use, it's not only an excellent 'desktop audio' device that'll drive headphones to good effect, but it will also serve up a storm in a main audio system with its crisp, rewarding and expressively-detailed sound.
EISA BEST VALUE TURNTABLE 2021-2022
Pro-Ject Debut PRO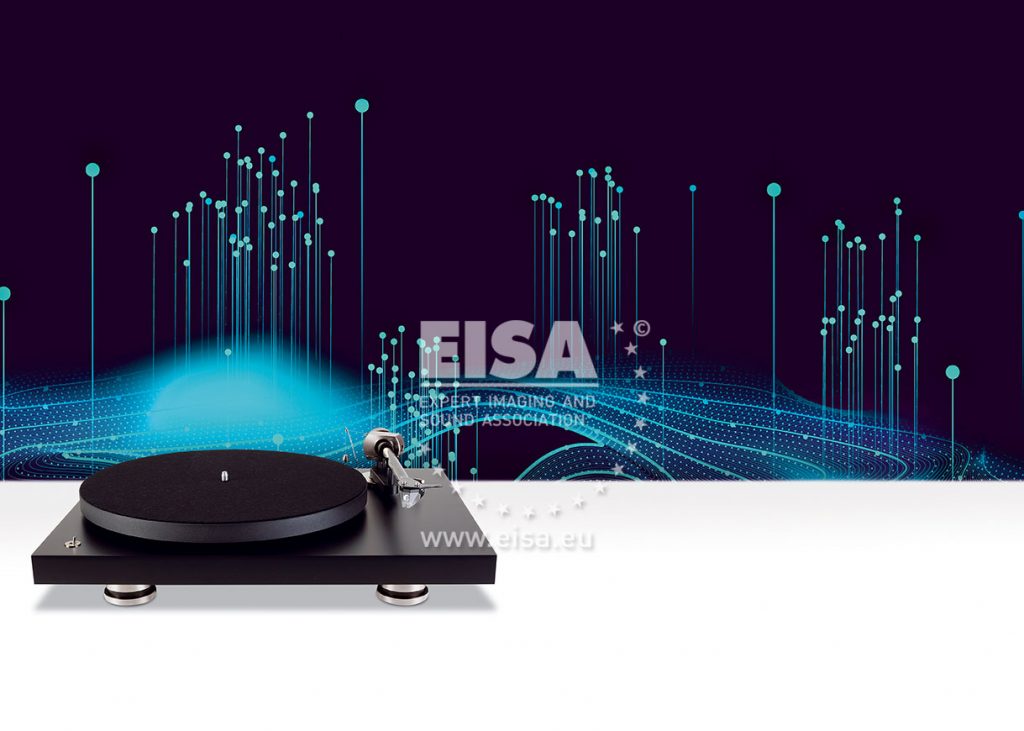 Launched to celebrate the company's 30th anniversary, this very refined version of Pro-Ject's entry-level turntable comes with a raft of improvements, not least of which is a new one-piece alloy/carbon fibre tonearm. The platter is now more heavily damped and non-magnetic, the suspension of both arm and motor have been enhanced, and a new Pick it Pro cartridge comes pre-fitted for near instant set-up and use. Described as 'the ultimate expression of the Debut concept', it sounds assured and involving – it's an absolute knock-out, and a new champion for the entry level.
EISA HIGH-END TURNTABLE 2021-2022
Thorens TD 124 DD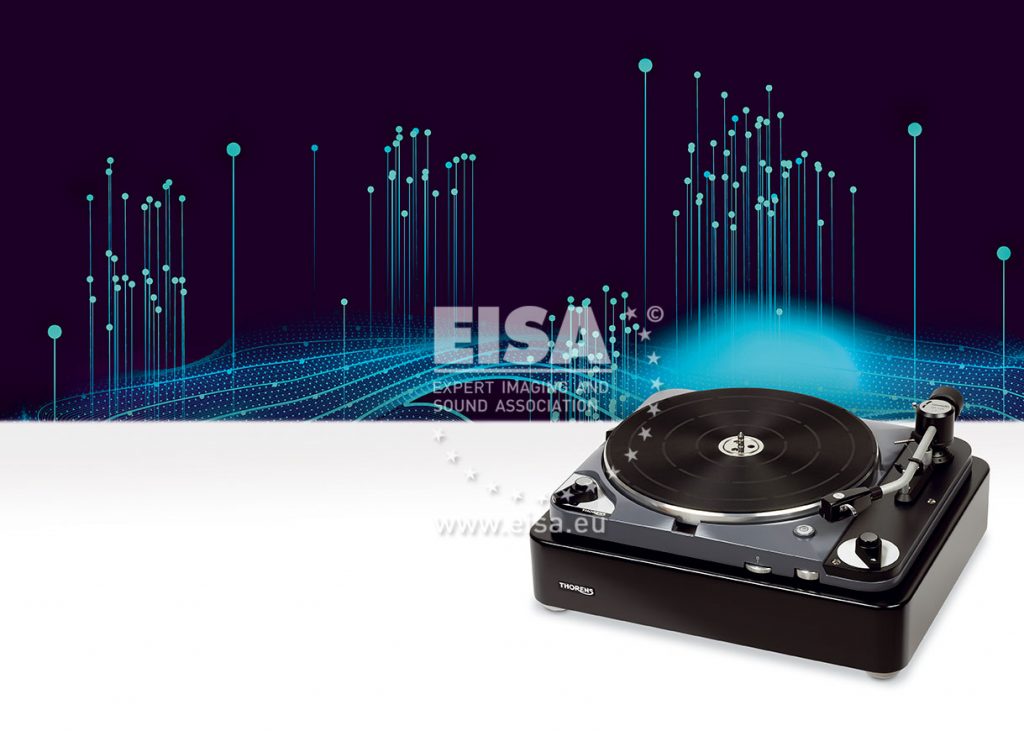 It may have ceased production more than half a century ago, but the Thorens TD 124 turntable retains legendary status, and is still much sought after. While the latest version may look much like the original, the 'DD' on the model number shows this is now a direct-drive design, complete with a new and very adjustable tonearm to complete the retro looks, especially when fitted with the SPU 124 pick-up. There's even a pop-up adapter for 'jukebox' singles, but whatever you play on the TD 124 DD it delights with its speed, slam and sheer weight. It may look vintage, but the sound is compellingly up to date.
EISA PHONO CARTRIDGE 2021-2022
Ortofon 2M Black LVB 250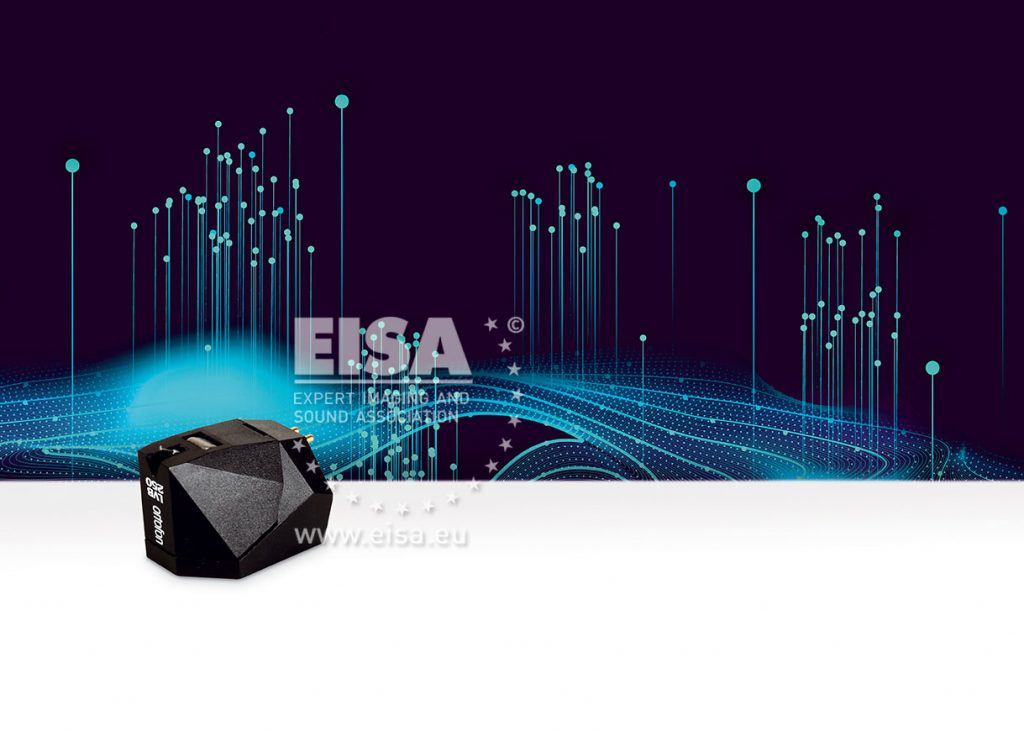 The latest variation on Ortofon's long-running 2M moving-magnet cartridge design pays tribute to Beethoven 250 years after his birth, complete with a picture of the composer on the side of its body. It fits the bill with a silky, sophisticated presentation especially well-suited to classical, jazz and acoustic music. Refined and composed, it uses a version of the stylus and cantilever found in the company's Cadenza Black moving-coil cartridge. This, along with a new suspension, all contributes to a sound that boasts rock-solid imaging, great stereo focus and depth along with a smooth, lush view of strings and other acoustic instruments.
EISA STEREO SYSTEM 2021-2022
Marantz Model 30/SACD 30n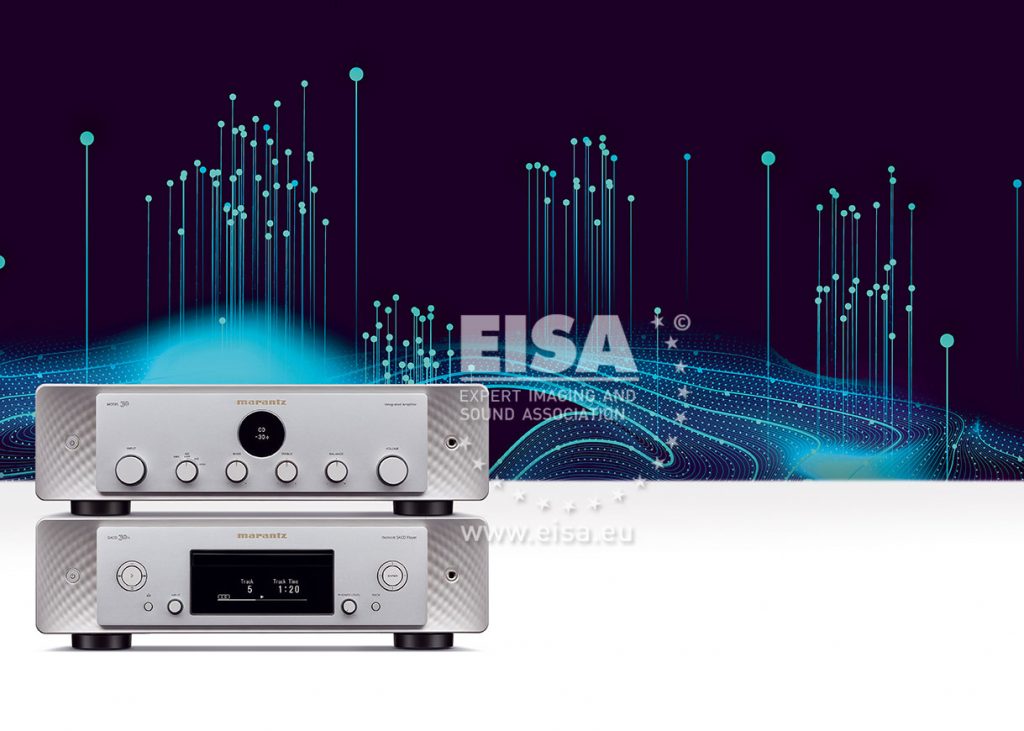 Marantz's 30 series has a new style influenced by the design of classic models from the company's past, combined with up-to-date capability within. The Model 30 amplifier and its matching SACD 30n player are a triumph: the amplifier plays it simple, concentrating on the purest possible sound from its all-analogue design, while the SACD/CD/network player brings a whole world of musical opportunity to the party, from discs to streaming and more. 'Modern Musical Luxury' is how Marantz describes this combination, and with its blend of rich, powerful sound, features and gorgeous build quality, this stereo system delivers on that promise.
EISA HEADPHONE SOLUTION 2021-2022
Naim Uniti Atom Headphone Edition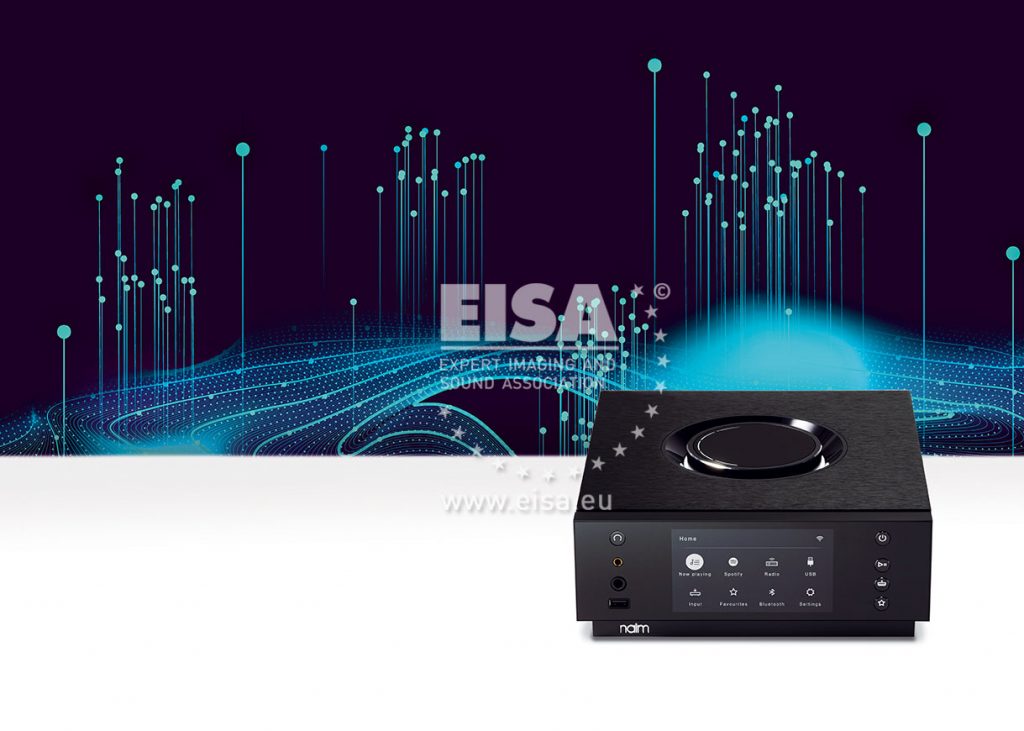 With an eye to the seemingly unstoppable rise of headphone listening, Naim created this version of its entry-level Uniti Atom, dedicated to headphone use. With amplifier technology trickled down from the company's flagship Statement product, the Uniti Atom Headphone Edition combines wide-ranging network and streaming audio capability with both balanced and single-ended headphone outputs, and it can also be used as a streaming preamp into a power amplifier or active speakers. Whichever you choose, it plays music with authority and immense impact, and will really make the most of partnering equipment.
EISA HEADPHONES 2021-2022
Focal Clear Mg
Focal's Clear headphones were already a superb performer, but with the arrival of the Mg version the company has raised the bar even further. Changes include a new, pure magnesium driver (hence the name), improvements to resonance control within the open-back housings, and in the alignment of those drivers relative to the user's ear. The result is a headphone sound that retains all the openness of the original, but now offers better speed, clarity and precision. It reveals even more detail in the music and creates a palpably realistic sense of an acoustic spread before you, not enclosed within your head.
EISA HIGH-END HEADPHONES 2021-2022
T+A Solitaire P-SE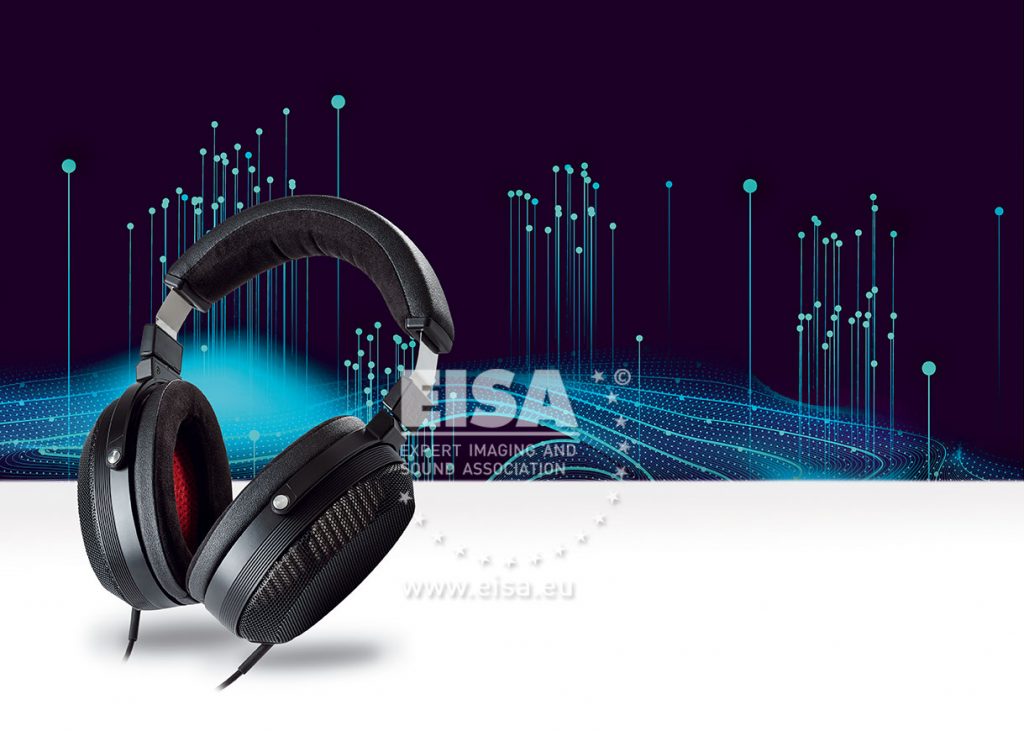 T+A made an ambitious entry into the headphone arena, aiming straight for the top with its Solitaire P model and a matching HA200 headphone amplifier. The P-SE is a little more affordable than the original design, thanks to some simplification of the planar magnetic drivers and their motor system, but this is still an unapologetically high-end design, able to deliver a wide-open view of the music while still presenting it with weight, richness and impact. Above all, they impress with the way everything hangs together, from the weight of a double bass to the finest detail in the high treble, making for an entirely thrilling listen.
EISA BEST VALUE HEADPHONES 2021-2022
Sennheiser HD 560 S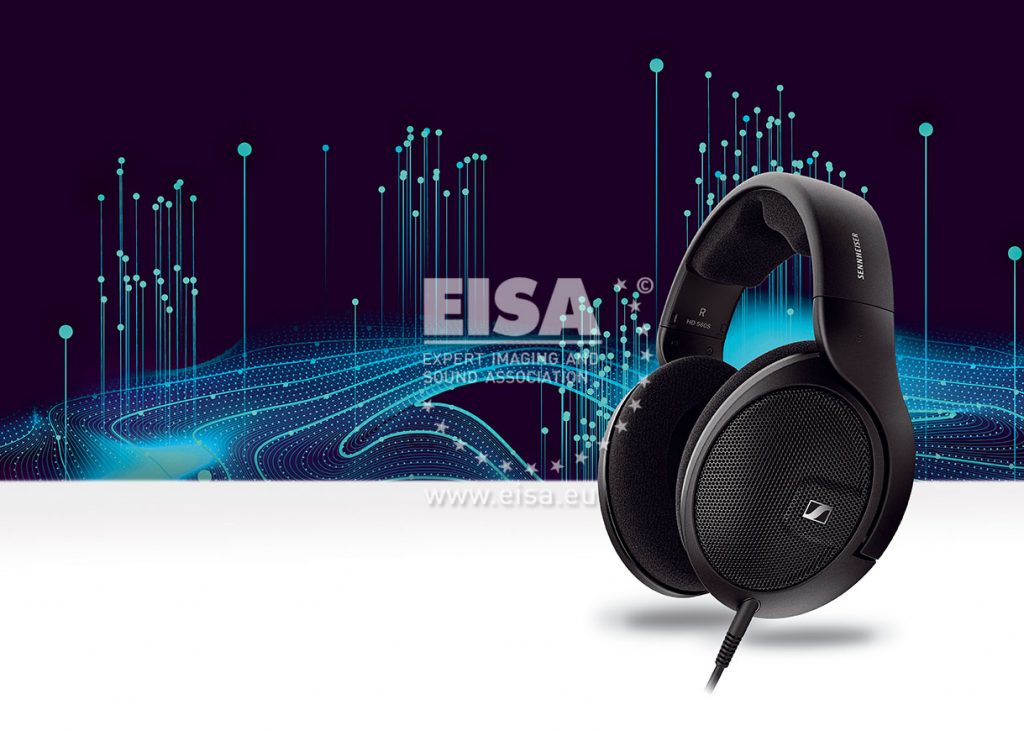 Sennheiser has long had an enviable position in the audio market, from its excellent headphones to its role as a supplier of microphones for everything from recording to live performances. And in the HD 560 S Sennheiser brings together all that knowledge in a design able to deliver a wide-open sound with exceptional detail and fast clean bass, plus a realistic impression of soundstage. The new drivers use a polymer blend for linear response and an airy treble, while the angled drivers combine with the open-backed design to create a real sense of presence.
EISA HI-FI ACCESSORY 2021-2022
Ferrum Hypsos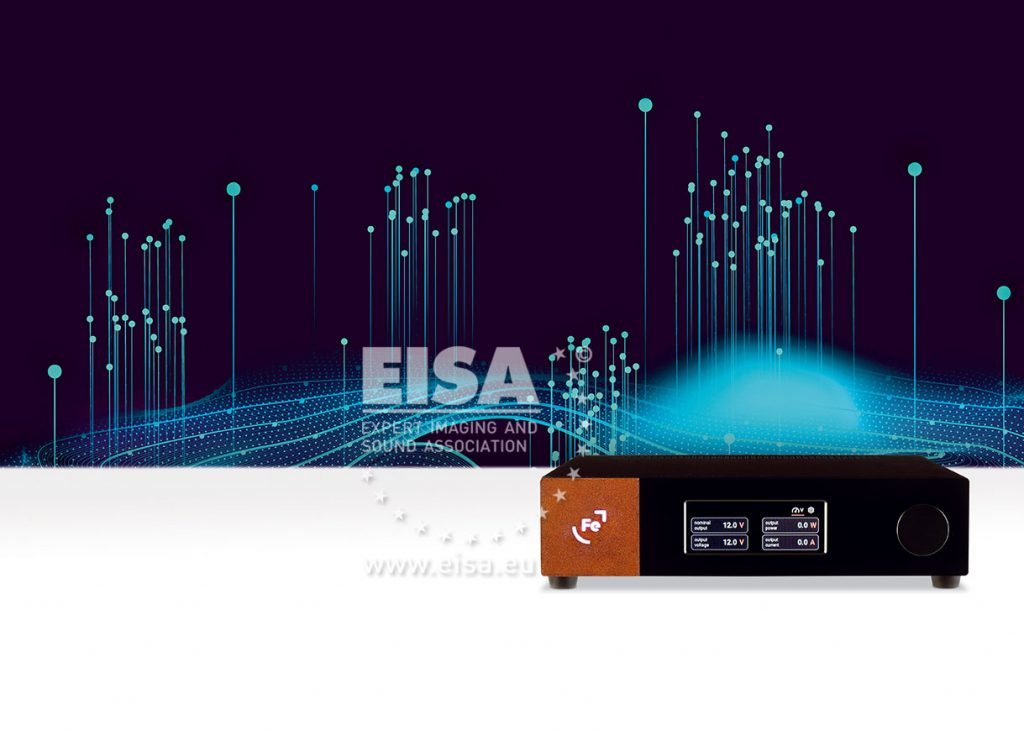 Power is everything – that's the thinking behind the Hypsos, a hugely flexible DC power supply from Polish brand Ferrum, designed to replace all those plug-top supplies with which so many hi-fi components are now provided. It can deliver clean DC power over a range of 5V to 30V, and comes complete with pre-loaded settings for over 100 popular products. Or you can set up your own output parameters, complete with fine adjustment to find the power setting 'sweet spot'. It represents a potent upgrade for a wide range of devices, not least USB DAC/headphone amplifiers, typically encouraging a sound with greater ease and smoothness – and yes, power!
EISA MAESTRO AND TEXT WINNERS
Willem Kuijpers – Appassionato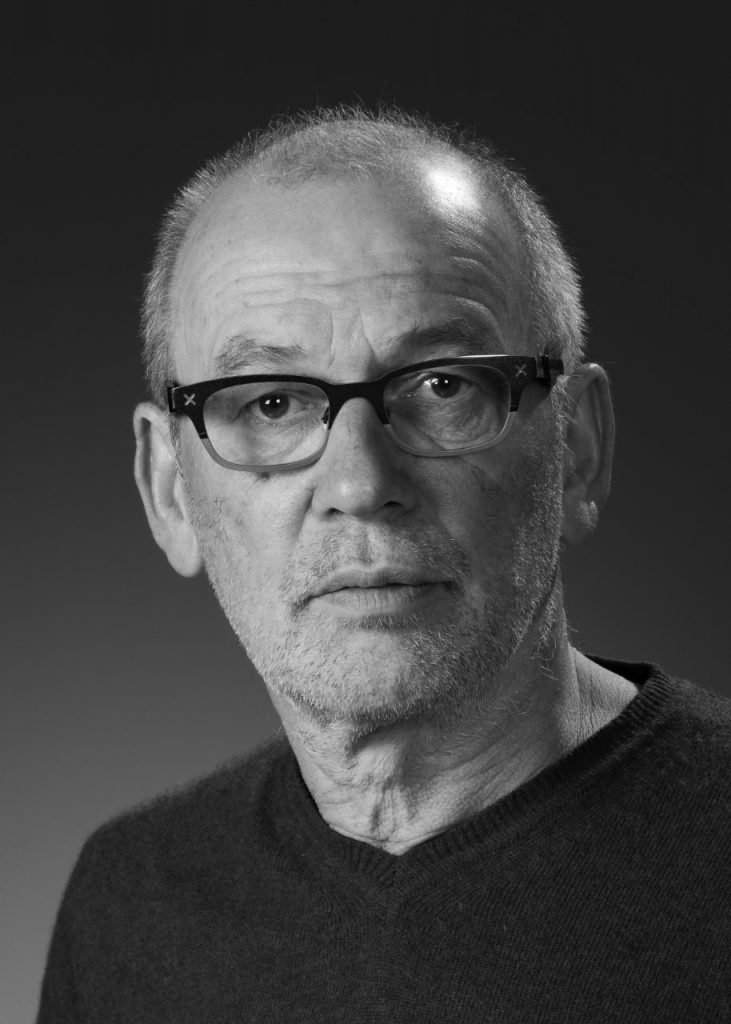 Willem Kuijpers began photography as a hobby in the early 1970s. After four years studying at the Fotovakschool in Amsterdam, he made photography his profession. For many years he had his own studio in Uden, while also making personal work. For the past two years Willem has been a pensioner, and photography has once again become a hobby.

This is the 24-hour procession I Misteri di Trapani in Sicily, held during Holy Week before Easter. It is a very intense and emotional event. During the course of 24 hours, 18 heavy sculptures depicting the Way of the Cross (the Passion of Christ) are carried through the old city of Trapani. The images in this series were all taken on the return to the church. For me the series is not so much about the Christian aspect, instead what I especially want to show is the mixture of culture, folklore and diversity. Often with deeply felt emotions, but also with a smile and, above all, with pride.'

www.fotowillemkuijpers.nl
Pauline Petit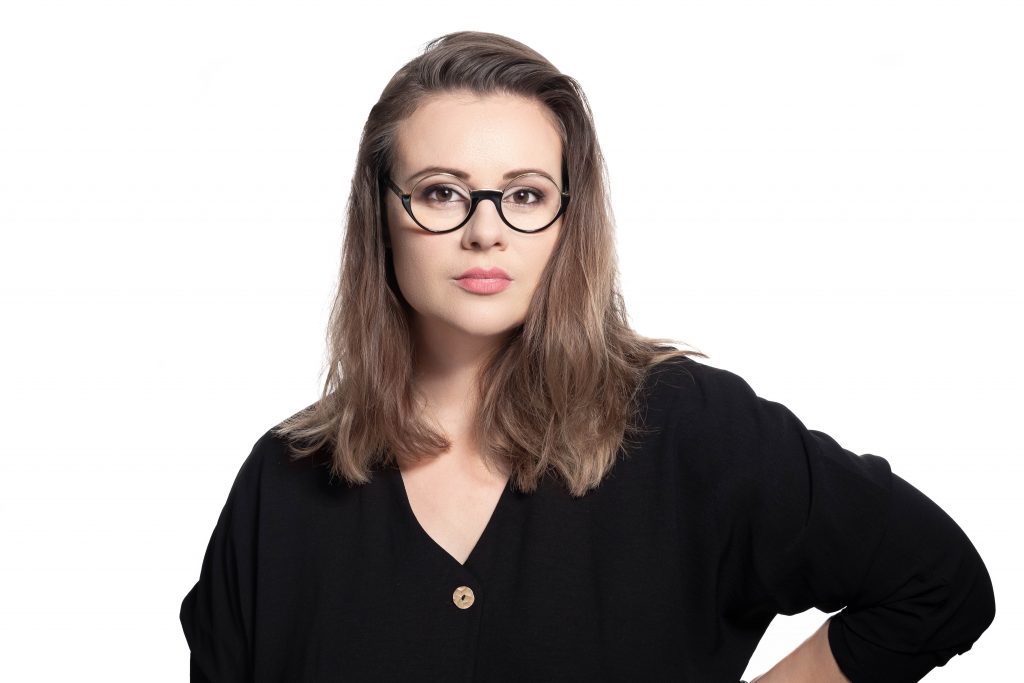 THE GRAPHIC PORTRAIT
This series, The Graphic Portrait, comprises several dozen tightly framed monochrome portraits presented in square format on a white background. It features imaginary, humorous, and surprising characters who challenge and question us, while making both children and adults laugh. It's designed to be simple and accessible, so it can be appreciated by everyone.
Pauline's inspirations come from children's literature and her love of painting and drawing. Presenting a universe that is both childish and light, but also rigorous and precise, she has intelligently combined these two passions to produce images that are halfway between photography and drawing. Along with all the makeup and hairstyling, she creates the various accessories herself, and then takes the photographs and post-processes them in her studio. And a little reveal: the eight images presented here are all self-portraits. A great example of everything that can be created from a single face!
Barbara Farkas, Hungary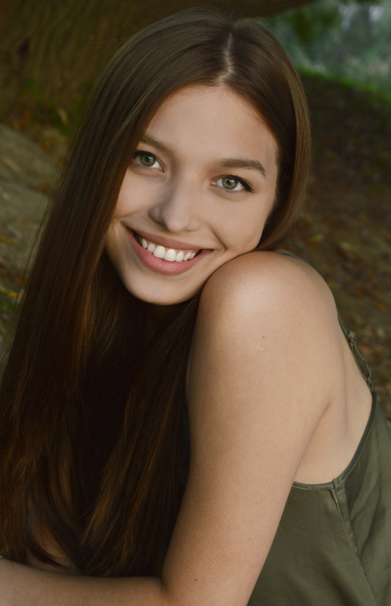 "
"I am currently a student of photography at the Faculty of Arts of the University of Kaposvár in Hungary. I discovered photography at the age of 14, when I chose this subject for my high school studies. 
In my series "Faces" I have explored the main, and perhaps the most serious, global environmental crises. I have chosen self-portraits as the basis for my images, highlighting the fact that we can take action ourselves to address these problems. My images draw attention to large-scale forest fires, global warming, oil pollution, air pollution, ozone depletion and waste pollution."