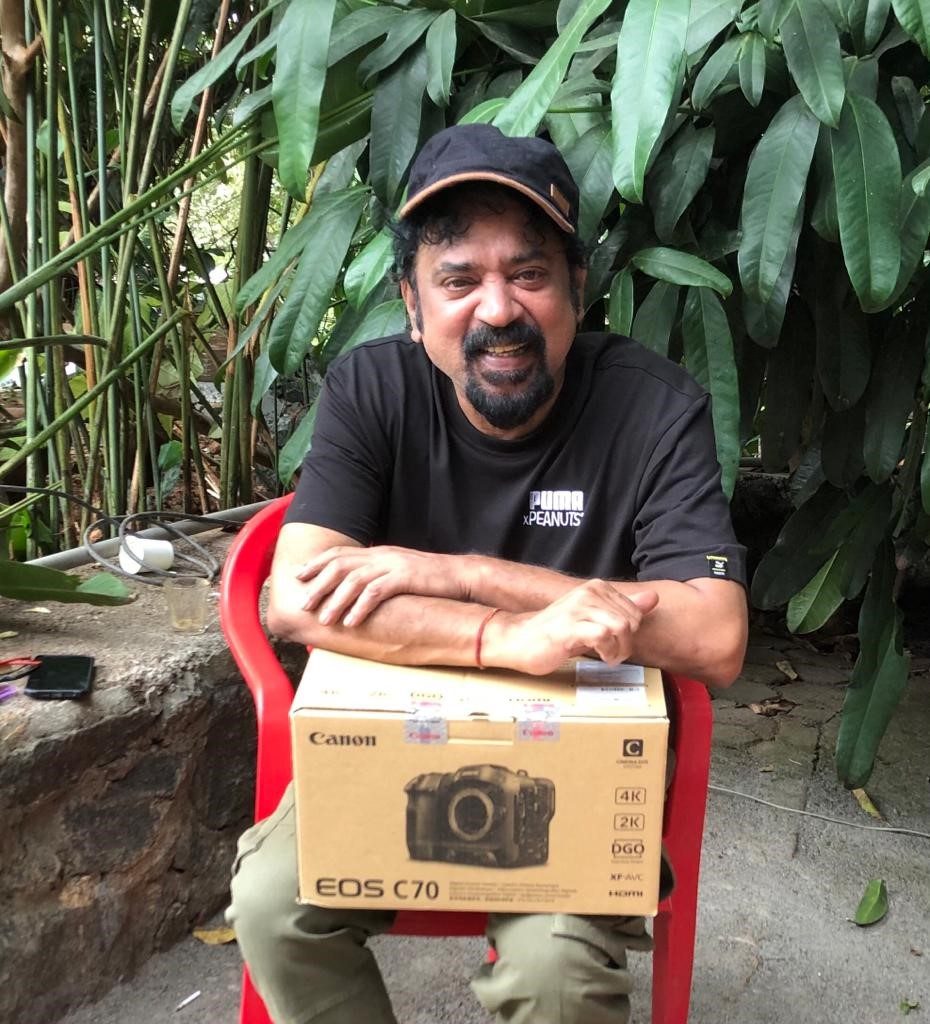 Canon has announced the on-boarding of Director, Cinematographer and Filmmaker, Santosh Sivan as part of its Cinema EOS Ambassador programme. Sivan has been a part of the Indian film fraternity for over 30 years and has worked on various films across Malayalam, Tamil, Hindi, and Telugu languages. He has won 14 National Awards, and for his contribution to Indian cinema, he has been awarded with the Padma Shri, by the President of India in 2014. He has 21 international awards to his credit and his most recent films include, Lies We Tell, Chekka Chivantha Vaanam and Darbar.
According to Canon, Sivan is looking forward to working with the latest cinema camera launched by Canon, the EOS C70 Cinema camera, which is reportedly Canon's first RF Mount Cinema EOS Camera.
Commenting on the Cinema EOS Ambassador Programme, C. Sukumaran, Director- Consumer Systems Products and Imaging Communication Products said, "We are excited to onboard Santosh Sivan, a legend and an industry veteran with an impeccable sense of visual storytelling, as our Canon Cinema EOS Ambassador. Bold and inspirational, the Canon EOS Ambassador programme represents and supports current and future generations of photographers and filmmakers. With his experience and passion, Sivan is the ideal ambassador to not only spearhead change in the motion pictures industry, but also share Canon's vision for visual storytelling. With the remarkable rise of OTT content, the broadcast industry has been witnessing several transformations in recent times and that is where the experience of creators like Sivan counts the most. Through our Canon Cinema EOS Ambassadors, we aim to spread filmmaking not only in terms of being in tune with the latest trends, but also the best-suited technology."
Speaking about partnering with Canon as a Cinema EOS Ambassador, Santosh Sivan said, "I am delighted to be a part of the Canon EOS Cinema Ambassador family. Through the years, Canon has been introducing groundbreaking technology in the field of Cinema which has enabled filmmakers like me to truly depict our vision into reality on film. And through this programme, I also get the chance to not only work closely with Canon but also promote the passion for art in the photography-loving nation that we are. I am excited to introduce to the audience my new work on OTT platforms soon and I believe that choosing a Cinema EOS camera paired with Mirrorless RF technology is an ideal combination in terms of technology. My current picks include the versatile Canon Cinema EOS C70 camera and shall further add the revolutionary mirrorless Canon EOS R5 camera with 8k video recording abilities."
Canon has a diverse set of filmmakers as part of its Canon EOS Cinema Ambassador programme. Other cinematographers as part of the programme include Sumer Verma (Underwater Cinema domain), Alphonse Roy, Bedi Brothers (Vijay Bedi and Ajay Bedi), Priya Thuvassery and Rajesh Gupta.