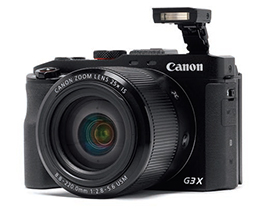 Compact camera sales have been on the decline owing to the onslaught of smartphones featuring capable cameras. The PowerShot G3X could be seen as a strategic release from Canon to hold the market for compact cameras
Canon PowerShot G3X is a largesensor superzoom compact camera that promises to deliver superior images than most compacts in the market. With a 1-inch Type sensor and a 24-600mm zoom range, the camera looks impressive. Well, let us find out.
Design and Build Quality
The Canon G3X is built with a combination of metal and plastic on the exterior, and the camera feels quite sturdy. The device is the size of a mirrorless camera. The lens has a twobarrel construction. The inner barrel protrudes while zooming, but does not move while focussing. The 35mm equivalent focal length (zoom position) is marked on the barrel for 24, 50, 70, 85, 100, 135, 200, 300, 400, and 600mm. The barrel has a tight fit without any 'play'. The main control dial is on top, while the secondary control dial is on the back panel, vertically mounted. The lens also incorporates a control ring. The fl ash springs forward like a striking viper when the fl ash release lever is pulled and stops with a thud, but the metal hinges seem to be strong enough to keep it working for a long time. We observed the same fl aw that is common with all such fl ash units and tilting LCD screens—exposed connector cables that bend during the operation. The camera has a metal tripod receptacle along with a video lug slot that allows you to mount it on a professional video head. The G3X has dimensions of 123.3 x 76.5 x 105.3mm and weighs 733g with battery and memory card.
Key Features
The 20.2 megapixel G3X uses a 1.0-inch Type (9.6 x 12.8mm) CMOS imaging sensor, ably supported by the latest DIGIC 6 processor. The camera has a 24-600mm equivalent optically stabilised lens that provides an aperture range of f/2.8 to 11 at the wide-angle end and f/5.6 to 11 at the telephoto end. In Normal mode, the lens focusses from 5cm to infi nity at the wide-angle end and 85 cm to infi nity at the telephoto  end. In Macro mode, it focusses from 5 to 50cm at the wide-angle end. Focus modes available are Continuous AF, Servo AF, and Manual Focus while AF frame options include Face AiAF and 1-point.
The G3X features the usual three metering modes — Evaluative, Centreweighted and Spot. Sensitivity ranges from ISO 125 to 12,800, while shutter speed ranges from 30 to 1/2000sec., along with Bulb setting. Shooting modes available are Manual (M), Aperture priority (Av), Shutter priority (Tv), Program (P), Hybrid Auto, Auto, Creative Shot, Sports, SCN, Creative Filters, Movie, and Custom (C1, C2). Scene mode include Portrait, Smart Shutter, Star, Handheld Night Scene, Snow, and Fireworks. Creative filters available in the G3X include High Dynamic Range, Nostalgic, Fish-eye Eff ect, Miniature Eff ect, Toy Camera Eff ect, Background Defocus, Soft Focus, Monochrome, Super Vivid, and Poster Eff ect. Movie mode further provides options of Standard, Short Clip, Manual (Movie), and iFrame Movie. Smart Shutter options are Smile, Wink Self-timer, and Face Self-timer. Th e new Star modes give access to Star Nightscape, Star Trails, and Star Time- Lapse Movie modes.
Still images are recorded with a maximum dimension of 4864 x 3648 pixels while movies are recorded at 1920 x 1080. The camera can shoot continuously at approximately 5.9 frames per sec, but only in Auto and P modes. But note that this speed is applicable only at low resolutions. The camera uses a 3.2-inch, approx. 1, 620,000-dot TFT colour LCD with wide viewing angle. The screen is touch sensitive (capacitive), and can be tilted vertically up by 180 degrees and down by about 45 degrees (by visual approximation). The built-in flash has a range of 60cm to 6.8m at the wide-angle end and 85cm to 3.1m at the telephoto end, though Canon does not mention the ISO setting required for this range. Flash modes include Auto, On, Slow Sync., and Off. The G3X has an accessory shoe (hotshoe) to mount an external flash or other accessory. The camera features Wi-Fi and NFC to pair with mobile devices.
The G3X accepts an SD/SDHC/SDXC memory card for storage. Th e camera is powered by a rechargeable Li-ion Battery Pack NB-10L (supplied).
Th e excellent Optical Image Stabilisation enables you to shoot reasonably steady images even at 600mm in bright light with the camera hand-held