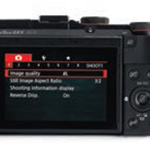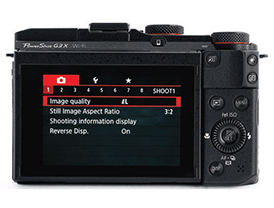 Ergonomics
The Canon G3X has a broad grip that has a soft textured rubber lining. This makes it easy to hold and operate. All controls are within reach and easy to use. Images  appeared crisp on the LCD. The lens  provides enough room to support using your left hand. The menu is intuitive and is divided into pages for easy access to important settings. This is a relief from the scrolling menus that would take a long time to navigate.
Performance
The G3X performed well in our tests  Autofocus was fast, especially at the wide-angle end. At the telephoto end, it was a little slow, but we cannot complain about a compact camera with a 600mm lens. Manual focus override proved quite useful. The system locked on to the subject even under reasonably low light. The images were free of any darkening of corners even at the wide-angle end with the lens wide open. Slight flare was observed along with purple fringing at the wideangle end at the widest aperture. The lens did not produce any distortion, and this is quite remarkable.
Out-of-the-box JPEGs were quite sharp throughout the zoom range. The sweet spot shift ed from f/5.6 to f/8 from the wideangle through the telephoto end. All metering modes performed well. Auto White Balance helped reproduce original tones in most situations. Any slight cast produced were easy to remove in post-processing. The native print size is 12.16 x 18.24 inches at 300 ppi. At 25 percent of this size, slight noise appeared from ISO 6400, but the images were perfectly usable up to ISO 6400. Enlarged to 50 percent, we did not observe any change in the noise characteristics. Viewed at 100 percent, slight noise showed up from ISO 800 onwards. The images were usable up to ISO 1600.
The OIS worked well, and I could shoot reasonably steady images hand-held at 600mm in bright light.
Value for Money
The Canon PowerShot G3X retails at an MRP of Rs.59,995. At this price, considering the above-average performance and versatile zoom range, we would consider this fair value for money for a camera with a 1.0-inch Type sensor. |SP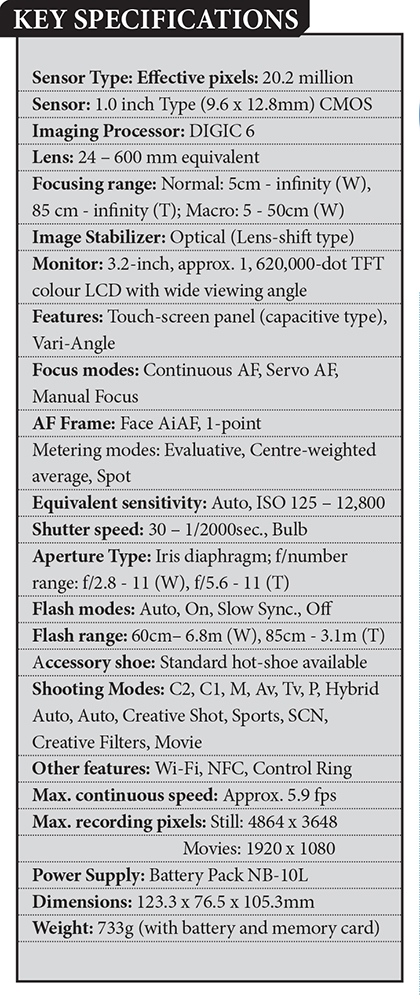 FINAL SCORE                                     80%
Design and Build Quality                     13/15
Key Features                                          12/15
Ergonomics                                             12/15
Performance
Autofocus                                                 3/5
Metering                                                 5/5
Noise Control                                         4/5
Sharpness                                              4/5
Darkening  of Corners                         5/5
Flare and CA                                          4/5
Distortion                                                 5/5
LCD/EVF                                                3/5
Auto WB                                                 3/5
Sub-Total                                      36/45
Value for Money                          7/10
PLUS
• 1.0-inch Type sensor
• 24-600mm lens
• Great optical performance
• Good noise-control
• Reliable Image Stabilisation
MINUS
• Only 2-stop aperture difference at 600mm
• No EVF
• Slow burst shooting in Raw
• AF slow at tele end
VERDICT
The Canon G3X is a digital compact camera with a 1.0-inch Type sensor providing a 25x zoom. The camera has a very useful zoom range that would cover everything that you are most likely to photograph. Please note, however, that at the telephoto end, there is only a 2-stop aperture difference, which could prove a limitation in slightly dark environments.
Sujith Gopinath