Church of the Nativity was modelled on the English parish churches of the Middle Ages. Its brick Gothic Revival building prominently displays 'Reverence  My Sanctuary' – the reason for a Union soldier to disobey the orders of using this church as a horse stable during the Civil War.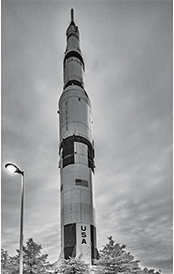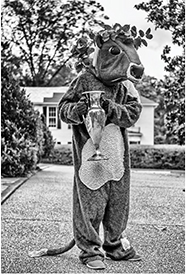 Josiah Cox, the developer of Big Spring Water System, built the Cox House to an unusual height to block the view of LeRoy Pope's house – a move that also earned it the name of 'Spite House'.
The town flourished as a transportation hub with the help of river barges, stage lines and Memphis & Charleston Railroad. Realising its strategic importance, the Union troops captured it in 1862.
In 1864, the Federal troops built fires on the wooden floor of the First United Methodist Church for cooking, resulting in burning down of the church. But once the Civil War was over, the Methodist community rebuilt it in 1868. It is an interesting landmark in this town today.
As we moved along, Don Dukemineer, another employee of Huntsville CVB, greeted us. Representing 'Signal's Lily Flagg' the cow, he was in a cow costume carrying a shiny trophy. Legend has it that this cow was honoured as a Jersey Cup Champion in 1892 for producing 1,047 pounds 3/4 ounces of butter in a year. The city had celebrated this milestone for over three weeks!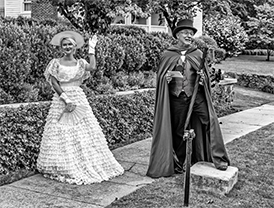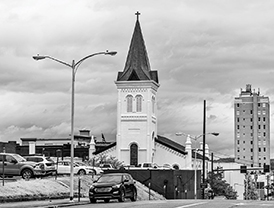 During this walk, Huntsville CVB employees Kirsten Pepper and Catie Wells enacted the roles of Virginia Clay-Clopton and Tallulah Bankhead respectively to give us a glimpse of more interesting chapters from Huntsville's history.
Virginia Clay-Clopton was a political hostess who was active in women's suffrage movement, while Tallulah Bankhead was a flamboyant actress popular on both sides of Atlantic, whose mannerisms became subject to imitation and parody.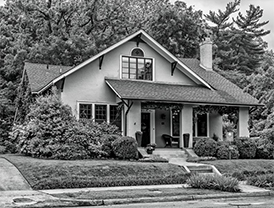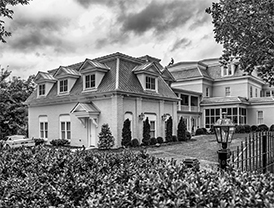 Allow me to share another interesting observation here – the Wharton- Walker House (1820) and the Pulley- Neely House (1920) – despite having come up a hundred years apart and despite their difference in size, betray remarkable architectural similarities.
This Huntsville historic city walk gave us an appreciation of the tumultuous history of a town that had seen it all – from non-existence to sudden affluence and prosperity, from ravages of the 19th-century American Civil War to re-emergence as a flourishing town, from being the first capital of Alabama to being in the thick of action as Dr Martin Luther King Jr was fighting his non-violent battle for Civil Rights of African Americans.
But, that was not all.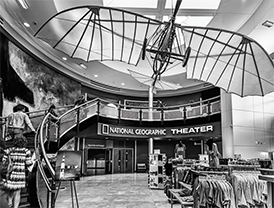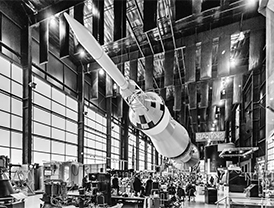 Next day, Huntsville CVB had organised a party for the TBEX delegates. The venue was the Davidson Center for Space Exploration, a part of NASA's U.S. Space & Rocket Center.
As we approached the venue, a gigantic rocket greeted us. We were told that was just a mock-up of Saturn V. The real thing was inside where the party would be!
A real and a faux astronaut welcomed us in the entrance lobby that has Quick's 'Flying Machine' – a monoplane that made a solitary flight in 1908 – on display.
As we were about to enter the Davidson Center, we could hear strains of Jazz music. Surreal as it may sound, Twickenham Jazz & Swing was in attendance for our party.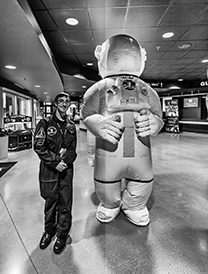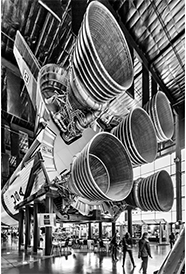 As soon as we entered the center, we were stupefied by the sheer size of the horizontally parked mammoth Saturn V. A 3-part, 111-metre long giant weighing 2,950 tonnes, had a diameter of 10 metres without counting its fins. When standing, it would be 18 metres taller than the Statue of Liberty!
This gigantic transporter had 12 successful space flights under its belt. It served NASA between 1967
and 1973.
Do you realise what it means? In 1969, it sent Apollo 11 to the moon!
The U.S. Space & Rocket Center future plans include sending humans farther into the solar system than ever before, including to an asteroid and to Mars. And this journey is to be facilitated by their International Space Station that orbits 250 miles overhead!
It is uncommon to find a city that offers you both – a glimpse into history and a peep into the future. And if the town is as small as Huntsville, such occurrence is a six-sigma exception. When you visit Huntsville, you would have a choice – a doorway to history, or an entrance into the future. I would recommend you choose both and come out richer! |SP