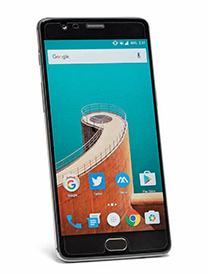 OnePlus 2 may have not matched the reception the OnePlus One enjoyed when it launched in India a couple of years back, but it was an important device nonetheless, as it allowed the company to get back to the drawing board and offer us the OnePlus 3, which we're taking a look at it this month.
Design and Build Quality
The unique sandstone finish that made it to both the previous OnePlus devices didn't make the cut for OnePlus 3, which in retrospect, is a good thing. OnePlus 3 has gone with the smooth unibody metal finish that is crafted with "space-grade aluminium alloy" to make it durable and premium-looking. It's also just 7.3mm thick, making it one of the thinnest flagship devices in the world. Overall, we prefer the OnePlus 3 design over the previous generation OnePlus phones.
Key Features
OnePlus is known to offer state-ofthe- art hardware with its One range, and the OnePlus 3 is no different. The phone packs some serious hardware that gives some of the other expensive flagship phones a run for their money. On the display side, the phone has a 5.5-inch Full HD Optic AMOLED display with Corning Gorilla Glass 4 protecting the AMOLED panel. There's minimum customisation options to tweak the display colour temperature, but the OnePlus 3 does come with a colourbalance slider, adaptive brightness option and night mode.
Under the hood, the phone packs in a 2.2GHz Snapdragon 820 processor, coupled with 6GB of LPDDR4 RAM and 64GB UFS 2.0 storage. UFS 2.0 memory, for the uninitiated, is the next-generation flash memory that offers better reliability and transfer speeds compared to the same amount of storage with an eMMC 5.0 chip. It goes without saying that the aforementioned combination makes for a pretty good experience, with the apps firing up almost instantaneously and resulting in a lag-free experience. Games shine through, thanks to the Adreno 530 GPU as well.
The OnePlus 3 features a 16MP sensor. One interesting thing to note here is it uses a 1.12 micron-pixels sensor compared to OnePlus 2's 1.3 micron-pixels, but the end result does not change drastically. There's PDAF autofocus and image stabilisation is handled through optical (OIS) and electronic (EIS) methods. The camera interface is rather simple but allows the user to tweak some settings like focus and White Balance in manual mode. You can even shoot images in Raw (.dng format). On the video front, the rear camera is capable of shooting videos in 4K at 30fps and slow motion at 120fps.
The front camera has an 8MP 1.4 micron-pixels sensor that takes some good-quality selfies and 1080p videos. The front-facing selfies can also be enhanced through the beautify option that is enabled by default. Connectivitywise, the phone is equipped with dual-SIM-supporting Cat.6 4G LTE, Wi-Fi 802.11ac, Bluetooth 4.2, NFC and USB Type-C for data transfer and charging. Speaking of charging, the Dash Charge technology needs a special mention here. OnePlus 3 has a non-removable 3000mAh battery. Other hardware improvements include a fingerprint sensor that works flawlessly and a physical alert slider to prioritise notifications.
OxygenOS is what gives the smartness to OnePlus 3's powerful hardware and if you have used any of the previous OxygenOS iterations, it's pretty much the same. It's based on Android Marshmallow, which means you get the Android's Doze feature along with permissions manager. The UI is close to stock but adds some customisation options like gestures, icon packs and Shelf for quicker access to apps, memos and more.