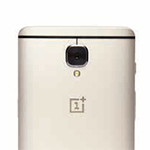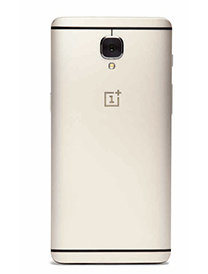 Ergonomics
The OnePlus 3 is beautifully crafted with form factor in focus. Despite the fact that the device is more slippery due to the metal design, the phone is quite manageable with its size and facilitates one-hand operation. The ingerprint sensor, the buttons and on-screen controls all worked lawlessly during our test. The display is, understandably, not comparable with the ones that you see on Samsung devices, but is good enough. It has some good viewing angles with good contrast and deep blacks.
Performance
The phone gives roughly 15-16 hours of run time with moderate use and about four hours of screen-on time.
The low battery is a thing of the past because the bundled charger charges the phone fast. Like, insanely fast. In our tests, the phone took about an hour to charge from 5 to 100 per cent, which is the fastest for a smartphone. Also to note here is that the device remains considerably cooler, allowing us to use it while connected to the power socket.
The camera uses Phase Detection  autofocus and is reasonably quick to focus . In terms of quality, the camera captures good details with good colour reproduction in natural daylight settings. Auto White Balance produced slight cast under artificial light sources. Native print size is 8.7 x 15.5 inches at 300ppi. At 25 percent of the screen size, images were noise-free up to ISO 400. We observed slight noise at ISO 800, but the images were usable right up to ISO 3200. At 50 percent, ISO 400 showed slight noise. At 100 percent view, all ISOs turned noisy. However, the images could be used till ISO 200. The OnePlus 3 provides option to shoot in Raw (DNG format) and if you need absolute control over noise, you can shoot in Raw  and process the images yourself. Our processing resulted in much better noise control.
Value for Money
The OnePlus 3 retails at an MRP of Rs.27,999. Given the hardware profile and the impressive performance, this is unmatched in value for money. |SP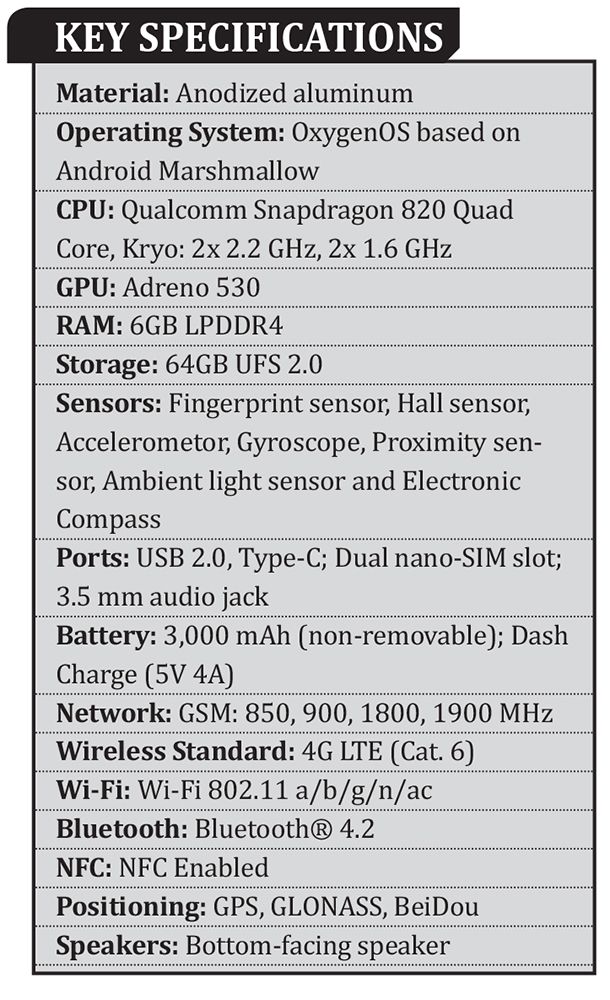 FINAL SCORE                                                                                        88%
Design and Build Quality                                                                       18/20
Key Features                                                                                           17/20
Ergonomics                                                                                              18/20
Performance                                                                                            17/20
Value for Money                                                                                    18/20
PLUS
• Brilliant design
• Excellent performance
• Ultra-fast charging
• Competitive camera
• Great value for money
MINUS
• None so far
VERDICT
When it comes to overall performance, OnePlus 3 gave us very few reasons to complain. Sure, they could have gone with a higher-resolution display to match the competition and a largercapacity battery but these are minor issues that can be easily overlooked. In fact, we feel OnePlus 3 is the best smartphone you can buy right now if you are looking for something under Rs.30,000.
Reviewed by- Kunal Gangar