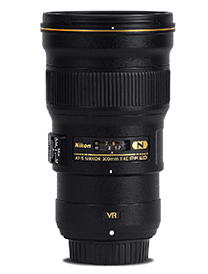 Announced in the first week of January 2015, the AF-S Nikkor 300mm f/4E PF ED VR is the fi rst lens from Nikon to use a PF (Phase Fresnel) lens element. It is also the world's lightest 300mm lens designed for full-frame cameras. Th e lens, with its 4.5-stop-advantage VR that need not be switched off when mounted on a tripod, is specially designed for sports, nature and action photography. For those with statistics in mind, this is the sixth 300mm prime lens ever made by Nikon. Let's see what magic the new lens performs…
Design and Build Quality
Th e lens body is made from polycarbonate but appears to be adequately strong. Th e first thing that you'll notice is that the lens is lightweight and roughly about the size of Nikon's 24-70mm f/2.8 lens. It is a G-series lens, weighs 755g and comes without a tripod collar, though you can buy one as an accessory (Tripod Collar Ring RT-1). Th e lens mount is made from metal and a rubber lens-mount-gasket is provided to prevent dust from getting into the lens when the lens is mounted on a body. The lens is made in China.
Key Features
Let's first see the key similarities and the differences between the new and the older version of Nikon's 300mm lens. Highlighting denotes advantage.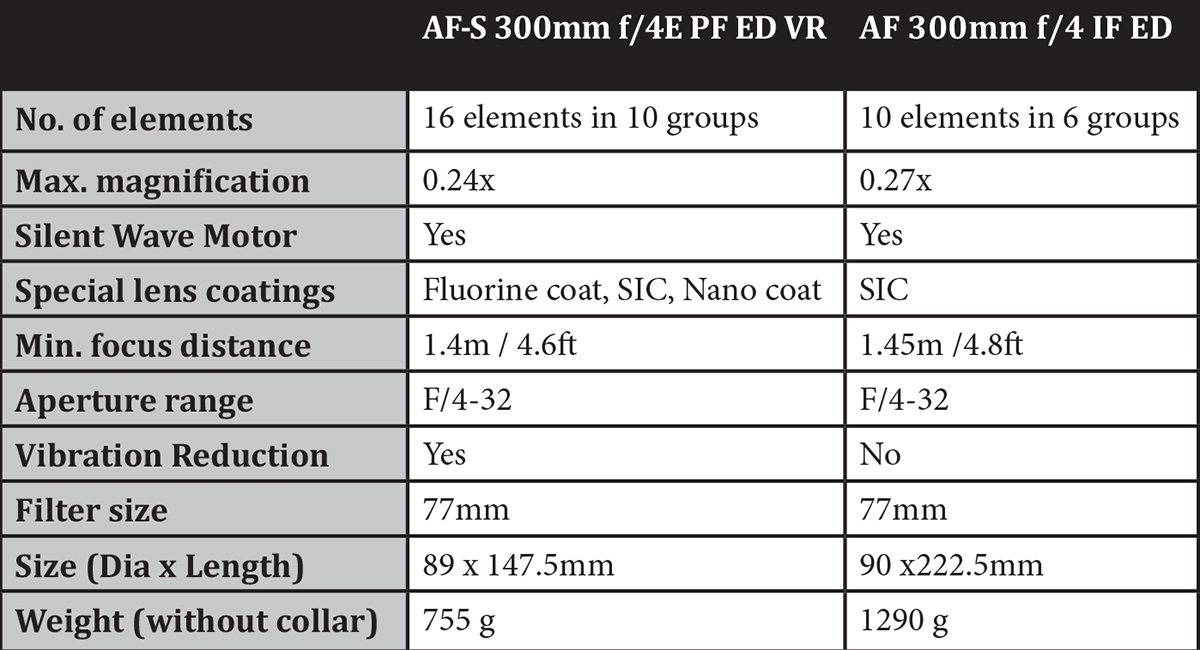 Th e AF-S Nikkor 300mm f/4E PF ED VR lens is constructed with 16 elements in 10 groups which include 1 ED, 1 PF and 1 Aspherical glass element. The PF element has a series of concentric circles engraved onto it which effectively reduce chromatic aberration and ghosting. As per Nikon, the Phase Fresnel element, by itself, nearly eliminates chromatic aberration but when combined with an Extra-low Dispersion (ED) glass element and Nano Crystal Coat, delivers strikingly clear images (the Nano Crystal Coat effectively reduces ghosting and fl are caused by light entering the lens diagonally). Using the PF element also allows Nikon engineers to design the lens with fewer elements, thus reducing its size and weight.
Nikon USA mentions that due to the characteristics of the PF element, "when there is a strong light source within the frame or when light enters the lens from outside of the frame, ring-shaped coloured fl are may occur according to shooting conditions. This phenomenon can be minimized with "PF Flare Control" to be included in Capture NX-D (ver.1.1.0 or later)". Aperture: f/5.6 Shutter Speed: 1/1600sec ISO: 800 As per Nikon, the new lens is 30% smaller in size (compared to the earlier version) and is 680g lighter. The lens elements are multi-coated using Nikon's Super Integrated Coating (SIC). A Silent Wave Motor (SWM) off ers quiet and fast autofocus, while manual override is possible. A special Fluorine coating on the front element helps to repel dust and water and allows easy cleaning. Its 9-bladed diaphragm uses an electromagnetic mechanism (hence the letter E in its name) that guarantees accuracy of the lens opening, even when shooting at high frame rates. Thus it indirectly helps in creating more accurate exposures. This is a G-series lens and hence there is no aperture ring – apertures are controlled via the camera body. A distance scale is available in meters and feet. The lens is compatible with Nikon teleconverters. The lens has a 3-position Focus Mode switch – A/M, M/A, M. When set to M/A (the middle position), autofocus can be overridden by rotating the lens focus ring; the A/M position does the same thing, except that the focus ring must be rotated further before AF is overridden – a safety feature so you don't inadvertently change the focus. The M setting is for manual focus using the aid of the electronic rangefi nder. Between the Focus Mode switch and the VR switch, is the Focus Limit switch that allows you to set the focus distance limit for the autofocus. You can set between Full (from minimum to infinity) or from 3m to infinity.
The lens offers VR (Vibration Reduction) technology, that, according to Nikon, provides a 4.5-stop advantage in shutter speeds over non-VR lenses. The VR switch has 3 positions – 'Off', 'Normal' and 'Sport'. Use 'Normal' for stationary subjects; use 'Sport' for subjects that move unpredictably. 'Sport' is recommended for panning shots though 'Normal' is also supported. In 'Normal' and 'Sport' modes, VR applies only to motion that is not part of the pan; for example, if you pan horizontally, VR is applied only to vertical shake. Moreover, you need not turn off VR when the camera is tripod-mounted (though Nikon mentions that in some cases, 'Off' may produce better results depending on the type of tripod and shooting conditions). The lens utilizes an IF (Internal Focussing) design due to which the lens does not change length when focussing, thus maintaining consistent balance. The IF design also allows for closer minimum focussing distance. A raised white plastic dot helps to align the lens to the camera body.