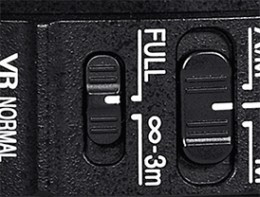 Ergonomics
The lens, being small and lightweight, handles well on any Nikon body. The lens is easy to use. The manual focus ring has a 22mm wide rubberised grip for easy focussing but I wish that the focus ring damping was a bit stronger. Since the front element does not rotate, using a Circular Polariser or Split Neutral Density filter would be convenient. In almost every lens that uses VR, we can notice the viewfinder image stabilizing after we half-press the shutter release button, but in this lens, you may find it difficult to notice the stabilizing action. However, the VR works very well.
Performance
We did the main testing using a Nikon D750 body, though a D810 body was also used for outdoor shots. AF speed: In good and reasonably good light, AF was very fast and accurate. In low light, it was slightly slower.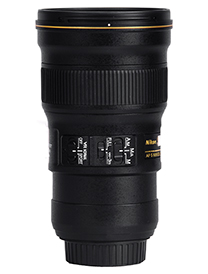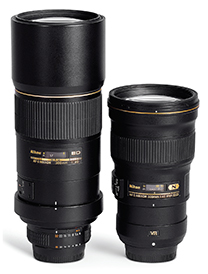 Sharpness: Overall, pictures shot with the AF-S Nikkor 300mm f/4E PF ED VR were punchy and sharp. Wide open at f/4, the centre was quite okay but the sides and corners appeared comparatively softer. At f/5.6, sharpness at the centre as well as the sides/corners improved. We felt that the sweet spot was around f/8 to f/11. Sharpness seemed reduced at f/22 and f/32, most likely due to diffraction of light at such narrow apertures.
Vibration Reduction: The VR works very well. We were able to get quite sharp images even at 1/10th of a second on a stationary subject.
CA and flare: Chromatic aberration was well controlled. Strong flare could be seen in shots that included the sun. We did experience the 'ring-shaped, coloured flare' as mentioned earlier in Key Features, but in only one frame out of 10 that were shot for checking flare. Do note that this phenomenon may or may not be noticeable every time; it could occur according to the shooting conditions.
Corner darkening: There was some darkening at the corners at f/4, negligible at f/5.6 and by f/8, there was no corner darkening. Do note that in day-today use, the slight corner darkening mentioned here would not be of any relevance.
Distortion: We did not notice any perceptible distortion, which is good.
Focus breathing: There appears to be some focus breathing (very minor). We photographed the same subject at the same distance (about 18 feet) with the old and the new version of the 300mm f/4 lens. The image from the new lens was slightly smaller.
Value for Money
The AF-S Nikkor 300mm f/4E PF ED VR lens is available at an MRP of Rs.1,39,950. Costly? Yes! Do you get what you pay for? Yes! |SP
 KEY SPECIFICATIONS
AFocal length: 300mm
No. of elements: 16 elements in 10 groups (includes 1 ED, 1 PF and 1 Aspherical glass
element)
Special lens coatings: Fluorine coat, Super Integrated Coating, Nano coat
Silent Wave Motor: Yes
Internal focussing: Yes
Min. focus distance: 1.4m / 4.6ft
Max. magnification: 0.24x (1: 4.2 ratio)
Aperture range: F/4-32
Angle of view: 8 10' (FX format) 5 20' (DX format)
Vibration Reduction: VR
Diaphragm blades: 9
Filter size: 77mm
Size (Dia x Length): 89 x 147.5mm
Weight: 755 g
Design and Build Quality                                                16/20
Key Features                                                                  18/20
Ergonomics                                                                    18/20
Performance
Autofocus                                                                       4/5
Sharpness                                                                       4/5
Distortion
Control                                                                              5/5
Aberrations                                                                        4/5
Darkening
of corners                                                                           4/5
Extra Features                                                                   4/5
Sub-Total                                                                       25/30
Value for Money                                                                8/10
PLUS
• Lightweight
• Compact
• Very sharp images
• Silent Wave Motor
MINUS
• PF element could cause flare
• Nikon Capture NX-D would be required to minimise/get rid of the flare, if caused
•- Electronically controlled diaphragm blades will not work with older Nikon cameras
VERDICT
TThe AF-S Nikkor 300mm f/4E PF ED VR lens shows definite improvements when compared to the older version, which was/is by itself very good. The biggest advantage as I see it is its low weight and compact size. Though I do not advice using any long focal length lens to be used hand-held, using this particular lens without a cumbersome tripod will be greatly appreciated by one and all. In terms of image sharpness, we have no quantifying method to say how much sharper it is compared to the earlier version, but it is sharper, not only because of the improved design and low weight, but also due to the VR system. Best Buy!
Rohinton Mehta