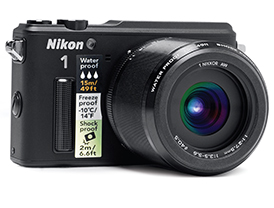 Nikon's mirrorless range of interchangeable lens cameras, being late entrants, have so far received a rather cold response from the customers, compared to some other competitors. But this time, Nikon is all set to set the markets on fi re with the world's first waterproof interchangeable lens camera (not needing a waterproof housing). The 14.2-megapixel Nikon 1 AW1 is a waterproof, freezeproof and shockproof camera featuring a CX format lens. Let us see what it hides apart from the waterproofing.
Design and Build Quality
The Nikon 1 AW1 has a sturdy carbon composite exterior. Being waterproof, the lens mount has a rubber ring, which Nikon calls the O-ring, which prevents water ingress. The outer shell of the lens extends right up to the base, which fits tightly on the O-ring. The camera is waterproof (down to 49 feet), shockproof (up to 6.6 feet) and freezeproof (down to 14° F). The battery/card compartment as well as the interface slots are covered by doors with special double locks for waterproofi ng. Both the tripod and lens mounts are metal.
Key Features
The 14.2-megapixel Nikon 1 AW1 uses a Nikon CX format (13.2 x 8.8 mm) CMOS sensor and an EXPEED 3A processor. It features a new mount, which Nikon calls Waterproof 1. Nikon has also brought out two lenses in the new mount, designated as 1Nikkor AW. The AW1 uses an electronic shutter and this provides a shutter speed range of 30 to 1/16000 sec with 1/3-EV step increments. The shutter can synchronise with the flash at 1/60 sec or lower shutter speeds. The drive modes available are Single, Continuous, and Self-timer. The camera can capture continuous frames at up to 60 fps. Self timer can be set at 2, 5, or 10 sec. The AW1 uses TTL metering and features the usual three metering modes—Matrix, Centre-weighted, and Spot. Exposure can be compensated up to +/-3 EV in 1/3 EV increments. Sensitivity ranges from ISO 160-6400 with an Auto option. Lens servo options are Single AF (AF-S), Continuous AF (AF-C), Auto AF-S/AF-C selection (AF-A), full-time AF (AF-F), and Manual focus (MF). The camera features Hybrid autofocus (phasedetection/ contrast-detect AF). AF-area options are Single-point, Single-point (centre), Auto-area, and Subject tracking. The AW1 features Single-point AF with 135 focus areas. The centre 73 areas support phasedetection AF. In Auto-area AF, you can select 41 focus areas. The camera also features Face Priority AF.
Still images are recorded in NEF (Raw) and JPEG formats. NEF has two quality options —12-bit and compressed, while JPEG can be recorded in Fine, Normal, and Basic qualities. Simultaneous capture of Raw and JPEG is also available. Maximum dimension for still images is 4608 x 3072 pixels; Videos are recorded in MOV format with H.264/ MPEG-4 Advanced video coding, and the best quality of videos captured by the AW1 is 1920 x 1080 at 60i/30p. Audio is recorded in AAC format. You can select between different Picture Control options such as Standard, Neutral, Vivid, Monochrome, Portrait, and Landscape. These can also be modified according to your preferences. Shooting modes available are Auto, Creative, Best moment capture, Advanced movie, and Motion Snapshot. Creative mode provides options of Program (P), Shutter Priority (S), Aperture Priority (A), Manual (M), Underwater, Night landscape, Night portrait, Backlighting, Easy panorama, Soft, Miniature effect, and Selective colour. Advanced Movie options include P, S, A, M, and Slow Motion. The AW1's White Balance modes include Auto, Underwater, Incandescent, Fluorescent, Direct sunlight, Flash, Cloudy, Shade, and Preset Manual. The built-in flash has a Guide Number of approximately 5m at ISO 100, 20 °C. Flash is controlled by i-TTL flash control using image sensor, and the flash modes include Fill flash, Red-eye reduction, Fill flash + slow sync, red-eye reduction + slow sync, rear curtain + slow sync, rearcurtain sync, off. Flash intensity can be compensated up to +/-3 EV in increments of 1/3 EV. The camera houses a 3-inch, approx. 921k-dot, TFT LCD.
The AW1 accepts an SD/ SDHC/SDXC memory card for storage. The camera features location data receiver using GPS and GLONASS. The AW1 is powered by an EN-EL20 Li-ion  battery pack, weighs approximately 356g (with battery and memory card), and has dimensions of approximately 113.3 x 71.5 x 37.5 mm (W x H x D) excluding projections.
Ergonomics
The AW1 is compact and lightweight. It has a matte finished exterior, which makes it easy to hold. To prevent from slipping, the body has a small textured metal strip that acts as a grip. Th e Waterproof 1 series of lenses fi t very tightly on to the O-ring, which makes it difficult to mount and demount, but Nikon has provided a tube of lubricant with the kit, which can be used to lubricate the ring. When using regular 1 Nikkor lenses, the ring can be covered with the O-ring protector provided on the body cap.
Nikon has incorporated an 'action' button on the camera. If you press this camera in the shooting mode, you can change from one setting to the other by simply turning the camera with one hand. This is useful for adventure-seekers who need to capture the moment with one hand while harnessing on to another surface with the other.
The LCD is not of the best quality we have seen. The built-in flash is quite small, and springs out like a striking viper. But the metal hinges and mounting parts make it sturdy. The tripod receptacle is mounted towards one side and hence the camera rotates a little off the optic centre when mounted on a tripod. This could create parallax while attempting panoramas. This could also exert too much strain on the mount when a heavy lens is mounted.