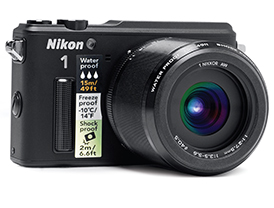 Performance
The Nikon 1 AW1 focussed well with the 11-27.5mm (approximately 29 – 74mm equivalent) kit lens. Autofocus was fast enough, though it is not the fastest we have seen. It did not have any problems focussing in low light. Darkening of corners was not observed at the wide-angle end with the lens wide open. Flare was observed along with slight purple fringing in strong againstthe- light shots at the wide-angle end at the widest aperture. The lens was reasonably sharp, and the sweet spot was between f/4 and 5.6. The metering modes worked well.
The lens produced slight barrel distortion up to 24mm (65mm equivalent). The camera produced a distinct yellow cast under most lighting conditions in both Auto and Preset White Balance settings. However, this could be easily removed in post-processing. Native print size was 10.24 x 15.36 inches at 300 ppi. At 25 percent screen size, we did not observe any noise till ISO 6400. Enlarged to 50 percent, slight noise crept in from ISO 1600 onwards, though the images were perfectly usable up to ISO 1600. Viewed at 100 percent, we did not observe any difference in the noise characteristics.
Value for Money
The Nikon 1 AW1 retails at Rs.39,950 along with the 11-27.5mm f/3.5-5.6 Waterproof lens and 8GB Class 10 SD card. This is very good value for money.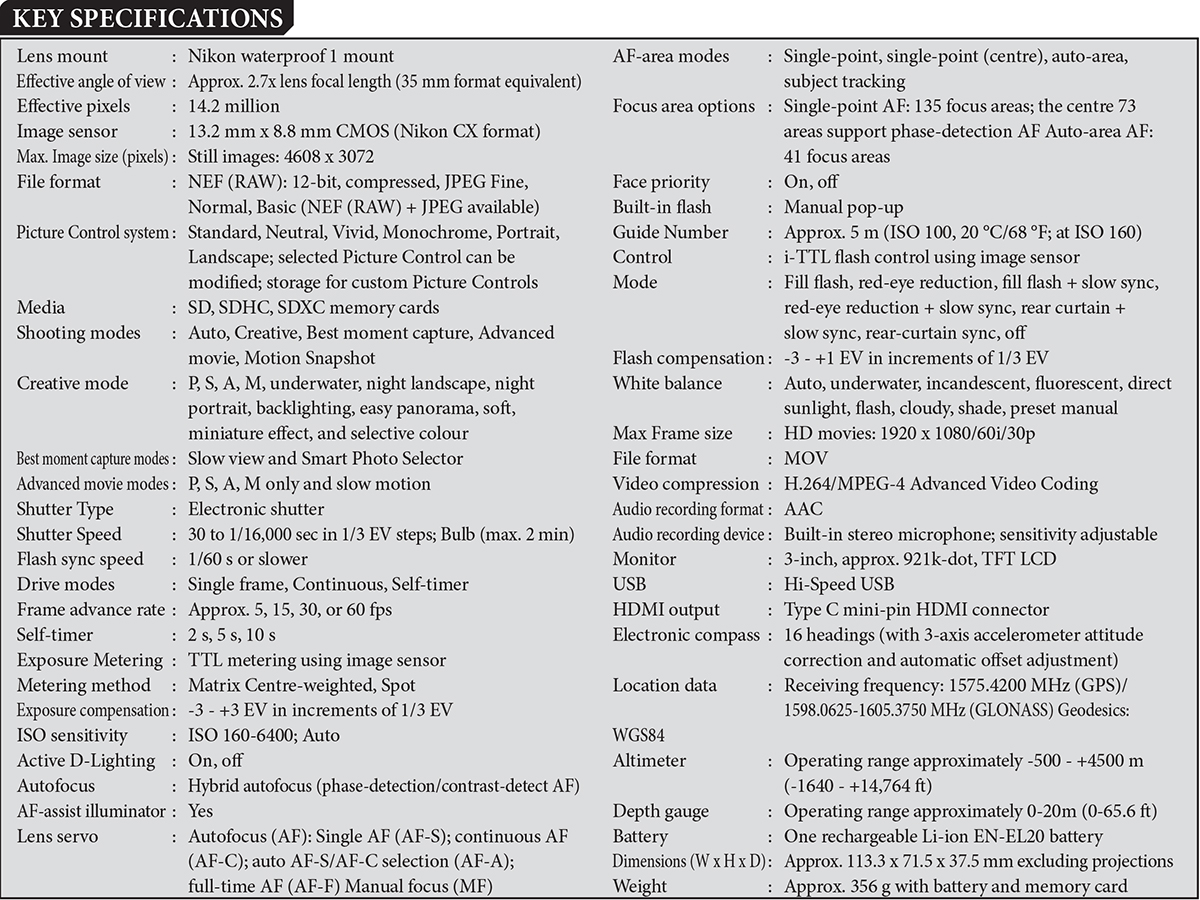 PLUS
• World's first waterproof ILCC
• Compact and lightweight
• Good features
• Ergonomic design
• Good performance for the price
MINUS
• No accessory shoe for external flash
• LCD could have been better
FINAL SCORE                                             81%
Design and Build Quality                            17/20
Key Features                                            18/20
Ergonomics                                                17/20
Performance          
Autofocus                                                   3/5
Metering                                                     5/5
Noise Control                                             4/5
Sharpness                                                3/5
LCD/EVF                                                  3/5
Auto W/B                                                 3/5
Sub-Total                                              21/30
Value for Money                                     8/10
VERDICT
The Nikon 1 AW1 is the world's first truly waterproof interchangeable lens camera, and it presents a new category that might emerge in the near future. Though the camera requires some minor refinements for indoor use, especially in the display, we wouldn't hesitate to recommend the AW1 for outdoors.
Sujith Gopinath