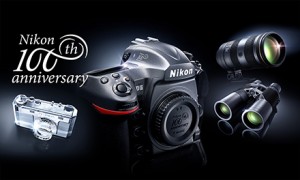 Nikon will be celebrating the 100th anniversary of its establishment on July 25th, and official Nikon shops will be accepting orders for commemorative models and goods starting June 15, until August 31, 2017.
Details are available on Nikon's 100th anniversary website, http://www.nikon.co.in/en_IN/products/categories/100th?
The commemorative editions of seven models, represent the tradition and advanced technologies that Nikon has cultivated over the past 100 years.
The 100th Anniversary Editions available are:
D5 100th Anniversary Edition – Rs.530,000
D500 100th Anniversary Edition – Rs.185,000
NIKKOR 70-200E 100th Anniversary Edition – Rs.260,000
NIKKOR Triple F2.8 Zoom Lens Set 100th Anniversary Edition – Rs.530,000
8×30 E II 100th Anniversary Edition – Rs.53,650
In addition to these, the following 100th Anniversary Special Collections are also available:
Nikon 100th Anniversary Miniature Nikon F Camera – Rs.9,350
Nikon 100th Anniversary Pin Collection – Rs.17,450
Nikon 100th Anniversary Premium Camera Strap – Rs.6,750