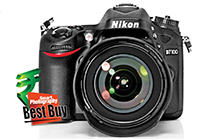 The Nikon D7100 was announced on 20th February 2013. This is the fifth Nikon D-SLR (and the third in the DX format) to sport a 24 megapixel sensor.
It appears to me that Nikon is trying to standardise 24 MP as a 'base' for their future models. Here is the line-up of their 24MP models: D3X (FX), D600 (FX), D3200 (DX), D5200 (DX) and D7100 (DX). Nikon claim the D7100 as their new flagship DX format HD-SLR that offers advanced imaging precision and an ability to shoot at 6fps. Images can be shared via the optional WU-1a Wireless Mobile Adapter. This is Nikon's first D-SLR to completely do away with the Optical Low Pass Filter (OLPF) in the sensor assembly. To know how the D7100 fared on our test bench, read on…
Design and Build Quality
Of course there are differences between the D7000 and D7100. Looking at them, beside each other from the front, you are quite likely to confuse one for the other, unless you are eagle-eyed or check out the names. However, observe the backs and you will notice the differences without much ado. Observe that the D7100 has no protective plastic cover on the rear LCD (cost cutting, we presume). The LCD is larger; the  positions of buttons, multi- selector, Live-View etc have changed.
The D7100's top plate sports a stereo microphone and the position of the metering button has shifted a wee bit. The Movie Record button has taken the position of the metering button on the
D7000.
The build quality has not changed – it remains as good as that of the D7000. There is no change in the hand-grip which too is very good. The D7100 body weighs 765g whereas the D7000 body weighed 755g.
Nikon D7100

Front View

Nikon D7000

Front View

Back View

Back View

Top View

Top View
The D7100 is a 24.1 megapixel D-SLR built on a CMOS DX format sensor (23.5 x 15.6mm), complemented by the tried and tested EXPEED 3 processing engine. As mentioned in the intro, this is Nikon's first D-SLR to completely do away with the Optical Low Pass Filter in its sensor assembly. The omission of the OLPF results in the sharpest possible images. (There is a misconception that the 36 megapixel Nikon D800E does not have an Optical Low Pass Filter; the fact is that the D800E has an OLPF but it bears a very different design). Whether this omission creates moire (the purpose of the OLPF is to prevent/ reduce moire) or not will be seen later on in this review. As usual, Nikon has provided its dust reduction system with the D7100 (Image sensor cleaning and Image Dust Off reference data which requires the optional Capture NX2 software).
With the D7100, you can shoot in Raw, JPEG Fine/Normal/Basic or Raw + JPEG Fine/Normal/Basic. Fine- tuning of images to suit individual likes can be done using the Picture Control System which offers Standard, Neutral, Vivid, Monochrome, Portrait, and Landscape settings. As with all Nikon
D-SLRs, the user can modify any Picture Control. Two memory card slots are provided for SD, SDHC or SDXC cards. The second card slot can be used for overflow or backup or for separate storage of  copies created using Raw+JPEG. Pictures can also be copied between cards.
The viewfinder uses a pentaprism and frame coverage is approximately 100% horizontally as well as vertically. A welcome improvement that Nikon has done is to change the colour of the viewfinder display from green to white, which makes it much easier to see. The focusing screen is not interchangeable but framing grid can be displayed if the user chooses to. Depth of Field preview button is provided.
| | | |
| --- | --- | --- |
| Key Features | | |
| Main differences | D7100 | D7000 |
| Effective pixels | 24.1 million | 16.1 million |
| Optical Low-Pass Filter | No | Yes |
| AF points | 51 (includes 15 cross type) | 39 (includes 9 cross type) |
| LCD size | 3.2-inches | 3-inches |
| LCD resolution | 12,00,000 dots | 920,000 dots |
The D7100 is compatible with AF Nikkor lenses, including type G and D, and DX lenses. Non-CPU lenses can be used in Aperture Priority and Manual exposure modes only. The shutter is an electronically controlled vertical travel, focal plane type. Shutter speeds range from 30 seconds to 1/8000sec. The shutter will synchronize with electronic flash up to 1/250sec but if you so wish, you can use a shutter speed of 1/320sec with flash, but the flash range will drop between shutter speeds of 1/250s and 1/320s. Shutter can be released using Single frame (S), Continuous Low (CL), Continuous High (CH), Quiet shutter release (Q), Self-timer, or Mirror up (Mup). Interval timer photography is supported. The D7100 is a DX format model (where the equivalent focal length in terms of 35mm format, is 1.5 times the actual focal length used) but it also allows you to shoot in a format that offers a 1.3x Crop Factor (15.4MP). It uses an18x12mm area of the sensor in the middle. What is not clear in the user manual is that the 1.3 crop factor is with respect to the DX format. What this means is that when you use the 1.3x crop factor, you are actually using 1.3x of 1.5 which works out to 1.95 in 35mm equivalence (almost the crop factor that Four Thirds offer). In other words, you could say that the D7100 is a 'two-in-one' camera – a DX as well as an almost equivalent of Four Thirds. How many frames you can shoot per second depends on whether you are shooting JPEGs or Raw, how many 'Bits' (12 or 14), and whether you are shooting in DX or 1.3X crop factor. Here is a brief guide: JPEGs and 12-bit Raw in DX format; CL: 1-6 fps. CH: 6 fps. JPEGs and 12-bit Raw in 1.3X format; CL: 1-6 fps. CH: 7 fps.
14-bit Raw in DX format; CL: 1-5 frames. CH: 5fps 14-bit Raw in 1.3X format; CL: 1-6 frames. CH: 6fps
The D7100 uses TTL metering using a 2016-pixel RGB sensor. The metering range is 0-20EV (Matrix and Center- weighted metering) and 2-20EV for Spot metering. The camera offers the following metering modes:
Matrix metering:
3D Colour Matrix metering II (type G and D lenses); Colour Matrix metering II (other CPU lenses); Colour Matrix metering with non-CPU lenses if user provides lens data.
Center-weighted metering:
Weightage of 75% given to 8mm circle in the center of the frame. Diameter of the circle can be changed to 6, 10, or 13mm or the weightage can be based on the average of the entire frame (non-CPU lenses can use only the 8mm circle).
Spot metering: Meters 3.5mm circle
(about 2.5% of the frame) centered on selected focus point (on central focus point when non-CPU lens is used). Exposure modes on the D7100 are: Auto, Program (includes Flexible Program), Aperture Priority, Shutter Priority and Manual; Scene modes (Portrait, Landscape, Child, Sports, Close-up, Night Portrait, Night Landscape, Party/Indoor, Beach/Snow, Sunset, Dusk/Dawn, Pet Portrait, Candlelight, Blossom, Autumn Colours, and Food); Special Effect modes (Night Vision, Colour Sketch, Miniature Effect, Selective Colour, Silhouette, High key, and Low key); User Settings 1 & 2. Exposure can be compensated in +/- 5 EV in increments of 1/3 or 1/2EV in P, S, A and M modes. Besides the various exposure modes, the D7100 allows you four types of bracketing: Exposure bracketing (2-5 frames in steps of 1/3, 1/2, 2/3, 1, 2, 3 EV ), White Balance bracketing (2-5 frames in steps of 1, 2 or 3), Flash bracketing and ADL  (Auto D-Lighting) bracketing.
Autofocus is taken care of by the Nikon Advanced Multi-CAM 3500DX AF module with TTL phase detection, fine- tuning, and 51 focus points (including 15 cross-type sensors). The central focus point is available at apertures slower than f/5.6 and faster than f/8. You can set the camera to AF-S (Single- servo AF), AF-C (Continuous-servo AF) or AF-A which automatically chooses between AF-S and AF-C depending on the status of the subject (If the subject is stationary, the camera will select AF-S; if the subject moves, it will select AF-C). Predictive AF Tracking will be initiated in AF-C mode or when continuous servo AF is selected in AF-A mode if the subject moves towards or away from the camera while the shutter release button is pressed halfway. Further, the user has the choice of various AF-area modes: Single-point AF, 9 or 21 or 51-point Dynamic AF area, 3D Tracking or Auto-area AF. Focus can be locked by pressing the shutter release button half-way down and holding it (in AF-S) or by pressing the AE-L/AF-L button.
White Balance settings on the D7100 are: Auto (2 types), incandescent, fluorescent (7 types), direct sunlight, flash, cloudy, shade, preset manual (up to 6 values can be stored), and colour temperature (2500K-10,000K). All settings can be fine-tuned. ISO sensitivity can be set to Auto or between ISO 100 and 6400 and can be further boosted to approx. 8000-25,600.
As with all current D-SLRs, you can take still photographs using the Live View or capture video clips using the Movie Live View function. For still images, you can use single-servo AF (AF-S) or full-time servo AF (AF-F). For movie recording, the camera uses TTL exposure metering using the main image sensor, combined with Matrix metering. Video is recorded in MOV file format using H.264/MPEG-4 Advanced Video Coding. For videos in DX mode, the best quality is 1920 x 1080 (Progressive) at 24, 25 or 30 fps; in 1.3xmode, the best quality offered is 1920 x 1080 (Interlaced) at 50 or 60fps. Images/ video can be viewed on the 3.2-inch, approximately 1229K-dot TFT monitor.
The D7100 offers a built-in flash having a Guide Number of 12m/39ft at ISO 100. Flash control is iTTL using a 2016-pixel RGB sensor and is available with the built-in flash and SB 910/900/800/700/600/400 external flashguns. iTTL balanced fill-flash for digital SLRs is used with Matrix and Center-weighted metering; Standard iTTL flash for digital SLR is used with Spot metering. The usual flash modes are supported and flash compensation is available from -3 to +1 EV in increments of 1/3 or 1/2 EV.
Some other useful features on the D7100 are Active D-Lighting (most effective when used with Matrix metering) which preserves detail in highlights and shadows in very high contrast lighting; HDR (High Dynamic Range imaging) which combines two different JPEG exposures to create a new file with detail in highlights and shadows (again, best used with Matrix metering in strong contrast lighting); FV Lock – a flash feature that permits correct flash exposure even when subjects are not in the center of the frame; Multiple Exposure, and Interval Timer Photography. If you like to record the current location of the camera, you could do so using the optional GP-1GPS unit that attaches to the camera's accessory shoe.
---
Ergonomics
Once you recognise the minor layout differences between the D7000 and D7100, you should have no difficult y in handling the D7100. All humans are averse to changes and at first thought, you might wonder why Nikon chose to var y the layout ( howsoever minute). As you get used to it, you might feel ( like I do) that the new layout makes using the camera a bit easier. I particularly liked the white lettering in the view finder, which makes it so much easier to read. The lens/camera combo balanced out well and was easy to use. There are some changes in the user interface when compared to the D7000 but nothing to complain about.
D7100 users now have something more to talk about – the extra 'reach' provided by the 1.3x crop. As explained earlier, the 1.3x crop is in respect to the DX format, offering almost doubling of the effective focal length (1.95x to be exact). Hence your 100mm lens effectively covers an angle of view offered by a 195mm lens (very close to what the Four Thirds Standard does).
Performance
The camera was tested using the supplied AF-S Nikkor 18-105mm f/3.5-5.6G ED lens. For the sharpness test, a sturdy tripod was used. The test for digital noise was done using JPEG Large/Fine. JPEG compression was set to 'Optimal quality '. 'Standard' Picture Control was used and in-camera sharpening was left at the default setting of 3 levels (the user can set the in-camera sharpness parameter Images were very sharp (I feel they are a bit sharper than those from the D7000), with good contrast and accurate colours. Please see the 'as-shot' image of the 'Champa' flowers. The white border shows the portion of the image that has been enlarged. Considering that a kit-lens was used and such a small area has been enlarged to this size speaks highly about the lens/body combo.
Note: With a high-megapixel model like the D7100, it is advisable to use a tripod whenever  possible. High megapixel models are not forgiving, meaning that any flaw in the lens or any camera movement during exposure will be easily noticed. The D7100 also offers a 'mirror-up' feature that can further aid in improving image sharpness, especially for close-up and macro shots. With 'mirror-up', minute vibrations that rob you of critical sharpness are suppressed.
Now to the aspect of this review that most readers must be waiting for – control over digital noise. The native image size that the D7100 produces is 13.333 x 20 inches at 300 pixels per inch. At 25% screen size, images were noise free up to ISO 1600. ISO 3200 and 6400 did show some noise but could be used if necessary. At 50% screen size, we did not observe any noise up to ISO 400. ISO 800 did show slight amount of noise but again, you could use up to ISO 3200. ISO 6400 was noisy. At 100% screen size, some noise could be seen even at ISO 400 but was not at all objectionable up to ISO 800. Noise was clearly visible at ISO 1600 but I would still use it in an emergency. ISO 3200 and 6400 were noisy at 100% screen size.
Flare could be seen in strong against-the-light shots but we did not notice any chromatic aberration, which is a good thing. Autofocus through the viewfinder was quick in bright sunlight but we did notice that even in bright light, AF struggled when contrast was low. Darkening of corners and sides was clearly visible with the lens wide open at 18mm. Corner darkening was visible at all apertures at 18mm. Barrel distortion was obvious at 18 and 24mm settings.
All 3 metering methods – Matrix, Center-weighted and Spot produced accurate results. Auto White Balance gave a slight tinge of blue with Flash and Shade (which can be very easily corrected in post-processing) but was perfect in Sun. White Balance presets worked perfectly in Flash, Shade as well as Sun.
Is the D7100, devoid of the anti-aliasing filter (Optical Low Pass Filter) prone to moire?  Surprisingly, in my very limited testing for moire, the D7100 did not show any signs of moire whereas my D7000 does so regularly when I try to photograph fine-line art sketches!
The D7100 uses the same battery (EN-EL15) as the D7000 (and D800 too!) and the body weighs approximately 765g with battery and card. Its dimensions are 135 x 106 x 76mm, almost equal to that of the D7000.
Value for Money
The Nikon D7100 body is available at an MRP of Rs.79,450; Rs.94,950 with a AF-S 18-105mm VR kit lens or Rs.112,950 with an AF-S 16-85mm VR kit lens. Currently, a D-SLR bag is provided as a freebie! Considering the superb image quality and a bag-load of extra pixels
+ Improved viewfinder display
+ Extra 'reach' provided by the 1.3x crop factor
+ Excellent image quality
– No protective cover for the LCD
– LCD not vari-angle
– HDR limited to JPEGs only and only 2 frames
| | |
| --- | --- |
| FINAL SCORE | |
| Design and Build Quality | 17/20 |
| Key Features | 18/20 |
| Ergonomics | 17/20 |
| Performance | |
| Autofocus | 4/6 |
| Metering | 5/6 |
| Noise Control | 5/6 |
| LCD/VF | 4/6 |
| AWB | 5/6 |
| Sub-Total | 23/30 |
| Value for Money | 7.5/10 |
| Grand Total | 82.5/100 |
Verdict
The 24.1 megapixel D7100 is Nikon's new DX flagship. Actually, it's like having two cameras in one – a DX format and an equivalent of Four Thirds! Nikon's gamble (of not incorporating an OLPF) seems to have paid off – images are very sharp and magically, there's no sign of any moire (in my limited testing of the same). So, should D7000 owners rush out and buy the new model or should they stick to their D7000s? If you definitely need the extra pixels and/or you are not fully satisfied with the image sharpness from your D7000 (according to me, if you are not satisfied with the sharpness of images from the D7000, you should look back at yourself and change your shooting style), then you may consider the D7100. For new-comers and for those wanting to upgrade from their D80s, D90s, D3200s, 5100s etc, yes, the switch will be totally justified. Best Buy!
Rohinton Mehta