Nikon India Private Ltd. introduces the Z f, latest in the mirrorless camera lineup offering superior performance. It is equipped with a full-frame sensor and the same EXPEED 7 image-processing engine as the mirrorless flagship Nikon Z 9 and Z 8, enabling advanced shooting of videos and stills. In addition to realizing outstanding operability, the Z f features cutting-edge technology, including exceptional AF and VR performance, that meet the needs of creators pursuing their individual forms and styles of expression.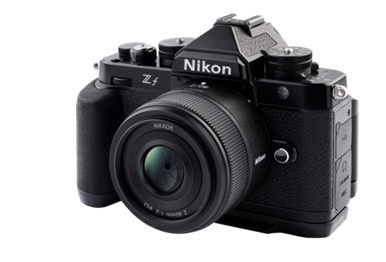 "Nikon Z f is the latest addition to the full-frame Z family which comes packed with EXPEED 7 image-processor offering features like in-camera 10-bit N-log video, eliminating the need for an external recorder. With high resolution of up to 4K, the new Nikon Z f is sure to enable creators produce exceptionally high-quality videos. For the first time in the world*, we have introduced focus point VR in Z f which helps to reduce the subject blur even in compositions where the subject is positioned at the periphery. The Z f also comes with a dedicated monochrome selector and a Vari-Angle monitor. For Wedding photographers and cinematographers, the Z f offers AI driven features like Portrait Impression Balance and Skin Softening which are great for delivering your projects without spending a lot of time on post-production. We are sure that Nikon Z f will greatly help creators take their skills to the next level", said Sajjan Kumar, Managing Director of Nikon India Pvt. Ltd.
Z f PRIMARY FEATURES
The Z f features enhanced video performance allowing for more authentic production of videos and stills. With H.265 10-bit in-camera recording and N-Log/HLG recording support, subjects such as weddings, portraits and wildlife have delicate details beautifully and accurately depicted. Users can also shoot with minimum gear and without the need for an external recorder. With up to 125 minutes of 4K UHD/60p video recording, the Z f enables full-scale video recording with sufficient recording duration. In addition, it supports the recording of 4K UHD video using 6K oversampling, enabling creation of high-resolution videos. The camera also features Video S mode, which enables users to control auto exposure with a fixed shutter speed. This is especially useful when the brightness is constantly changing outdoors due to cloud movement, or the scene includes a significant difference in brightness such as from bright sunlight to shade.
Users can now shoot multiple NEF (RAW) files while shifting image sensor positions utilizing in-camera VR when the camera is fixed with a tripod or other equipment. Through NX Studio, it merges multiple NEF (RAW) files; select 4 shots/8 shots/16 shots/32 shots and the resulting images can be compiled to produce high-definition images with increased resolution and colour reproduction, and reduced moiré, false colour, and noise – ideal for subjects with a lot of details such as bridal costume, still life and insects.
With the Z f, enjoy superior AF performance with wide support from easy to more particular shoots. The AF-area mode includes 3D-tracking in photo mode and subject-tracking in video mode, and an improved tracking capability when moving subjects such as Wildlife and Vehicles are detected, thanks to EXPEED 7 image processor.
Users can focus on framing their shots as the AF detects various subjects in frame, without the need to change settings. Not only can the AF detect human faces of approximately 3% in size (which is the world's smallest), it also enables easy focusing in low-light situations down to -10 EV such as during nighttime, moonlit landscapes, and indoor portraits.
Users will also be able to capture small, difficult-to-focus subjects like distant subjects in a wide coverage area with high accuracy, enabling them to shoot their intended composition quickly. This is thanks to the Z f's wider range coverage and the increase in the number of focus points available with auto-area AF.
Whether capturing wedding portraits or wildlife, achieve the intended expression regardless of the environment you're in, with the combination of superior AF performance and wide support to capture easy and more particular shoots. Thanks to EXPEED 7, users can capture dark scenes beautifully as noise is suppressed even when ISO sensitivity is increased, thereby expanding the range of shooting dark scenes such as night landscapes and indoor portraits.
The Z f features enhanced VR performance; the in-camera Vibration Reduction of 8.0 stops expands the range of handheld shooting to include low-light indoor and long exposure shots. For the first time in the world, focus point VR has also been incorporated to suppress blur near the focus point in an image, even in compositions where the subject is positioned at the periphery. This enables users to casually shoot handheld, regardless of the brightness and composition, and thereby expand their range of expressions.
The Z f also boasts a few firsts: It is fitted with the first Vari-angle monitor in the full-frame/FX-format Z series, which enables flexibility when composing stills or video shots such as overhead, low angle or selfies. The camera is also the first touch-operation camera in the Z series, allowing users to easily change settings via touch operation on the monitor while focusing on framing their composition without taking their eye off the viewfinder.
Designed to encourage users' expressions of their individuality, the Z f is newly equipped with a dedicated monochrome selector. Create magical monochromatic photos and videos with the addition of [Flat Monochrome] and [Deep Tone Monochrome] settings, in addition to the conventional [Monochrome] setting. Users can simply switch to B/W mode and focus on creating images that consider light and shadows while shooting. With the new monochrome selector, users can opt for a wide range of scenes, from landscapes to portraits and street photography.
Capture stills and videos as you imagine them with the Picture Control and Creative Picture Control functions. Applicable for both stills and videos, these functions enable users to use colour to express the feelings, temperature, and atmosphere of their subject at the time it was captured. Wedding and portrait photographers seeking flexibility in their captures will appreciate the new [Rich tone portrait] setting, which allows for rich tones while retaining the skin details of their subjects. Choose from 20 kinds of Creative Picture Control and 11 kinds of Picture Control, and then confirm the chosen effect with through-the-lens images in real-time.
The Z f features a glossy black finish with a sophisticated feel on a magnesium body and a grip that provides a good hold with FX lenses. The Z f offers great quality of material combined with a comfortable operational feel.
Availability
The product would be available by Mid-October 2023 and at INR 1,76,995/-