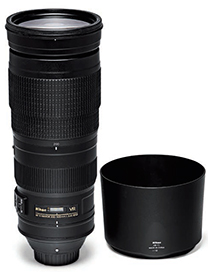 Recently, we have seen the release of a few super-telephoto zoom lenses in the 'affordable' range from different manufacturers. The Nikkor 80-400mm f/4, Sigma 150-600mm f/5-6.3, and Tamron 150-600mm f/5-6.3 have all been received well, and the new 200-500 f/5.6 joins them with a very competitive price.
Design and Build Quality
The Nikkor 200-500mm is built tough with the right mix of metal and engineering plastics. The lens is not very light, but certainly lighter than their full-metal counterparts. It feels quite sturdy. The lens has a two-barrel construction and the front barrel protrudes about 7.5cm when fully extended (500mm). It employs internal focussing and hence it does not protrude while focussing. The 200- 500 has a filter size of 95mm.
The lens has a maximum diameter of 108 mm and length of 26.75 cm from the lens flange (at 200mm zoom). It weighs approximately 2.3kg including tripod collar.
Key Features
The Nikkor 200-500mm lens provides an image circle native to FX (35mm Full Frame) sensor bodies and equivalent focal length of 300 to 750mm on DX (APS-C ) bodies. The lens has a constant maximum aper ture of f/5.6 and minimum aperture of f/32. Being an AF-S lens, it has a Silent Wave Motor (SWM) motor inside and the 'E' designation indicates that it uses an electromagnetic diaphragm mechanism. The lens is constructed with 19 elements in 12 groups including 3 ED (Extra-low Dispersion) elements to reduce chromatic aberration. On Nikon FX format cameras, the 200-500 lens provides an angle of view of 12° 20' to 5° 00', while on Nikon DX format cameras, it provides an angle of view of 8° 00' to 3° 10'. The lens has built-in optical Vibration Reduction (VR) claimed to provide a shutter speed advantage of 4.5 stops equivalent.
The lens provides a minimum focussing distance of 2.2m from the focal plane. It has a rounded aperture with a 9-bladed diaphragm. The aperture control is electronic and is automatically activated by the camera circuitry. The lens provides two AF options — Manual (M), and Manual/ Auto (M/A). In M/A mode, you can manually fine-tune the focus even if the camera is on AF.
The lens has a switch that locks the zoom at 200mm to prevent it from extending accidentally and causing damage, especially while travelling. Focus limiter modes available are Full and ∞ – 6m. The VR switch provides options of Normal and Sport, and Nikon claims that the Sport mode provides better response while shooting unpredictably moving subjects.
Ergonomics
The Nikkor 200-500mm is by no standards a light lens, though it is lighter than its premium full-metal counterparts. The lens is not very easy to hand-hold for more than a few seconds. You will need a very sturdy and heavy duty tripod to stabilise this lens especially when there is not enough light. The lens has the signature Nikon style in the perforated rubber grips on zoom and focus rings, which have the right amount of damping. The tripod collar looks sturdy, but we still feel that the lens demanded a better collar with support at two ends — a la Kirk collar design. The lens has a focus distance indicator window, and focal lengths are marked at 200, 300, 400, and 500mm.