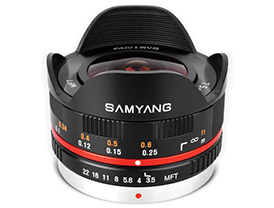 Samyang has been a pioneer in manufacturing highly affordable lenses which brought exotics like ultra wide and high speed lenses within the reach of many. Interestingly, Samyang makes only prime lenses and has been expanding their range of lenses rapidly of late. Also, Samyang lenses are often re-branded and sold under the name Rokinon.
Samyang manufactures lenses in all the standard D-SLR/CSC lens mounts. They make cine lenses too. This particular lens being reviewed, was designed exclusively for the popular Micro Four Thirds (MFT or Micro 4/3) format which is an open standard. Manufacturers that support MFT format are Olympus, Panasonic and a few others.
DESIGN & BUILD QUALITY
The Samyang 7.5mm f/3.5, has a polycarbonate body but the mount is metal. The finish is good. The lens has two rings – one for focusing and the other for setting aperture. It also has a cosmetic red metallic band that gives it a very smart look. The build quality is solid, without any wobbling of the barrel. The lens is ultra-compact – it is perhaps the smallest fisheye lens in the world. As you can expect with a fisheye lens there is no filter thread but there is a non-removable built-in petal shaped lens hood. The lens is available in either in black (shown) or sliver finish. The supplied front lens cap is deep and snaps on positively. Due to its depth, it is different from conventional lens caps and you might not get a replacement easily!
KEY FEATURES
As noted the Samyang 7.5mm f/3.5 is a fisheye lens specifically designed for the MFT format. The small size of the MFT format (it has a crop factor of two) in turn has resulted in a very compact and light lens. It will easily fit in your pant pocket!
This is a manual focus only lens. The focus ring has scallops for grasping and is quite broad. Distance scale is marked in both metres and feet, in two different colours for increased legibility. However, depth of field scale is absent. There is an aperture ring which is a bit narrow but is usable. This lens no built-in electronics at all! Hence, there are no electronic contacts. This means that there is absolutely no communication between the lens and the body. This imposes certain limitations as you will see shortly. It does not have any image stabilisation but this is not a major issue as many MFT bodies have this feature built in.
ERGONOMICS
This lens was tested on the popular Olympus OM-D E-M5 camera body. This lens/body combination balances well as both are light and compact. The pair is ideal for travel, street and architectural photography as well as for fun. The focusing is smooth, taut and is damped n icely. Being an MF only lens, you need to focus manually but this is not difficult due to the enormous depth of field (DOF) this lens has. Plus, most Compact System Cameras offer focusing aids like electronic magnifiers and focus peaking.
However, setting the lens at its hyper focal distance (HFD) will obviate the need for focusing all together. For example, at an aperture of f/4.5 and the distance set to 4 feet (this being the HFD for f/4.5), the DOF extends from 2 feet to infinity! In fact, you can set this lens at this aperture and distance and leave it there for good! Since the lens has distance scales, setting the lens to HFD is not difficult.
Lack of electronic contacts means that the aperture can only be set with the aperture ring. While this is a bit inconvenient the positive click stops at both full and half f/ stop positions make the task easy.
Also, due to lack of contacts some MFT cameras may refuse to work with this lens unless there are told that a lens has been mounted. Generally speaking, manual and aperture priority modes can be used with this lens on all MFT cameras. Some cameras may also allow shutter priority mode. Since in this case the aperture is not under control of the camera, it will have to change the ISO value to get the shutter speed you have set. You need to check your camera manual for the exact operation. This topic is generally covered under the section "Non-CPU lens usage".