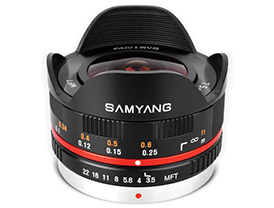 PERFORMANCE
This is a simple lens that shows good sharpness. While you cannot expect the same level of performance from fisheye lenses that cost several times more, it is reasonably sharp, especially around f/5.
Distortion is of course a characteristic of any fisheye lens and this lens has heaps of it. However, do not let this put you off as it can be used creatively. Also, the distortion is concentrated at the edges and towards the centre it diminishes considerably. So, if you compose carefully you can get excellent ultra wide angle images. I have used this lens even for architectural images. Finally, you can reduce distortion in post-processing. Both Lightroom and Photoshop ACR have profiles available for this lens now and they will correct distortion to a great extent with some loss of sharpness at the edges. Since barrel distortion is an inherent quality of a fisheye lens, this is one type of lens where we need to consider it as a positive feature. Chromatic distortion (Chromatic aberration) was present but  can be ignored from around f/5.6. This lens should not be used at apertures narrower than f/8 due to softness that arises out of diffraction. Flare control was excellent, a real achievement considering the extremely wide angle of view.
Fisheye lenses are excellent for making 360° panoramas as you can complete the full spherical coverage with minimum number of images. However, in general these are specialised devices that need some practice to be used optimally.
VALUE FOR MONEY
The indicative price is Rs. 25,567 in India. Most fisheye lens cost a bomb but this lens is an exception. Hence, it is an excellent choice if you want to experiment and have fun with a fisheye lens. |SP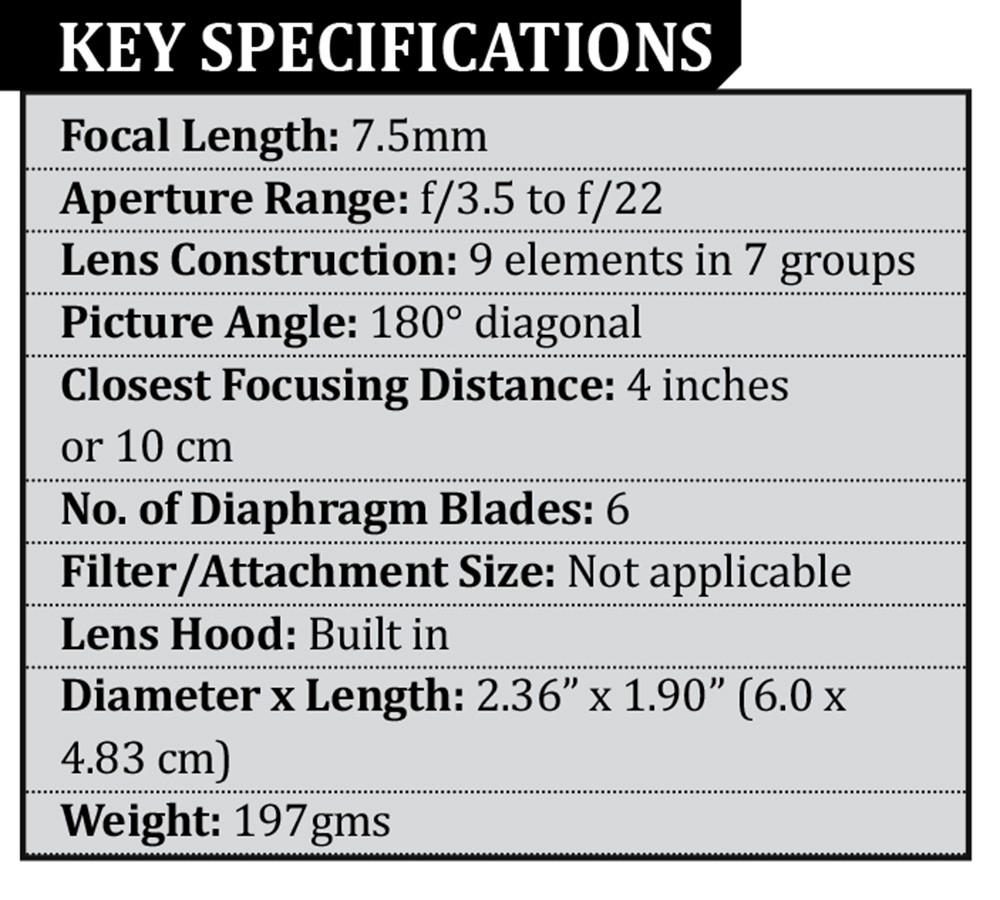 FINAL SCORE                                                                 78%
Design and Build Quality                                      17/20
Key Features                                                              15/20
Ergonomics                                                                 18/20
Performance
Autofocus                                                                                0/5
Sharpness                                                                                4/5
Distortion control                                                                  5/5
Aberrations                                                                             4/5
Darkening of corners                                                             3/5
Extra features                                                                          3/5
Sub-Total                                                                      19/30
Value for Money                                                         9/10
PLUS
• Smallest, lightest and cheapest fisheye lens
• Excellent lens for travel, street, architectural and fun photography
• Well built
• Very good optical performance
• Clear distance and aperture markings
• Great value for money
MINUS
• Only MF
• Lack of electronic coupling between lens and camera imposes limitations on operations.
VERDICT
This lens is basically a no frills, low cost fisheye lens for MFT users. It is the most compact and also the cheapest fisheye lens available today. It is ideal for MFT users who want to experiment with a fisheye lens and don't want to bust their wallet in the process.
Ashok Kandimalla