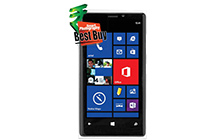 Of late, Smartphones have become serious photographic tools, getting better and better by the day. Even professional photographers have come to recognise the usefulness of having a tiny gadget capable of churning out images without attracting too much attention.
With Smartphones taking such a prime position in the field, no photographic magazine is complete without covering this segment. In an ongoing effort to familiarise our readers with these gadgets, we will take a look at the Nokia Lumia 920 that sports an 8 megapixel camera, in a review focussed mainly on the Smartphone's photographic features. The Lumia 920 was the winner of the Reader's Choice Smartphone of the Year in the Engadget Awards 2012.

Design and Build Quality
The Lumia 920 is solidly built with a seamless design using polycarbonate. It has only one slot for inserting the Micro SIM card. The device features an integrated battery, which gets rid of the necessity to open its back. This way, there are less chances of dust and water damaging the contact points and internal circuitry. With dimensions of 130.3 x 70.8 x 10.7 mm and a weight of 185g, we feel the device is rather chunky and heavy for a Smartphone.

Key Features
The Nokia Lumia 920 runs on the Windows Phone 8 operating system. It features a 1.5 GHz  ualcomm Snapdragon S4 dual core processor. This uses a unique asynchronous technology, allowing each core to power up and power down independently, conserving battery power. The display is a 4.5-inch (97 x 58mm) TrueColour (24bit) IPS panel. It has a Corning Gorilla Glass sculpted glass screen, which is scratch and shock resistant. The monitor uses Super- sensitive touch technology employing  PureMotion HD+ display, which, Nokia claim, is the world's brightest, fastest, and most sensitive  touchscreen. The display features 1280 x 768 pixel ( WXGA) resolution. The main camera uses a 1/3.2-inch PureView sensor with 8.7 million effective pixels. It is coupled with a Carl Zeiss Tessar 26mm f/2.0 (fixed aperture)  lens with a minimum focus distance of 8 cm, featuring Optical Image Stabilisation. The camera uses a two-stage capture key which uses half-press to Autofocus. Sensitivity can be changed from ISO 100 to 800 with an Auto option. White Balance options are Auto, Daylight, Cloudy, Fluorescent, and Incandescent. The Lumia 920 includes six Scene modes such as Auto, Night Portrait, Sports, Night, Close-up, and Backlight. There are four additional 'lens' options (we are not sure why Nokia calls them 'lens') such as Cinemagraph, Bing Vision, Smart Shoot, and Panorama. Cinemagraph is an interesting feature, which records a video and displays a still frame. You can selectively make a part the image move in the still image. For example, if you capture a portrait with a fluttering curtain in the background, you can make the curtain flutter in the still portrait with the rest of the frame stationary. Bing Vision allows you to scan bar codes using the camera. Smart Shoot is similar to burst mode. It captures a series of images from which you can select the best. Panorama, as the name indicates, helps you create panoramas. It has an interesting alignment feature. The frame will show two circles which are to be aligned to get the perfect panorama. The camera features a short pulse, high power dual LED flash, which has an operating distance of 3.0m.
The Lumia 920 features a secondary camera (front-facing) that reproduces images with a resolution of 1280 x 960 pixels. This camera has a fixed aperture of f/2.4. Still images are recorded in JPEG format while videos are recorded in MP4/H.264 format. The device features PureView technology,  which allows you to take blur-free images even in low light. The 920 has built-in location features such as A-GPS, Glonass, Cellular and Wi-Fi network positioning, and Magnetometer. It also features various location and navigation apps such as Here Drive, Here Maps, Here Transit, and Here City Lens. These features enable turn-by-turn navigation, offline maps, speed limit warnings, and street view. The device comes loaded with Microsoft Office suite, which, along with cloud storage, makes it a very good option for professionals who need to manage data on the move.
The Smartphone sports 1GB RAM and 32GB internal memory. It does not accept external storage cards, but provides access to Skydrive, a cloud storage platform with 7 GB of free online storage space. The device is powered by a 2000 mAh  integrated (it cannot be removed) battery pack, and accepts a single Micro SIM for communication. The device features wireless charging with a compatible charger, and supports Wi-Fi along with a hotspot feature.
---
Ergonomics
Being more familiar with the Android OS, we found the Lumia 920 to be as complicated as the Windows Phone 8 operating system. The tile-format widgets look a little complicated, but you could get familiar with it in a matter of days. We wish that we had a few more months to explore Windows Phone 8 to discover any gems hidden within. We were quite wrong in our presumption that Windows Phone 8 OS probably did not have many apps. In fact, the app library of Windows 8 is as extensive as that of Android. Many Android apps are available as compatible add-ons in the Windows store. Having said that, the camera and other features are quite refreshing and user-friendly. We did face some connectivity issues  while trying to sync data with a Windows XP machine. Also, the battery capacity seemed insufficient  for cloud-based operations.

Performance
This performance test largely caters to the photography aspect. But the review of a Smartphone is incomplete without mentioning the phone features. So we intend to broadly touch upon those features as well. The Nokia Lumia 920 is a sophisticated Smartphone that is based, largely on cloud and social networking features. Most features of the device requires you to connect to a Nokia or Microsoft account, unlike in Android or other devices.
The camera was good for evenly lit subjects, but we felt the dynamic range was too low for subjects with high- contrast, as expected from small sensor sporting over 8 million photosites. In low light, we saw lot of noise even at ISO 100, which was also along expected lines. The camera has a fixed aperture, which can cause overexposure if you use manual ISO settings outdoors. The camera produced images with print size of 8.16 x 10.88 inches at 300 ppi. However, if you use the pinch-and-zoom feature (digital zoom), the size will be reduced. Skydrive cloud storage proved very useful since you can set the device to upload images immediately after capture. Please note that if you set the camera to upload the images automatically, the images will be uploaded in low-resolution. Most Panorama images were rendered well, but a few of them had imperfections in stitching. For best results, use the camera in Auto mode (with Auto White Balance and Auto ISO) and do not expect the Lumia 920 to replace your camera, especially under low light. Videos were of good quality, though we wish the device had optical zoom. However, continuous focussing in the video mode is very useful.
Value For Money
The Lumia 920 retails at an MRP of Rs.38,199. At this price, the Smartphone is good value for money  with 32GB internal storage.
+ Excellent Build Quality
+ Great Cloud Sharing Features
+ Full Office Suite
+ Corning Gorilla Glass Screen
+ Fast Charging
– Confusing Interface
– Battery Capacity Insufficient
| | |
| --- | --- |
| FINAL SCORE | |
| Design and Build Quality | 19/20 |
| Key Features | 18/20 |
| Ergonomics | 16/20 |
| Performance | 21/30 |
| Value for Money | 7/10 |
| Grand Total | 81/10 |
Verdict
The Lumia 920 is a feature-packed Windows Phone 8 Smartphone featuring a high-end camera. The device carries a 'made for the cloud' design philosophy. We would recommend the 920 for anyone who needs to carry work with them in the form of spreadsheets, presentations, and word processors. Sujith Gopinath