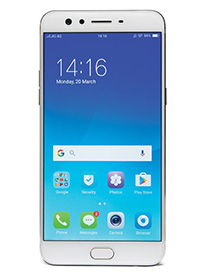 When majority of smartphone manufacturers were prioritising the rear camera over front, companies like Oppo focused on selfies. The bet worked in favour of the Chinese smartphone maker when they introduced the F1 series devices. Now pushing the selfie strategy further is Oppo's latest – F3 Plus.
Design and Build Quality
The F3 Plus is a device that can be classified as a phablet. It has got a 6-inch display on the front but Oppo's smartly designed F3 Plus makes it easier to hold the device and use. Admittedly, using the phone with one hand is still a task but if you prefer a scaled down screen, there's a gesture that enables you to use it with one hand. The rounded edges, 7.35mm thickness gives the phone a good grip. But there's no denying that the phone is big but Oppo has tried to alleviate some of the issues using a large device.
F3 Plus' elegant design features a glass protected front whereas the back dons a soft gold finish. We really like the clean design that is complemented with the six antenna lines at the back that helps to improve reception.
Overall, we quite liked the phone's design and build quality.
Key Features
Oppo F3 Plus features a 6-inch IPS TFT display supporting a Full HD (1920×1080) resolution and is protected by Corning Gorilla Glass. Under the hood, the phone's powered by Qualcomm's Snapdragon 653 octacore processor and 4GB RAM. Now we know that the phone's innards are not as powerful as another similarly priced device (OnePlus 3T!) but Oppo F3 Plus is a decent performer. There's 64GB onboard storage and can be expanded further through a microSD card (up to 256GB).
Oppo claims the sensor is equipped with a hydrophobic membrane that allows the phone to detect even a moist fingerprint. The phone can store up to five fingerprints and allows to unlock the phone, lock a particular app and more.
The software however, is F3 Plus' bane. The heavily skinned F3 Plus runs on ColorOS 3.0 based on Android 6 Marshmallow. We don't mind a forked Android that brings its own features and customisations but it's a bit disappointing to see that Oppo has not shipped the phone with Android 7 Nougat considering the OS offers some improved features. Moreover, we're not sure when Oppo plans to release the latest software update for it's flagship phone or directly jump to Android O when Google releases it later this year.
Oppo and Vivo are the only two players currently that have dual front facing cameras. While Vivo's implementation gives you a selfie with bokeh effect that can tweaked in real time, Oppo's approach to dual selfie cameras is different. Instead, the F3 Plus comes with a 16 megapixel f/2.0 for regular selfies and an 8 megapixel 120-degree wide angle lens for group selfies. However, majority of consumers still shoot a lot from the rear facing camera and we're happy to report that the F3 Plus has a good sensor at the back as well. It can shoot in up to 16 megapixel, features f/1.7 aperture, resulting in some amazing pictures with good colour and contrast. Dual PDAF enables faster autofocus and there are different photo shooting modes like double exposure, super GIF and expert that allows more control while taking a picture. On the video front, it can record videos to up to 4K resolution.
The F3 Plus has a 4000mAh battery and when in need of a quick recharge, VOOC Flash Charge comes to the rescue.
Ergonomics
The UI feels snappy with apps and games working without any issues or lags. The fingerprint sensor placed just beneath the display is fast and accurate. The camera app is easy to use and takes just a tap to switch between the selfie camera and group selfie camera. The phone has facial recognition and if it detects three or  faces in a frame, it will ask to switch to the group selfie lens.