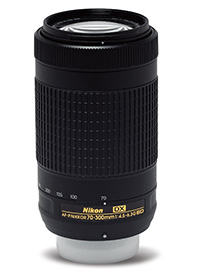 Camera optics has seen a marked improvement during the last decade, and superzoom lenses are no longer considered untouchable by professionals. The AF-P 70- 300mm is a telephoto zoom lens for the beginners keen on some wildlife photography without burning a hole in their pockets.
Design and Build Quality
The AF-P 70-300mm is very light. Being an amateur lens, the build quality compares to other kit lenses— engineering plastic body, plastic lens mount and protruding lens barrel. Since the lens is lightweight, a polycarbonate lens mount is sufficient to withstand any strain, but if you keep on mounting and dismounting the lens, the mount is likely to suffer considerable wear. The lens has a  plastic focus ring near the front and a broader zoom ring with a textured rubber finish. The lens does not have any button. Focal lengths are marked at 70, 100, 135, 200 and 300mm.
Key Features
The new AF-P series lenses feature stepper motors enabling faster autofocus and compact size. The AF-P 70-300mm f/4.5-6.3 is a DX-type lens, designed for Nikon's APS-C Type D-SLRs. This is a non-VR lens, though there is also another version of the lens with VR. The lens provides an equivalent focal length of 105-450mm. Aperture ranges from f/4.5 to 22 at 70mm and f/6.3 to 32 at 300mm. The lens is constructed with 14 elements in 10 groups including an ED element. Minimum focus distance is 1.1m from the focal plane. The lens has a circular diaphragm with seven blades. Aperture control is fully automatic as is the case with all G-series lenses. This 70-300 has internal focussing and incorporates a Silent Wave Motor, which lets it focus with Nikon's entry-level D-SLRs that do not feature an integral focus motor.
The lens is threaded to accept a 58mm filter and weighs approximately 400g. It has dimensions of approximately 72 mm (maximum diameter) x 125 mm.
Ergonomics  As mentioned earlier, the lens is quite light and balanced perfectly with the D5600 body that came with it. The zoom ring is perfectly damped and is easy to operate. The focus ring rotates freely with minimal damping.