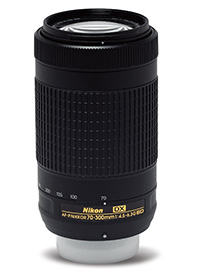 Performance The AF-P 70-300mm autofocussed fast, unlike the previous versions, thanks to the stepper motor. Out-of-the-box JPEGs were sharp overall. At 70mm, the lens was sharpest at f/5.6 and f/8. Images were soft at f/16, f/22 due to diffraction. At 100mm, the sharpest mages were obtained from f/5.6 to 11. F/4.8 was soft along with f/22 and 25. At the extreme telephoto end, we observed slight softness as expected, but the images were sharp at f/8.
The 70-300 controlled darkening of corners very well. Darkening was not observed even at the widest aperture. The lens produced slight flare and a tinge of purple fringing, but not enough to be of concern. At 70mm, the lens produced slight barrel distortion. We observed pincushion distortion from 100mm onwards, peaking at 300mm.
We observed slight difference in exposure at various apertures in Aperture priority mode. Especially the widest aperture resulted in slight under exposure
Value for Money
The AF-P 70-300mm f/4.5-6.3G ED lens retails at an MRP of Rs.21,950. At this price it looks expensive especially without VR. The VR version of the same lens retails at Rs.24,950, which is only a little extra amount to pay, considering the advantage VR will provide. |SP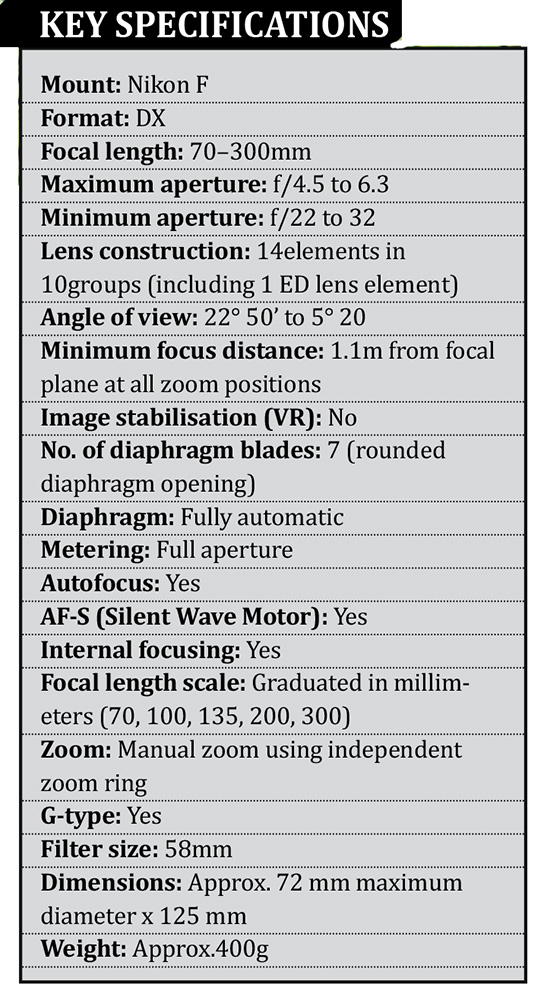 FINAL SCORE                                                                       80%
Design and Build Quality                                             16/20
Key Features                                                                      17/20
Ergonomics                                                                          17/20
Performance
Autofocus                                                                                         4/5
Sharpness                                                                                         4/5
Distortion control                                                                          3/5
Aberrations                                                                                      4/5
Darkening of corners                                                                      5/5
Extra features                                                                                   5/5
Sub-Total                                                                               25/30
Value for Money                                                                    5/10
PLUS
• Compact and lightweight
• Fast AF
• Good sharpness
MINUS
• Plastic lens mount
• No VR
• Inconsistent exposure at various apertures
VERDICT
The AF-P 70-300 non-VR lens appears to us a 'decoy' rather than an actual marketable product, considering the price. If this verdict sounds a little harsh, here is the sweetener; the VR version seems to be a great value for money product, though we have not tested the product yet. Our advice would be to add an extra amount of Rs.3000 and buy the AF-P DX Nikkor 70-300mm f/4.5-6.3G ED VR instead.
Sujith Gopinath