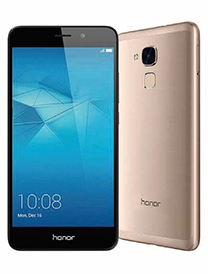 There is a new 'kid' off the block in the world of smartphones. In a shortwhile, this 'kid' has taken over as the third largest manufacturer just behind Samsung and Apple. This Company is the Chinese Company, Huawei. In their second quarter of 2016, Huawei had a world market share of 8.9% and is far ahead of its other competitors like Oppo and Xiaomi.
The Huawei Honor 5C is sturdily built with an aircraft-grade aluminumalloy body. The exteriors have smooth contours and the 5.2-inch display fits seamlessly with the clean design. The body has been molded using a high speed metal stamping process and finished with a brushed metal effect for a smooth and textured look. The screen has a 74 percent screento- body ratio and provides a native resolution of 1920 x 1080 pixels at 423 ppi. The Full HD IPS display is capable of producing 16.7 million colours.
The smartphone is packed with features to the brim. At the heart of the device is a high-performance state-of-the-art Kirin 650 chipset with flagship FinFET Plus 16 nm chip technology. This offers blazingfast processing compared to 28 nm chipsets of the previous models along with reduction in lag and heat buildup. The Kirin 650 also comes with silicon-chip level protection. There is a dedicated security module within the silicon chip that ensures user security, handling key information like fingerprints, keypad, and voice. This is, as Huawei claims, the most advanced processor in a value-for-money device. With a path-breaking 'LITTLE' architecture, the device is believed to deliver about 65 percent boost in performance with a 40 percent reduction in power consumption. This is achieved by the optimal combination of four 2.0GHz highperformance cores along with four 1.7 GHz low-performance, high-efficiency cores. The processor is ably supported by a power-packed Mali-T830 GPU to take your gaming experience to the next level. With this, the Company claims a 100% increase in GPU performance compared with previousgeneration Kirin 620 processors. A rapid eMMC 5.1-based flash memory chip allows smooth operation while the all-new EMUI 4.1 skin provides a seamless user experience. The device uses Android 6.0 Marshmallow OS. It has 2GB RAM and 16GB of internal memory, which is expandable up to 128GB with a microSD card.
The Honor 5C uses a 3000 mAh battery. This, combined with the power-efficient chipset allows you unmatched battery life. The battery has a compact design with 650 Wh/L energy density. A power source manager chip supports the latest 9V, 2A speed charging function that lets users to charge the device for a few minutes and then make calls that last hours.