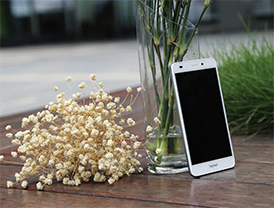 The Honor 5C uses a 13MP Back- Side Illuminated sensor for the main camera. This, along with a afst aperture of f/2 makes it ideal for superior low-light photography. The SmartImage 3.0 image processor allows superior control with professional features built into the camera app. The camera interface provides 'Professional' features not only for still images, but also  for videos. The camera also sports excellent optics in the form of a 5-element macro lens for better image quality in every shot. An antireflective, oleophobic, and infraredabsorbing lens coating helps reduce flare, prevents fingerprints, and stops stray IR light from reaching the sensor. The camera supports HDR mode when the flash is enabled for better portraits and group shots. HDR mode combines a series of images with different exposures into a single photo to produce a perfectly-exposed subject and background with more accurate colour reproduction. The Pro camera mode provides Shutter priority mode, ISO adjustment, White Balance adjustment, exposure compensation, focus mode selection, and metering mode selection. Each mode lets the user to adjust various parameters for better control.
The front camera uses an 8 megapixel BSI sensor along with a four-element lens for optimal selfies. This camera also has a maximum aperture of f/2.0.
The 5C uses Fingerprint Identification 2.0, complete with Replay Protected Memory Block (RPMB) technology, which encrypts and stores fingerprint data in a separate secure storage area and ensures that fingerprint data cannot be accessed even if the phone is rooted. The second generation Swedish-designed FPC fingerprint sensor unlocks the screen in just 0.5 seconds. You can add a fingerprint in just six touches and the sensor incorporates an adaptive technology that learns more about your fingerprint as you use it and prevents failed identification caused by wet hands or partial fingerprints.
The Honor 5C weighs 156g and has dimensions of 73.8×147.1×8.3 mm. It retails at Rs.10,999 and with professional camera-type controlls and superior imaging features, the device seems to be and excellent choice among value-for-money smartphone. The sheer range of features in the camera mode makes it a leading contender for the snap shooter. The Honor 5C is available with all leading stores and e-retailers. |SP