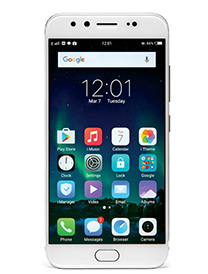 Ergonomics
The Vivo V5 Plus fits nicely in an average-sized hands and the device feels light. The phone is quite slippery, hence we would advice you to keep it protected with the transparent cover that is included in the box. The interface is not revolutionary. The quick access menu can be accessed from the bottom of the screen with an upward swipe. Apart from all other shortcut buttons, this menu offers the S-capture button, which lets you capture screenshots with the possibility of long (scroll enabled) capture. Being a selfie-specialist, the front camera offers the largest and most advanced settings. The camera interface is quite user-friendly
Performance
The V5 Plus is one of the best performers in the market today. The device has amazing processing power and scored a cool 62,648 points on AnTuTu benchmarking, just below iPhone 7. Though synthetic benchmarking is not the best test for a phone, this is a good indicator. The device latched on to the available networks without any issue, and we did not observe any problems in the day-today functioning.
The cameras performed very well. The front camera offers unmatched selfie capabilities including bokeh and refocus options. The rear camera is also quite good, offering a professional mode that lets you adjust ISO, Shutter speed, White Balance and other parameters.
The camera lets you select ISO sensitivity from ISO 50 to 3200. The images were reasonably noise-free and usable up to ISO 250. We observed heavy noise from ISO 640 onwards. We have certainly seen better cameras in this category. However, this does not take away the fact that the selfie specialist remains true to this name with better selfies than most other  phones. The Moonlight LED proved useful, providing a natural-looking filllight.
Value for Money
The Vivo V5 Plus retails at an MRP of Rs.28,980. At this price, the device is good value for money. |SP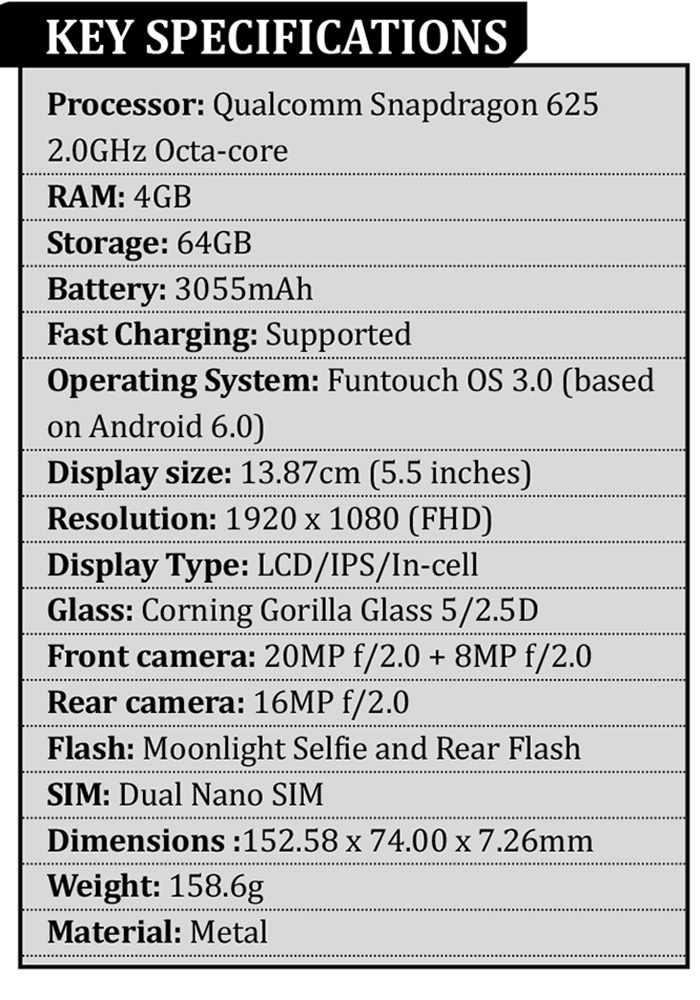 FINAL SCORE                                                                     82%
Design and Build Quality                                         15/20
Key Features                                                                  17/20
Ergonomics                                                                            16/20
Performance                                                                17/20
Value for Money                                                        17/20
PLUS
• Great selfies
• Re-focus after capture
• Good bokeh effect
• Excellent battery  life
• Good overall performance
MINUS
• Slippery body
• Rear camera could have been better
• No expandable storage
VERDICT
If you need a smartphone that performs well, has a great battery life and helps you capture selfies with pleasing bokeh, look no further. However, the rear camera is the device's Achilles heel and do not expect anything spectacular from it.
Sujith Gopinath