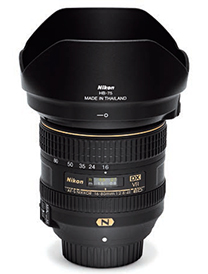 Most DX format cameras come with their standard kit lenses, which are usually in the range of 18-55mm. Though this is suficient for budget-conscious amateurs, advanced photographers who have a little more disposable income might ind the slow aperture and the short zoom range a limitation that is beyond compromise. For them, Nikon has brought out the AF-S DX Nikkor 16- 80mm f/2.8-4E ED VR, which has a more useful zoom range and a faster aperture range than a standard kit lens.
Design and Build Quality
The Nikkor 16-80mm f/2.8-4E ED VR lens is a consumer lens constructed predominantly of carbon composites. The lens has internal focussing, which prevents it from protruding and the front element from rotating during focussing. However, zooming from the wide-angle to the telephoto end makes the lens protrude by about 4.1cm. The barrel has markings for the common popular zoom positions—16, 24, 35, 50, and 80mm. There is a focus distance window, legibly marked in metres and feet. The lens has a three-barrel construction. It has three switches—AF selector (M/A, M), VR On/Off, and VR Mode (Normal, Active). The zoom ring has a textured rubber inish, while the focus ring is plastic with serrations.
This lens is not of the professional grade, yet feels sturdy. It has a metal mount and comes with a lens hood, probably optimised for videos.
The lens accepts filters of 72mm size. The Nikkor 16-80mm has dimensions of approximately 80 mm dia. x 85.5 mm (distance from camera lens mount flange) and weighs 480g.
Key Features
The Nikkor 16-80mm f/2.8-4E ED VR lens (24-120mm equivalent) is a DX model, which means it is primarily designed for D-SLRs with APS-C type sensors. If you use it with old FX (Full Frame) bodies, it will cause vignetting. However, the latest FX format bodies offer automatic switching to DX crop mode, which will prevent vignetting. The lens has built-in CPU and a Silent Wave focus Motor (SWM) so that it can focus even with bodies that do not have focussing motors, such as D3300 and D5500. The E-designation means that it uses an electromagnetic diaphragm mechanism.
The lens is constructed with 17 elements in 13 groups including 4 Extra-low Dispersion (ED) and 3 aspherical elements, along with Nano-Crystal Coat (to reduce lare and ghosting) or luorine (for better water-repulsion). Aperture ranges from f/2.8 to 22 at the wide-angle end and f/4.0 to 32 at the telephoto end. It has a minimum focussing distance of 35cm. The lens features optical VR (Vibration Reduction) to keep images steady even with shaky hands, especially in low-light. The lens has automatic electronic aperture control with a 7-bladed diaphragm providing a rounded aperture opening. It provides TTL full aperture metering. The 16- 80mm features internal focussing and provides Manual (M) and Manual/Auto (M/A) modes for focussing.