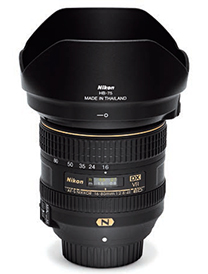 Ergonomics
The Nikkor 16-80mm f/2.8-4E ED VR lens is light and comfortable to use. We received a new piece, and the zoom ring was a bit stiff. But it will loosen up a bit with regular use, and we expect it to provide optimal damping. The focus ring rotates less than 180 degrees. The switches are very responsive.
Performance
The Nikkor 16-80mm f/2.8-4E ED VR lens performed very well in our tests. We tested the lens on a Nikon D750 body. Autofocus was fast and precise, and the system did not have any problem locking on to the subject even under reasonably-low light. Vibration Reduction proved excellent, though we do not have a precise scientific mechanism to gauge the efficiency of the system. At 80mm, I could shoot reasonably sharp images even at 1/2 sec shutter speed, which, I believe, is incredible.
Out-of-the-box JPEG images appeared sharp, and the sweet spot shifted progressively from f/4 to f/8 going from the wide-angle to the telephoto end. We observed prominent darkening of corners at f/2.8 at the wide-angle end, which progressively decreased and finally vanished at f/8. The lens controlled flare very well, though slight flare was observed. We did not find any trace of Chromatic Aberration in strong against-the-light shots at the wide-angle end with the lens wide open.
The lens produced extreme barrel distortion at 16mm. Pincushion distortion started from 24mm, and at 80mm, it was most evident.
Value for Money
The AF-S DX Nikkor 16-80mm f/2.8- 4E ED VR lens retails at Rs.74,950. This is good value for money for this lens. |SP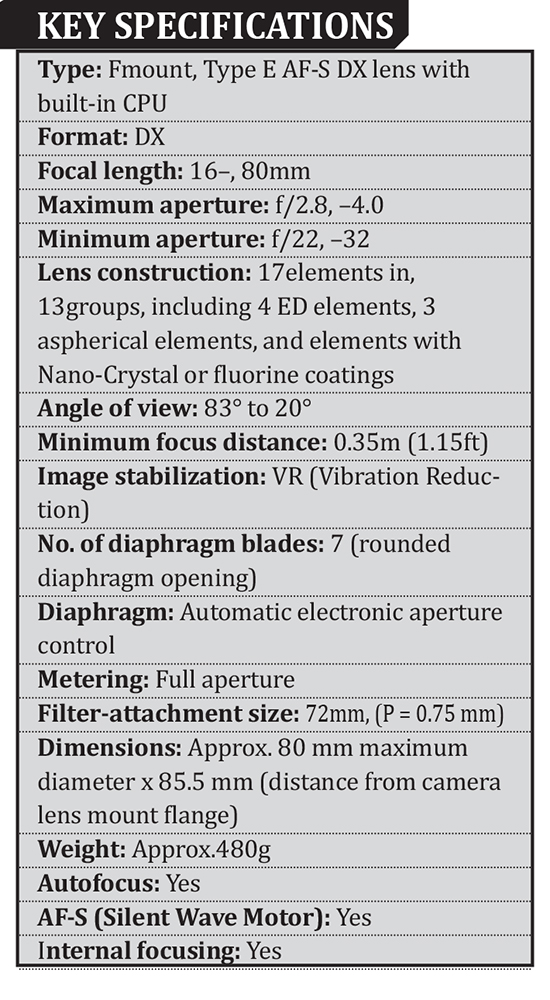 FINAL SCORE                                                                             82.5%
Design and Build Quality                                                               17/20
Key Features                                                                                  17/20
Ergonomics                                                                                     18/20
Performance
Autofocus                                                                                       4.5/5
Sharpness                                                                                         4/5
Distortion control                                                                          2.5/5
Aberrations                                                                                      4/5
Darkening of corners                                                                       3/5
Extra features                                                                               4.5/5
Sub-Total                                                                             22.5/30
Value for Money                                                                     8/10
PLUS
• Excellent value for money
• Fast and effortless AF
• Good flare control
• No Chromatic Aberration
• Superior VR
MINUS
• Too much distortion
VERDICT
The AF-S DX Nikkor 16-80mm f/2.8-4E ED VR lens can be considered a budget alternative to a fast standard zoom lens, that is faster than f/4, which, by now, has become synonymous to the 'second line' of premium lenses. At this price point, the lens is an excellent buy if you are looking for a good quality wideangle to telephoto lens, but are not satisfied with a fixed f/4 lens. We wish it had better distortion control though.
Sujith Gopinath