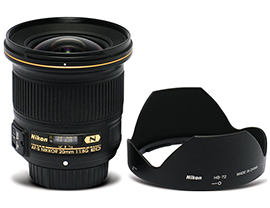 Through the years, Nikon has made several versions of the 20mm lens. This latest version is a G-type autofocus lens employing Nano-Coat to eff ectively control flare and ghosting which is otherwise common to most ultra-wide-angle lenses. The 20mm lens is ideal for ultra-wide landscapes, any cramped situation, interiors or environmental portraits.
Design & Build Quality
The AF-S Nikkor 20mm 1:1.8G ED lens is designed for full-frame (FX) Nikon camera bodies but can be used on APS-C (DX) Nikon bodies too. Its build quality seems okay – neither great nor poor. The front element is bulbous but does not protrude, making is possible to attach filters if necessary. The lens mount is made of metal and a rubber gasket at the rear end helps to keep off dust from getting into the camera body. The lens is lightweight (approx. 355 g without lens hood) and the outer body, lens hood, including the filter thread is made from plastic. Filter diameter is 77 mm. The lens is made in China.
Key Features
The lens is constructed with 13 elements in 11 groups that include 2 ED and 2 Aspherical lens elements. There is no aperture ring on the lens – it's a G-type lens; apertures are controlled through the camera body. The lens employs Nano-Crystal coat but the supplied foldaway leaflet (User's Manual) does not specify which or how many elements are treated with the Nano-Crystal coat. Autofocussing uses a Silent Wave Motor with IF (Internal Focussing); manual override is possible. The broad manual focus ring has serrated rubber over it for a comfortable grip. The Focus Switch (M/A – M) is located on the left of the lens, next to the plastic window covering the distance scale in feet and meters. The minimum focussing distance is 0.2 m (20 cm). A raised white plastic dot on the lens helps to align the lens to the camera body. The front element does not rotate during focussing, making it easy to use a polariser or a neutral density filter.