Ergonomics
Th e lens is easy to use, though  the user should realise that the lens covers a very wide view and hence you might unwittingly include too much of a bald sky for example. Its close focussing (0.2 m) ability could be used to advantage while shooting landscapes with a prominent foreground element and adequate sharpness throughout the picture. Objects close to the extreme ends of the frame can get distorted if they are too close to the lens, but this is the case with any super-wide-angle lens.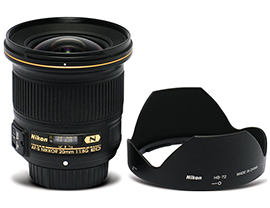 Performance
The AF-S Nikkor 20mm 1:1.8G ED lens performed better than we expected. Autofocus was quiet and very fast on a full-frame D750 body, comparatively slower on an ageing D80 body (D80 is APS-C). The lens/body balance was perfect, and manual focussing was easy. Image sharpness ranged from good to excellent. Center sharpness was excellent from f/2 to f/11, edge sharpness was comparatively lower, but still very good. The optimum aperture appeared to be f/4 while f/5.6 was very close.
Darkening of corners too was well controlled. There was some corner darkening with the lens wide open at f/1.8, a little bit at f/2 and a smidgeon at f/2.8. Flare was handled quite well,  thanks to the Nano-Coat. We did not observe any chromatic aberration, which is very good. Distortion control in the camera was enabled but at close distances we noticed negligible barrel distortion which could be easily corrected in Photoshop. All in all, a superb performance!
Value for Money
The MRP of the AF-S Nikkor 20mm 1:1.8G ED lens is Rs.61,950. Considering its excellent image quality, large maximum aperture of f/1.8, light weight and fast autofocussing, we feel the price is justified. If you want to save on money, however, you could consider the slower and less expensive AF-S Nikkor 18-35mm f/3.5-4.5G ED instead, but the 20mm f/1.8 is definitely sharper!



PLUS
• Extremely sharp
• Lightweight
• Fast autofocus (but also depends on the body)

MINUS
• Plastic thread for filters
FINAL SCORE                                    80%
Design and Build Quality                    15/20
Key Features                                     16/20
Ergonomics                                        18/20
Performance
Autofocus                                              4/5
Sharpness                                            4.5/5
Distortion Control                                      4/5
Aberrations                                             3.5/5
Darkening  of Corners                                3/5
Extra Features                                          4/5
Sub-Total                                              22.5/30
Value for Money                                          8/10
VERDICT
The AF-S Nikkor 20mm 1:1.8G ED lens is very good value for money. It provides very sharp images, is light in weight, autofocuses fast, and in my opinion, should be in every landscape / interiors photographer's kit-bag. Best Buy!
Rohinton Mehta