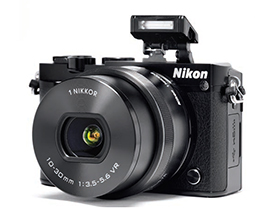 Nikon has been a late entrant into the Mirrorless Interchangeable Lens Compact category. But they have surely done some serious work when complacency led the category leaders to slump. The Nikon 1 J5 brings 4K video recording along with other superior features in a compact body.
Design and Build Quality
The Nikon 1 J5 has a sturdy construction with the outer body made of polycarbonate. The camera is small and can fit in a jacket pocket with the kit lens. The J5 has a protruding hand grip with textured faux leather lining. The LCD can be tilted up to 270 degrees. Nikon has managed to mount a mode dial on the top panel along with the shutterrelease button/zoom lever unit and a command dial/video record button unit. The built-in flash springs out with a thud, but the unit is reinforced with metal parts. The connecting cable is nicely hidden within the metal plates, which is a good idea. However, the LCD still exposes its connecting cable. Both the lens mount and tripod receptacle are metal.
Key Features
The Nikon 1 J5 is a 20.8 megapixel mirrorless interchangeable lens camera with a CX format (13.2 x 8.8mm) CMOS sensor. The camera accepts 1 Nikkor lenses. The camera uses an electronic shutter, which provides shutter speed range of 30 to 1/16,000 seconds along with Bulb  option (approximately two minutes) Flash synchronises with the shutter at 1/60seconds or slower. Drive modes include Single, Continuous, Self-timer, and Interval timer. The J5 provides a maximum continuous speed of approximately 60 frames per second. Self-timer can be set at 2 or 10 seconds. Light metering system employs TTL metering using image sensor. Metering methods include Matrix, Centre-weighted (4.5 mm circle at the centre of frame), and Spot (2 mm circle at the centre). Exposure can be compensated up to +/–3EV in 1/3-EV steps. Equivalent sensitivity ranges from ISO 160 to 12800.
The camera uses a hybrid autofocus system employing a combination of phase detection and contrast detection. Lens servo options available are Auto AF-S/AF-C selection (AF-A), Full-time AF (AF-F), Single AF (AF-S), Continuous AF (AF-C), and Manual focus (MF). The camera offers AF area modes such as Single-point AF with 171 points (central 105 areas support phase-detection AF), Autoarea AF with 41 points, and Subject tracking. Face priority AF is available.
The built-in flash has a Guide Number of approximately 5m at ISO 100. Flash control is through i-TTL method using the image sensor. Flash modes include Auto, Auto + Red-eye reduction, Fill flash, Fill flash + Slow sync, Red-eye Reduction, Red-eye Reduction + Slow sync, Rear-curtain sync, Rear curtain + Slow sync, and Off. Flash exposure can be compensated up to -3 to +1 EV in steps of 1/3 EV. White Balance can be set to Auto, Incandescent,
Fluorescent, Direct sunlight, Flash, Cloudy, Shade, and Preset manual. White Balance can be fine-tuned  in all except preset manual mode. Still images are recorded in Raw (NEF) and JPEG formats with a maximum image size of 5568 x 3712 pixels. There is an option to capture images in both JPEG and NEF formats simultaneously. Videos are captured in MOV (H.264/ MPEG-4 AVC) format at the highest quality of 1920 x 1080 with 60p or 30p frame rate selectable. Shooting modes available are Auto, Sports, Creative, Programmed auto with flexible program (P), Shutter-priority (S), Aperture-priority (A), Manual (M), Best moment capture (ActiveSelection, Slow view, Smart Photo Selector), Advanced movie, Motion Snapshot, and Self-portrait. Creative mode includes Pop, Retro, High- Aperture: f/8 Shutter Speed: 1/250sec ISO: 400 contrast monochrome, Nostalgic sepia, HDR, Easy panorama, Soft, Miniature effect, Selective colour, Cross process, Toy camera effect, Cross screen, Fisheye, Skin softening, Night landscape, Night portrait, Landscape, Close-up, and Portrait. Advanced movie options are HD movie, 4K movie, Time-lapse movie, Slow motion, Jump cut, Fast motion, and 4-second movie. Audio is recorded with the built-in stereo microphone, which provides an option to adjust sensitivity. The Nikon 1 J5 uses a 3-inch approx.1037k-dot, tilting TFT LCD touch screen for display. The camera uses a microSD/microSDHC/ microSDXC card for storage. The J5 provides Depth-of-Field preview option. The camera has Hi-Speed USB and Type D HDMI connectors and features built-in Wi-Fi with Open system and WPA2-PSK security. NFC is also available. The camera is powered by one rechargeable Li-ion EN-EL24 battery.
Designers of the J5 have given top priority to user comfort. The faux leather lining on the exterior provides excellent grip for this small camera
The J5 has dimensions of 98.3 x 59.7 x 31.5mm (W x H x D) and weighs 265g with battery and memory card.