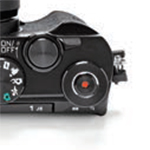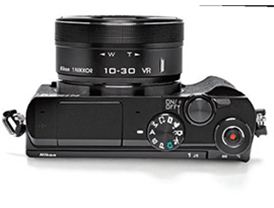 Ergonomics
The J5 is designed with user comfort in mind. The faux leather lining on the exterior provides excellent grip. The top panel controls are large enough for comfortable operation. But the rest of the controls are small. There is a customisable function button on the front panel. The position and size of the record button can create some difficulty since it is as prominent as the shutter release button.
Performance
The Nikon 1 J5 was supplied to us along with the 1 Nikkor 10-30mm f/3.5-5.6 VR kit lens. The combination focussed in a snap even under low light. Metering was perfect. The lens was practically free of distortion throughout the focal length range. Mild darkening of corners was observed at the wide-angle end with the lens wide open, but not enough to be of concern. The lens did not produce any chromatic aberration and it controlled flare and ghosting very well.
Images appeared sharp overall. At 10mm (27mm equivalent), the lens had sweet spot at f/3.5, and images were acceptably sharp from f/3.5 to 5.6. At 23mm (62mm equivalent), the sweet spot shifted to f/5.0 and at 30mm (81mm equivalent), it shifted to f/5.6.
Auto White Balance performed very well and did not produce cast under any type of lighting. Native print size was 12.37 x 18.56 inches at 300 ppi. At 25 percent of screen size, images were absolutely noise-free up to ISO 400. We observed very slight noise at ISO 800 and 1600. The images were usable up to ISO 3200. ISO 12,800 and 6400 were very noisy. Enlarged to 50 percent, the images remained noise-free up to ISO 200. We observed a tinge of noise at ISO 400. Overall, the images were usable up to ISO 1600. At 100 percent enlargement, all ISOs exhibited noise,  but the images were usable up to ISO 400.Videos were smooth and perfect.
Value for Money
The Nikon 1 J5 retails at an MRP of Rs.25,950 along with the 10-30mm kit lens. At this price, the camera is certainly a great buy. |SP

FINAL SCORE                                                       85%
Design and Build Quality                                   18/20
Key Features                                                       18/20
Ergonomics                                                           17/20
Performance
Autofocus                                                             4.5/5
Metering                                                                 4/5
Noise Control                                                       3.5/5
Sharpness                                                               4/5
LCD/EVF                                                                4/5
Auto WB                                                                 4/5
Sub-Total                                                      24/30
Value for Money                                         8/10
PLUS
• Excellent design
• Superior handling
• Fast autofocus
• 4K video recording
• Compact and lightweight
• Commendable performance
MINUS
• Accepts only microSD card
VERDICT
The Nikon 1 J5 is a great performer when you consider the small sensor and compact body. If you are looking for an interchangeable lens compact camera that you can carry around all the time and do not require to make large prints, you should certainly have a look at the J5. Certainly a Best Buy.
Sujith Gopinath