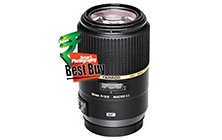 Tamron's latest version of 90mm f/2.8 macro lens was unveiled in India at the Consumer Electronic Imaging Fair 2013 at New Delhi, this January.
The new version is designated as VC, which means it uses Vibration Compensation – Tamron's version of image stabilisation. The lens is expected to perform better than the earlier version. Tamron believes that this new lens might make it difficult for users to go back to the earlier version! The lens is made in Canon, Nikon and Sony mounts; but the Sony mount lens does not include VC as Sony cameras include built-in image stabilisation (Nikon mount is not released yet). So, how does this avatar compare with the earlier version? Read on to find out…
Note:
SP = Super Performance series
Di = Designed for full-frame D-SLRs
VC = Vibration Compensation
USD= Ultrasonic Silent Drive

Design and Build Quality
In terms of build quality, the Tamron SP 90mm f/2.8 Di VC USD Macro lens is quite similar to the earlier (non VC) model. The outer shell is made of metal and engineering plastic and appears reasonably strong. The approximately 42mm, textured, rubberised focussing ring is smooth and well damped. The supplied hood is nice and deep and is made of plastic. The lens mount is made of metal but the filter thread (58mm dia.) is plastic. The model we reviewed is known as model F004. The lens weighs 585g with the lens hood.
Key Features
The Tamron SP 90mm f/2.8 Di VC USD Macro lens is constructed with 14 elements in 11 groups that include 1 x LD (Low Dispersion) and 2 x XLD (Extra Low Dispersion) glass elements that deliver high resolution, sharp contrasty images. Focussing is internal (IF), due to which the front element does not rotate during focussing (allowing easy use of CPL and graduated ND filters), better balance (because the lens length does not change during focussing); provides closer minimum focussing distance; and improves optical performance by minimising illumination loss at the corners. Manual override of autofocus is possible. The lens uses Tamron's newly developed lens coating – the eBand Coating (Extended Bandwidth and Angular-Dependency Coating) that greatly reduces flare and ghosting to the bare minimum. This translates into crisper, snappier images. At the rear end of the lens is a thin rubber ring (a seal) to prevent/minimise dust/moisture etc entering the camera body or the lens.
Tamron's Vibration Compensation provides up to four-stop advantage in shutter speeds. According to Tamron, "the VC system uses a tri-axial configuration that employs three pairs of driving coils and low-friction ball bearings placed around the shake-compensating optical group to produce, in effect, a free-floating shake compensator. This simple, elegant system is able to compensate for camera shake that occurs in diagonal direction as well as for up-and-down and side-to-side movements." The lens is moisture resistant. A 9-bladed diaphragm provides beautiful bokeh.
The lens is compatible with full-frame as well as APS-C sensor bodies. At its closest focussing, it offers a magnification of 1:1 (life size) and a working distance (the distance between the front of the lens and the subject) of 139mm (5.5 inches). A plastic window on the lens covers the magnification scale and distance scale in meters and feet. To facilitate faster focussing, the lens offers a 3-position focus-limit-switch: 0.3-0.5m; 0.5-infinity; FULL. Filter size is 58mm and the lens is made in Japan.
---
Ergonomics
The Tamron SP 90mm f/2.8 Di VC USD Macro lens focussed swiftly and silently. Its 42mm wide focussing ring made manual focussing very comfortable. The magnification scale within the plastic covered window is a bit difficult to read in low light. With its low weight (585g) and fixed length (the lens' length does not increase while focussing), the lens balanced well with the Canon EOS 5D Mark II body. The design of the front cap makes it very easy to attach/detach the cap, but by the same token, it is possible for the cap to be accidentally dislodged, especially if the lens hood is not attached. The hood, by the way, is nice and deep and the inside of the hood is fluted to further reduce chances of stray light entering the lens.

Performance
We tested the new Tamron macro lens on a Canon EOS 5D Mark II body. Autofocus was quick and accurate, even in reasonably low light. Autofocus speed and accuracy depend on the body as well as the lens. We feel that Tamron's Ultrasonic Silent Drive has played its part well. Distortion (barrel/pin cushion) was not at all evident, which is a very good thing. Flare was very well controlled too but red-green fringing was evident in strong against-the-light shots along the edges of high-contrast elements towards the frame corners. Darkening of corners was evident with the lens wide open at f/2.8, which improved quite a bit by f/4. At other apertures, corner darkening was insignificant. For the sharpness test, we autofocussed using Live View, which uses Contrast-Detect AF as compared to Phase-Detect AF with the viewfinder). The camera was tripod mounted and the VC (Vibration Compensation) was turned off. The lens produced very sharp images. Contrast- Detect AF, though slower than Phase- Detect AF, is more accurate. Even with the aperture wide open at f/2.8, the sharpness was good. We felt that the sweet spot was somewhere around f/8 (it was quite difficult to judge the difference in sharpness between the mid-apertures). We were impressed by the lens sharpness, but would suggest avoiding, if possible, f/16-f/32 (on a full-frame camera) because if you pixel-peep, you may be able to notice a slight softness due to diffraction of light at such narrow apertures. This is true of all lenses.
So, how well does the new Vibration Compensation work? Handheld, and with the VC 'off ', at 1/15 sec shutter speed, almost 75-80% of the pictures shot were blurry. With the VC 'on' under the same conditions, we could see a remarkable improvement in sharpness; almost all the pictures were sharp! Very impressive! We have no way of scientifically confirming whether the Vibration Compensation actually gives a 4-stop advantage as mentioned by Tamron, but yes, we were impressed. Note: Using vibration reduction (whether VC, VR or IS etc) does not mean that any and all pictures will be sharp no matter how much you move the camera during exposure. All forms of vibration reduction can only help for minor camera movements during exposure!
Value for Money
The Tamron SP 90mm f/2.8 Di VC USD Macro lens is available for Rs.53,900. Considering the competition, and also considering the excellent Vibration Compensation feature along with very good image quality, I would say that the lens is good value for money. And like with most photography products, there is always a chance that the price will come down after a while.
+ eBand coating
+ XLD lens elements
+ Excellent Vibration Compensation
+ Very good image sharpness
– Filter thread made of plastic
– Screen printing could wear out
| | |
| --- | --- |
| FINAL SCORE | |
| Design and Build Quality | 16/20 |
| Key Features | 18/20 |
| Ergonomics | 18/20 |
| Performance | |
| Autofocus | 4/5 |
| Sharpness | 4/5 |
| Distortion Control | 5/5 |
| Aberrations | 3.5/5 |
| Darkening of Corners | 4/5 |
| Extra Features | 3.5/5 |
| Sub-Total | 24/30 |
| Value for Money | 8/10 |
| Grand Total | 84/100 |
Verdict
The Tamron SP 90mm f/2.8 Di VC USD Macro lens is a great performer. The Vibration Compensation feature is excellent, and we have no hesitation of awarding it a 'Best Buy'.
Rohinton Mehta