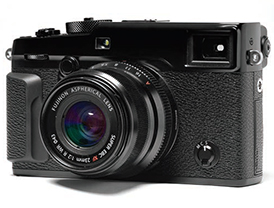 Fujifilm had once been regarded as the innovators in imaging, though the company was trimmed of a large share of its popularity with emerging digital and mirrorless technologies. However, the brand has been luring the professionals with its retro-designed cameras and excellent lenses. The Fujifilm X-Pro 2  is a possible replacement to the X-Pro 1, a popular model with a strong retro appeal.
Design and Build Quality
The X-Pro 2 carries the same retro design as the X-Pro 1. The camera has a magnesium-alloy body and a ilm-   SLR–type ISO dial (pull-up) built into the shutter speed dial. An exposure compensation dial sits  djacent to this dial along with the threaded shutter release button (useful in case you use a threaded cable/soft release system). The LCD is fixed. A new joystick at the back helps in quick navigation through the menus.
Key Features
The 24.3 megapixel Fujifilm X-Pro 2 uses an APS-C Type (23.6 x 15.6mm) X-Trans CMOS III sensor with primary colour filter. The sensor incorporates an ultrasonic dust reduction system that uses ultrasonic vibrations to shake off dust from the sensor assembly. The camera uses a Fujifilm X mount. The X-Pro 2 features a dual (electronic and mechanical) shutter mechanism. The mechanical shutter provides a shutter speed range of 30 to 1/8000 sec along with Bulb (up to 60 min), while the electronic shutter provides a shutter speed of 1 to 1/32000 sec. The shutter synchronises with the flash at 1/250 sec or lower speeds. Sensitivity range s from ISO 200 to 12,800, which can be extended from  00 to 51,200. Expos re is controlled through TTL 256-zone metering and the metering modes available are Multi, Spot, and Average. Exposure can be compensated up to +/-5 EV in 1/3-EV steps.
Still images are recorded in Raw (RAF) or JPEG format (simultaneous Raw and JPEG possible), while videos are recorded in MOD format (MPEG- 4 AVC / H.264 with Linear PCM/ Stereo). The camera can produce a maximum resolution of 6000 x 4000 pixels. The camera can capture images at a maximum continuous speed of approximately 8.0 fps. At this speed, you can capture up to 83 JPEG and up to 27 uncompressed Raw images. The camera features focus modes such as Single AF, Continuous AF and Manual Focus. The X-Pro 2 uses Intelligent Hybrid AF, which makes use of TTL Contrast and Phase detection AF for better efficiency. AF frame options are Single point, Zone and Wide / Tracking. Shooting modes available are P (Program), A (Aperture Priority), S (Shutter Priority) and M (Manual). The camera offers the best movie quality of 1920×1080 60p / 50p / 30p / 25p / 24p (Full HD), and it can be recorded for up to 14 min. Film simulation options available are Provia (Standard), Velvia (Vivid), Astia (Soft), Classic Chrome, Pro Neg. Hi, Pro Neg. Std, Black and White, Black and White+Yellow filter, Black and White+Red filter, Black and White+Green filter, Sepia, Acros, Acros+Yellow filter, Acros+Red filter and Acros+Green filter. Dynamic range options are Auto, 100%, 200% and 400%.
Advanced filter options are Toy camera, Miniature, Pop colour, Highkey, Low-key, Dynamic tone, Soft focus,Partial colour (Red, Orange, Yellow, Green, Blue, Purple). Fujifilm has incorporated bracketing options for AE, Film Simulation, Dynamic Range, ISO Sensitivity,
and White Balance. White Balance options available are Auto, Custom (3 settings), Colour temperature (2500K – 10000K), Fine, Shade, Fluorescent (Daylight), Fluorescent (Warm White), Fluorescent (Cool White), Incandescent and Underwater. Selftimer can be set to 10 or 2 seconds. Interval timer shooting is available. The Fujifilm X-Pro 2 does not have a built-in flash, but has an accessory shoe (Hot shoe) for a dedicated TTL flashgun. The flash modes available are Auto, Forced Flash, Slow Synchro, Suppressed Flash, Rear-curtain Synchro, Commander, Red-eye Reduction Auto, Red-eye Reduction and Forced Flash, Red-eye Reduction and Slow Synchro, Suppressed Flash, Red-eye Reduction and Rearcurtain Synchro.
The X-Pro 2 uses a Reverse Galilean optical viewfinder with electronic bright frame display. This finder superimposes information on to the otherwise static frame. The superimposed information includes a framing area corresponding to the lens you are using. The trouble with this is that if you mount a long telephoto lens, the frame will be too small to be of any practical utility. The electronic part of the viewfinder is a 0.48-inch TFT with approx 2.36 millions dots. The camera has a 3.0-inch, approx 1.62 million- dot fixed TFT monitor. The device has two identical memory card slots using SD/SDHC/SDXC cards of up to 256GB capacity (UHS-I/UHS-II). The camera offers WiFi connectivity along with USB 2.0 high-speed interface and HDMI micro connector (Type D). The X-Pro 2 is powered by an NP-W126 Li-ion battery (supplied). The device measures 140.5 x 82.8 x 45.9mm and weighs approximately 495g with battery and memory card.
Ergonomics
The Fujifilm X-Pro 2 offers a broad grip with a rubberised projection. Even the thumb rest has a rubber lining offering better grip. The buttons and dials are of premium quality. The viewfinder is bright and the images crisp. Same is the case with the LCD as well. We received the X-Pro 2 with the 23mm f/2 lens, and even this small lens obstructed the viewfinder a bit. This could be a real problem if you mount a long lens on this body. The body balances well in your hands. As is the case with all  Fujifilm cameras, the menu is quite exhaustive and confusing. Both the front and rear command dials have dual functions—one activated by rotating and another activated by pressing on the dial. However, it is quite difficult to press the rear dial owing to the small size and recessed design. The camera does not have either a shortcut button or a menu setting for recording videos. To initiate video recording, you need to press the 'Fn1' (the function button near the shutter release) button. We have no clue why Fujfilm has not labelled this as Movie button.