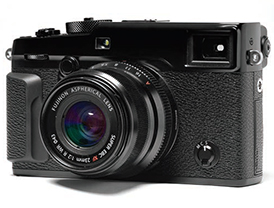 Performance
We received the X-Pro 2 along with the Super EBC 23mm f/1.2 R WR lens. The combination focussed fast and autofocus was fast, quiet and precise. Metering was perfect and out-of-thebox JPEGs were quite sharp.
Native print size is 20 x 13.33 inches at 300 ppi. At 25 percent screen size, images were absolutely free of noise up to ISO 3200. The images were perfectly usable up to ISO 12,800. ISO 25,600 was noisy, but usable in an emergency. At 50 percent, we did not observe much change from the above. Enlarged to 100 percent, images were practically free of noise up to ISO 200 and were perfectly usable up to ISO 800. You could use up to ISO 3200 in a crunch. Colours were reproduced close to the original. Any cast could be removed in postprocessing.
We feel the camera is not made for videos. Video features are buried deep inside the menus, which, by themselves, are not very intuitive. The video clips  were smooth and punchy.
Value for Money
The Fujifilm X-Pro 2 retails at an MRP of Rs.147,999 for body only. This is quite high for this camera. The 23mm lens is not launched in India yet and hence the price has not been announced. |SP

FINAL SCORE                                             80%
Design and Build Quality                   19/20
Key Features                                             18/20
Ergonomics                                               15/20
Performance
Autofocus                                                           4/5
Metering                                                             4/5
Noise Control                                                      4/5
Sharpness                                                            4/5
LCD/EVF                                                             2/5
Auto WB                                                              4/5
Sub-Total                                                    22/30
Value for Money                                        6/10
PLUS
• Retro styling
• Magnesium alloy body
• Great image quality
• Dual card slots
MINUS
• Confusing controls
• Video mode not the best
• Viewfinder useless for telephoto lenses
• No built-in flash
• Prohibitively expensive
VERDICT
The Fujifilm X-Pro 2 can be called a retro lover's delight and it provides a sense of Deja Vu if you have grown up with those manual film SLRs. The camera produces brilliant images along with useful video. However, the confusing menu can leave you with much heartburn, having to go through the owner's manual to find where in the camera has Fujifilm hidden its gems. Our final word—buy this jewel box if you have the patience to hunt for the gems and do not intend to use long telephoto lenses.
Sujith Gopinath