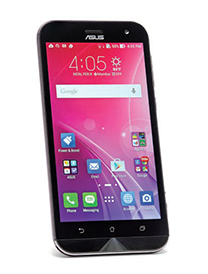 Smartphones have become the primary camera for anyone who requires a decent image in an emergency, and the manufacturers have made sure to give this feature the attention it deserves. These are surely exciting times for photography enthusiasts like us, and Asus has given us a reason to rejoice by launching  the Zenfone Zoom. This smartphone promises to take mobile phone imaging to newer heights.
Design and Build Quality
The Asus Zenfone Zoom looks very much like the other Zenfone series phones from the front, but has a distinct premium leather finish at the back,though the back panel is plastic. The phone has a sturdy-feeling metal bezel, unlike in the earlier Zenfone models. The back has Asus and Intel Inside logos embedded on it. The interiors look and  feel like the Zenfone 2, except for the large camera module. The SIM and MicroSD slots are at the back, requiring you to open the back panel to access the respective slots.
Key Features
Th e Asus Zenfone Zoom works on Android platform, and is released with Android 5.0 (Lollipop). It uses a custom Zen UI 2.0. The device is powered by an  Intel Atom Quad Core Z3590 processing unit with up to two cores clocked at 2.5GHz. The smartphone features 4GB LPDDR3 RAM and internal fl ash memory (ROM) of 128GB. The Zenfone Zoom bundles 5GB free lifetime ASUS WebStorage and an additional 100GB free ASUS Webstorage for two years. It  also accepts a MicroSD card of up to 128 GB.
The smartphone accepts one Micro SIM with support to 2G, 3G and 4G. Network standards used by these networks are respectively UMTS, WCDMA and FDDLTE. The Zenfone Zoom uses an Intel 7262 modem. The phone can connect to GPS (U.S), GLONASS (Russian), QZSS (Quasi-Zenith Satellite System – Japanese) and BeiDou (Chinese) satellite-based augmentation systems for
navigation.
The Zenfone Zoom uses a 5.5-inch, Full HD 1920×1080, 403 PPI, IPS panel for display. The monitor is protected by a scratch and finger-print resistant Corning Gorilla Glass 4 screen. The screen supports GloveTouch input (responds even to gloved fi ngers). The screen boasts 72 percent screen-tobody ratio, 400nits brightness (1 nit is 1cd/m2), ASUS TrueVivid Full Screen Lamination technology and 178˚ viewing
angle.
Now let us look at the camera features. The main (rear) camera is a 13-megapixel PixelMaster device and uses a 1/3.06-inch (4.7 x 3.5 mm)  Panasonic SmartFSI sensor. This sensor, according to Panasonic, offers D-SLRquality images with low-noise night shots and eliminates corner darkening. This design has the digital circuitry by the side of the imaging area. This, according to the manufacturers, delivers superior image quality compared to BSI sensors without compromising on thin film characteristics. The Zenfone Zoom uses a 28-84mm equivalent Hoya lens, and it uses 10 elements (including aspheric molded glass elements) in  its construction. The lens has Optical Image Stabilization, which provides a 4-stop advantage. The camera achieves its thin, non-protruding profi le with the help of a periscopic arrangement with the sensor and front element of the lens arranged side-by-side. This arrangement uses pentaprism technology to direct light to the sensor, and is quite an innovative idea. Th e lens elements are paired with dual high-precision stepper motors to achieve fast autofocus. To aid in focussing, the camera also uses a laser beam, fi rst featured in the Zenfone 2 Laser. The camera achieves autofocus in 0.03 seconds, and the   minimum focussing distance is 5 cm for better Macro performance. The camera  is paired with an LED dual-colour Real Tone fl ash. The apertures are fi xed at f/2.7 and f/4.8 at wide-angle and telephoto ends respectively. Exposures are controlled by shutter speed and ISO sensitivity alone. Th e camera features HDR Back Light, Low Light, Manual, Super Resolution (up to 52 megapixels), Real-time beautifi cation, Night, Depth of fi eld, Selfi e, Photo Eff ects, Panorama, Miniature, Time rewind, Smart remove, All smiles, and Time lapse features. Th e Zenfone Zoom can capture Full HD (1080p, 60fps) videos.
The front camera is also a PixelMaster model with a resolution of 5 megapixels and maximum aperture of f/2.0. Th is camera off ers Low Light, Real Time Beautifi cation, Photo Eff ects, Time Lapse, Selfie Panorama (up to 140˚), HDR, and GIF animation  modes.
The Zenfone Zoom has a 3.5mm audio jack. The phone is powered by a 3000 mAh non-removableLi-Polymer battery. The Zenfone Zoom has maximum dimensions of 158.9 x 78.84 x 11.95 mm (WxDxH) and weighs 185 g with battery.
Ergonomics
The Zenfone Zoom provides a secure feel with the leather finish at the back off ering excellent grip. Th e bulk of the phone also helps in holding the phone in place. If these are not enough, Asus provides a leather wrist strap with the phone. Th e device has shortcut buttons for camera shutter release, one-touch video recording, and zoom (which doubles as volume rocker) along with the power button. The shutter release button facilitates camera-style operation— half-press to focus and full press to capture. The Zen UI is quite feature-rich and provides various power options to extend battery life.